Aqua-Firma's marine scientist and polar guides have explored the fjords, glaciers and islands of East Greenland. Voyages here combine some of the most dramatic mountain and iceberg scenery in the Arctic, with opportunity to experience both arctic wildlife and Inuit culture. The mid to late summer timing (September) also presents wonderful opportunities to see the Northern Lights (Aurora borealis).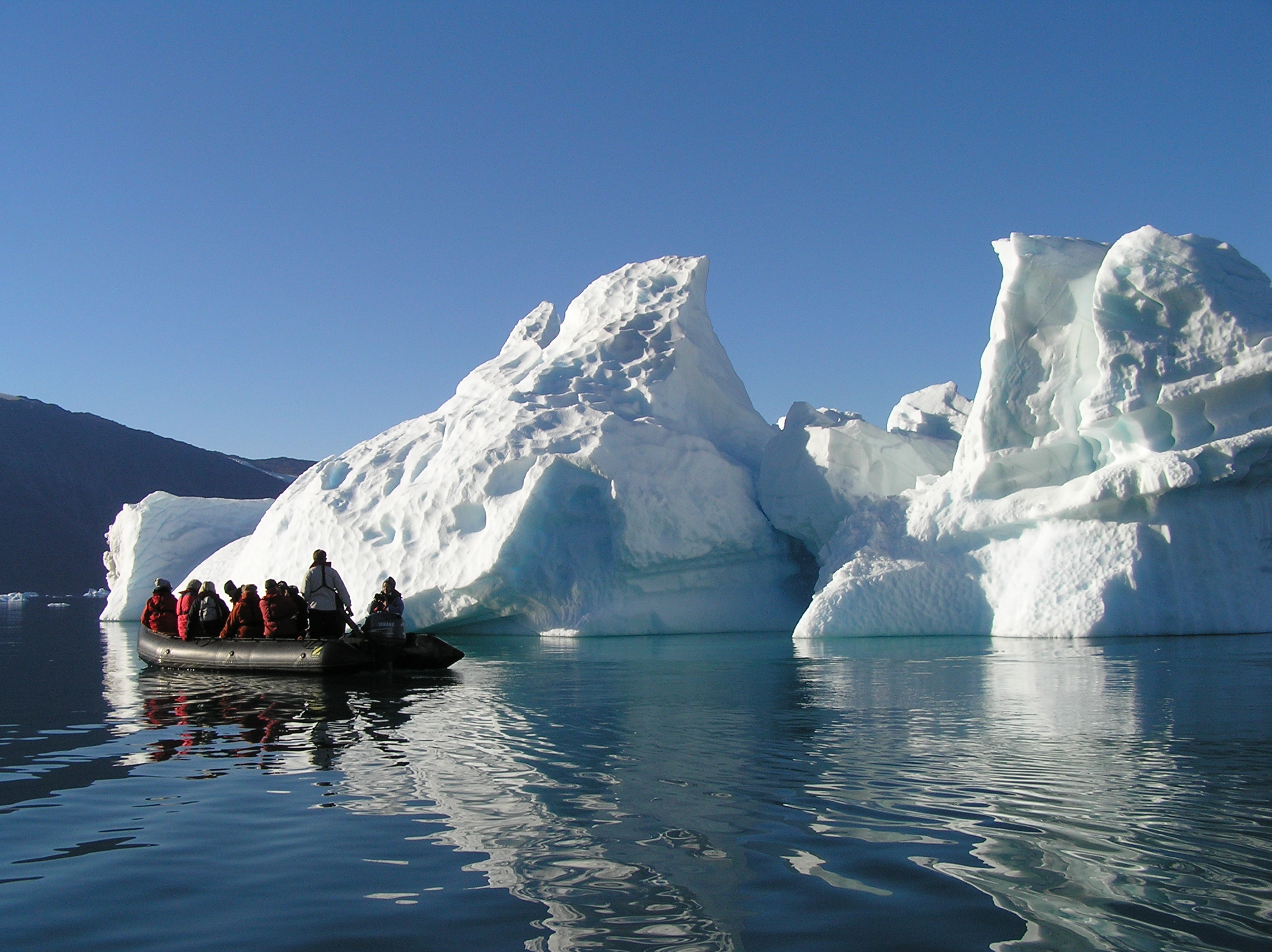 We offer expeditions and cruises of between 9-14 days which start and end in Iceland, which is itself an excellent location to explore either before or after your voyage with additional northern light opportunities. From the coast of Iceland you cross the Denmark Strait to Greenland, watching out for whales and other marine life as you go. An estimated 10% of the world's population of blue whales visit these waters each year.

Voyages which visit Scoresby Sund will explore the largest and most spectacular fjord in the World. The sheer scale of this inlet is difficult to put into words. All around you, mountains rise 2,000m from the sea and continue beneath the waterline a further 1,000m to the ocean depths. You will be able to see as many as seven glaciers at once grinding their way through rugged rocks towards the tranquil fjord waters. Huge Antarctic-scale icebergs at the fjords end and can dwarf your ship. Exploring alongside these beautiful turquoise sculptures in zodiacs or kayaks is a serene and awe inspiring experience.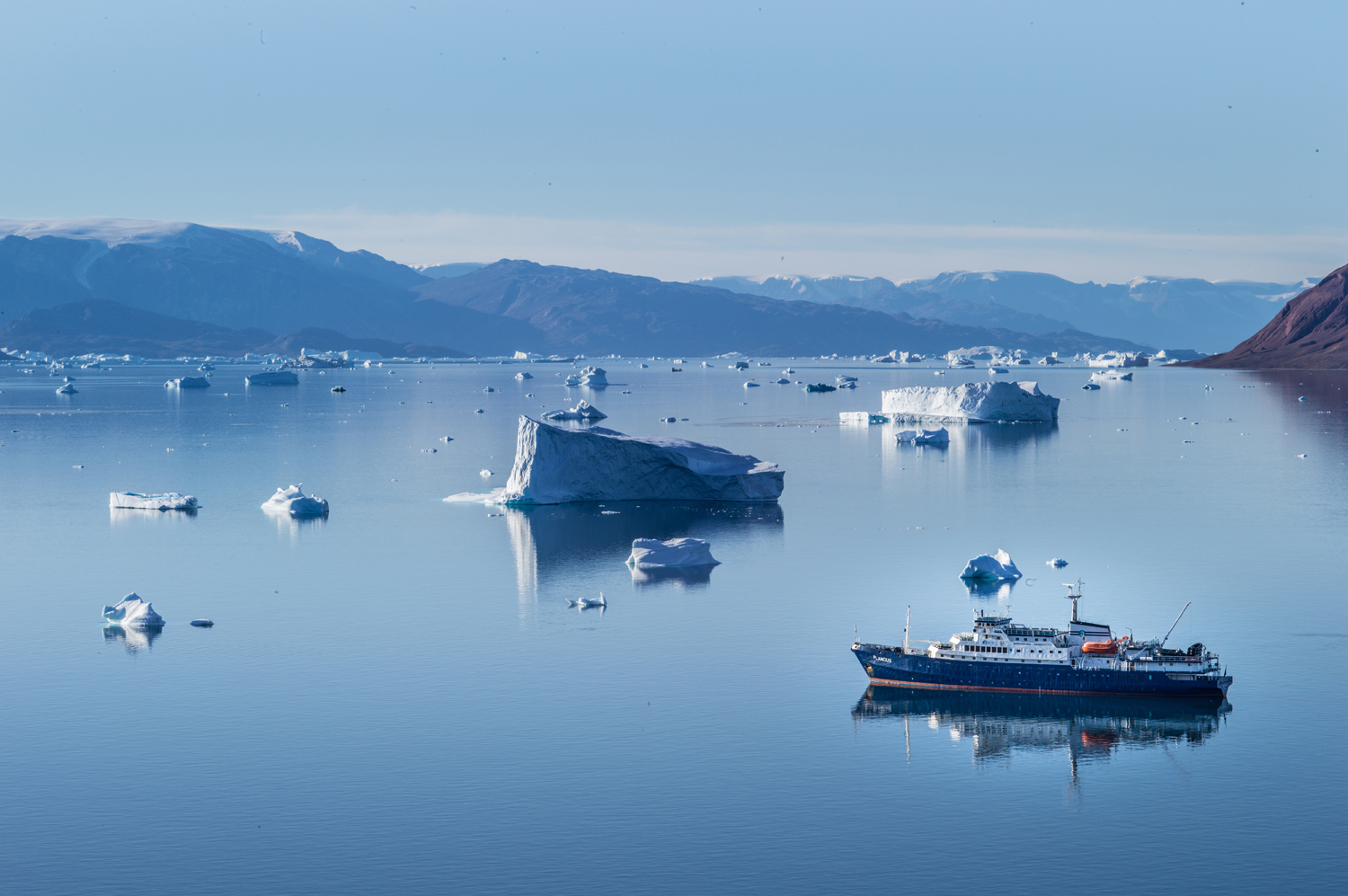 Scoresby Sund sits on the edge of the Northeast Greenland National Park, the World's largest National Park at an incredible 97,200,000 hectares. The most prominent community here reside at Ittoqqortoormiit, a remote Inuit town with still strong traditional existence, using dogs and skidoos to travel and hunt. The picturesque painted wooden houses clustered on the icy fjord coast is a unique place to visit, meet the locals and learn about a Greenlandic community surviving in a time of great change. The sheer size of Greenland, together with the fact that hunting is still practiced means that wildlife is more dispersed than in Spitsbergen, but Polar Bears have been seen on these voyages, as well as Atlantic Walrus, Arctic Foxes, the Canadian Arctic hare, grey wolves and the large hairy Musk Oxen.

Those keen on trekking can enjoy some wonderful opportunities in East Greenland, with groups often split between those who want to scale higher up the island's dramatic coastal mountains and those who want to take a more leisurely and shorter stroll closer to the shore. Looking back out to sea, your ship will look incredibly small and the sea usually devoid of any sign of another visitor.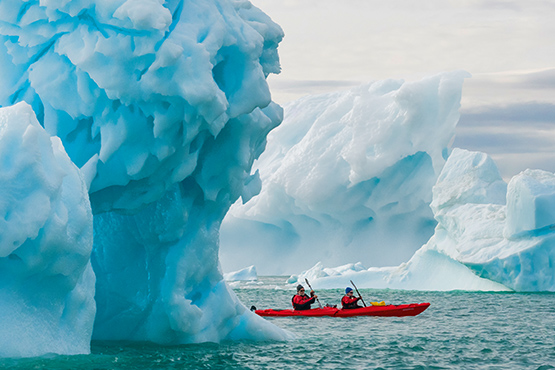 Our East Greenland voyages are ideal for those seeking some of the Earth's most dramatic landscapes. It is also an ideal voyage if you are keen on seeing whales, icebergs and an Arctic voyage which provides opportunities to see the Northern Lights.

If you are trying to decide which polar voyage to consider, call one of our polar guides and experts who though years of on-location experience can describe to you in more detail the differences in voyaging to different polar locations.
Itinerary
8 Day Sample Itinerary
Please note that the following itinerary is draft only, designed to provide you with a flavour of this Arctic and sub-Arctic voyage. All polar voyages are expeditionary in nature and the actual route will depend upon sea and weather conditions, seasonal opportunities to sea wildlife, birdlife and scenery, decisions made by the expedition crew, Captain and local authorities - and in particular ice conditions which can vary considerably year by year.
Day 1 - Embarkation in Akureyri, Iceland
Your journey begins in the morning, where by request you can transfer via chartered bus from Radhus Reykjavikur / city hall in Vonarstraeti in Reykjavik (the meeting point) to the ship in Akureyri (the embarkation point). You arrive in the afternoon after a six-hour drive through northern Iceland. PLEASE NOTE: This transfer is supplemented, and must be booked and paid for in advance. In the early evening the ship departs from the port of Akureyri, sailing north toward the Denmark Strait.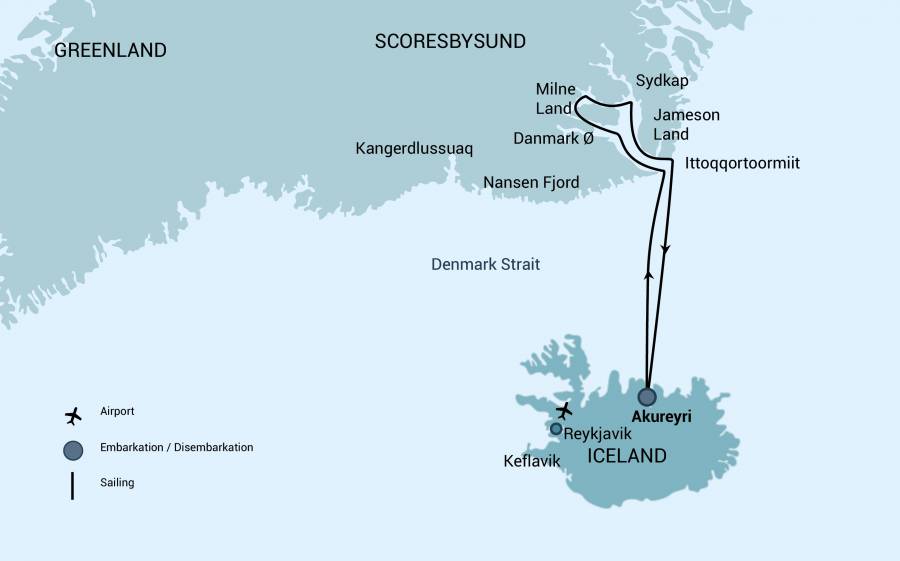 Day 2: Sea Life on the Move
Whilst sailing north you are likely see fulmars, kittiwakes, gannets, and common guillemots. You then cross the Arctic Circle, possibly spotting whales. By evening the first icebergs flash into sight with the approach of the east Greenland coast, near Brewster.
Today you can hope to reach Scoresbysund, sailing along the glaciated Volquart Boons Kyst. You may enjoy a Zodiac cruise along one of the glacier fronts, along with a visit to the basalt columns and ice formations of Vikingebugt. Later you land on Danmark Island, where you find the remains of an Inuit settlement abandoned around 200 years ago. The circular stone tent rings indicate the summer houses, while the winter houses can be seen closer to a small cape. The sites are well preserved, with easy identifiable entrances, bear-proof meat caches, and grave sites. In the evening you continue sailing the berg-crowded fjords to the west.
Day 4: Colours of the Cape
The goal is a Zodiac cruise near Røde Ø, one of the world's most cherished iceberg attractions: The austere blue-white of the icebergs sets sharp against the brooding red backdrop of the sediment slopes. The afternoon plan is to sail through the northern parts of Røde Fjord, with the chance to see musk oxen and warm autumnal foliage.
In the morning you encounter colossal icebergs, some over 100 meters (328 feet) high and more than a kilometer (.62 mile) long. Most of them are grounded, as the fjord is only about 400 meters (1,312 feet) deep. You then land near Sydkap, with fine views of Hall Bredning and a good shot of seeing Arctic hares.
Day 6: Scoresbysund Settlement
Stopping at a lagoon on the south coast of Jameson Land, you can hope to encounter waders and geese gathering for the autumn migration. Musk oxen and collared lemming survive on the sparse vegetation here. Later in the day you visit Ittoqqortoormiit, the largest settlement near Scoresbysund – about five hundred inhabitants. At the post office you can buy stamps for your postcards, or just stroll around to see the sled dogs and drying skins of seals and musk oxen.
Day 7: Under the Northern Lights
A day at sea grants you winning opportunities to spot whales and seabirds – and at night, the magical northern lights.
Day 8: Disembarkation in Akureyri
Every adventure, no matter how grand, must eventually come to an end. You disembark in Akureyri, where on request you can transfer by chartered bus – a six-hour drive that you must book in advance – to Radhus Reykjavikur / city hall in Vonarstraeti in Reykjavik. The memories made on this voyage will accompany you wherever your next adventure lies.
Dates
Notes:

Included:
- Voyage as indicated in draft itinerary
- All meals, snacks, coffee and tea
- All shore excursions and zodiac activities
- Group airport transfers to & from the vessel (when arriving/departing on
recommended group flight)
- Program of lectures by noted naturalists and leadership by experienced
expedition staff
- All miscellaneous services taxes and port charges throughout the programme
- Comprehensive pre-departure material
- Aqua-Firma automatically offsets the Carbon Emissions of your polar voyage
and flights booked through us in getting to and from your voyage.

Excluded:
- International flights (please enquire).
- Fuel surcharge where applicable*
- Optional activities (e.g. kayaking, diving) unless stated
- Land based accommodation (please enquire).
- Pre and post land arrangements (please enquire).
- Travel insurance.
- Passports and visas.
- Arrival and departure tax.
- Meals ashore.
- Excess baggage on flights.
- Items of a personal nature (alcohol, laundry etc).
- Tips.

Activity Level: Low to Medium
Single supplement:
There is no single supplement to pay if you are willing to share your cabin with someone of the same gender. Some ships have dedicated solo cabins please enquire. Some ask a supplement of between 1.5x - 2x the per person rate

*Fuel surcharge:
The cost of fuel is currently volatile, so a fuel surcharge may be applied by the ship without notice. We will let you know if this applies to your booking and send you an updated invoice.