These privately guided overland safaris take you to Africa's most famous plains of the Serengeti; the unique Ngorongoro Crater; the 'seat of mankind' at Olduvai Gorge; and Lake Manyara National Park. We operate these year round and if privately guided, we can tailor them exactly as you wish, adding in locations such as the elephant empire of Tarangire; or missing some out some elements to focus on the Serengeti for longer.
For transport, you will be onboard a specially adapted 4WD safari vehicle which have a maximum capacity of 7 people, all with window seats, driven by your own local expert tracker and guide.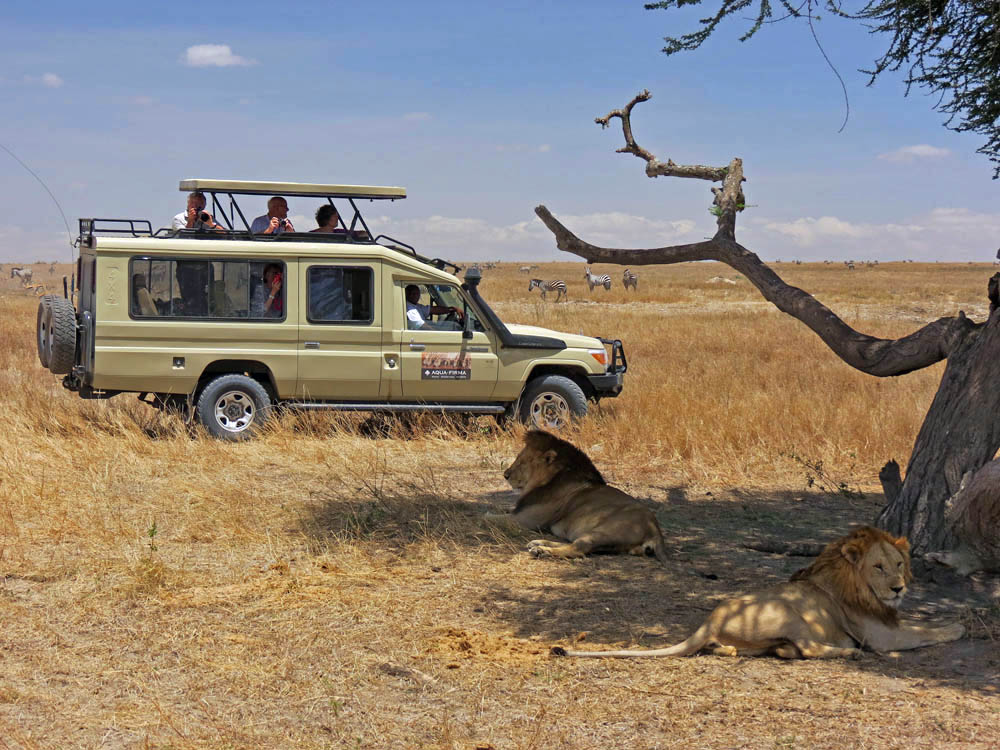 The Serengeti
The Serengeti is the ultimate foundation of many North Tanzania Safaris - undoubtedly one of Africa's wildlife viewing highlights featured in countless documentaries such as Big Cat Diary and the Living Planet. It derives its name from the Maasai word siringet which means "endless plain" - a term which at 14,763 square kilometers it well deserves.
Throughout the year, the Serengeti thrives with wildlife, providing excellent opportunities to see prides of lions and spotted hyena in clans of up to eighty strong. Plains game animals including giraffe, buffalo, warthog and antelope such as eland, impala, oryx and dikdik can be seen at any time. There are also healthy populations of leopards, side-striped and golden jackals and cheetahs, as well as 520 species of birds.
In addition to the Serengeti's residents, the plains play host to migrating grazers including around 1.3 million wildebeest, 400,000 Grant's and Thompson's Gazelles and some 200,000 Burchell's Zebras. These move en masse between the Serengeti and the Maasai Mara in Kenya in response to seasonal pastures. This is the largest migration on Earth. Please follow this link for further details about the Great Wildebeest Migration … but in essence, migrating species concentrate in the southern Serengeti and the western Ngorongoro Conservation Area between December and March; and in the far north and Kenya's Masai Mara June to August. In between, our trackers monitor where best to look and they move in both accumulated and splinter groups.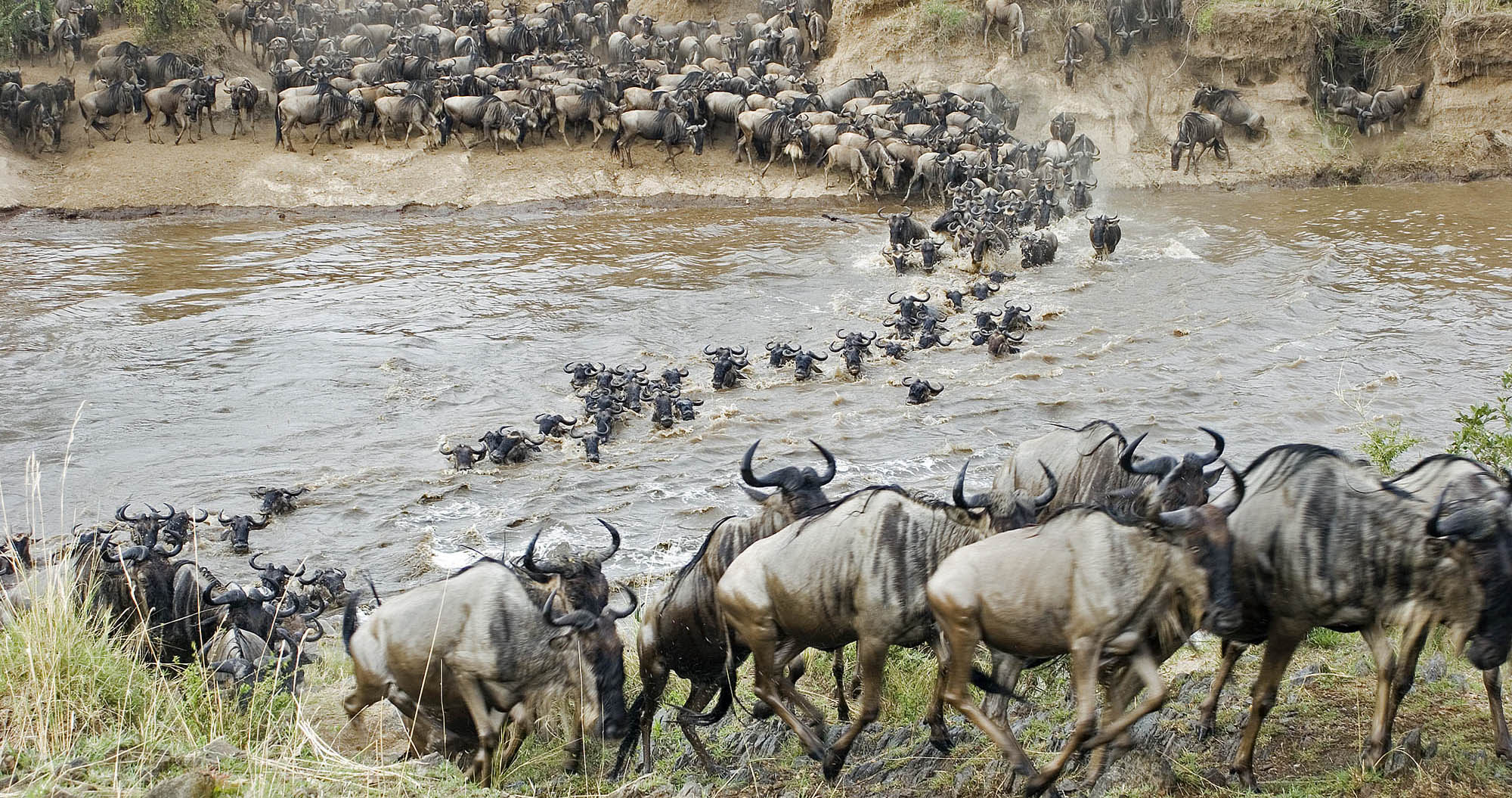 When the migration is in the north, it is pretty important to extend your safari by a day so that you can spend sufficient time reaching these areas, staking out sections of the Mara River in search of the exciting spectacle of a mass river crossing. Here we can accommodate you in a static or private mobile tented safari camp. If you explore this area, we strongly recommend that you either fly to this area and we drive you back via Ngorongoro, Olduvai and Lake Manyara; or fly back from the far north if we take you to these other parks first.
When the migration is in the central and southern areas, there is less distance to travel and it makes driving in and out more doable. This is when you can see the largest gathering of game across vast open grasslands, both in the Serengeti and amongst Maasai herders in the Greater Ngorongoro Conservation Area.
Ngorongoro Crater, Olduvai Gorge & Lake Manyara
Ngorongoro concentrates game (and visitors) into the largest volcanic crater in the world. The physical geography of the location is breath taking and the ecology varies between open grassland, to swamp to tall woodland. It is very easy to spot game here and it is also common either to see kills, or see a pride of lions feeding on the night's kill, handing on to packs of hyenas and jackal by mid-morning. Lakes provide habitat to hippos whilst grasslands are home to the increasingly rare Black Rhino, best seen in the dry season when grasses are shortest.
You cannot stay inside the crater, but you can stay on the rim amongst moss covered trees looking down onto one of Africa's most dramatic geological marvels.
From the crater, you will move on to the Olduvai Gorge which another volcanic landscape and the 'cradle of mankind'. This is the place where Louis Leakey discovered the oldest known remains of our direct ancestors in the form of a skull dated to be 1.75 million years old. There is a museum here and if you wish, we can engage the services of an on-site expert to take you into the gorge and show you some of the fossils which continue to be uncovered here.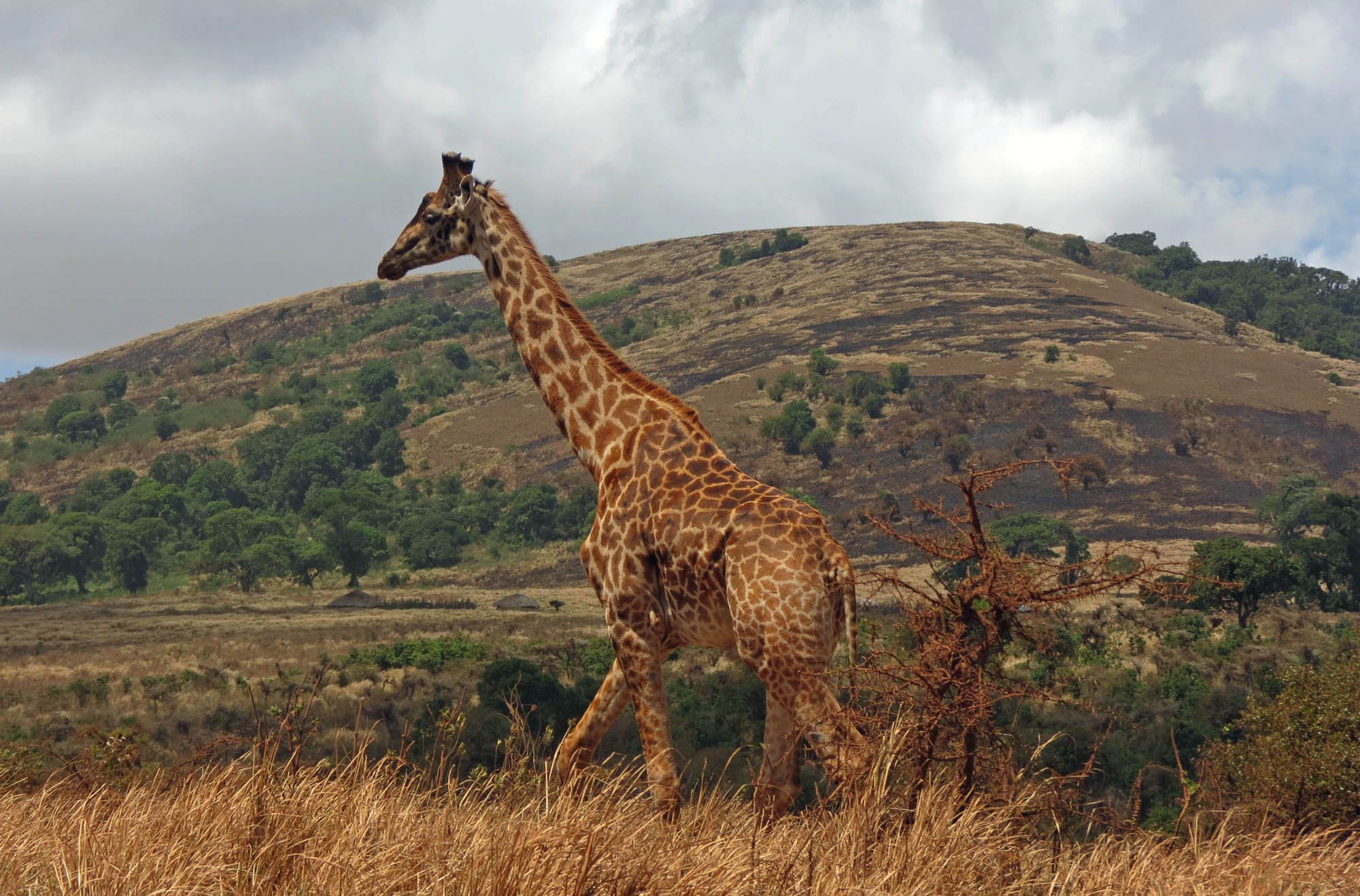 Lake Manyara National Park may be small, but it contains one of Africa's highest concentrations of elephants and the continent's highest biomass of plant and animal per square meter. Dense bush and tree cover in this park make for a very different game viewing experience than the Serengeti and Ngorongoro. The lake itself is rich in algae and in turn this attracts large flocks of flamingos, though in the dry season you may need binoculars to see these. Giraffe, zebra, buffalo and wildebeest focus their grazing on open areas of the lake, whilst lions lurk amongst the trees waiting to attack a grazer which strays within range.
The riverine forests of Lake Manyara provide excellent opportunities to spotting birds, small deer and the antics of baboons and vervet monkeys. We will take you to stay on an escarpment high above the lake with excellent views across it at sunset.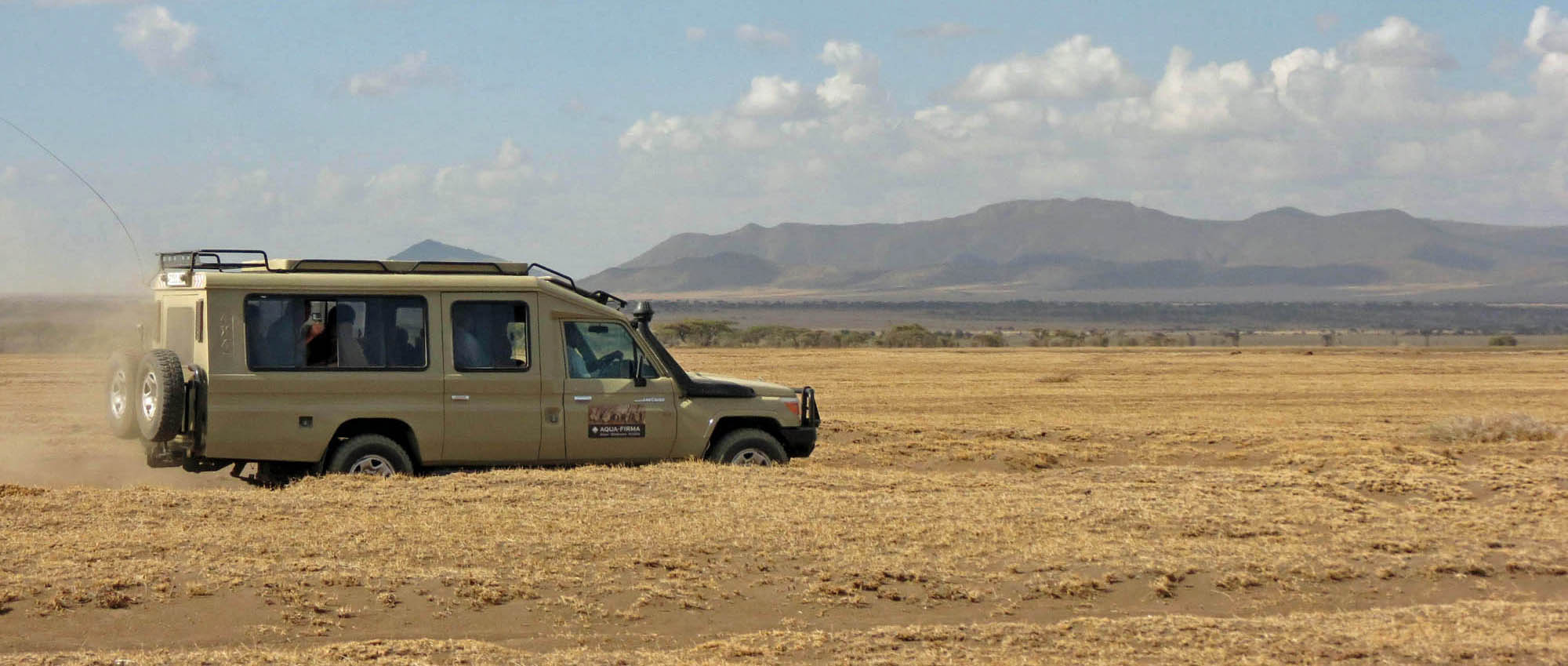 Privately guided safaris can start and finish any date. A great benefit of these is that your guide can target exactly what you want to see and provide your ideal balance of relaxation and hard core exploring for wildlife and photography.
Itinerary
Sample 7 Day Itinerary
This 7 days / 6 nights itinerary is based on a standard small group land only safari starting Kilimanjaro airport and ending at Kilimanjaro or Arusha airports. Privately guided safaris can be adjusted however you wish including the options of:
- overland in and fly back out, or vice versa
- an extra day or so if exploring the north for dry season river crossings
- fully private mobile tented camps in the Serengeti
- replace Lake Manyara with the Tarangire National Park - potentially flying from Tarangire to Ngorongoro or the Serengeti
Don't hesitate to Contact Us for detailed advice and information.
Day 1: Arrive Kilimanjaro airport
You will join a transfer to a game lodge and sanctuary set beside the Usa River, between the peaks of Mount Meru and Mount Kilimanjaro.
Day 2: Arusha & Lake Manyara National Park
In the early morning you will be able to relax in gardens in which wildlife will be wandering around.
Later depart Arusha and drive to Lake Manyara National Park.
Overnight overlooking the park and lake.
(B,L,D)
Day 3: Serengeti National Park
Morning drive to the rim of Ngorongoro Crater.
Afternoon and early evening game drive through the Serengeti including the Seronera River.
Overnight in the Serengeti.
(B,L,D)
Day 4: Serengeti National Park
Full day exploring the Serengeti National Park. We will probably head west along the Grumeti River in search of large numbers of wildebeest and hope to see some exciting wildlfie activity out on the plains, amongst acacia woodland and amidst the thick gallery forest on either bank of the Grumeti River.
Same accommodation overnight.
(B,L,D)
Day 5: Serengeti National Park & Olduvai Gorge
Depart early morning for game drives in the Serengeti. Take a picnic lunch.
Drive to the Olduvai Gorge where we will walk and see fossils from this 'The Seat of Mankind'
Continue hotel with dramatic views over the Ngorongoro Crater.
(B,L,D)
Early morning drive into the Ngorongoro Crater, aiming to catch predator activity and huge amounts of game.
In the afternoon you will be taken on a slow walk at the rim of the crater, learning about plans, birdlife, wildlife and human history of the crater.
(B,L,D)
Day 7: Return to Arusha & Depart Kilimanjaro
Drive back to Arusha, stopping at a coffee lodge or hotel en route for an early lunch.
Drop off at Arusha or Kilimanjaro airport.
(B,L)
Dates
Please Contact Us to discuss any adjustments you need such as the number of persons travelling, itinerary adjustments, incorporation of one way or return flights within Tanzania and if you are interested in some of your stay being in private fully mobile luxury tented camps.
Single room supplement - Please enquire

Price includes:
- All transport starting and ending Kilimanjaro airport or Arusha town and
airport
- Expert naturalist driver / guide
- Meals as per itinerary (B=breakfast, L=lunch, D=dinner)
- Entry fees to national parks, reserves and museums.
- Government taxes, hotel levies and service charges
Price excludes
- Porterage
- Gratuities
- Items of a personal nature such as laundry, drinks
- Excursions or services not listed within the itinerary
Transportation: This will be in a 4WD game vehicle in which all passengers will be beside a window and game viewing can also be conducted out from an open roof.