Aqua-Firma's Shark Research Insights and Photography Dive Liveaboard expeditions, with hosts which include some of the world's foremost Whale Shark researchers. This includes the Founder of the Marine Megafauna Foundation, Dr Simon Pierce; and MMF Principal Scientist, Dr Chris Rohner.
These scientists conduct their work throughout the world, but the Galapagos is one of their highest priorities since it is the best place to see huge females, which can reach up to 18 metres or more in length. Joining this liveaboard will provide you with a unique opportunity to find out the very latest in whale shark research; as well as insights into other species of sharks and rays, plus local endemic species such as marine iguanas, Galapagos penguins and more. It also helps to fund the work of the Marine Megafauna Foundation, in the Galapagos and beyond.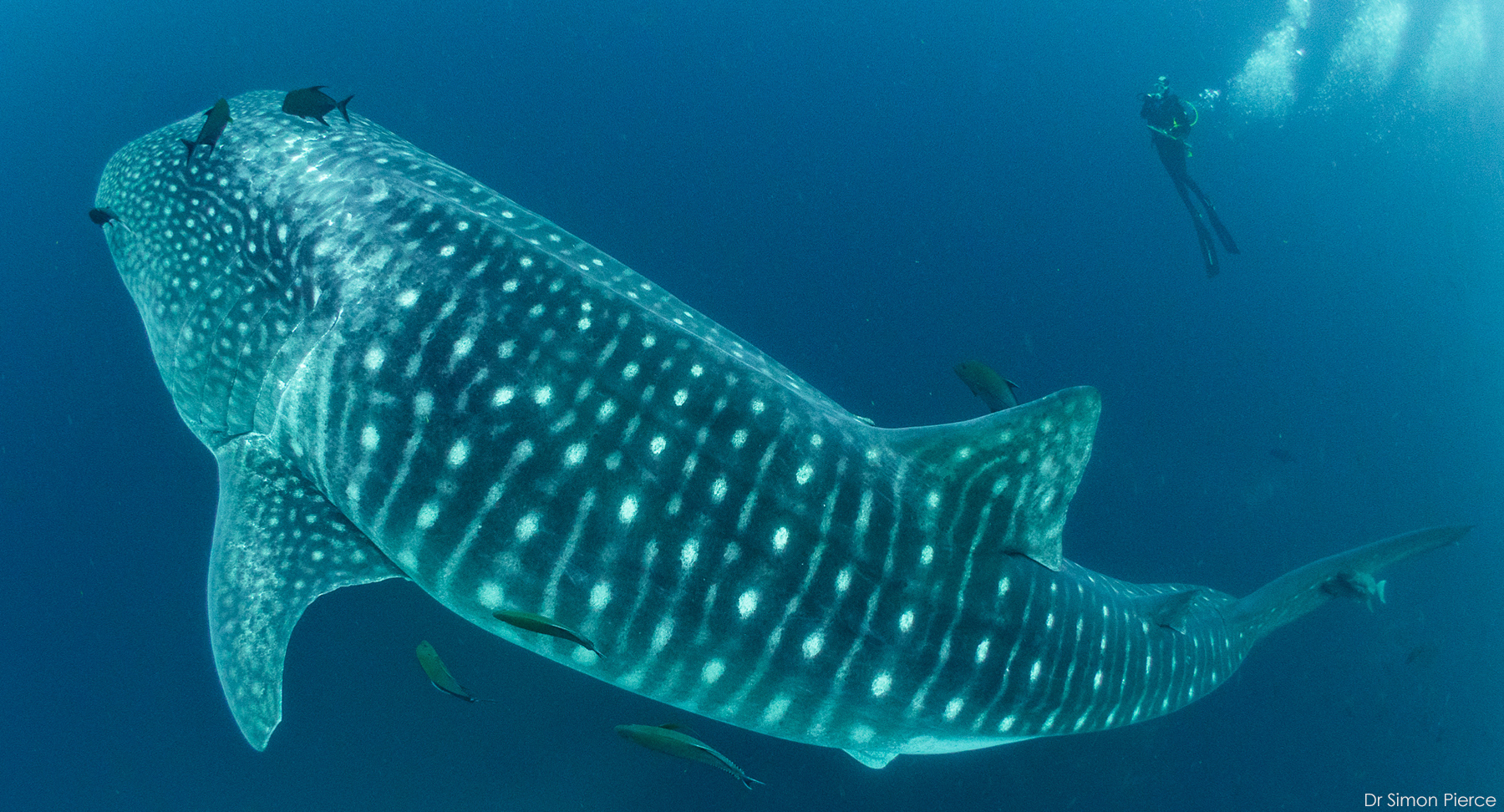 Video and Photography
All of our hosts are highly accomplished with their cameras, with Simon prioritizing stills photography and Chris leaning more towards video. Onboard workshops will provide you with the opportunity to learn how to get the best out of your underwater camera gear; and how to use software to edit your prized images.
Liveaboard trips are the only way to reach two of the Galapagos' most important diving highlights: Wolf Rock and Darwin. These are some 16 hours across the water from the rest of the islands and it is here where you will find some of the largest schools of Hammerhead Sharks you are likely to see anywhere in the world. This is also one of the best places in the world to dive with Whale Sharks.
There is a huge amount more to see at these dive sites and others, including Giant Manta Rays, blue spotted rays, sealions, white tip sharks, Galapagos penguins and endemic marine iguanas. Our guests have even seen schools of dolphins underwater so large that they have been impossible to count in amongst the hammerhead sharks.

Best Time to Go
Hammerhead sharks aggregate in schools at Wolf Rock and Darwin throughout the year. Whale shark sightings are more seasonal. You are very likely to see whale sharks between June and October, with August and September right in the middle of this seasonal peak. June and early July tend to provide warmer and clearer waters, with some potential remaining to see warm water species: Mola Mola and Giant Manta Rays.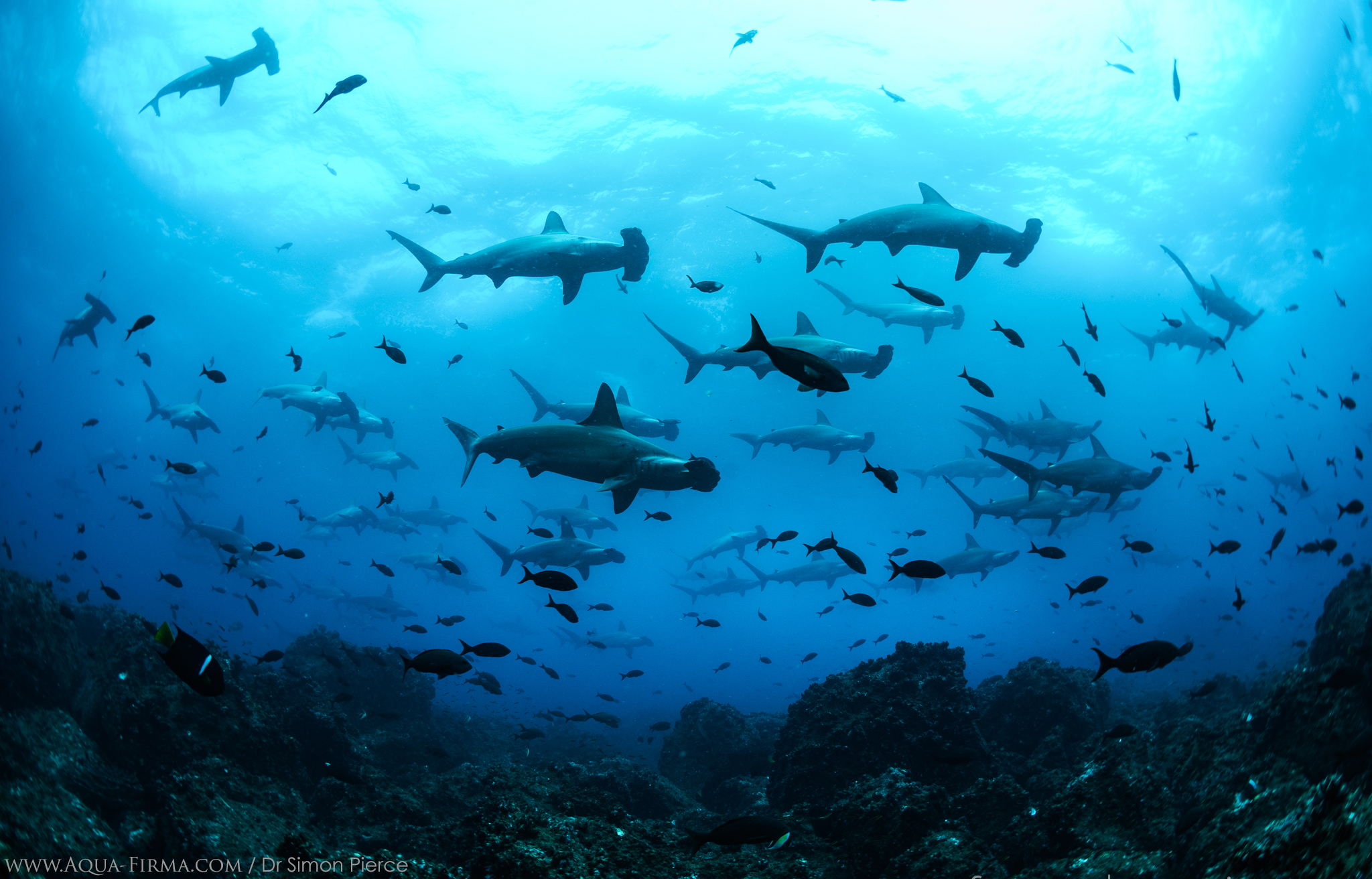 Galapagos sea temperatures are always cooler than you would usually expect on the Equator. They are at their warmest around the New Year with sea surface temperatures reaching about 23oC (73oF). They reach their coolest in August when sea surface temperatures drop to about 18oC (64oF). In both seasons, thermoclines can take temperatures down by as much as 5oC (9oF). Typical underwater wear would be a 7mm wetsuit with hood, but the ability to layer is useful since temperatures can vary considerably between the warmer north and colder south of the island group.

The Boats

Our liveaboards are 16 passenger motor yachts with combinations of twin, double and triple cabins with en suite bathrooms. Divers will head out in two separate Rigid Inflatable Boats (RIBs).

Prior Experience Required

Diving conditions in the Galapagos are not the easiest. You will need to be PADI Advanced or equivalent to join this trip, with about 30 dives or more experience and some dives conducted in the months leading up to the trip so that you are fully prepared. Preparation is something we can discuss and assist with in advance.
Itinerary
Galapagos Shark Research Insights & Photography Itinerary
All of our liveaboard trips follow an itinerary agreed with the Galapagos National Park and are accompanied by a natural history guide trained by the Charles Darwin Research Station. The precise itinerary is subject to change without notice according to National Park requirements, prevailing weather conditions and the decision of the captain.
(B=breakfast, L=lunch, D=dinner)
Day 1: Arrive Galapagos & afternoon check out dive (L,D)
You will be met upon arrival in the Galapagos and be taken to the liveaboard yacht.

Lunch and briefing

Afternoon check out dive at Isla Lobos off the coast of San Cristobal island.
Day 2: Punta Carrion & North Seymour (B,LD)
AM: 2 dives at Punta Carrion

Afternoon North Seymour land visit. Walk the path around North Seymour Island to see the large colonies of Blue Footed Boobies and Frigate Birds. Sighting of Sea Lions and Marine Iguanas are also common.

PM: Head north to Wolf Rock and Darwin.
Day 3: Wolf Island (B,L,D)
Up to 4 dives at Wolf Island.

Possible additional night dive.
Day 4: Wolf & Darwin (B,L,D)
AM: 2 dives at Wolf Island

Transit to Darwin Island.

PM: 2 dives at Darwin Island.
Up to 4 dives at Darwin Island.
Day 6: Wolf Island (B,L,D)
Up to 3 dives at Wolf Island.

Overnight steam back to main Galapagos island group.
Day 7: Cousin Rock & Santa Cruz (B,L,D)
AM: 2 dives at Cousin Rock.

PM: Land trip to see the giant tortoises in the highlands of Santa Cruz and possible visit to the town of Puerto Ayora. Dinner ashore.
Day 8: Galapagos Interpretation Centre (B)
AM: Beach visit to a location where sealions and marine iguanas are usually seen.

Visit to the Galapagos Interpretation Centre.

You will leave the boat and then be transferred to San Cristobal airport.
Dates
Enquire / Book
08 - 15 Aug 2022
-
US$ 5,990
led by Whale Shark Researcher, Photographer & Founder of the Marine Megafauna Foundation, Dr Simon Pierce
Starts / ends San Cristobal
Enquire / Book
17 - 24 Aug 2023
-
from US$ 4,690
led by Whale Shark Researcher, Filmer & Principal Scientist of the Marine Megafauna Foundation, Dr Chris Rohner
Starts / ends Baltra
Add US$200 for main deck & upper deck cabins
Enquire / Book
25 Jun - 02 Jul 2024
-
from US$ 4,790
led by Whale Shark Researcher, Filmer & Principal Scientist of the Marine Megafauna Foundation, Dr Chris Rohner
Starts / ends Baltra
Add US$200 for main deck & upper deck cabins
Please contact us for flights and hotel package & ideas for additional travel in the Galapagos, Ecuador and Peru.

Local charges payable onboard:
Fuel surcharge (US$150 for August 2022 departure)
Hyperbaric chamber fee: $35 pp
NITROX $150 for the week

Single supplements
If you are willing to share a cabin onboard then there is no single supplement for the liveaboard.
For a cabin to yourself add 85%.

Our prices include
Galapagos diving liveaboard as indicated
Shore excursions and zodiac activities
All meals onboard vessels
Coffee, tea and water
An English speaking naturalist guide will be onboard, trained by the Charles Darwin Station and licensed by the National Park.
Donations towards furthering the research & conservation aims of the Marine Megafauna Foundation, of which Dr Simon Pierce is Principal Scientist
A year's membership of the Galapagos Conservation Trust

Our prices exclude
Diving equipment rental
Flights
Arrangements in Quito or Guayaquil (please contact us for flights and hotel package)
Galapagos National Park entrance fee - $100** per person to be paid in cash at the airport in Galápagos
INGALA Galapagos Immigration fee (US$20**)
Hyperbaric chamber fee of $35
Fuel surcharge ($150**)
Tips
Travel insurance
(**correct at time of writing)