M/S Fram carries a maximum of 200 passengers in Antarctica and as such is the largest ship in Aqua-Firma's polar portfolio. Post her 2020 renovation we believe, this homely ship will offer a greater level of style and comfort and offer excellent value for money versus some much more expensive competitors - all backed by a solid 150 year heritage of polar exploration.
Our long term relationship with owners Hurtigruten allows us to offer partner price advantages for those keen on a professional Antarctic expedition-cruise and hoping to squeeze in extras such as domestic flights and pre-night hotels within their budget.
Whilst the objective is to explore off the ship in the company of natural history guides, Fram has the space for additional onboard facilities including gym, jacuzzi and two restaurants as well as a broad range of cabins from inside twins to elegant balcony suites depending on your preference and budget. .
Length:

114 metres

Ice Class:

1B

Speed:

13 knots cruising speed in open water

Passengers:

318 (200 in Antarctica)

Staff & Crew:
Cabins:

Middle Deck Inside for up to 4 travellers (Cabin grade: I4)
- 2 x upper & 2 x lower berths

Middle Deck Inside for 2 travellers (Cabin grade: I2)
- 1 x single berth & 1 x sofa bed

Upper Deck Superior for 2 travellers (Cabin grade: U2)
- 1 x single berth & 1 x sofa bed

Middle Deck Superior for 2 travellers (Cabin grade: F2)
- 1 x double bed & window

Suite (Cabin grade: M2)
- 1 x double bed, with large window & seating area

Grand Suite on Upper Deck (Cabin grade: MG)
- 1 x double bed, with seating area & balcony or bay window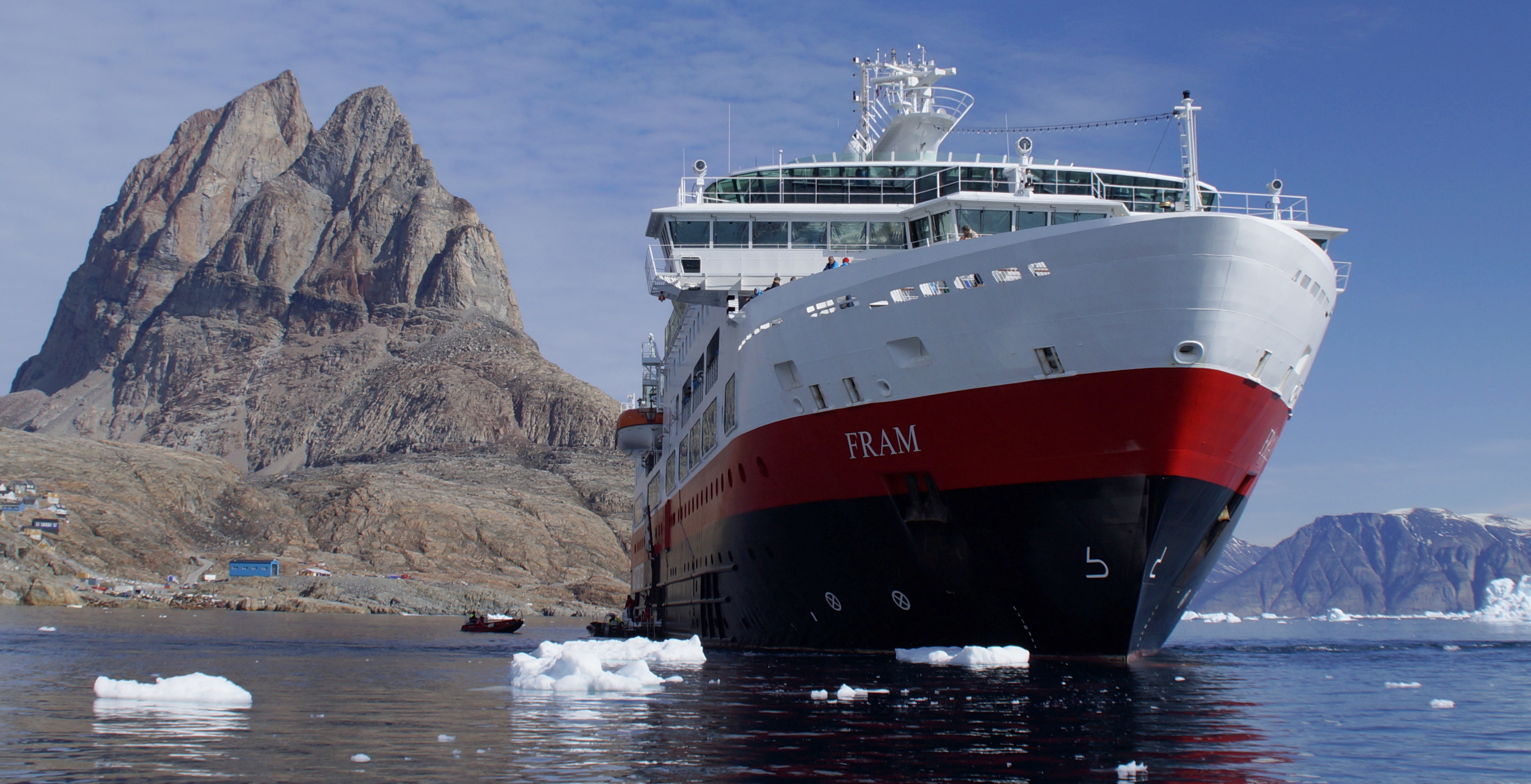 With the capacity in Antarctica for just 200 guests, the Fram has a sociable and relaxed atmosphere. The observation lounge is located at the top of the ship, with comfortable sitting areas and boasting large panoramic windows, ideal for observing wildlife and the ever-changing landscape.

Fram's Environmental initiatives are well worth highlighting as she is currently being retro-fitted as one of the world's first hybrid powered cruise ships, moving from traditional diesel engines - combining liquified natural gas (LNG), bio gas (LBG) and battery packs. This is part of a huge green operations wide upgrade program which will reduce CO2 emissions up to 25 percent and NOx emissions by 90 percent.
Fram in addition will be packed with cutting-edge green technology, environmental solutions, and improved hull and bow design. Whilst onboard you will also be able to learn more about the polar environment in the new high tech Science centre.
Though named in honour of Amundsen's renowned ship, today's M/S Fram retains all the elements of expertise and adventure albeit with more style, comfort and technology!
Client Feedback:
"The voyage was outstanding and the ship (Fram), brilliant. Antarctica was unbelievable experience. South Georgia was also fantastic with its history and wildlife and wild terrain. We did the Shackleton hike (well part of). Falklands was also different and it was great stopping at Stanley before completing expedition to two great Westerly Islands."

J & P, Edsall (Falklands South Georgia and Antarctica onboard Fram)