M/V Hondius is the most structurally and technologically advanced class of polar cruise ship built to date. Aqua-Firma have at least 15 years in-depth guiding experience of these fleet operations and first hand knowledge exploring on-board Hondius in the polar regions.

She is fast, strong and equipped with stabilisers: suitable for advanced, innovative exploratory voyages in the Arctic and Antarctica. Years of pioneering polar exploration have informed her design, not only meeting the challenges of the polar regions, but optimising your opportunity for incredible wildlife encounters and adventure in comfort.

Please click on any side photo to view ships gallery.

Length:


107.6 metres


Ice Class:


Polar Class 6 (equivalent 1A-Super)


Speed:


15 knots


Passengers:


170 in 83 cabins


Staff & Crew:


72

Cabins:


Quadruple Porthole Cabins (4)
- bunked

Triple Porthole Cabins (2)
1 x bunk and 1 x lower berth

Twin Porthole Cabins (27)
2 x lower berths

Twin Window Cabins (14)
2 x lower berths

Twin Deluxe Cabins (11)
2 x lower berths

Superior Cabins (8)
1 x double bed

Junior Suites (8)
1 x double bed

Grand Suites (6)
1 x double bed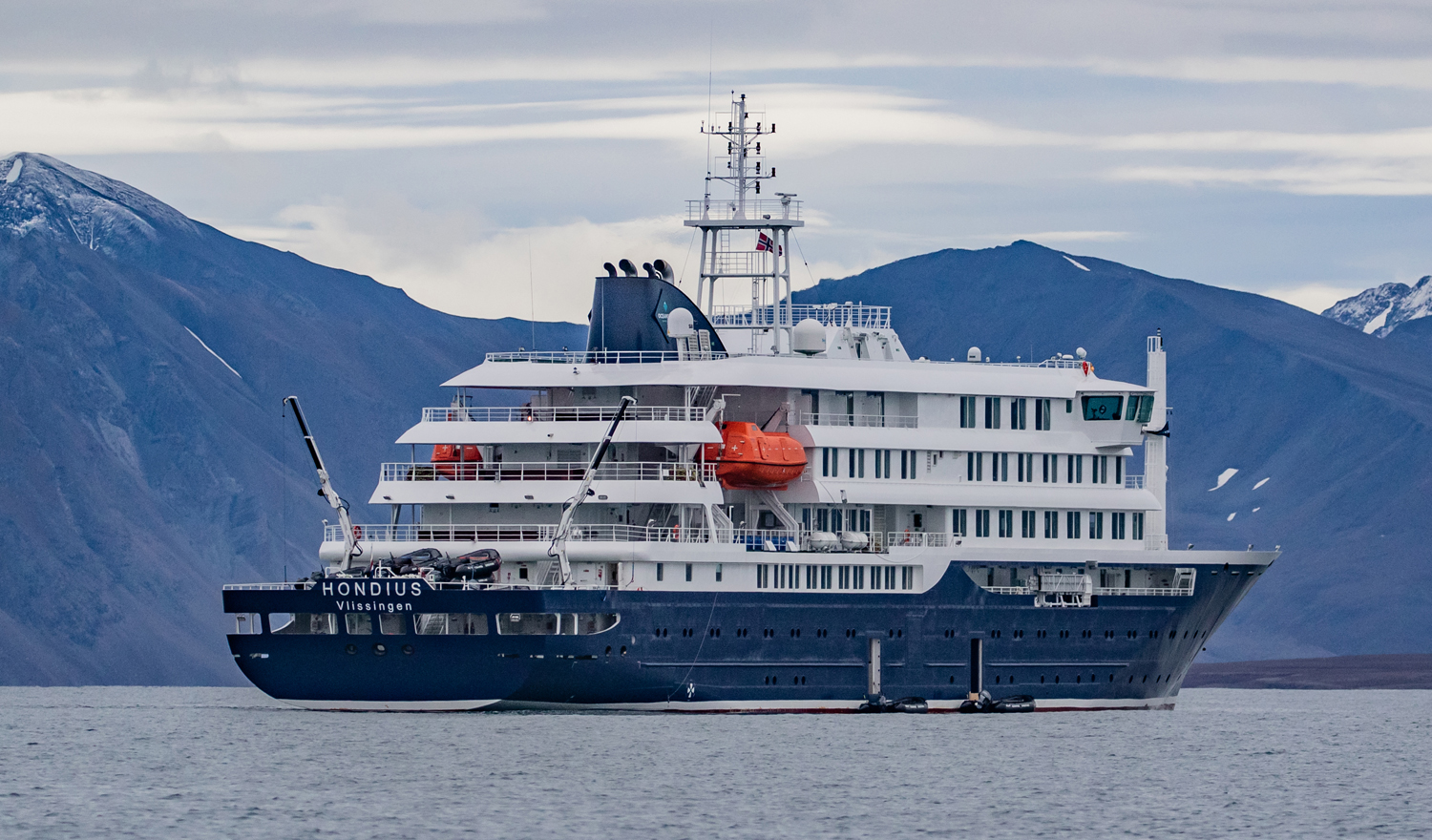 With her ice-strengthened Polar Class 6 technology, she exceeds the current high standards of the International Maritime Organization. Her Environmental credentials include: using only bio-degradable paints, LED lighting, steam heat and flexible power management systems to keep fuel consumption and CO² emission at the absolute minimum.

Despite being designed to navigate through the least civilised locations on earth, the on-board experience is far from uncivilised. With high quality cuisine, comfortable surroundings and service that starkly contrasts the rugged world outside the window. There is a sizeable observation lounge, separate lecture room, well stocked bar and library. There is also plentiful outside deck space for wildlife observations.

Two separate gangways facilitate speedier zodiac boarding, meanwhile there is also an indoor platform which can be used for specialist outdoor activities like kayaking and scuba diving.

Cabins are all custom designed, spacious and tastefully decorated with stylish mid-century décor. She is a perfect blend of elegance, function and professionalism for any Antarctic or Arctic expedition