This is the ultimate Antarctic expedition cruise-one of the World's great wilderness journeys; from Ushuaia in Tierra del Fuego to the windswept Falklands, onward to the incredibly remote South Georgia, before exploring the Great White Continent. For those who do not want to cross the Drakes passage en route to Antarctica we can also offer Fly-Cruise voyages which include South Georgia.
Aqua-Firma Antarctic Expertise
The Aqua-Firma team have been exploring Antarctica for many years; guiding, driving zodiacs, delivering inspiring onboard lectures and inspiring guests of the magnificent but fragile beauty of Antarctica. It is this in-depth, on location knowledge and expertise which can assist with your choice of voyage to best match your timing, interests and budget.
The Falkland Islands
Often your first stopping point, the Falkland Islands may offer close encounters with breeding colonies of black-browed albatross, rockhopper, magellanic, gentoo and king penguins. Even from the harbour road in Stanley, one can see steamer ducks 'powering' their way down the inlet, while pods of delightfully playful Commerson's dolphins ride the bow wave of any moving boat they can find, which could include your zodiac.

South Georgia Island
South Georgia is often quoted as the highlight of an extended Antarctic experience. This is an island renowned for its extraordinary abundance of wildlife. You will explore some of its best landing sites, and absorb first hand the World's largest colonies of King penguins, dotted along the shore as far as the eye can see.
On the beaches fur and male elephant seals dominate the goings on. Over half the world's population of elephant seals congregate here who with much noise and energy, claim their territories and parade for their harems.

South Georgia has a fascinating human history which will be brought to life by the onboard historians through guided walks and inspiring lectures. You can hope to visit the burial place of Sir Ernest Shackleton, his grave found in the hills above Grytviken. Glaciers are easily viewed along the coastline as they sparkle with dangerous beauty above the blue oceans and green valley's below.
Antarctica
Onwards to Antarctic Peninsula where you can explore the penguin filled bays with the hope of making landfall on the continent itself. Our natural history experts are constantly on the look-out for whale and seal sightings with minke, fin and humpback whales and Weddell, crabeater and leopard seals often found.
At Deception Island, Hannah Point and Half Moon Island, experts seek out spectacular wildlife and may even offer the chance for an Antarctic swim; a fitting end to a truly spectacular journey.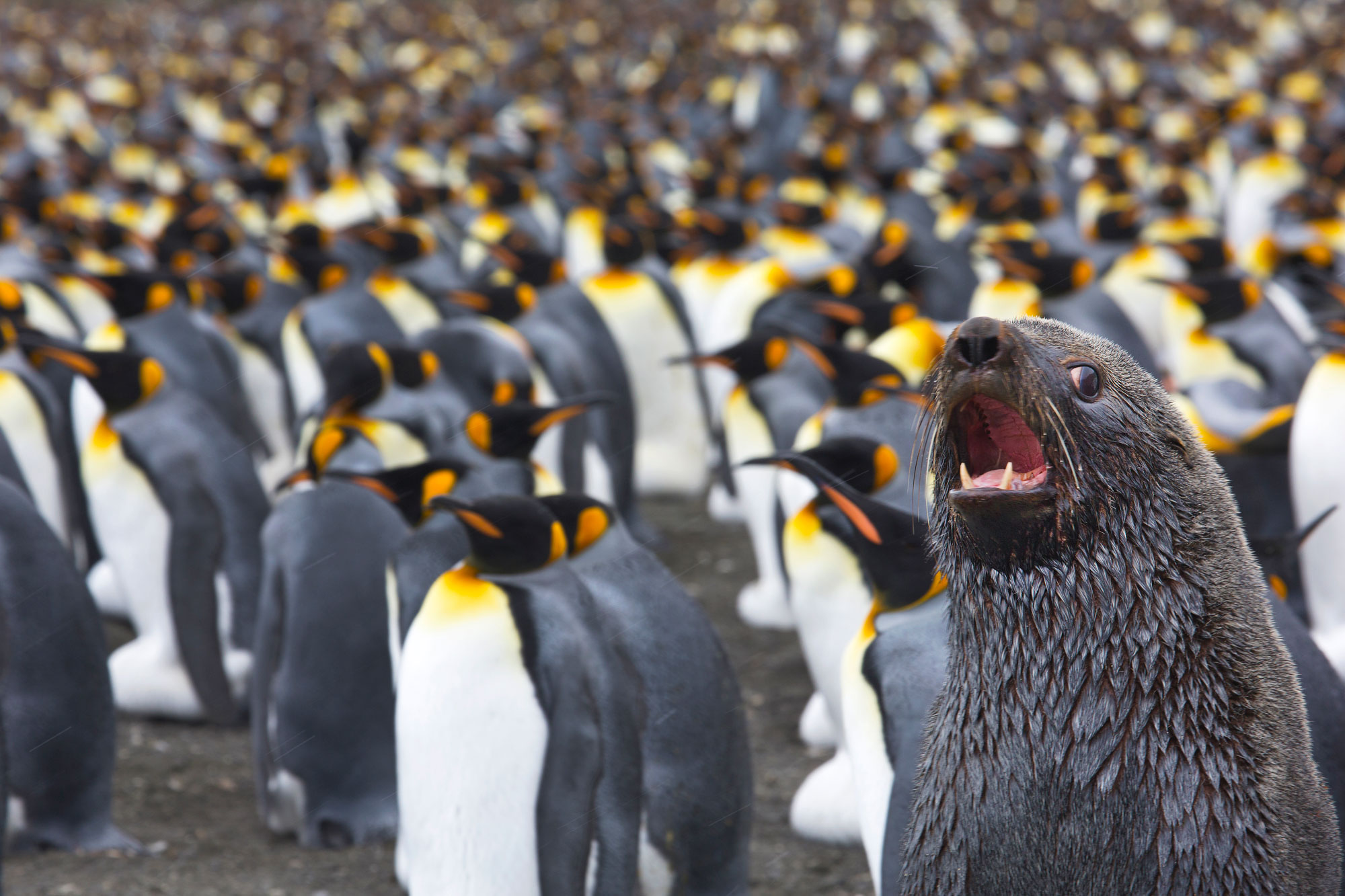 When to visit
Our small ship Falklands, South Georgia and Antarctic Peninsula voyages are available Oct-March. In late October, there are huge volumes of ice and snow, a scenically pristine environment. Penguin courtship displays and boisterous elephant seal harems signify the height of the breeding season. It is an adventurous, memorable and cost-effective time to visit.

By December and January noisy penguin chicks and seal pups dominate South Georgia's scenery and by March, as the season progresses, we continue to witness an increased abundance of whales.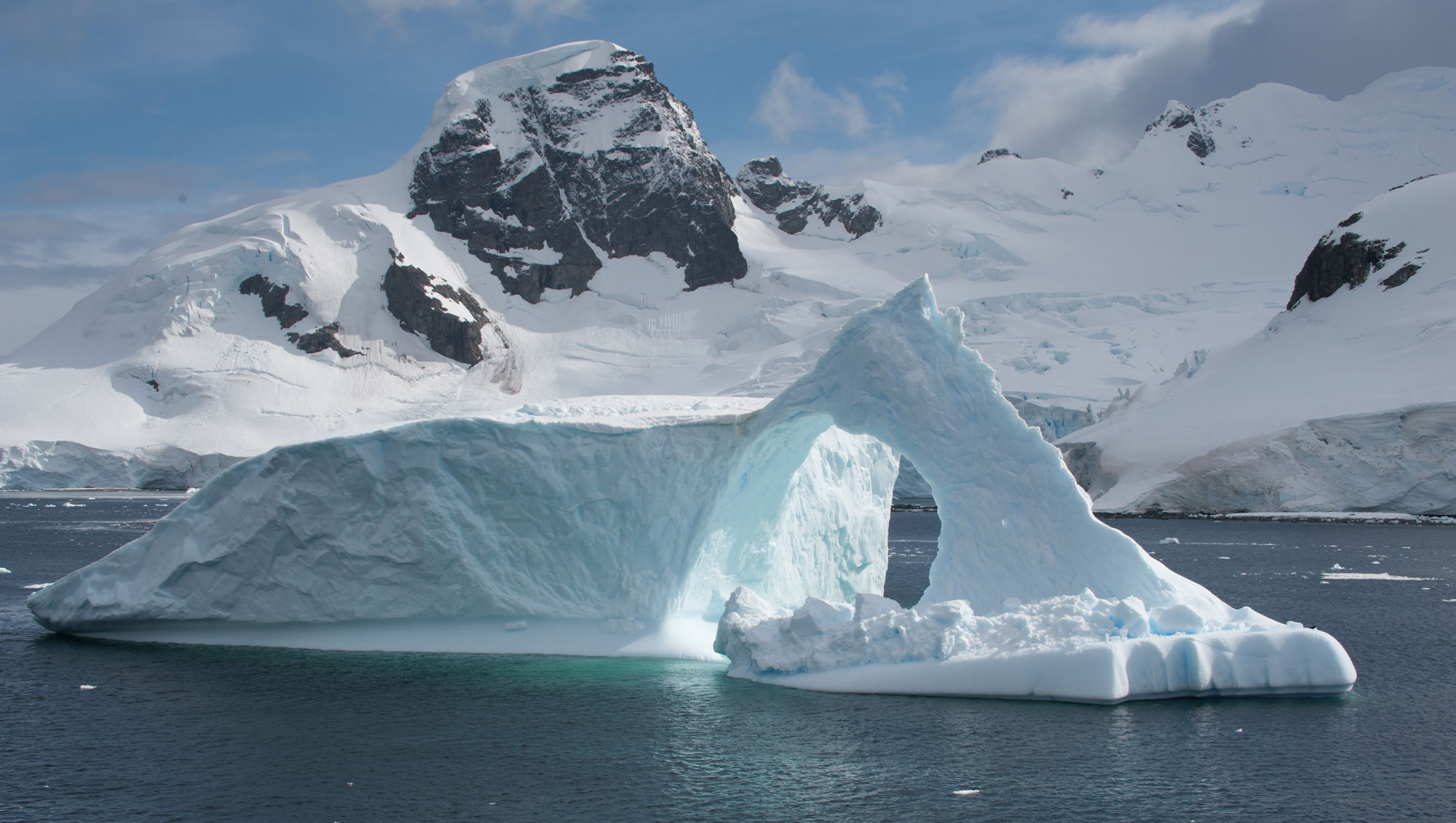 Small ship voyages
Carrying between 54 and 200 passengers, these strong comfortable ships foster an intimate atmosphere for like minded people who share a true passion for remote wild and wonderful corners of our planet. Ships vary appreciably in level of comfort from an expedition ship to a more luxurious expedition cruise offering spacious en suite cabins and excellent cuisine. Each maximises time spent off the ship with inspired daily landings, informed presentations and exploration in the company of experts.

A full complement of Zodiac craft (rigid inflatable boats) facilitate small group expert-led landings and close encounters with wildlife. Onboard lecture programmes span subjects such as: wildlife, birdlife and marine life as well as human history, geology, and polar conservation,

Polar expertise and optional adventures
Your guides are the key to inspire and enrich your knowledge of the unique polar environment. Aqua-Firma marine scientists, guides, polar divers and kayakers have many years of in depth on location experience. Specialist knowledge on certain trips enable us to offer adventure options such as kayaking and polar photography workshops onboard.

Contact our Polar Team to discuss voyage options

Our promise and your protection
Polar voyages are a major commitment for most travellers. We offer a personal and professional service with a promise that for any experience which is directly comparable, our prices are never beaten. Detailed information is provided throughout your booking and preparation process and with our first hand experience we are always available to answer any questions, no matter how small, giving 24 hour support before you depart and whilst away.

Although our voyages can be enjoyed as stand alone experiences, we are a fully ATOL bonded travel company and happy to provide flights and accommodation before and after your voyage. Aqua-Firma have the expertise to extend your travel plans and are a specialist at tailor made travel within Argentina and other parts of Latin America.

Photographs kindly provided by Chloe Burnett, David Drummond, Bob Guttermuth, Keith Hiscock & Murray Watson
Itinerary
19 Day Sample Itinerary
This is a sample only based upon a 19 day voyage. The final itinerary will be determined by the Expedition Team and is influenced by local conditions, like ice and weather - in particular actual or anticipated headwinds affecting crossings of the Drake Passage.
Day 1: Embarkation in Ushuaia
Your voyage begins where the world drops off: Ushuaia, Argentina, reputed to be the southernmost city on the planet, located on the far southern tip of South America. Starting in the afternoon, you embark from this small resort town on Tierra del Fuego – nicknamed "The End of the World" – and sail the scenic, mountain-fringed Beagle Channel for the rest of the evening.
Day 2: Birdlife of the Westerlies
Look out for several species of albatross, which are likely to follow the vessel into the westerlies, as well as storm petrels, shearwaters, and diving petrels.
The Falkland (Malvinas) Islands offer an abundance of wildlife, easily approachable – with caution. These islands are largely unknown gems, primarily remembered for the war between the UK and Argentina in 1982. Not only do various species of bird live here, but chances are you'll see both Peale's dolphins and Commerson's dolphins in the surrounding waters. A hike along the shore of Carcass Island may show you anything from breeding Magellanic and gentoo penguins to numerous waders and passerine birds (including Cobb's wren and the tussock-bird) live here. O Saunders Island you are likely to see the black-browed albatross and its sometimes-clumsy landings, along with breeding imperial shags and rockhopper penguins. King penguins, Magellanic penguins, and gentoo penguins are also found here.
Day 4: Culture of the Falklands
The capital of the Falklands, Port Stanley has some South American traits mixed in with a little Victorian charm: colorful houses, well-tended gardens and English-style pubs. You can see several century-old clipper ships in the surrounding area, silent witnesses to the hardships of 19th century sailors. The small but interesting museum is also worth a visit, covering the early days of the settlement up to the Falkland War. Approximately 2,100 people live in the capital, where you are free to wander at will – though admission fees to local attractions are not included.
Day 5-6: At Sea en route to South Georgia
En route to South Georgia, you will cross the Antarctic Convergence. The temperature cools considerably within only a few hours and nutritious water rises to the surface of the sea due to colliding water columns. This phenomenon attracts a multitude of seabirds near the ship: several species of albatrosses as well as shearwaters, petrels, prions, and skuas.
Day 7-10: Exploring South Georgia
You are due to arrive at the first South Georgia activity site on day seven. Weather conditions here can be challenging and largely dictate the program. Over the next several days, you have a chance to visit the following sites:

Prion Island – This location is closed during the early part of the breeding season (November 20 – January 7). The previous summer's wandering albatross chicks are almost ready to fledge, and adults are seeking out their old partners after a year and a half at sea.

Fortuna Bay – Near beaches inhabited by penguins and seals, you have the chance to follow the final section of Shackleton's route to the abandoned whaling village of Stromness. This route cuts across the mountain pass beyond Shackleton's Waterfall. But the terrain here is partly swampy, so be prepared to cross some small streams along the way.

Grytviken – You have the opportunity to check out this abandoned whaling station, where king penguins now walk the streets and elephant seals lie around like they own the place – because they just about do. You might see the South Georgia Museum as well as Shackleton's grave.
There may be sea ice on this route and at the edge of the ice, south polar skuas and snow petrels may join the other seabirds trailing the vessel south.
Depending on how favourable the weather and ice is, you might visit Base Orcadas, an Argentine scientific station on Laurie Island in the South Orkney archipelago. The personnel here will happily show you their facility, where you can enjoy great views of the surrounding glaciers. If a visit here isn't possible, you might land in Signy Island's Shingle Cove instead.
Day 13: Last Push to the Antarctic
Huge icebergs and a good chance of fin whale sightings ensure there's never a dull moment on this last sea voyage south. Also, your best chance to spot Antarctic petrels occurs here.
If ice permits, you sail into the Weddell Sea. Here colossal tabular icebergs herald your arrival to the eastern side of the Antarctic Peninsula. Paulet Island, with its large population of Adélie penguins, is a possible stop.

You might also visit Brown Bluff, located in the ice-clogged Antarctic Sound, where you have the chance to set foot on the Continent. In good conditions, your time in the Weddell Sea may be extended. The volcanic islands of the South Shetlands are windswept and often cloaked in mist, but they do offer subtle pleasures: There's a wide variety of flora (mosses, lichens, flowering grasses) and no small amount of fauna (gentoo penguins, chinstrap penguins, southern giant petrels). Chinstrap penguins and Weddell seals often haul out onto the beach near Cámara Base, an Argentine scientific research station on Half Moon Island.

In Deception Island, the ship plunges through Neptune's Bellows and into the flooded caldera. Here you find hot springs, an abandoned whaling station, and thousands of cape petrels – along with a number of kelp gulls, brown and south polar skuas, and Antarctic terns. Wilson's storm petrels and black-bellied storm petrels also nest in the ruins of the whaling station in Whalers Bay.

You are likely to sail toward the northern parts of Gerlache Strait (in case the Weddell Sea extension is not possible) for your last landing. One option is Cierva Cove and the rugged, ice-gripped mountains of the Davis Coast.

Mikkelsen Harbour on the south coast of Trinity Island is another alternative. Here you may enjoy a gentoo penguin rookery as well as some fine scenic cruising. Conditions on the Drake Passage determine the exact time of departure.
Day 17 - 18: Crosing the Drake
While crossing the Drake, you can again expect to be greeted by the vast array of seabirds remembered from the passage south. But they seem a little more familiar to you now, and you to them.
Day 19: Disembark Ushuaia
Every adventure, no matter how grand, must eventually come to an end. It's now time to disembark in Ushuaia, but with memories that will accompany you wherever your next adventure lies
Dates
Notes:

Our prices include
- Voyage as indicated in draft itinerary
- Flights between Punta Arenas and Port Stanley where stated.
- All meals, snacks, coffee and tea
- All shore excursions and zodiac activities
- Program of lectures by noted naturalists and leadership by experienced
expedition staff
- All miscellaneous services taxes and port charges throughout the programme
- Comprehensive pre-departure material
- Polar boots for trip duration
- Polar jacket on certain departures only
- Aqua-Firma automatically offsets the Carbon Emissions of your polar voyage

Prices exclude
- Airfares except where stated
- Fuel surcharge where applicable*
- Optional activities (e.g. kayaking, diving) unless stated
- Pre and post land arrangements (unless otherwise stated)
- Transfers to and from the vessel.
- Cancellation and personal insurance.
- Passports and visas.
- Arrival and departure tax.
- Meals ashore.
- Items of a personal nature (alcohol, laundry etc).
- Tips.

Activity Level Low unless you select an adventure activity such as kayaking.

Single supplement Single occupancy price is between 1.5x - 2x the per person cabin price depending upon date and vessel. However this does not apply if you are prepared to share a cabin with another passenger of the same gender.
*Fuel surcharge:
The cost of fuel is currently volatile, so a fuel surcharge may be applied by the ship without notice. We will let you know if this applies to your booking and send you an updated invoice.