Antarctic Peninsula

Whilst the Great White Continent may be vast and difficult to explore in its entirety, the Antarctic Peninsula is scenically the most dramatic region providing the greatest diversity of wildlife. A mountainous extension of the South American Andes, the Western Peninsula forms a coastal spine whose peaks rise 3,000 metres from the ocean. Breathtaking glaciers, deep fjords and ice bergs more than a mile long offer magical vistas - an environment that will humble the most seasoned explorer.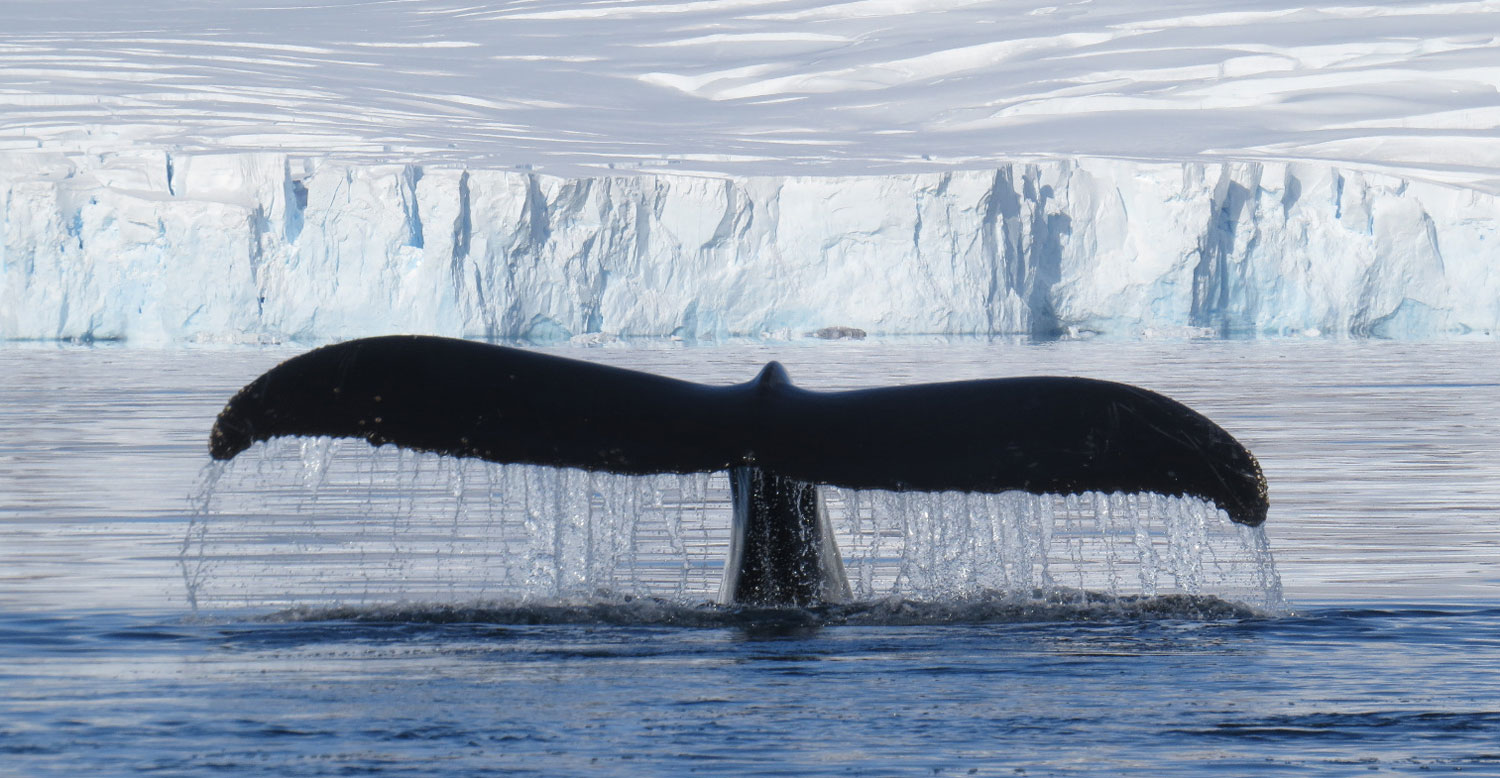 Antarctic Peninsula voyages are the most cost-effective means of exploring Antarctica and require between 9 -11 days to enjoy, perfect for those seeking a memorable experience within a relatively short time frame. The return Drakes crossing can easily demand 3-5 days of this schedule, so if time is tight or you prefer to avoid this notorious passage then Flying to Antarctica or opting for a longer Polar Circle voyage may be the answer.

Aqua-Firma Antarctic Expertise

The Aqua-Firma team have been exploring the Antarctic Peninsula for many years; guiding, driving zodiacs, delivering inspiring onboard lectures and inspiring guests of the magnificent but fragile beauty of this region. It is this in-depth, on location knowledge and expertise which can assist with your choice of voyage to best match your timing, interest and budget.
Contact our Polar Team to discuss voyage options

Best time to visit the Peninsula

Our small ship Classic Peninsula voyages are available Oct-March. In early November, the ice and snow remains pristine and breeding is at a peak, by end December and January noisy penguin chicks dominate the scenery and by March, as the season progresses, we continue to witness an increased abundance of whales.
Peninsula Wildlife

The Peninsula is a rich breeding ground for several species of penguin of which Adelie, Chinstrap and Gentoo are the most common, inviting great opportunities for their intimate and often comical observation. Observers fall in love with penguins for good reason. Aqua-Firma guides and guests have spent many years enjoying their inquisitive close encounters, as one guest put it: "sitting in penguin heaven" amidst a continuous hum of noisy chatter. The icy oceans meanwhile provide an important feeding ground for many species of whale including orcas, blue whales, sperm, minke and humpbacks. On some voyages guests have been spellbound by more than 200 whales around the ship at one time.

Seals can be found in large numbers on the Peninsula, of which Crab eaters are the most abundant and Weddell seals are visually the most attractive with their spotted coats. The largest seal is the Leopard Seal, which at up to 3.2 metres in length, demands respect as one of Antarctica's top predators.

Small Ship Voyages

Carrying between 12 and around 199 passengers, our Antarctic Peninsula voyages are onboard some of the smallest and friendliest ships exploring the Antarctic waters. This creates an intimate atmosphere of like minded people who all share a common aspiration for remote wild and wonderful corners of our planet. Each ice strengthened vessel offers the freedom to roam the decks at all levels as well as the panoramic ship's bridge with the invitation to stand beside the captain as they navigate through the polar ice. Ships vary appreciably in level of comfort from an expedition ship to a more luxurious cruise offering spacious en suite cabins and excellent cuisine, all however maintain the prime objective of maximising time spent off the ship with inspired daily landings, informed presentations and exploration in the company of experts.

A full complement of Zodiac craft (rigid inflatables boats) allows everyone to disembark at the same time, perfect for small group expert-led landings and close encounters with wildlife. There is a natural history library onboard and the programme lectures span subjects such as Antarctic explorers and history, wildlife, conservation, birdlife and whales. Where possible, each voyage includes a visit to a research station where you can learn about their work and understand how they survive in the harsh Winter environment.

Antarctica Adventure Options
Your guides are the key to inspire and enlighten your knowledge of the unique polar environment. Aqua-Firma marine scientists, guides, polar divers and kayakers have many years of in depth on location knowledge. Specialist knowledge on certain trips enable us to offer polar photography workshops onboard, and unique experiences such as diving in Antarctica, camping on the ice, sea kayaking and snow shoe walking.
Contact our Polar Team to discuss activity options

Our Promise & Your Protection

Polar voyages are a major commitment for most travellers. We offer a personal and professional service with a promise that for any experience which is directly comparable, our prices are never beaten. Detailed information is provided throughout your booking and preparation process and with our first hand experience we are always available to answer any questions, no matter how small, giving 24 hour support for our clients before you depart and whilst away.

Whilst our voyages can be enjoyed as stand alone experiences, we are a fully ATOL bonded travel company and able to provide flights and accommodation before and after your voyage.

Aqua-Firma have the expertise to extend your travel plans and are a specialist at tailor made travel within Argentina and other parts of Latin America.
"Antarctica just mind-blowing! ......Aqua-Firma you have given me a memory that is priceless and it has been my pleasure booking with you and I would not hesitate to do it again!"

Judy Parnell - Read more Antarctica Reviews
Photographs kindly provided by: Franco Banfi, Rinie Van Meurs, Chloe Burnett, Keith Hiscock, Charlotte Caffrey & Göran Ehlmé
Itinerary
11 Day Sample Itinerary
This is a sample only based upon an 11 day voyage. The final itinerary will be determined by the Expedition Team and is influenced by local conditions, like ice and weather - in particular actual or anticipated headwinds affecting crossings of the Drake Passage.
Day 1: Embarkation in Ushuaia
Your voyage begins where the world drops off: Ushuaia, Argentina, reputed to be the southernmost city on the planet, located on the far southern tip of South America. Starting in the afternoon, you embark from this small resort town on Tierra del Fuego – nicknamed "The End of the World" – and sail the scenic, mountain-fringed Beagle Channel for the rest of the evening.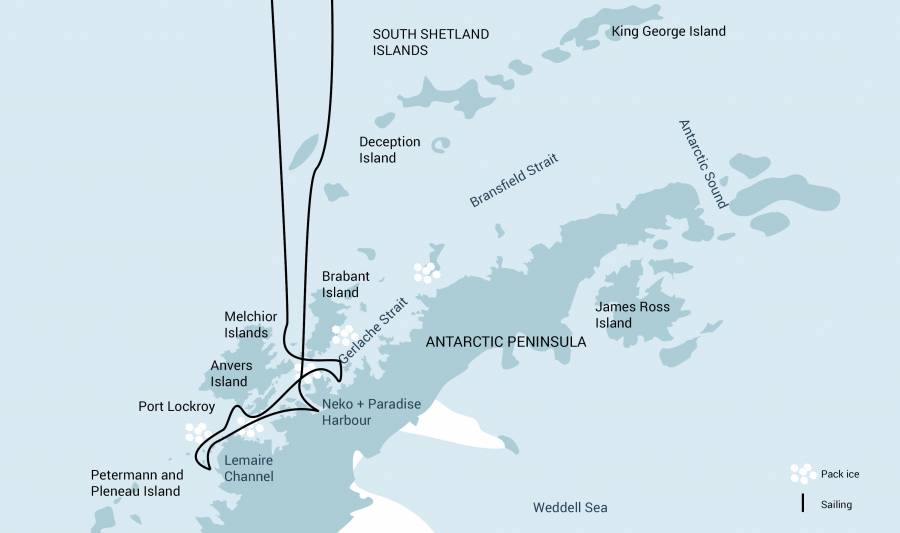 Day 2 - 3: Path of the Polar Explorers
Over the next two days on the Drake Passage, you can experience life from the perspective of the polar explorers who first braved these regions: cool salt breezes, rolling waves, maybe even a fin whale blasting up a column of sea spray. After passing the Antarctic Convergence – Antarctica's natural boundary, formed when north-flowing cold waters collide with warmer subantarctic seas – you are in the circum-Antarctic upwelling zone. Not only does the marine life change, the avian life changes too: A variety of albatrosses and petrels show up, along with Cape pigeons and southern fulmars. Then, near the South Shetlands Islands, the first icebergs flash into sight.
Gray stone peaks sketched with snow, towers of broken blue-white ice, and dramatically different wildlife below and above. You first pass the snow-capped Melchior Islands and Schollaert Channel, sailing between Brabant and Anvers Islands.
Sites you may be able to visit include:
Cuverville Island – Stabbing up between Rongé Island and the Antarctic Peninsula, Cuverville houses a colony of several thousand gentoo penguins as well as pairs of breeding brown skuas.
Danco Island – Activities here may focus on the gentoo penguins nesting on the island, in addition to the Weddell and crabeater seals that may be found nearby.
Neko Harbour – An epic landscape of mammoth glaciers and endless wind-carved snow. You have the chance to set foot on the Continent here, and also to go for a Zodiac cruise with view of the ice-crusted alpine peaks.
Paradise Bay – You may be able to walk on the Continent again at this location, or to take a Zodiac cruise in the sprawling, ice-flecked waters. Here you have a good chance of seeing humpback and minke whales.
Port Lockroy – After sailing through the Neumayer Channel, you may visit the former British research station – now a museum and post office – of Port Lockroy on Goudier Island. You might also be able to partake in activities around Jougla Point, meeting gentoo penguins and blue-eyed shags. There are great opportunities for kayaking and camping here. When conditions are right, you can even snowshoe around the shore.
Booth, Pléneau & Petermann Islands – If the ice allows it, you may sail through the Lemaire Channel in search of Adélie penguins and blue-eyed shags. There's also a good chance you'll encounter humpback and minke whales as well as leopard seals. You may also visit Booth Island's Port Charcot.
Wilhelmina Bay & Guvernøren – This is a great place to spot humpback whales, and you also may embark on a Zodiac cruise – and scuba dive, if you're certified – around the ghostly wreck of Guvernøren, a whaling vessel that caught fire here in 1915. Around the Melchior Islands, amid a frozen landscape peopled with icebergs, you may encounter even more whales, leopard seals, and crabeater seals. You depart at noon, depending on conditions on the Drake Passage.
Day 9 - 10: The Drake's Passage
Your return voyage is far from lonely. While crossing the Drake, you can again expect to be greeted by the vast array of seabirds remembered from the passage south. But they seem a little more familiar to you now, and you to them.
Day 11: Disembark Ushuaia
Every adventure, no matter how grand, must eventually come to an end. It's now time to disembark in Ushuaia, but with memories that will accompany you wherever your next adventure lies.
Dates
Notes

Our prices include
- Voyage as indicated in draft itinerary
- All meals, snacks, coffee and tea
- All shore excursions and zodiac activities
- Loan of rubber boots on selected departures
- Free expedition jacket on selected departures
- Program of lectures by noted naturalists and leadership by experienced
expedition staff
- All miscellaneous services taxes and port charges throughout the programme
- Comprehensive pre-departure material
- Aqua-Firma automatically offsets the Carbon Emissions of your polar voyage

Prices exclude
- Airfares.
- Fuel surcharge where applicable*
- Optional activities (e.g. kayaking, diving) unless stated
- Pre and post land arrangements.
- Transfers to and from the vessel.
- Cancellation and personal insurance.
- Passports and visas.
- Arrival and departure tax.
- Meals ashore.
- Items of a personal nature (alcohol, laundry etc).
- Tips.

Activity Level Low unless you select an adventure activity such as kayaking, mountaineering or scuba diving.

Single supplement
Single occupancy price is between 1.5x - 2x the per person cabin price depending upon date and vessel. However this does not apply if you are prepared to share a cabin with another passenger of the same gender.
*Fuel surcharge:
The cost of fuel is currently volatile, so a fuel surcharge may be applied by the ship without notice. We will let you know if this applies to your booking and send you an updated invoice.