One of the most iconic sections of The Great Migration in the Serengeti is the crossing of the Mara River by hundreds of thousands of wildebeest and zebras. This takes place in the middle of the long dry season (August and September), when the short grass plains of the southern Serengeti can no longer sustain large populations of grazers. Kenya's Maasai Mara Reserve receives a more constant supply of rain, so it becomes a matter of life and death to reach its pastures. So strong is the drive to reach it, wildebeest and zebras will run a gauntlet of Nile Crocodiles which lie in wait for them to cross the Mara River.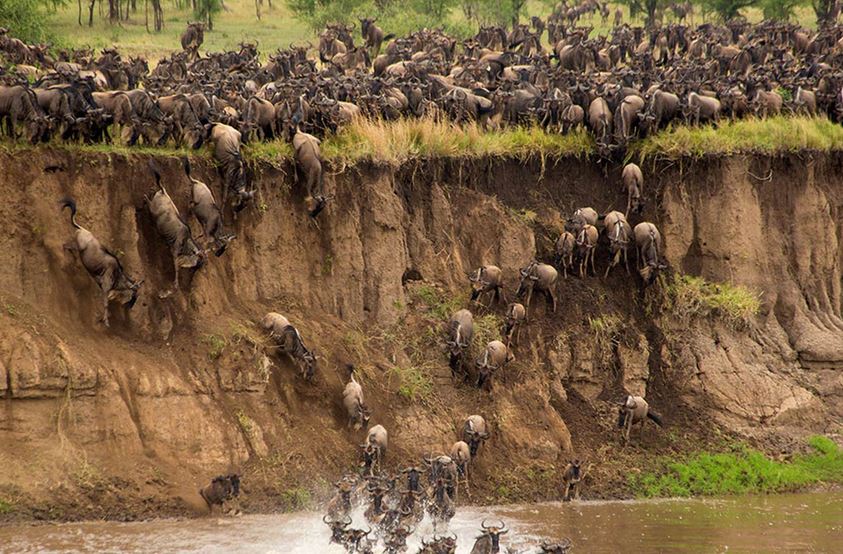 We operate safaris to try to witness river crossings and northern Tanzania's wider game in the following ways:
- Private Drive & Fly Safaris starting in Arusha, heading first to Lake Manyara, then to Ngorongoro Crater, Olduvai Gorge, and then to eastern, central and northern Serengeti. You will avoid a long return overland journey by taking a flight from the far north of the Serengeti straight back to Arusha.
- Flying Safaris focusing on the northern Serengeti, either in fixed camps, semi-mobile and fully mobile safari camps.
- Flying Safaris in Kenya's Maasai Mara Reserve focusing on parts of the reserve close to potential crossing points on the Mara River.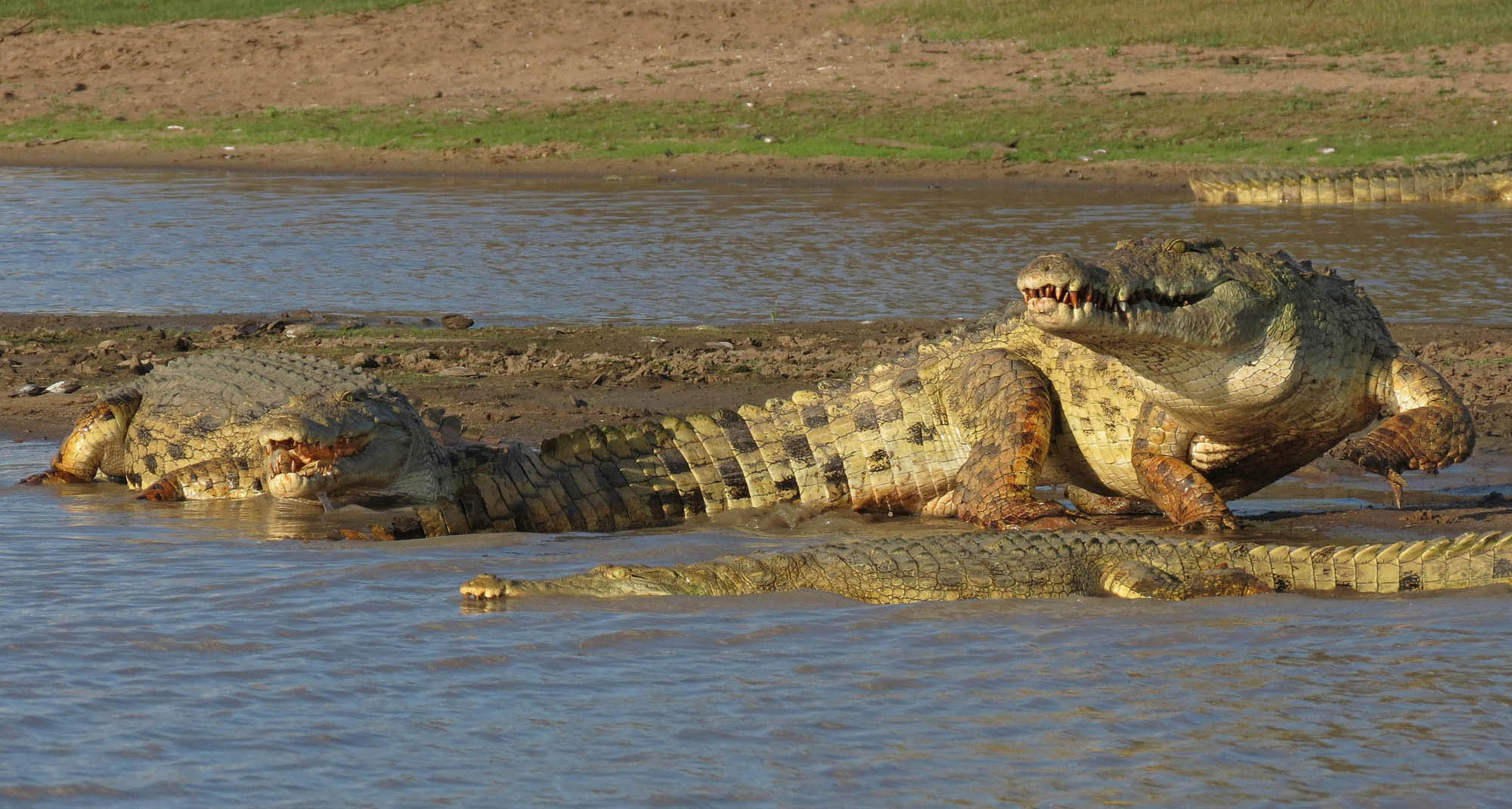 Combination Overland & Flying Safaris
Our drive and fly safaris are onboard 5 seater and 7 seater specially adapted Toyota Land Cruisers. Each vehicle comes with a local expert drive guide / tracker. Guests all have a access to a window and the top of the vehicle can be opened for wider wildlife observation. The vehicle comes with a plug to charge batteries if needed, as well as a small refrigerator to maintain a supply of cool drinks.
As standard, we accommodate guests in a combination of fixed camps in the central Serengeti and edge of the Ngorongoro Crater; with a mobile tented safari camp in the northern Serengeti, providing a truly authentic safari experience, very much blending into the African savannah environment you are there to experience.
For our private safaris, we can adjust your itinerary to provide exactly the experience which suits you, both in terms of duration and accommodation. Perhaps the best upgrade to consider is our private version of mobile safari camp in the northern Serengeti, with private butler service and an intimate wilderness experience far from others.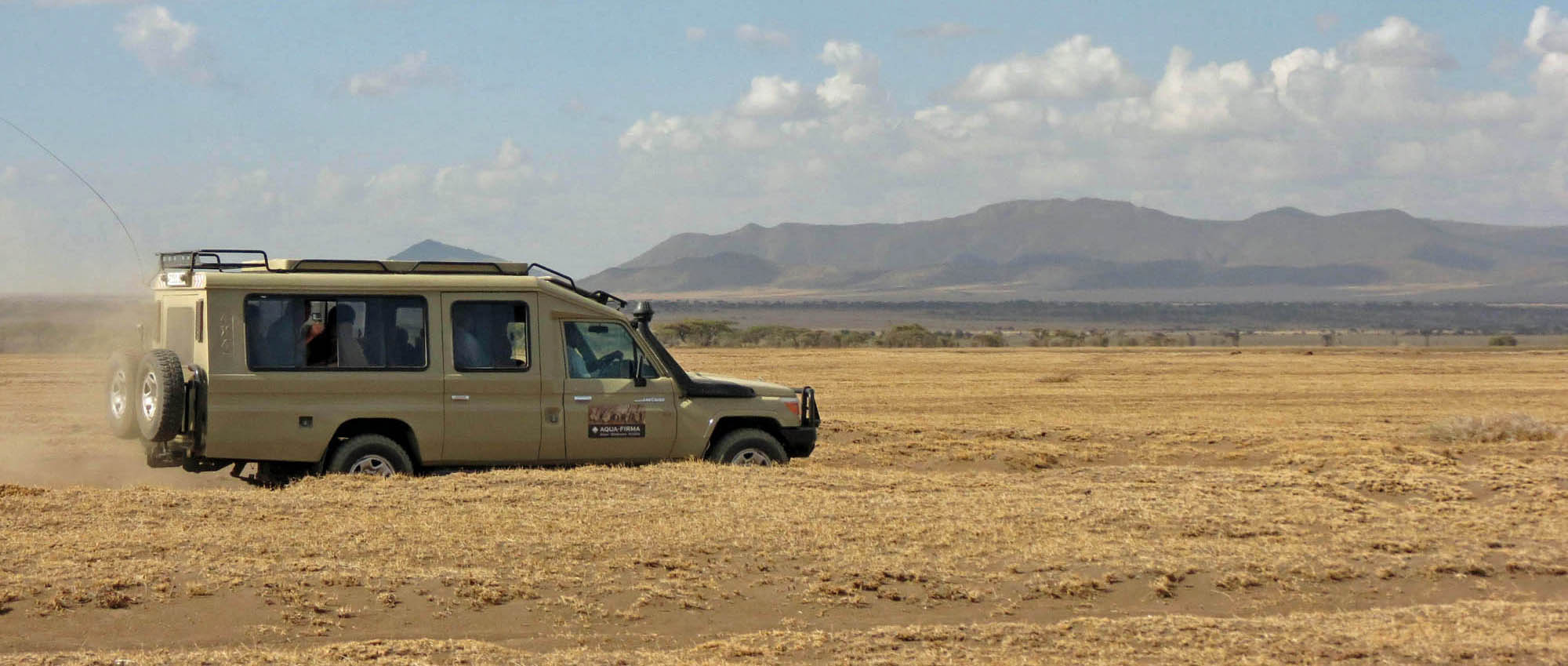 Flying Safaris
Flying safaris are advantageous if you want to focus more exclusively on the river crossings, either in the northern Serengeti or Maasai Mara; or if you want to combine safaris with game reserves such as Selous, Ruaha, Mahale Mountains and Katavi to the south and west which are particularly good to visit during the dry season. The beautiful Tarangire National Park is also best to visit at this time due to an inward migration of wildlife, attracted by dry season grazing provided by its river and lake.
Itinerary
Day 1: Arrive Kilimanjaro airport
You will be met and transferred to your hotel in Arusha.
Day 2: Lake Manyara National Park
After an early breakfast, your guide will brief you on the day ahead and then set off in the direction of Lake Manyara National Park.
You will arrive before lunch and begin your safari, starting amongst diverse riverine forests which are particularly good for birds, duikers as well as larger mammals including duikers and elephants.
You will eventually reach a mix of open land and savannah as well as the banks of the vast lake. You may see pelicans and flamingo on the lake, as well as wildebeest and zebra enjoying open land, beyond the reach of a successful ambush by lions. Giraffe and elephants are usually amongst the bush and you can also look for Lake Manyara's famous tree-climbing lions.
You will take lunch in the park and later in the day head west through forests on the lush south eastern slopes of the Ngorongoro crater. You will eventually reach the crater egde where hopefully you can enjoy vast and spectacular views of the world's largest volcanic caldera.
You will stay in a lodge at the edge of the crater.
(B,L,D)
Early morning, you will descend into the crater to begin a safari drive in which you can hope to see prides of lions, buffalo, elephants, hippopotamus, zebras, wildebeest, birdlife amongst the more wooded areas, hyenas, jackals and hopefully black rhino.
Overnight at the edge of the crater.
(B,L,D)
Day 4: Olduvai Gorge & Serengeti National Park
This morning you will head west through Maasai grazing lands within the Greater Ngorongoro Conservation Area. En route, you will detour to the famous Olduvai Gorge where some of the earliest excavations were made of early man.
You will eventually reach the short grass plains at the eastern edge of the Serengeti National Park. You will see some wildlife here, but now begins your journey which roughly follows where zebras, Thompsons gazelles and approximately 1.3 million wildebeest, including vast numbers of young, began their annual migration north towards the Mara River.
Wildlife sightings will soon increase as you come across permanent swamps, kopjes (granite outcrops) and eventually the central Seronera area which has good resident game year round. Keep an eye out for lions, cheetahs and leopards in trees.
You will spend the night at a permanent tented camp.
(B,L,D)
Day 5: Serengeti National Park
Today you will set out on safari early again, heading steadily north, watching out for game as you go. By now, you will start to gain a sense of the huge dimensions of savannah wilderness that is the Serengeti.
After a day during which we hope to see many species of game, you will eventually reach the far north of the reserve and take dinner at our seasonally mobile tented camp.
(B,L,D)
Days 6 & 7: Serengeti National Park & Mara River
These two days will be dedicated to seeking aggregations of migratory wildebeest and zebra, on the banks of the Mara River. Hopefully you will be able to see a sudden mass river crossing as grazers seek pasture and predators in the form of huge Nile crocodiles seek the food they need to survive. Which parts of the river you target will depend upon where we find the migration has been moving. Whilst river crossings will be a major focus, you will have a chance to seek lots of other game and birdlife.
(B,L,D)
There may be time for a short early morning safari, before heading to Lobo airstrip for your flight back to Arusha.
At Arusha, you will be met and transferred to a coffee lodge for an early lunch, before being taken to the international airport … or your onwards journey.
(B,L)
Dates
Enquire / Book
15 Jul - 31 Oct 2023
-
from £ 3,590
from US$ 4,250
7 days Private Safari price per person based on 4 persons
Add £590 / US$640 pp for 2 person private safari
Enquire / Book
15 Jul - 31 Oct 2024
-
from £ 3,590
from US$ 4,250
7 days Private Safari price per person based on 4 persons
Add £590 / US$640 pp for 2 person private safari
Notes:
Private Safari: available anytime, but best for opportunities for river crossings are late August to early October
Supplement for single room / tent occupancy (group or private trip):
2023: £490 / US$580
2024: £490 / US$580
Price includes:
- All transport starting and ending Kilimanjaro airport or Arusha town and
airport, including one way flight Serengeti to Arusha
- Expert local driver / guide
- All meals
- Entry fees to national parks, reserves and museums.
- Government taxes, hotel levies and service charges
Price excludes:
- Gratuities
- Items of a personal nature such as laundry, drinks
- Excursions or services not listed within the itinerary