Tarangire is a wonderful national park in northern Tanzania. If you can manage just two days from Arusha, it can provide a very complete and compact overland safari all on its own. It even has its own migration pattern - not of the scale of the Serengeti in terms of animal numbers, but far more than a seasonal in-flow and out-flow of animals seeking water.
There is good resident wildlife throughout the year within Tarangire, but the dry season, which runs from June to around mid-November, does provide the best animal viewing. For security of water and grazing in the dry months, animals are driven to the Tarangire River, an extensive series of swamps and Lake Burunge which lies outside the park off its western boundary. Around 3,000 elephants, 25,000 wildebeest and 30,000 zebras, all packed into the general confines of 2,600 km2 of park.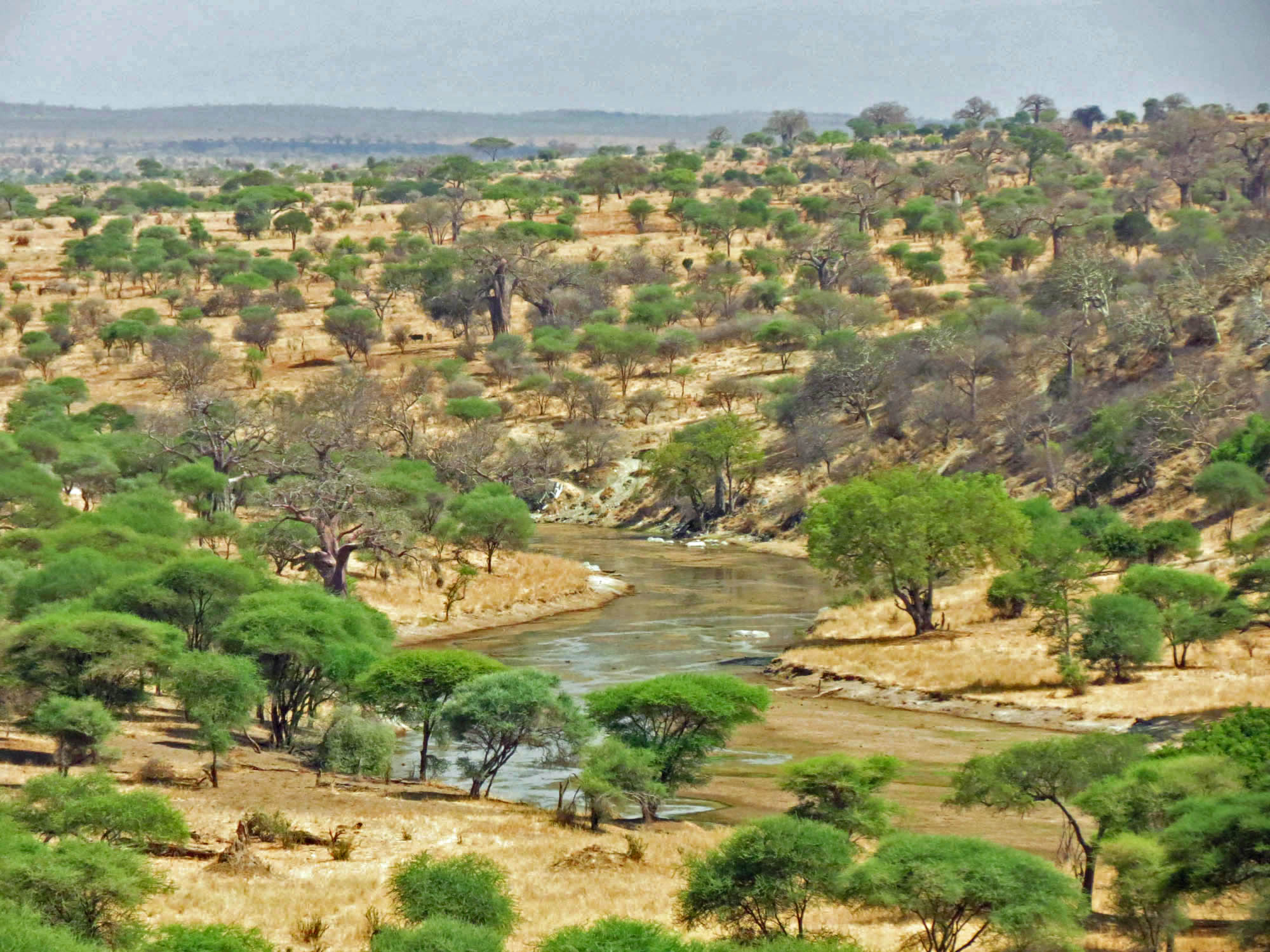 Like the Great Wildebeest Migration between the Serengeti and Masai Mara, it is considered that phosphates are a major driver in the movement of animals. Phosphates are important for bone development and animals migrate as far as Amboseli in Kenya, and 250km to the northeastern flanks of Mount Kilimanjaro in search of grasses rich in the mineral.
Elephants are undoubtedly a highlight of Tarangire, with no other park able to provide such intense populations. It's possible to see several large and small herds in a day. There are often herds of buffalo exceeding 200 too, which might appear in the south western swamps amongst trees filled to breaking point with pelicans. Zebras are easy to spot out on the open mixed grassland and woodlands in the park's hilly northern end. The Tarangire River has carved a dramatic gorge here, providing one of many scenically beautiful and wildlife rich vistas to gaze at in admiration.
Ancient baobabs are a feature of the scenery too, and often targeted by elephants for their bark and wood which is rich in water. Between them and the dense vegetation of the swamp areas, you will often see giraffe, tiny dik dik antelopes, warthogs, ostriches, impala, gazelles and even a fringe-eared oryx which is a rare in most reserves. Predators can be found here if you spend long enough, including lions, leopards and very small numbers of cheetah.
We operate privately guided tailor made safaris to Tarangire all year round, for which we recommend 2 - 3 days, setting out overland from Arusha. Private safaris are ideal for enabling you to work out with your guide where exactly you want to go and which species or scenery you are most keen to photograph and study next. We can also fly you in and / or out, meeting your guide when you get there, which is handy if you want to enjoy some very luxurious lodging deeper south in the park. In addition to lodges, we can also set up for you a private mobile tented camp for a particularly wild and special 3 day safari.
A flight out of Tarangire is particularly useful if you want to incorporate it into an extended northern circuit safari encompassing Ngorongoro and Serengeti. We can again incorporate this into a private safari, or integrate into a small group northern circuit safari.
For further information about how to experience Tarangire, please Contact one of our Tanzanian safari experts.