Antarctica is larger than USA and Mexico combined, so it is not surprising that it offers more than one destination worthy of visiting. One of the first steps is to decide which part of the continent you wish to explore- and that's where we can help !

Our professional team have been exploring Antarctica for many years; guiding as marine scientists, driving zodiacs, delivering inspiring onboard lectures and inspiring guests of the magnificent but fragile beauty of Antarctica. It is this on location knowledge and expertise which can assist with your choice of voyage to best match your timing, interests and budget:
Sir David Attenborough declared of the peninsular :"Nowhere is Antarctica lovelier" . If you are looking for a classic departure with excellent scenery, wildlife, history and research, often with the additional opportunity to camp, kayak and exercise your photographic skills then this may be the choice for you.
As well as being the most accessible region it is one of the most biologically rich. Colonies of penguin including Gentoo, Adelie and Chinstrap populate the beaches in Summer, breeding and feeding on the 1% of Antarctica which actually melts. Rocky shorelines are backed by glorious steep mountain ranges (an extension of the Andes chain). These peaks and valleys carry thousand year old glaciers to the ice-berg filled sea where they can take more than 10 years to melt.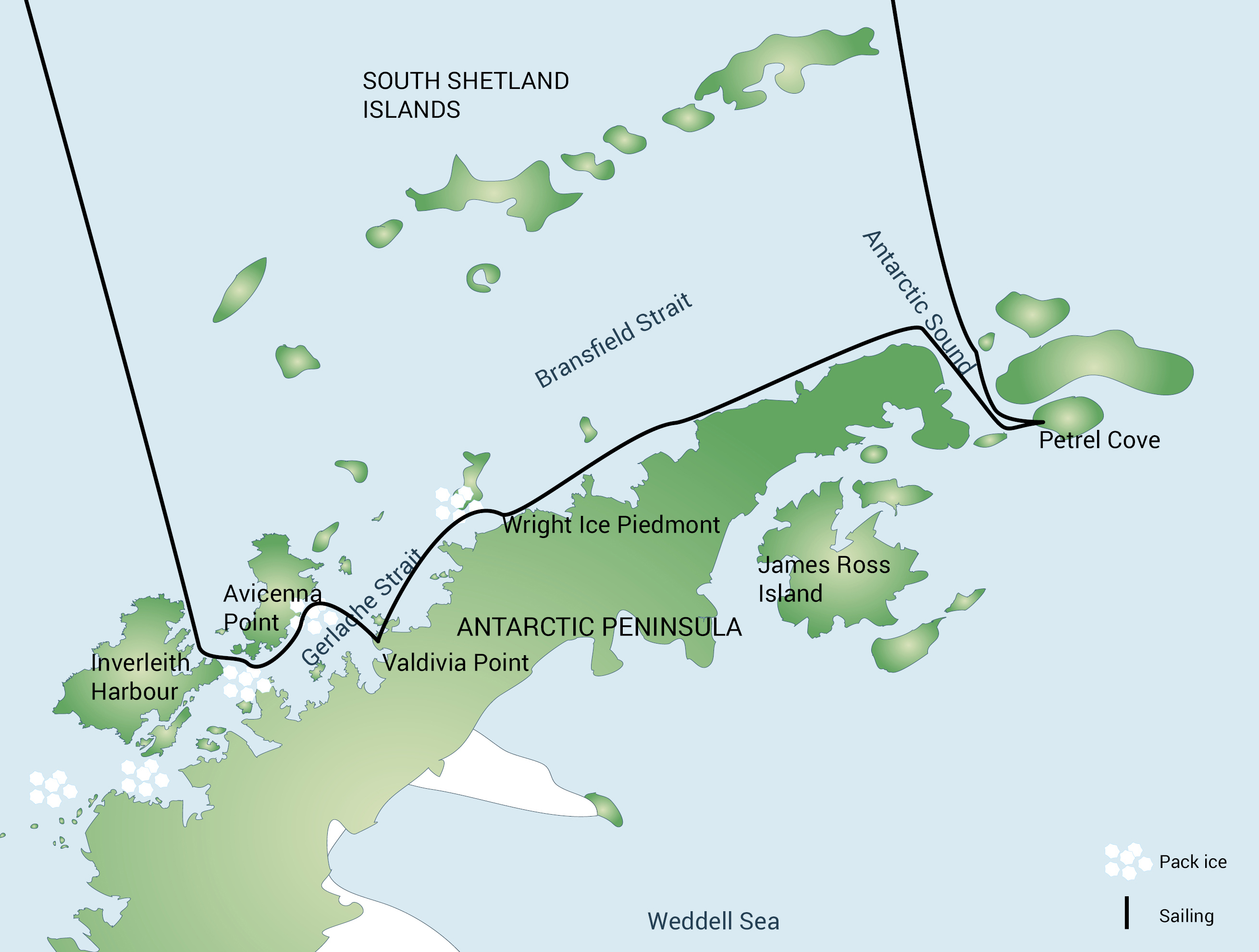 Click here to read more and learn about possible Antarctic Peninsula landing sites.
This wild, remote area sits to the East of the Peninsula; it is home to mile long tabular icebergs, great penguin colonies (including an Emperor colony at Snow hill) and the graveyard for Shackletons ship Endurance. Fewer expedition cruises venture here, to a lesser visited region.
It is often selected by those who have explored the Antarctic peninsula or the choice of wildlife enthusiasts keen to see an Emperor penguin onboard our helicopter assisted voyages.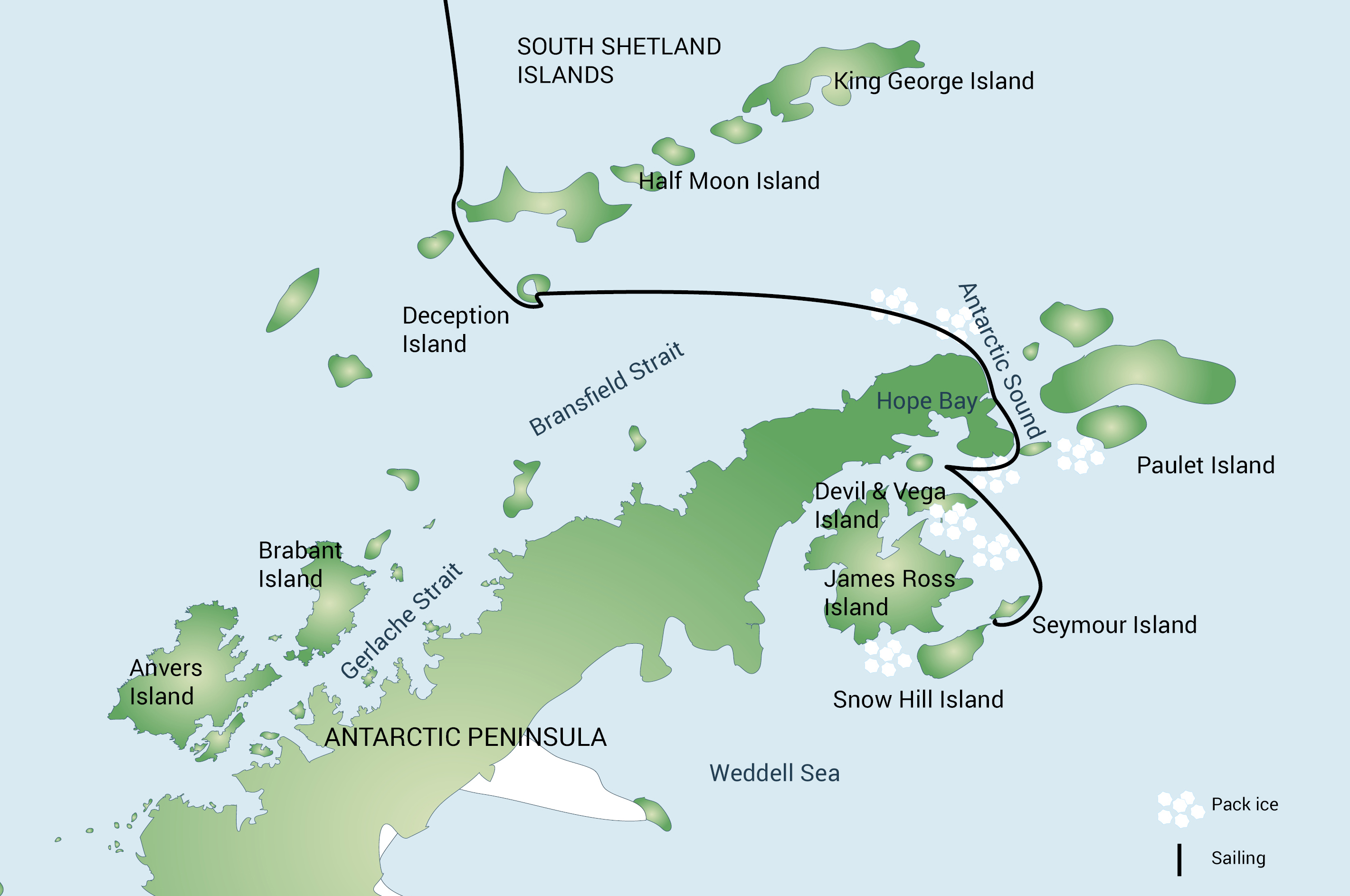 It is also possible on dedicated departures for those keen to cross the famous line of the Antarctic circle at latitude 66 degrees 33′ 39″ south of the equator. It also has the advantage of being longer than a classic Antarctic Peninsula voyage, keeping in mind that this extra time is often spent at sea pushing Southwards- albeit surrounded by stunning scenery.
Reaching the most southerly point is not always guaranteed and will depend on weather and ice conditions. There are also several routes and for the more scenic inside passage, timing is important requiring a relatively ice free channel and an expedition or cruise ship with a strong ice class to cope with the sea ice which may block its path southwards.
Falklands, South Georgia and Antarctic Peninsula
This is a wonderful wildlife rich combination and often cited as the ultimate Antarctica voyage. At around 20 days, to fully absorb all three regions, you will need 3 weeks minimum away from home and a little more flexibility with your budget. But the rewards are ample: a true plethora of wildlife in breath-taking abundance that will stay with you forever. There are species (in vast numbers) who breed in the Sub Antarctic Islands of Falklands and South Georgia that you are very unlikely to see on Antarctica itself- King penguins being the main highlight, along with Elephant seals and nesting albatross. Browse further information on the two sub Antarctic islands of Falklands and South Georgia… and don't forget to take a look at just a sample of the many years of wonderful reviews received.
In Antarctica's Ross Sea-we offer exploration via two routes:Semi Circumnavigation of Antarctica from Argentina to New Zealand or viceversa equipped with helicopters. Or a Ross Sea 34 day exploration from New Zealand, both of which give access to Shackeltons hut, Scotts base, as well as penguins of the Sub Antarctic at landings such as Campbell Island, Enderby Island and Macquarie Island with the chance to meet King penguins, Emperor penguins, Royal Albatross and Yellow -eyed penguins.