Whale sharks (Rhincodon typus) are the biggest fishes in the sea reaching up to 20 meters in length. The opportunity to interact with these gentle giants and assist in their research is a humbling and awe inspiring experience. At the enchanting Mafia Island off the coast of Tanzania, you can join our whale shark research team which includes two of the world's leading whale shark researchers, Dr Simon Pierce & Dr Chris Rohner.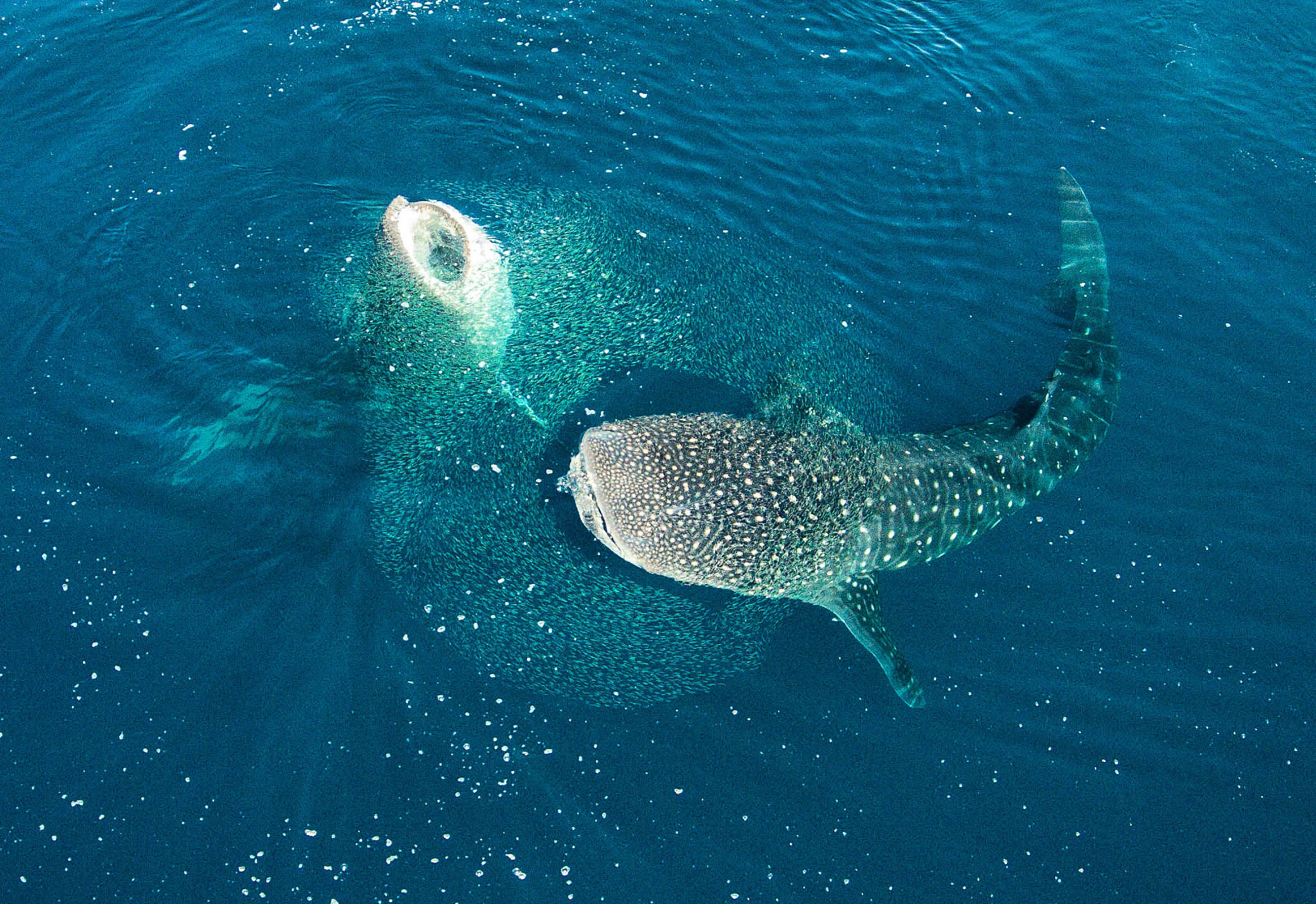 Researchers have been monitoring whale sharks for several years now off the west coast of Mafia Island and sightings have been consistently good across the northern hemisphere winter. The team is often in the water with several sharks at once and we often see two or three of them as we fly into and out of the island during peak periods.
We have timed this trip to fit a peak period in whale shark sightings in November, when East Africa's seas are also usually calm – ideal for diving and snorkelling on some of Africa's richest coral reefs. Whilst whale shark interactions are the core of this experience, we have also incorporated a full itinerary of diving for qualified divers on reefs on the opposite coast of Mafia, within an 821 square kilometer Marine Protected Area which is afforded complete protection from fishing. This means that you can dive amongst some incredibly healthy fish life. You can find yourself eyeball to eyeball with large numbers of huge groupers and snappers, which in other coral reef locations around the world would have long been destined for the cooking pot. For those who do not dive but wish to snorkel here, we can arrange snorkelling trips if you wish.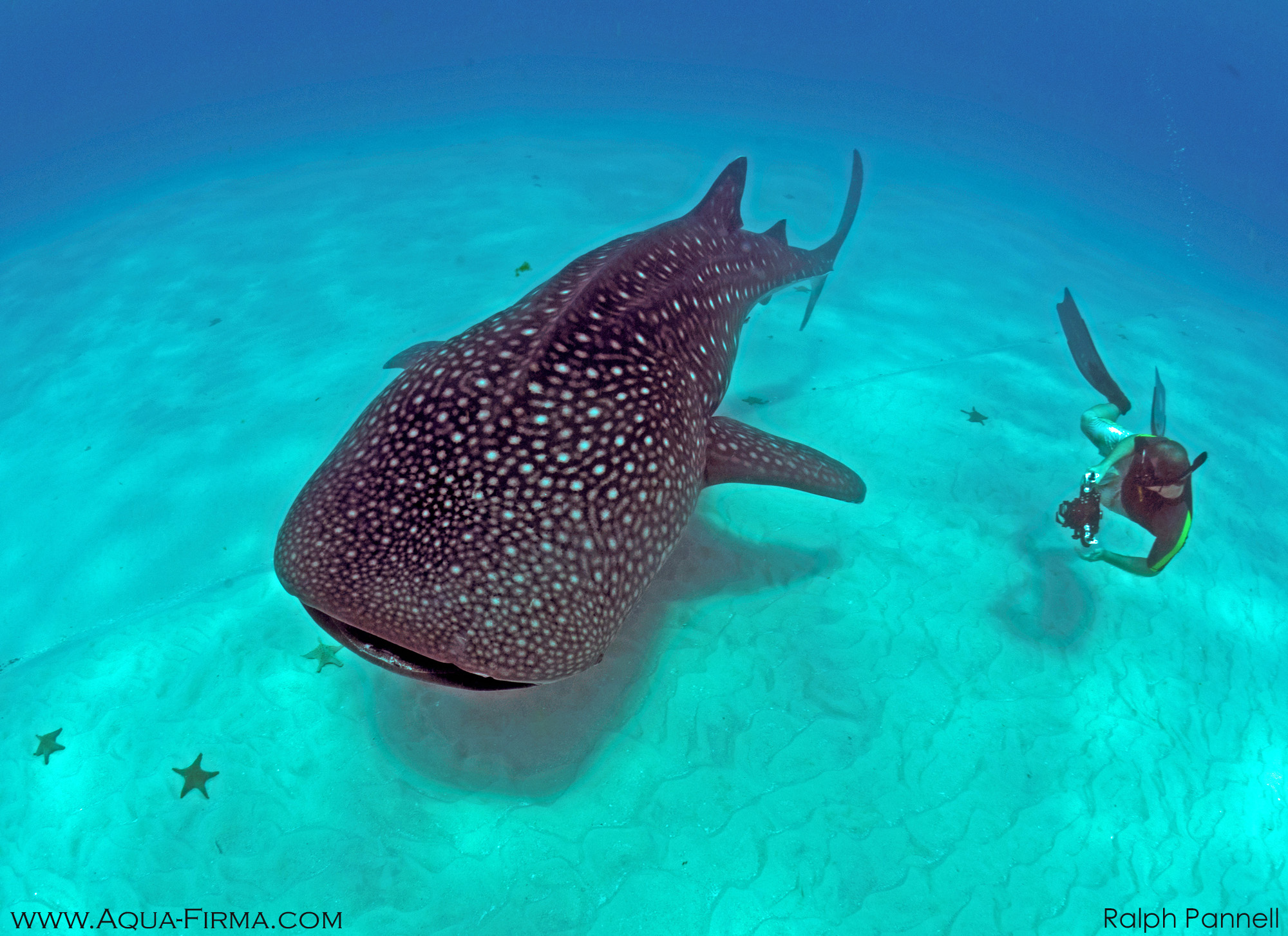 In addition to large specimens of fish, the marine park protects an incredible diversity of fish life and marine ecosystems. In Chole and beyond, you can find further excellent hard coral areas, extensive mangrove forests, sponge and soft coral sub-tidal beds and wide inter-tidal flats. This variety encourages more than 400 species of fish to reside here, 400 types of sponges, 200 types of algae and habitat for Green & Hawksbill Turtles. Mafia Island is an important breeding ground for small fish and larvae, and plankton which is what encourages the interest of whale sharks.
Mafia Island itself has a beautiful coastline, combining stunning beaches, hard coral islets with extensive areas of mangrove. You can feel very detached here from mainland Africa, amongst lovely islanders whose dhow sailing boats paint a beautiful picture against the island's varied coastline.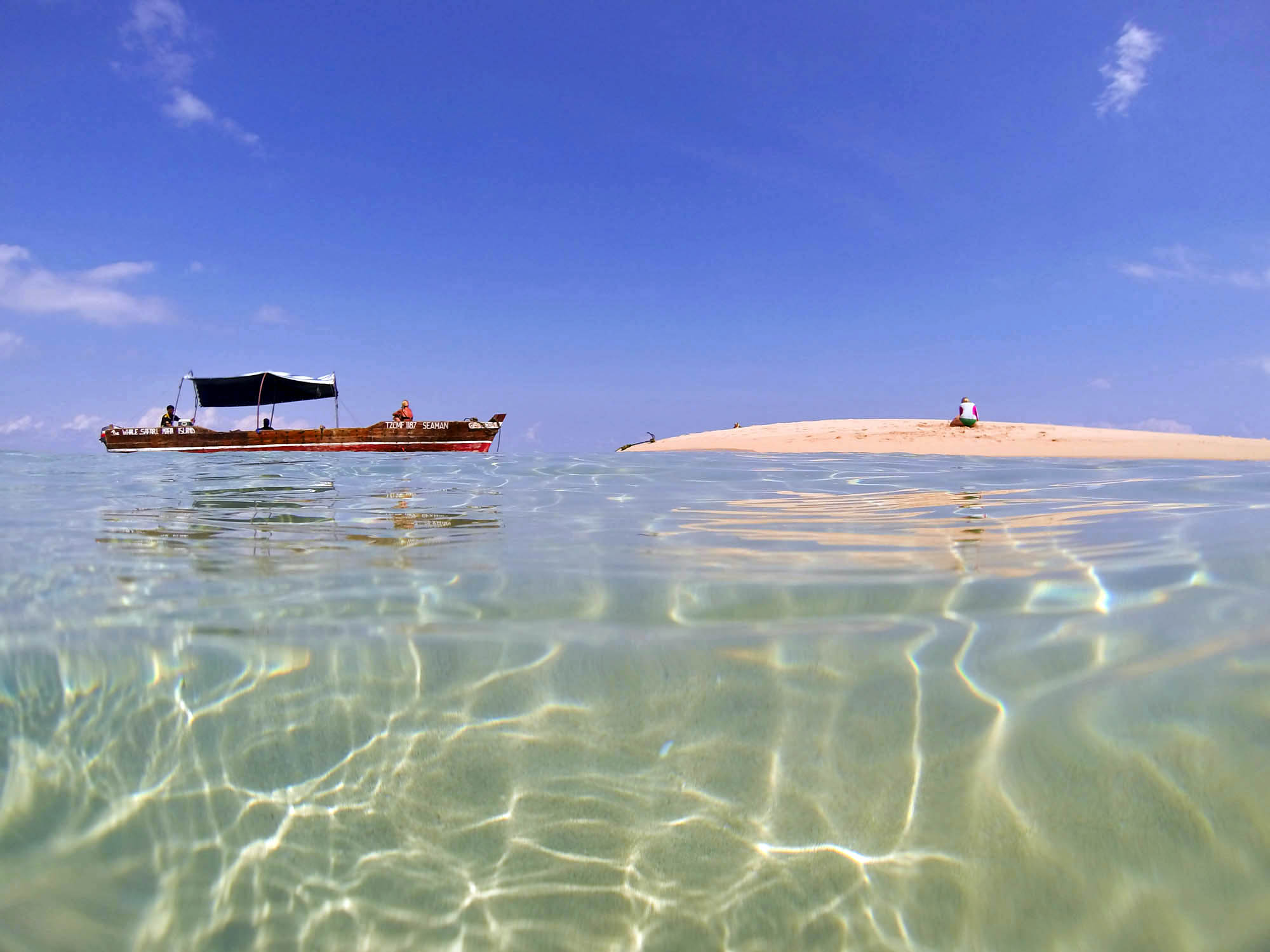 To experience the best of Africa's marine life and terrestrial wildlife, you can consider joining one of our small group safaris before or after this trip to go in search of The Great Migration. The Great Migration brings more than a million grazing wildebeest, plains zebras and Thompsons gazelles into the Serengeti, where we can also hope to see leopards, cheetahs, lions, hyenas, elephants, hippos, buffalo and more in huge abundance. This safari also goes in search of tree climbing lions and monkeys of Lake Manyara; and the bountiful wildlife of the Ngorongoro Crater where black rhino are always part of what we hope to see.
Itinerary
9 Day Itinerary
Please note that actual schedule of whale shark outings and opportunities to dive will change for each trip, optimized to fit in with tide times
Day 1: Arrive in Zanzibar
You will be met upon arrival and transferred to a boutique hotel in the historic centre of Stone Town.
There will be an evening briefing by Aqua-Firma Director Ralph Pannell or Dr Simon Pierce, who will provide a first introduction to whale sharks and research findings at Mafia Island. There will be further talks and reviews by Dr Simon Pierce, Dr Chris Rohner and Ralph Pannell during the week.
Day 2: Fly to Mafia Island
After an early breakfast, we will head to the airport and take a small plane flight to Mafia Island.
Fly Zanzibar to Mafia Island. There are some great views of the Rufiji River on this flight as well as the many small islands which lie between the river mouth and Mafia. If seas are not reflecting the sunshine, then we might be able to see whale sharks in the water beneath us as we flight into Mafia.
Mafia Island's airport is very small. We will transfer to a vehicle and take the newly tarmaced road across the dry and sandy island centre to the south east coast.
We will take a quick lunch, or pack lunch, and without any further ado, head west for our first whale shark research trip.
Once we are out of the water, we will head east for a much earned rest and dinner at the hotel.
(B,L,D)
After an early breakfast we will head to the west of the island for our second whale shark research boat trips. With travel and research combined, this will take approximately 5 hours altogether.
PM: For those who dive, we will conduct 2 dives among the wonderful 'coral mountains' of Chole Bay.
For those who do not scuba dive, we can arrange snorkelling on the fantastic coral reefs inside Chole Bay (US$35 per trip). We can also arrange other options to explore islands such as Chole and Juara with their traditional boat building, baobab trees, huge populations of roosting fruit bats, ruins of the former German administration and lush small holdings. The coast of Mafia Island is also a wonderful place to relax and enjoy the view of a passing sailing dhow. If you would like to try your hand at sailing one of these, then this is also something we can arrange.
(B,L,D)
Divers will be able to conduct 3 scuba dives each of these two days.
Options for non-divers as per the afternoon of day 3.
AM: A long morning dedicated to whale shark research & photography.
PM: An afternoon in which we will be able to focus on identifying whale sharks we have spotted & assist with editing of photographs.
AM: This morning you have the option of joining us by dhow to visit Chole Island (US$10).
Another option is to relax on Mafia Island, or assist with whale shark ID's using some software originally developed by NASA for identifying stars. Our team can also help you to learn how to use photo editing software.
Midday: Double dive outside of Chole Bay.
(B,L,D)
AM & PM: We will head out for a long morning and a long afternoon in search of whale sharks.
Day 9: Return to Zanzibar
We will fly back to Zanzibar (or Dar es Salaam if you prefer) from where you can connect with evening international flights. An additional night in Zanzibar or Dar es Salaam can be organized at extra cost if you need.
(B)
Dates
Enquire / Book
27 Nov - 05 Dec 2022
-
from £ 2,490
includes return flights Zanzibar - Mafia Island
Team includes Whale Shark expert & filmer Dr Chris Rohner
Ideal for divers and snorkellers
Notes:
Price per person sharing
The trip begins and ends in Zanzibar, but we can change this to Dar es Salaam for participants where needed.
Single supplement* £265
Divers** add £410 (covers 10 dives)
*If you would like to share and we can pair you with someone of the same gender to share with, then you can avoid any single supplement.
Price includes:
- All accommodation
- All transfers within Tanzania by air, land and sea
- Full board on Mafia Island
- Breakfasts in Zanzibar
- 5 whale shark research outings
- Expert leadership from our whale shark team
- Contributions to support ongoing whale shark research on Mafia Island
Price excludes:
- **10 scuba dives
- International flights (please ask for a quote)
- Marine Park fees at Mafia Island (currently $23.60 per day)
- Airport departure tax in Zanzibar
- Insurance
- Tips
- Visas
- Alcoholic and soft drinks
- Dive and snorkel equipment rental
Prior experience needed
- Snorkellers need no special experience – you just need to be comfortable
snorkelling in open water.
- Divers need to be Advanced certified in order to dive beyond Chole Bay. If you
are not, then you can enroll in an Advanced course during this trip.
Activity Level: Moderate
Standard of Accommodation: Comfortable coastal lodge with white sand beach and lovely views over Chole Bay. Lodge upgrade is available.