Whale sharks (Rhincodon typus) are the biggest fishes in the sea reaching up to 20 meters in length. The opportunity to interact with these gentle giants and assist in their research is a humbling and awe-inspiring experience. At the enchanting Mafia Island off the coast of Tanzania, you can join our whale shark research team which includes one of the world's leading whale shark experts, Dr Chris Rohner; and Aqua-Firma director & photographer, Ralph Pannell.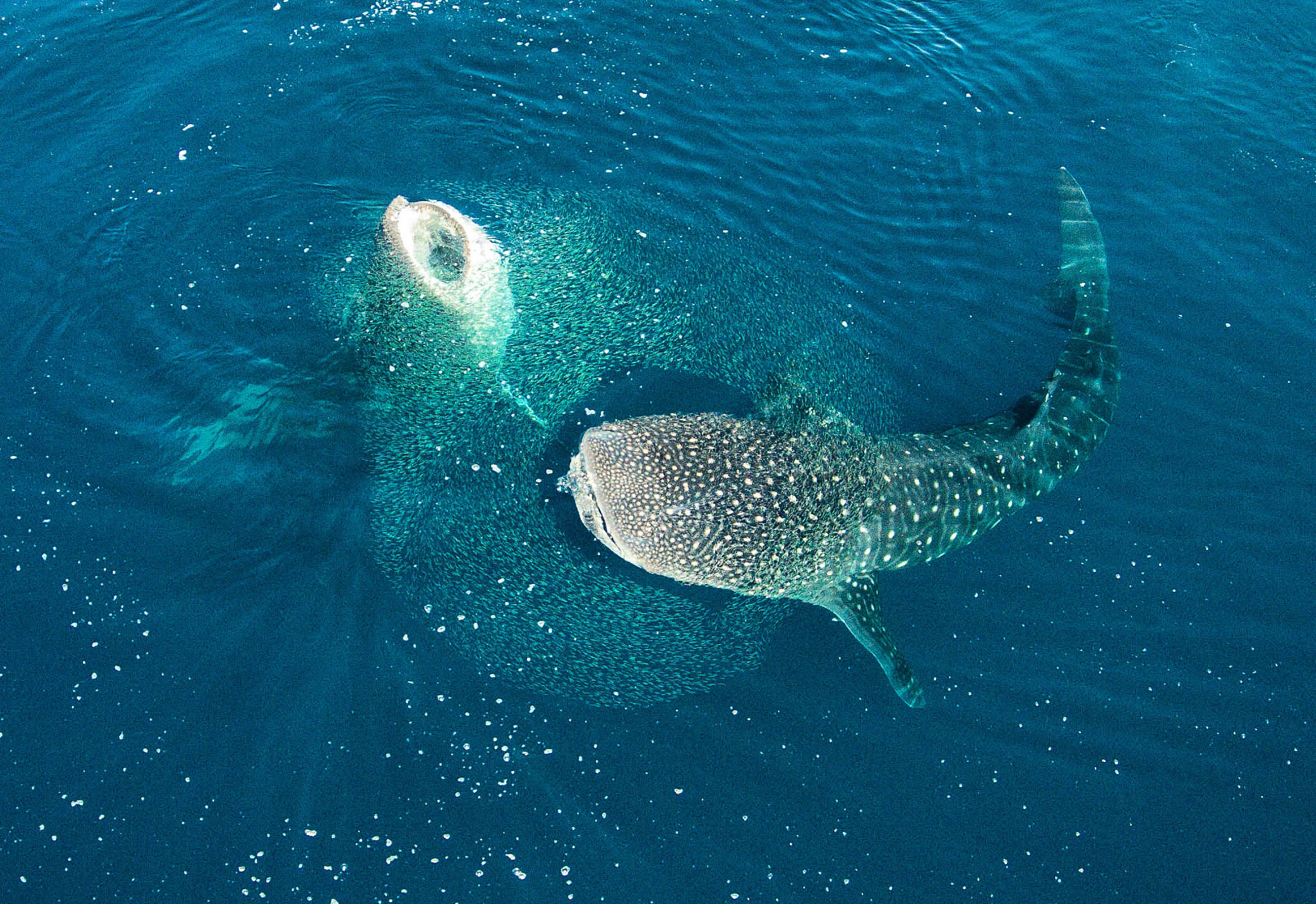 Researchers have been monitoring whale sharks for several years now off the west coast of Mafia Island and peak sightings are usually achieved towards the end of November and beginning of December. This is when we operate these trips, anticipating the opportunity to be in the in the water with several sharks at once. We also often see two or three whale sharks as we fly into and out of the island during this peak period.
Whilst we find whale sharks off the western coast of Mafia Island, on the east we find some of Africa's healthiest and most diverse coral reefs. The area is very tidal, but we time these trips in order to be able to include two optional comprehensive coral reef programmes: one for scuba divers and one for snorkelers. These programmes are within Mafia Island's 821 square kilometer Marine Protected Area, which is afforded complete protection from fishing. This means that you can be amongst some incredibly healthy fish life. You can find yourself eyeball to eyeball with large numbers of huge groupers and snappers, which in other coral reef locations around the world would have long been destined for the cooking pot.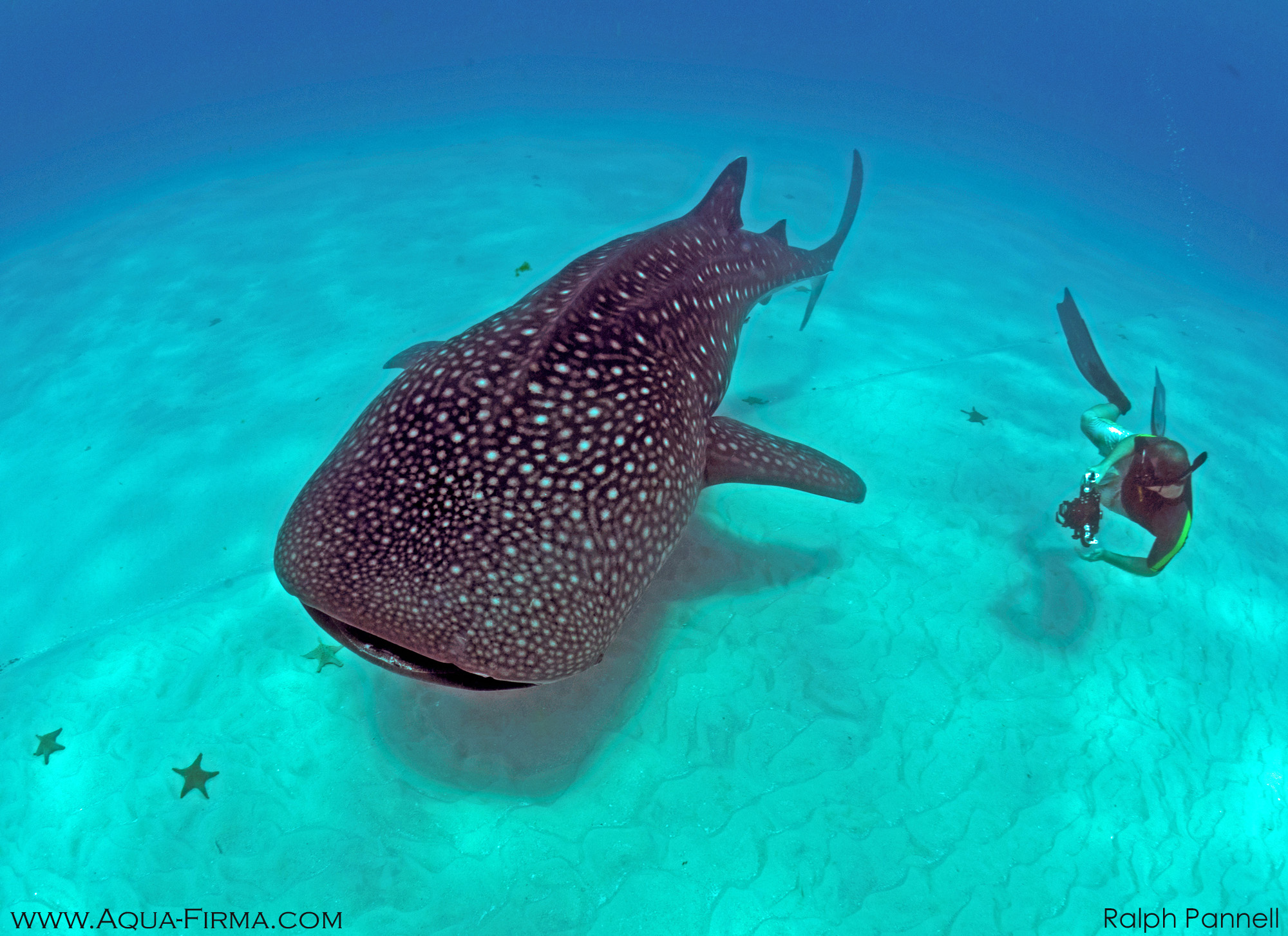 In addition to large specimens of fish, the marine park protects an incredible diversity of fish life and marine ecosystems. In Chole Bay and beyond, we can find further excellent hard coral areas, extensive mangrove forests, sponge and soft coral sub-tidal beds and some of the world's best 'muck diving' where we find frogfish, seahorses and lots more. This variety encourages more than 400 species of fish to reside here, 400 types of sponges, 200 types of algae and habitat for Green & Hawksbill Turtles. Mafia Island is an important breeding ground for small fish and larvae, and plankton which is what encourages the interest of whale sharks.
Exceptional Photographic Opportunities
Opportunities for underwater photography are excellent on this trip. Your challenge will be to make use of the diverse range of opportunities presented: from giant whale sharks, to vast schools of fish, cover reef scenery to the most colourful specimens of nudibranchs and flatworms. From the simplest camera to the largest get up, charge your batteries and bring ample digital storage - our expert photography team can help you from the moment you book, to editing your well-earned images to perfection!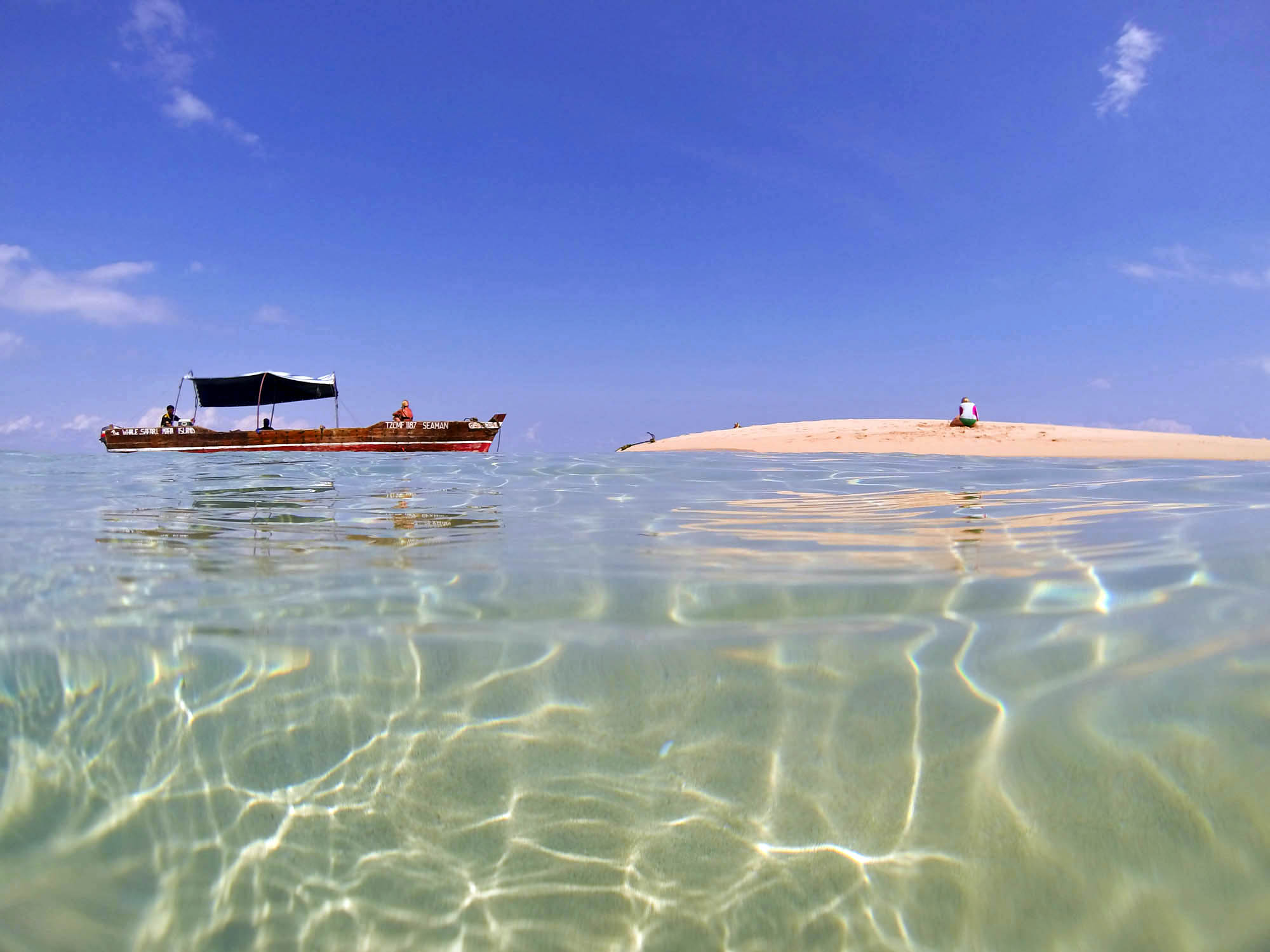 Mafia Island itself has a beautiful coastline, combining palm fringed beaches, hard coral islets with extensive areas of mangrove; and white sand islands exposed at low tide. You can feel very detached here from mainland Africa, amongst lovely islanders whose dhow sailing boats paint a beautiful picture against the island's varied coastline.
Privileged Insights
Chris, Principal Scientist of the Marine Megafauna Foundation, conducted his PhD at Mafia Island, working out what they feed on and where these sharks move, both seasonally and throughout the day. Satellite tags placed on sharks here and elsewhere in the Indian Ocean was highly revealing as to whether Mafia's sharks mixed with other regional populations. Perhaps the most revealing was a system of tags picked up by a network of underwater acoustic sensors.
Throughout this trip, you will have as much time as you like to ask any question that comes to mind. The team will also conduct talks, taking you into the fascinating world of whale shark biology and their conservation status around the globe. In joining this trip, you will be helping to fund this research, with donations helping to achieve expansion of marine protected areas; satellite tagging to monitor global movements; high-level lobbying to protect them from fishing; and working with local fishermen to reduce intentional and accidental catch.
Try Dive & Learn to Dive
If you want to try scuba diving for the first time, this is an ideal trip to do this on. We can set up one or two Try Dives in calm shallow water, so that you can see how you like it. If you want to take it further then we can help you to progress.
If you decide before going that you want to become a qualified diver, or convert a basic certification to Advanced, then speak to one of Aqua-Firma's instructors about how we can integrate this into your trip. To minimise classroom time, we can start your theory online before you go.
If you would like to see more of Tanzania's coral reefs, we can also arrange extensions to Zanzibar and Pemba.
Above Water Safaris
To experience the best of Africa's marine life and terrestrial wildlife, you can consider joining one of our private and small group safaris before or after this trip to go in search of The Great Migration. The Great Migration brings more than a million grazing wildebeest, plains zebras and Thompsons gazelles into the Serengeti, where we can also hope to see leopards, cheetahs, lions, hyenas, elephants, hippos, buffalo and more in huge abundance. This safari also goes in search of tree climbing lions and monkeys of Lake Manyara; and the bountiful wildlife of the Ngorongoro Crater where black rhino are always part of what we hope to see.
Itinerary
9 Day Itinerary
Please note that actual schedule of whale shark outings and opportunities to dive will change for each trip, optimized to fit in with tide times
Day 1: Arrive in Zanzibar
You will be met upon arrival and transferred to a boutique hotel in the historic centre of Stone Town. This is a wonderful location to explore, with its winding streets and buildings constructed during the Arabian colonial period.
There will be an evening briefing by a member of our Whale Shark Research Team.
Day 2: Fly to Mafia Island
After an early breakfast, we will head to the airport and take a small plane flight to Mafia Island.
Fly Zanzibar to Mafia Island. There are some great views of the Rufiji River on this flight as well as the many small islands which lie between the river mouth and Mafia. If seas are not reflecting the sunshine, then we might be able to see whale sharks in the water beneath us as we flight into Mafia.
Mafia Island's airport is very small. We will transfer to a vehicle and take the newly tarmaced road across the dry and sandy island centre to the south east coast.
Whether on coral reefs, or in search of whale sharks, we will head out to sea this afternoon.
(B,L,D)
Across these busy 5 days, we will head out to sea in search of whale sharks, with optional coral reef diving and snorkeling timed to coincide with slack tide.
When we head out in search of whale sharks, travel and research combined usually takes about 5 hours.
There will also be an opportunity to visit villages and giant fruit bat roosts on Mafia Island; and nearby Chole Island, where we can also find the ruins of a former German colonial administration.
The coast of Mafia Island is also a wonderful place to relax and enjoy the view of a passing sailing dhow. If you would like to try your hand at sailing one of these, then this is also something we can arrange.
Some evenings, we will conduct talks on the marine biology of whale sharks, as well as an analysis of whale shark research findings on Mafia Island; and an introduction to whale shark research from the Galapagos, Mexico and elsewhere. If ever you would like advice on whale shark and coral reef photography, just ask.
The team will be feeding whale shark IDs taken on this trip, into software originally designed for NASA star identification. Our research team will provide an overview of how this works and what it can tell us about the sharks we see at Mafia Island.
All meals are included.
(B,L,D)
We will head out early today, for our fifth search for whale sharks.
Day 9: Return to Zanzibar
We will fly back to Zanzibar (or Dar es Salaam if you prefer) from where you can connect with evening international flights. An additional night in Zanzibar or Dar es Salaam can be organized at extra cost if you need.
(B)
Dates
Enquire / Book
24 Nov - 02 Dec 2023
-
from £ 2,490
includes return flights Zanzibar - Mafia Island
Team includes Whale Shark expert & filmer Dr Chris Rohner
Ideal for divers and snorkellers
Notes:
Price per person sharing
The trip begins and ends in Zanzibar, but we can change this to Dar es Salaam for participants where needed.
Single supplement* £295
*If you would like to share and we can pair you with someone of the same gender to share with, then you can avoid any single supplement.
Optional hosted coral reef scuba diving programme add £410 (covers 10 dives)
Optional hosted coral reef snorkel programme add £135 (covers 4 dedicated afternoon 3 ½ hour boat-based snorkel trips)
Discover Scuba course 1 dive £115
2 dives £145
PADI or SSI Openwater Course £465
PADI or SSI Advanced Openwater Course £425
Price includes:
- All accommodation
- All transfers within Tanzania by air, land and sea
- Full board on Mafia Island
- Breakfasts in Zanzibar
- 5 whale shark research outings
- Expert leadership from our whale shark team
- Contributions to support ongoing whale shark research on Mafia Island
Price excludes:
- Optional coral reef scuba / snorkeling
- International flights (please ask for a quote)
- Marine Park fees at Mafia Island (currently $23.60 per day)
- Airport departure tax in Zanzibar
- Insurance
- Tips
- Visas
- Alcoholic and soft drinks
- Dive and snorkel equipment rental
Activity Level: Moderate
Standard of Accommodation: Comfortable coastal lodge with white sand beach and lovely views over Chole Bay. Lodge upgrade is available.