The Semi-circumnavigation of Antarctica is one of the longest and most pioneering voyages we offer and in our opinion is the ultimate in Antarctic exploration. This 33 day voyage between Argentina and New Zealand (or vice versa) is onboard a Lloyds 1A ice strengthened ship. She is uniquely supported by 2 helicopters facilitating access to Antarctica's most remote and seldom visited sites including: huts of Scott and Shackelton, dry desert valleys of the interior, Mt Erebus volcano, (made famous in the Frozen Planet) and the magnificent Ross Ice Shelf where Amundsen began his successful campaign to the South Pole.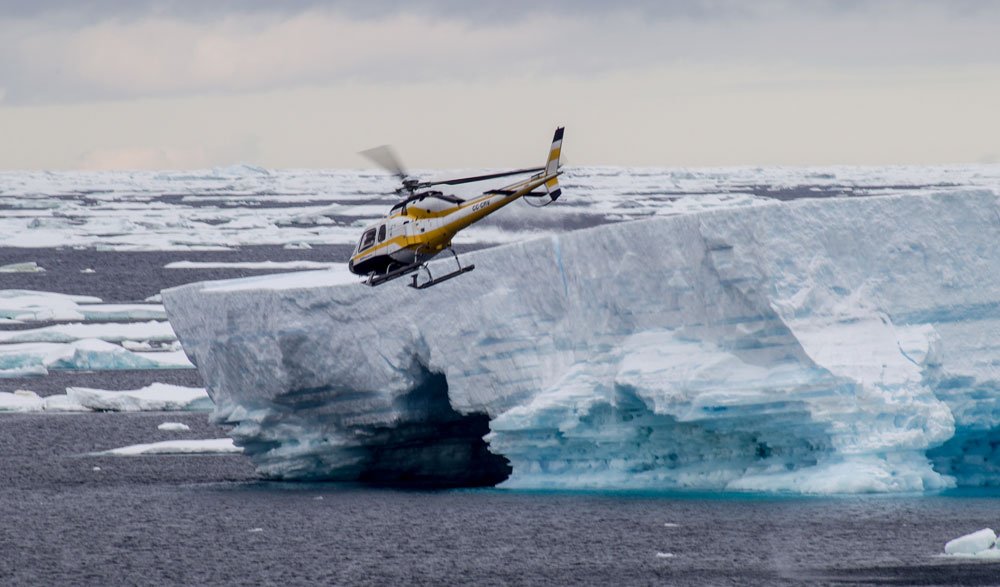 This incredible journey hopes to bring you into contact with Antarctica's most impressive wildlife: Chinstrap, Gentoo, Adelie, Southern Rockhopper, Cape and possibly Emperor penguins; as well as plentiful sightings of seals, feeding whales and Antarctic birdlife. All this set against a backdrop of the most spectacular and least visited landscapes on the planet.

This exploratory adventure commences in Argentina and concludes in New Zealand (or vice versa depending on the itinerary you choose). Strong enough to navigate through solid ice and loose pack ice, the vessel also has plentiful open deck space, ideal for surveying the surroundings and looking out for wildlife. Supported by two onboard helicopters you can hope to access remote landing sites and areas of interest that would otherwise be impossible to reach; providing once in a lifetime opportunities to explore this incredibly remote polar region.

On Ross Island you have the opportunity to visit the huts of some of the greatest polar explorers in history and gain an insight into their courageous expeditions of over a century ago. At Cape Evans you may visit the hut of Robert Falcon Scott, who famously led two Antarctic expeditions (the Discovery Expedition, 1901-04, and the ill-fated Terra Nova Expedition, 1910-13). Meanwhile, at Cape Royds you can hope to explore the hut of Ernest Shackleton, leader of the legendary Nimrod Expedition.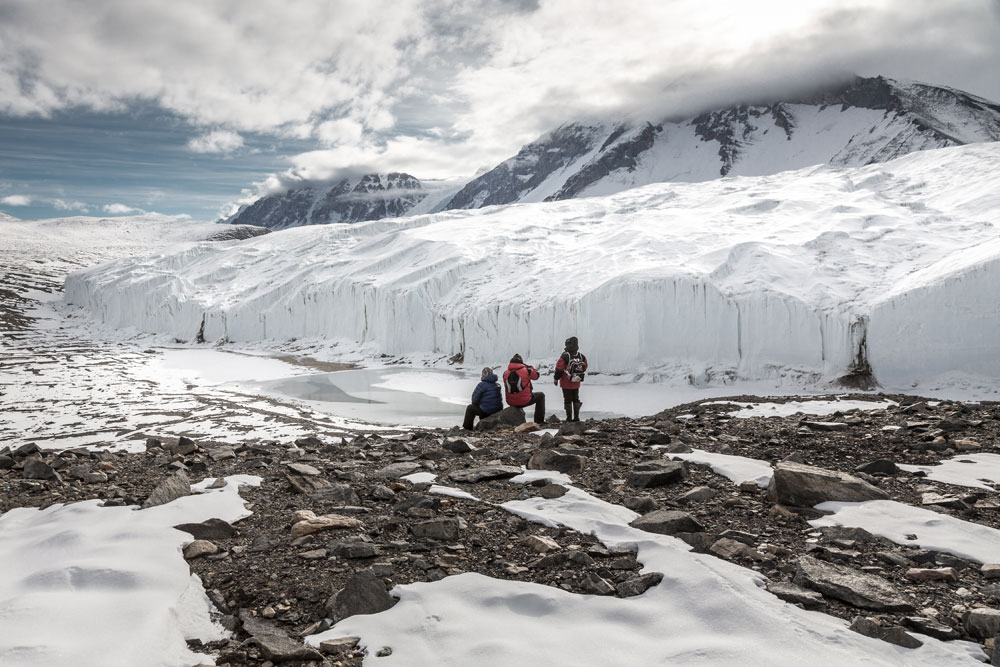 The mountainous landscapes of Ross Island are dominated by Mount Erebus, Mount Terror and Mount Bird. Mount Erebus is Antarctica's second highest volcano, towering to a colossal 3,794 metres (12,448 feet) and was first climbed to the rim by members of Sir Ernest Shackleton's expedition members in 1908 and made famous by the BBC's Frozen Planet team, who descended its crater and explored its crystal caverns.

The Ross Ice Shelf (named in honour of Captain Sir James Clark Ross who discovered it in 1841) is the largest ice sheet in the world, covering an area the size of France and measuring several hundred metres in thickness. Its ice front is more than 600 km long, rising between 15 and 50 metres high above the sea surface. By way of a helicopter landing, there may also be the opportunity to walk in the footsteps of Roald Amundsen along the outer fringes of the pack-ice in the Amundsen Sea, from where he first gained access to the Ross Ice Shelf prior to reaching his goal of the South Pole on 14th December 1911.

You may hope to encounter a multitude of penguin species throughout this voyage, including Chinstrap, Gentoo, Adelie, Southern Rockhopper, Cape as well as the possibility of the occasional Emperor penguin. During the voyage there will be various opportunities to visit and walk amongst penguin colonies to photograph these fascinating creatures and observe their characteristic behaviours first-hand.

This voyage also presents chances of seeing orcas and minke whales as well as leopard seals, elephant seals and New Zealand fur seals, which can be observed from the ship resting upon ice-floes.

Birdlife will be plentiful and aside from penguins you may observe south polar skuas, kelp gulls, imperial cormorants (the striking blue-eyed shag), southern fulmars and fulmar petrels.

Overall, this voyage provides chances for excellent wildlife and marine life observations that can be sought whilst exploring on land, by helicopter, or via the seven available zodiacs or from the mother ship herself. All of this combined with dramatic landscapes, makes for a once in a lifetime Expedition Voyage of epic proportions.
Helicopter Transfers:
During these voyages passengers will be transferred ashore for on land excursions by zodiac. However, if for any reason the zodiacs cannot be used, the two onboard helicopters will be operated instead. This is a true polar expedition and as such the itinerary is operated in the world's most remote area, ruled by the forces of nature, weather and ice conditions. Conditions may change rapidly; which might in turn impact some of the planned helicopter operations. Safety is of course of primary concern and as such no compromises can be made. No guarantees can be given and no claims will be accepted. The vessel is equipped with two helicopters, however, in the case that one helicopter is unable to fly (due a technical failure for example), the helicopter operation will cease or even be cancelled, due to the fact that one helicopter always needs to be supported by a second operational helicopter.

Potential locations for helicopter transfers include Peter I Island, The Ross Ice-shelf, the Dry Valleys, Mc Murdo Station, Cape Evans (Robert Falcon Scott's hut) and Cape Royds (Ernest Shackleton's hut). In theory, five helicopter based landings are aimed for; however, the actual time spent in the helicopters cannot be predicted. The use of helicopters is a great advantage and can enable us to reach certain landing sites, which are otherwise inaccessible.
Itinerary
2023 Sample 33 Day Itinerary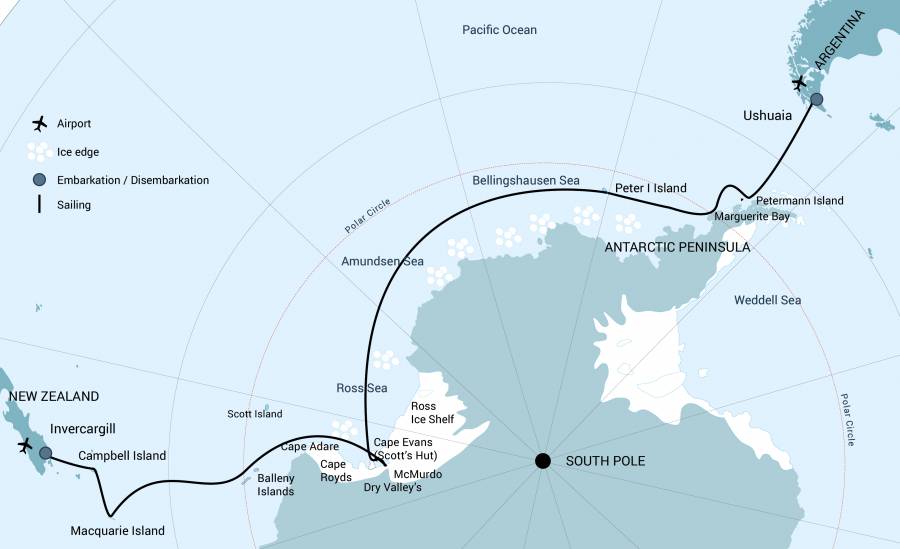 Day 1: End of the world, start of a journey
Your voyage begins where the world drops off. Ushuaia, Argentina, reputed to be the southernmost city on the planet, is located on the far southern tip of South America. Starting in the afternoon, you embark from this small resort town on Tierra del Fuego, nicknamed "The End of the World," and sail the mountain-fringed Beagle Channel for the remainder of the evening.
Day 2 - 3: Path of the Polar Explorers
Over the next two days on the Drake Passage, you enjoy some of the same experiences encountered by the great polar explorers who first charted these regions: cool salt breezes, rolling seas, maybe even a fin whale spouting up sea spray. After passing the Antarctic Convergence – Antarctica's natural boundary, formed when north-flowing cold waters collide with warmer sub-Antarctic seas – you are in the circum-Antarctic upwelling zone. Not only does the marine life change, the avian life changes too. Wandering albatrosses, grey-headed albatrosses, black-browed albatrosses, light-mantled sooty albatrosses, cape pigeons, southern fulmars, Wilson's storm petrels, blue petrels, and Antarctic petrels are a few of the birds you might see.
Day 4: Through the Pendleton Straight
We expect to arrive at the Antarctic Peninsula near the Antarctic Circle in the afternoon. If sea ice allows it, you will continue through Pendleton Strait and attempt a landing at the rarely visited southern tip of Renaud Island. Here you have the opportunity to see the first Adélie penguins of the trip as well as enjoy spectacular views of the icebergs in this surreal, snow-swept environment.
Day 5 - 6: Sailing the Bellingshausen Sea
From the peninsula you head toward the open sea, your course set for Peter I Island.
Day 7: A rare glimpse of Peter I Island
Known as Peter I Øy in Norwegian, this is an uninhabited volcanic island in the Bellingshausen Sea. It was discovered by Fabian von Bellingshausen in 1821 and named after Peter the Great of Russia. The island is claimed by Norway and considered its own territory, though it is rarely visited by passenger vessels due to its exposed nature. If weather and ice conditions allow, you may enjoy a helicopter landing on the glaciated northern part of the island. This is a unique chance to land on one of the most remote islands in the world.
Day 8 - 14: Sights of the Amundsen Sea
You then sail through the Amundsen Sea, moving along and through the outer fringes of the pack ice. Ice conditions are never the same from year to year, though we aim to take advantage of the opportunities that arise if sea ice is present. Emperor penguins, groups of seals lounging on the ice floes, orcas and minke whales along the ice edge and different species of fulmarine petrels are possible sights in this area.
Day 15 - 17: The epic Ross Ice Shelf
The next goal is to enter the Ross Sea from the east, venturing south toward the Bay of Whales and close to Roosevelt Island (named in 1934 by the American aviator Richard E. Byrd for President Franklin D. Roosevelt). The Bay of Whales is part of the Ross Ice Shelf, the largest ice shelf in the world, and is constantly changing with the receding ice masses. Large icebergs are present here, along with great wildlife opportunities. Roald Amundsen gained access to the shelf en route to the South Pole, which he reached on December 14, 1911. Also, the Japanese explore Nobu Shirase had his camp in this area in 1912, at Kainan Bay. You may make a helicopter landing on the ice shelf if conditions allow. During this part of the voyage, we will also cross the International Date Line.
Day 18 - 20: Highlights of the Ross Sea
Keeping to the Ross Sea, your aim is now to visit Ross Island. In this location you can see Mount Erebus, Mount Terror, and Mount Byrd, as well as many other famous spots that played an important role in the British expeditions of the last century: Cape Royds, where Ernest Shackleton's cabin still stands; Cape Evans, where the cabin of Robert Falcon Scott can still be seen; and Hut Point, from which Scott and his men set out for the South Pole.
If ice is blocking the way but weather conditions are favourable, you may use the helicopters to land in one or more spots in this area. Additionally, you may make a helicopter landing in Taylor Valley, one of the Dry Valleys, where conditions are closer to Mars than anywhere else on Earth. You may also visit Blood Falls, a salt waterfall at the foot of Taylor Glacier that has a striking red colour due to high concentrations of iron oxide in the water. Here you can hope to make a helicopter landing if weather conditions allow.
Day 21 - 22: Exploring the inexpressible
Sailing north along the west coast of the Ross Sea, you pass the Drygalski Ice Tongue and Terra Nova Bay. If ice conditions allow, you then land at Inexpressible Island, which has a fascinating history in connection to the less-known Northern Party of Captain Scott's expedition. It is also home to a large Adélie penguin rookery. Should sea ice prevent entry into Terra Nova Bay, you may head farther north to the protected area of Cape Hallett and its own Adélie rookery.
Day 23: The residents of Cape Adare
You next attempt a landing at Cape Adare, where for the first time humans wintered on the Antarctic Continent: The Norwegian Borchgrevink stayed in here 1899, taking shelter in a hut that to this day is surrounded by the largest colony of Adélie penguins in the world.
Day 24: Ross Sea to the Southern Ocean
Sailing through the sea ice at the entrance of the Ross Sea, you start your journey north through the Southern Ocean. The goal is to set a course for the Balleny Islands, depending on weather conditions.
Day 25: The windswept Balleny Islands
Your intended route is past Sturge Island in the afternoon, getting an impression of these windswept and remote islands before crossing the Antarctic Circle.
Day 26 - 28: Sailing among the seabirds
You once again enter the vast expanse of the Southern Ocean. Seabirds are prolific on this leg, during which you can hope to enjoy good weather conditions.
Day 29: Macca aka Macquarie Island
Macca, also known as Macquarie Island, is a Tasmanian State Reserve that in 1997 became a World Heritage Site. The Australian Antarctic Division has its permanent base on this island, which Australian sealer Frederick Hasselborough discovered while searching for new sealing grounds. The fauna on Macquarie is fantastic, and there are colonies of king, gentoo, and southern rockhopper penguins – as well as almost one million breeding pairs of the endemic royal penguin. Elephant seals and various fur seal species, such as the New Zealand fur seal, are also present. You might take a Zodiac cruise around Macquarie Island in search of wildlife including royal penguins. Landing restrictions for the 2022-2023 season mean that you are unlikely to make a landing on the island.
Day 30: Northwest towrd Campbell Island
Heading northwest to Campbell Island, you're once again followed by numerous seabirds.
Day 31: Campbell Island's bounteous birdlife
The plan today is to approach the sub-Antarctic New Zealand Reserve and UNESCO World Heritage Site of Campbell Island, with its luxuriantly blooming vegetation. Fauna here includes a large colony of southern royal albatrosses along with wandering, Campbell, grey-headed, black-browed and light-mantled albatrosses breeding on the satellite islands. There are three breeding penguin species on the island: eastern rockhopper, erect-crested and yellow-eyed penguins. In the 18th century, seals in the area were hunted to extinction, but the elephant seals, fur seals, and sea lions have since recovered. You might take a Zodiac cruise around Campbell Island in search of wildlife. Landing restrictions for the 2022-2023 season mean that you are unlikely to make a landing on the island.
Day 32: Once more to the Southern Ocean
Take in the vast horizons of your final sea day before you reach New Zealand.
Day 33: Disembark in Bluff
Arrive in Bluff, the southernmost town in New Zealand, where passengers depart for their homebound journey (14th January departure). The 17th February Voyage meanwhile ends in Ushuaia, Argentina and starts in Bluff, offering the same itinerary as described above, but in reverse.
Dates
Price Includes:
- Voyage as indicated in draft itinerary
- Helicopter excursions
- All meals, snacks, coffee and tea
- All shore excursions and zodiac activities
- Program of lectures by noted naturalists and leadership by experienced
expedition staff
- All miscellaneous services taxes and port charges throughout the programme
- Comprehensive pre-departure material
- Use of rubber boots

Price Excludes:
- Airfares
- Fuel surcharge where applicable*
- Pre and post land arrangements
- Transfers to and from the vessel
- Cancellation and personal insurance
- Passports and visas
- Arrival and departure tax
- Meals ashore
- Baggage handling
- Items of a personal nature (alcohol, laundry etc)
- Tips

Single supplement:
Single occupancy price is 1.7 times the per person cabin price. However this does not apply if you are prepared to share a cabin with another passenger of the same gender.

*Fuel surcharge:
The cost of fuel is currently volatile, so a fuel surcharge may be applied by the ship without notice. We will let you know if this applies to your booking and send you an updated invoice.