This voyage to the Arctic and 'sub Arctic' is often one of the very best for seeing marine life, birdlife and dramatic isolated islands.
In the more southerly waters of this voyage, we have very good chances of seeing Minke whales, White-beaked Dolphins and Harbour Porpoises. Orcas and other cetaceans are less predictable, but the chances are good since they are resident in channels between the Scottish Islands. As you head north into open sea, you might chance upon a Blue Whale as observed in many of our past voyages. As you reach Spitsbergen, the ghostly white Beluga whale is another species to be on the look out for.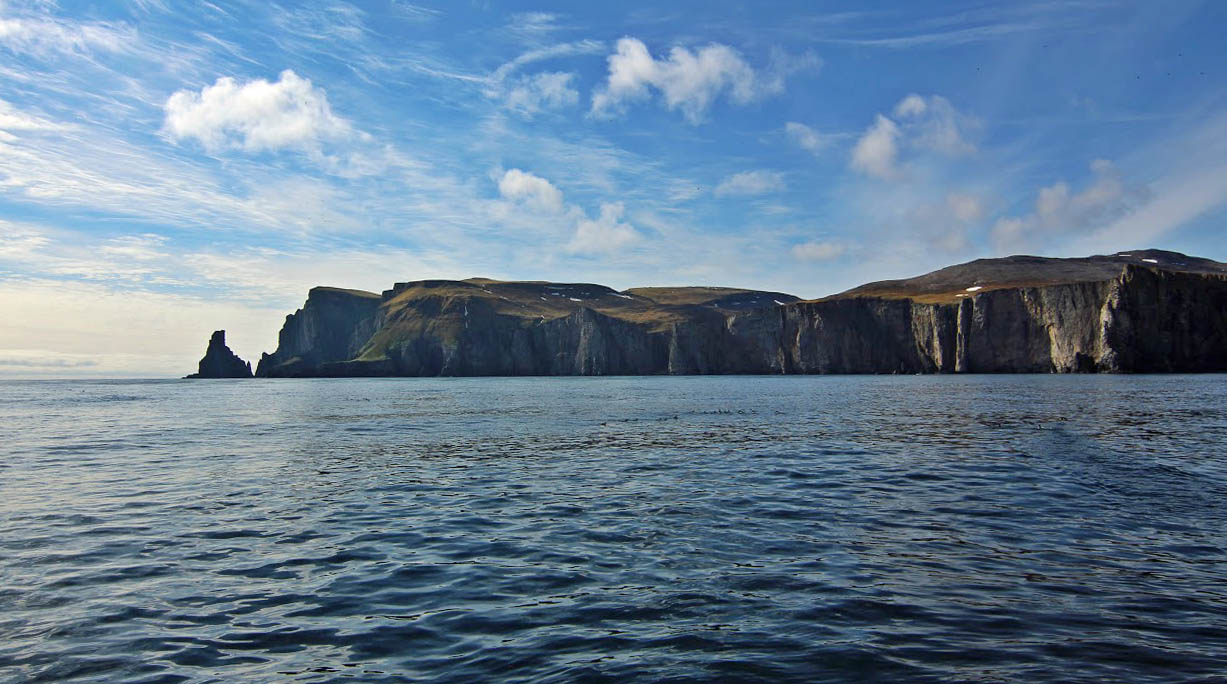 Out into the North Atlantic, you will have the opportunity to see birds in the open ocean and explore the dramatic isolated coastlines of islands rich in seabird colonies as well as a fascinating cultural history. These include the Shetland Islands with its Viking heritage and dramatic sea cliff.
Jan Mayen is an island of breathtaking beauty which is very rarely visited due to its mid Arctic Ocean isolation. The island is dominated by the 2,300m Mt Beerenberg volcano and glaciers which descend into the sea. Until recently the island was a military based and off limits to tourists - but with permission from the Norwegian authorities we hope you can visit the weather station and undertake some treks on the island. Snowshoes are often essential for this and these will be available onboard for anyone to use at no extra charge. The plan is also to explore the island from the water, observing its coastal glaciers and sites where we can expect to thousands of Little Auks and Brünnich's Guillemots which will no doubt be watched over by piratical Glaucous Gulls.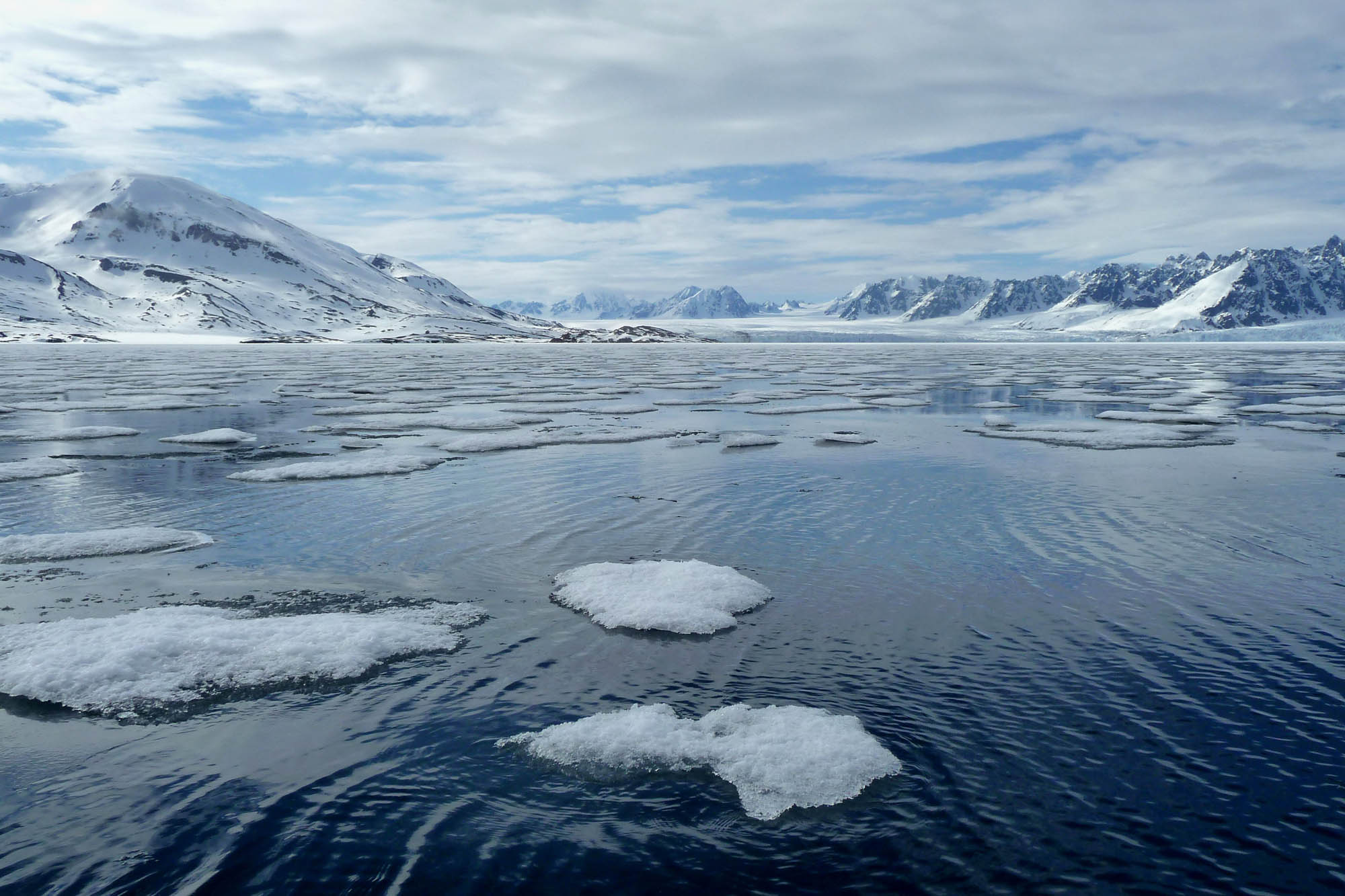 As the voyage continues to follow the annual bird migration route north, the ship will eventually reach Spitsbergen - the land of pointed mountains. Thousands of birds will have taken the journey ahead of this voyage and we can expect to see them covering coastal cliffs in the South of Spitsbergen. This is an area of spectacular fjords and bays which you will explore from the ship and in small rigid inflatable boats. Your guides will also be on the lookout for Arctic mammals including Reindeer, Arctic Foxes and of course the symbol of the Arctic itself: the Polar Bear.
Itinerary
10 Day Sample Itinerary
These voyages offer the chance to explore the sub-arctic between Scotland and Spitsbergen, where you can hope to encounter a variety of whales and seabirds as you travel north. You will spend some time exploring the fjords and glaciers of southern Spitsbergen, where you should always keep an eye out for polar bears! These trips also offer excellent value, as you will only need a one-way flight back to the UK.
Day 1: Embarkation in Aberdeen
Please note that the following itinerary is draft only, designed to provide you with a flavour of the Scotland to Spitsbergen voyages. All polar voyages are expeditionary in nature and the actual route will depend upon sea and weather conditions, seasonal opportunities to sea wildlife, birdlife and scenery, decisions made by the expedition crew, Captain and local authorities - and in particular ice conditions which can vary considerably year by year.
Arrive in Aberdeen is the ships embarkation poimt.
The Scottish waters offer excellent possibilities to spot Minke Whales, White-beaked Dolphins and Harbour Porpoises. Several other cetaceans, including Orcas (Killer Whales), are also native to these waters.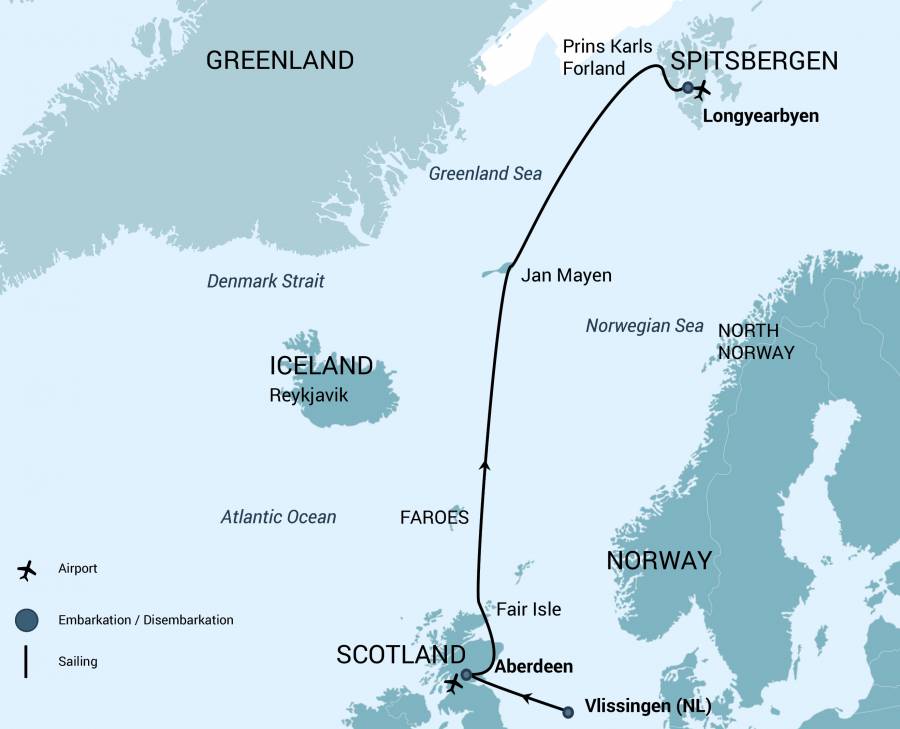 At Fair Isle, in the Shetlands, the roughly seventy inhabitants (renowned for their knitwear) welcome you for a walk to the local bird observatory. This location is a haven for sea birds, though you may also spot grey seals.
You sail north to the Norwegian island of Jan Mayen, 300 nautical miles northeast of Iceland. Your two days at sea do not pass idly, however. Keep a close lookout for any spouts of water from the surrounding seas, heralding the arrival of a minke, fin, orca, or blue whale.
Jan Mayen is a stark volcanic island crowned by the snow-capped summit of Mt. Beerenberg. From the slopes of this imposing 2,300-meter-high (7,545 feet) volcano, broken glaciers grasp out into the frigid sea. With permission from the Norwegian authorities, you can now visit the weather station. You can also walk to the remains of a 17th-century Dutch whaling station amid the thick moss beds of this stark volcanic landscape.
Day 6 & 7: South Spitsbergen
Basking in the midnight sun, you sail north along the edge of the sea ice in search of bowhead whales, harp seals, polar bears, and a variety of seabirds. You then change direction after about 79° north, cutting west to the rocky edges of the continental shelf of west Spitsbergen. Here you have a good chance of seeing fin whales and – near the glacial mouths of the gaping Spitsbergen fjords – surfacing minke whales.
Day 8: Northwest Spitsbergen
Depending on the position of the sea-ice, the skipper will head to Raudfjord or one of the other fjords in Northwest Spitsbergen, where there may be chances to see Polar Bears at the heads of the fjords and seals sunbathing on the fjord ice. At Fuglesangen, there is usually a breeding colony of thousands of Little Auks.
Day 9: Forlandsundet & Alkhornet
Forlandsundet, between the main island of Spitsbergen and the narrow Prins Karls Forland, is a place of great beauty and fascinating wildlife. Walruses sometimes haul out here. Alternatively, you might sail into St. Johns Fjord or head south to the mouth of Isfjorden, landing at Alkhornet. Seabirds nest on these cliffs, Arctic foxes search below for fallen eggs and chicks, and reindeer graze the sparse vegetation.
Day 10: Disembark in Longyearbyen
Disembark in Longyearbyen, the administrative centre of Spitsbergen, for flights south to Oslo and onward home.
Dates
Notes:
Our price includes:
- Voyage as indicated in draft itinerary
- All meals, snacks, coffee and tea
- All shore excursions and zodiac activities
- Program of lectures by noted naturalists and leadership by experienced
expedition staff
- All miscellaneous services taxes and port charges throughout the programme
- Comprehensive pre-departure material
Price excludes:
- Airfares / train tickets.
- Fuel surcharge where applicable*
- Pre and post land arrangements.
- Transfers to and from the vessel
- Cancellation and personal insurance.
- Visas.
- Arrival and departure tax.
- Meals ashore.
- Items of a personal nature (alcohol, laundry etc).
- Tips.
Activity Level: Low to Medium
Single supplement:
There is no single supplement to pay if you are willing to share your cabin with someone of the same gender. For a cabin to yourself the supplement is 1.5x - 2x the per person rate
*Fuel surcharge:
The cost of fuel is currently volatile, so a fuel surcharge may be applied by the ship without notice. We will let you know if this applies to your booking and send you an updated invoice.