Some of Tanzania's most dramatic landscapes lie amongst the Ngorongoro Highlands, Empakaai Crater and Lake Natron within Africa's Great Rift Valley. One of the best ways to experience the beauty of this area is on one of AQUA-FIRMA's privately guided treks through its diverse landscapes of elevated volcanoes and craters, forests, flamingo-filled lakes and vast grassy plains. On these treks, you can also experience first-hand how the Maasai people, who inhabit these highlands, co-exist peacefully with the wildlife who also call these lands home.
Accompanied by Maasai guides, you will begin your journey by driving along the Ngorongoro Crater rim at the heart of the Greater Ngorongoro Conservation Area. Here you can hope for fantastic views over this vast caldera before proceeding through dense forest to explore part of the crater and nearby waterfalls. We will set up your first camp in the highlands. From here you will explore the changing environment from temperate grasslands to the montane forest zone on the crater rim, enjoying as you go spectacular views and sightings of wildlife such as Reticulated Giraffe, Grant's Zebra and Waterbuck.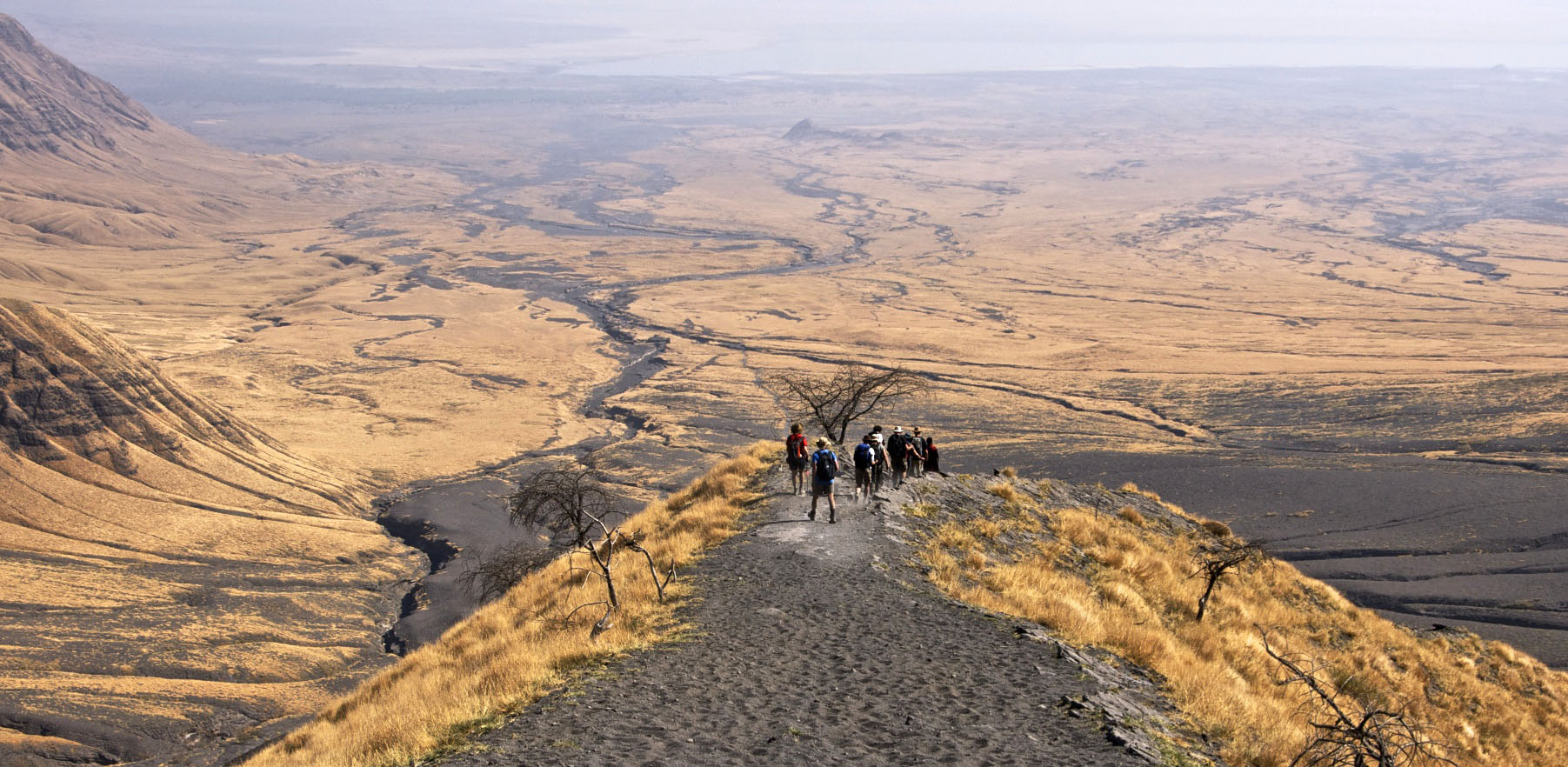 One of the highlights of your trip will be hiking from the edge of the Great Rift Valley, descending to the base of the escarpment wall, right on the foot of Mt. Ol Doinyo Lengai. Known to the Maasai as the 'Mountain of God', this unique mountain is the only active volcano that erupts with carbonatite - a type of igneous rock rich in carbonates, including calcite and dolomite. Even if the geology escapes you, you can still enjoy the stunning views of the volcano and will hike through the plains covered by ash from its 2008 eruption.
You will be staying at a combination of static tented camps and mobile camps your guides will set up close to local Maasai villages. When mobile, you will be sleeping in standard two-person tents. Throughout the trek you will have the chance to visit Maasai Bomas and learn about the traditional way of life that your guides and their families lead here on the highlands with their livestock.
This blend of culture, landscapes and wildlife is surely one of the most unique experiences in Tanzania.
Please Contact us for options to extend your time in Tanzania. You could consider a short one or two day safari to Arusha National Park or Tarangire National Park; fly to Zanzibar for a relaxing coastal stay with options for snorkelling and diving; or experience the fantastic wildlife viewing opportunities here on one of our Great Migration & North Tanzania Safaris or our Southern Tanzanian Safaris.
Itinerary
Sample 9 Day Itinerary
This is a sample 9 day itinerary, which we can shorten or extend as needed.
Day 1: Arrive Kilimanjaro / Arusha
Arriving into Kililmanjaro or Arusha airport, you will be met and transfer to a hotel in Arusha (b&b basis).
You will be collected from the hotel by your guide who will drive you to Karatu town near the Ngorongoro Conservation Area. The transfer takes approximately 3½ hours. Here you will stay in a tented camp where your private guide will brief you about your upcoming trek through the Highlands. After your briefing, you will enjoy dinner and drinks by the fireplace before retiring for the day to get your much-needed rest.
Meals: Breakfast & Dinner included
Day 3: Olmoti Crater Trek
Your day begins with a 2-hour drive to Nainokanoka Village, You will be based here tonight. During your transfer, if it's not too foggy, you may get great views of the Ngorongoro Crater from a viewpoint on the edge of the crater rim. You will then proceed along the Henry Fosb Rooke road, through the dense forest towards Nainokanoka, where you can hope to see wildlife such as buffalo and wildebeest. Today you will explore the Olmoti Crater and Munge waterfalls on a 3-hour hike. The Olmoti Crater is a shallow grassy crater where the Munge River originates.
Total Walking Distance: 3hrs
Meals: Breakfast, Lunch & Dinner included
Day 4: Trek from Nainokanoka Village to Bulati Village
You will depart Nainokanoka camp early this morning and commence your trek to Bulati Village. You will pass a few Maasai Bomas on your way. You will be taking a packed lunch, which you can enjoy half way to Bulati. You will cross the Elbulbul Depression, a vast grassland with no trees, but many zebras and wildebeest can often be seen grazing. Raptors can often be spotted here due to the many mole rat mounds found in the area. You will arrive in Bulati early in the afternoon for rest and refreshments. You will enjoy a late afternoon Maasai Boma visit in the village of Bulati where you will be spending the night.
Total Walking Distance: 14km
Meals: Breakfast, Lunch & Dinner included
Day 5: Trek from Bulati Village to Empakaai Crater
Today you will change your environment from temperate grassland to montane forest zone on the crater rim, where - weather permitting - you can enjoy plenty of spectacular panoramic views of the landscape. You will take a packed lunch which you will have around halfway through today's trek. In the afternoon you will descend into the crater where you can often see lesser flamingos who reside on the crater soda lake. The Caldera is 300m deep and 6km wide. The trek is roughly 45 minutes down and an hour walk back up. Today you will be camping right on the rim of the Empakaai Crater.
Total Walking Distance: 14km
Meals: Breakfast, Lunch & Dinner included
Day 6: Trek from Empakaai Crater to Acacia
After breakfast, you will walk a short way around the Empakaai crater to stretch your legs and get some good panoramic photos of the caldera. This morning you will trek to Nayobi village where you will stop for lunch. From Nayobi you will head down to a place where your guide will set up camp. You will head out on a late afternoon walk to view the surrounding area and to take photos of the majestic Mt. Ol Doinyo Lengai, which is a Maasai name for "Mountain of God". This mountain is unique amongst geologists because it is the only active volcano on Earth that erupts with a carbonatite, a type of igneous rock rich in carbonates such as calcite and dolomite.
Total Walking Distance: 11km
Meals: Breakfast, Lunch & Dinner included
Day 7: Trek from Acacia to the base of Mt. Ol Doinyo Lengai
On your final day of trekking, you will make a very early start from your campsite to avoid the late morning sun intensity and heat. The terrain here is very dry and covered by ash from the 2008 Oldoinyo Lengai eruption. You will descend the Rift Valley Escarpment, via Pembe ya Swala to the base of Ol Doinyo Lengai. At the base you will be collected and transferred to your tented camp in Lake Natron for lunch. You have time for one more afternoon excursion to Lake Natron shores to view the Lesser Flamingos in their breeding habitat or for those with more energy, a hike up to the Engare Sero waterfalls.
Total Walking Distance: 15km
Meals: Breakfast, Lunch & Dinner included
You can have a relaxed breakfast out on the savannas, before driving back to Arusha.
Meals: Breakfast included
Day 9: Depart Kilimanjaro (or extend your time in Tanzania)
After breakfast, you will be transferred to Kilimanjaro International Airport for your onward flight.
Meals: Breakfast included
Dates
Privately Guided.
Minimum: 2 persons
Included:
- All Park Entry fees, Walking fees & Camping fees
- All government and village fees
- 18% VAT on all applicable tour fees and services
- All land/vehicle transfers and other logistics of the trek
- All camping equipment
- Accommodation as indicated on the itinerary
- Allowance and wages for Support Crew, drivers and other staff
- Meals as stated in the itinerary
- 6 litres of bottled mineral water per day per participant
- 2-way Airport transfer (if arriving and departing on Days 1 and 7)
- All government fees and taxes
Not included:
- Laundry service (where available)
- Flights
- Items of a personal nature
- Tips for your guides
Standard of accommodation: your first and final nights will be spent in tented camps with private tents and shared bathroom facilities. During the trek you will stay in standard two-person tents which will be set up by your camping crew. Your gear will be transported between camps by vehicle or donkey.
A note on security: you will be accompanied throughout the trek by local Maasai guides and will spend nights in villages on the highlands, which are home to the Maasai people and their livestock. You will not be trekking through areas with dangerous animals.