The UNESCO World Heritage Site of the Vallée de Mai National Park, located in the heart of the Praslin, has until now been preserved almost to its original state. The valley harbours six of the Seychelles endemic palm species and most notably is the stronghold for the Coco de Mer palm, famous for producing the world's largest seed. Of the 80 or more additional endemic plant species that grow in the Seychelles archipelago, 30 have been recorded in the Vallée de Mai. Moreover, the valley is also a fundamental habitat for a number of endemic animal species, namely the Seychelles Black Parrot, two species of snail, an extremely rare chameleon and three species of snake. A variety of marine life also resides within the valley, including the only endemic species of freshwater fish, freshwater crabs, prawns and shrimps.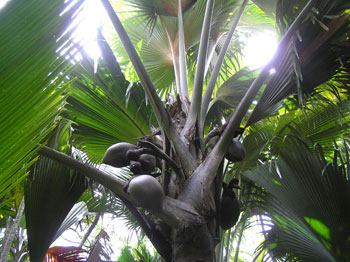 The Seychelles Islands Foundation is a non-governmental organisation which manages the Vallée de Mai and the Seychelles' other World Heritage Site: Aldabra Atoll. The foundation sets strict guidelines for visitors by way of preserving the natural beauty and biodiversity of the reserve and the species that reside within it. Contained within visitor information literature and on signage throughout the valley are requests to keep to the paths, use the bins and respect the flora and fauna. It is also forbidden to pick any plant life and the trade of Coco de Mer nuts is controlled by law. The palm forest is currently controlled by collecting fallen seeds and re-planting them before they are stolen for sale. Inevitably however, there are management constraints concerning the preservation of the Coco de Mer palm. Effective patrolling of the area and Coco de Mer poaching is proving problematic for future regeneration. Furthermore, the threat of fire is high, despite the prohibition of smoking within the reserve. Although the island is increasingly dependent on tourism, the Vallée de Mai can be adversely affected by any type of activity; therefore ongoing monitoring will be necessary to assess sustainable visitor numbers and access.
There are efforts to extend the range of the Coco de Mer on Praslin. We can help you to visit the Black Parrot forest which connects to the Vallée de Mai where replanting is taking place.
One of the Ministry of Environment and Natural Resources' main priorities is to protect the Black Parrot and in particular the habitats that it resides in, as these are fundamental nesting sites and vital food source. One such effort was initiated by the Ministry of Environment and Natural Resources in 1997, involving the construction of 79 artificial nest boxes for the Black Parrot, since there was a lack of suitable nesting trunks. In recent years, a considerable threat to the black parrot has been predation of their eggs. Subsequently, a distinct advantage of the artificial nesting boxes is that they are rat proof.
Photographs kindly provided by Ralph Pannell, Carina Hall, STB
Praslin - La Digue - Aldabra - Bird Island - Mahe - Islands of the Sainte Anne Marine Park - Desroches & the Amirantes - Silhouette - North Island - Fregate - Cousine - Cousin - Aride - Denis - Alphonse - Felicite - Marianne - Victoria - Assumption - Cosmelido - Vallée de Mai - Coco de Mer - St Pierre - Seychelles Black Parrot - Seychelles Blue Pigeon - Seychelles Fruit Bat - Seychelles Paradise Flycatcher - Scops Owl - Giant Tortoise - Tailor Made Holiday in the Seychelles - Bareboat & Skippered Yacht Charters - Sailing Guide to Seychelles - Liveaboard Diving - Dive & Snorkel Holidays - Wildlife Natural History & Birdwatching - Beaches - beach vacations - Marine Life whales sharks rays dolphins & coral reefs - Hiking Trekking Car Rentals Hotels Resorts & Accommodation - Mountains & Rainforest - Responsible Travel - Honeymoons & weddings - Family Adventures - Single Travellers - Whale Shark Research & Conservation