Southern Tanzania receives far fewer visitors than the more popular northern reserves of the Serengeti and Ngorongoro; yet it is home to the largest game reserve in all of Africa (the Selous) and Tanzania's largest national park (Ruaha).
A safari to the Selous Game Reserve is one of the most fulfilling short safari experiences in Tanzania, for which a 4 days / 3 nights is an ideal period of time to visit. We can drive you there, but we don't recommend this arduous journey. Flying is convenient and provides a commanding view over what makes this reserve a particularly good place to visit during drier spells: the Rufiji River.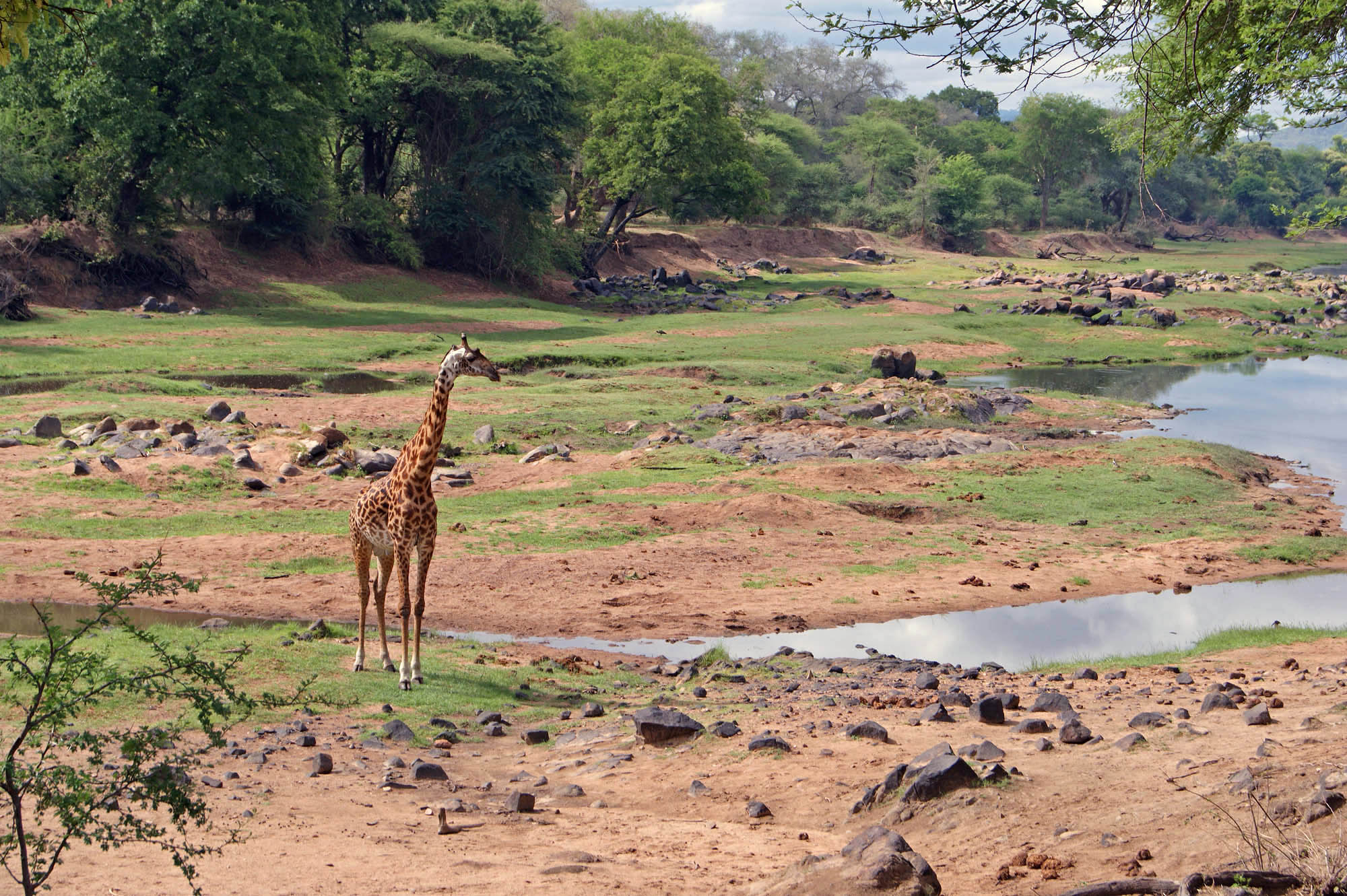 Savannahs beyond reach of the Rufiji River can, during the dry season, become so dry that they offer little to grazing animals. As a result, animals have to migrate in to the river, lakes, gallery woodlands and swamps which lie beyond the river's banks. These locations can provide some incredibly rewarding wildlife encounters, plus the opportunity to not only experience it all by 4 wheel drive, but on foot and by boat as well.
Boating on one of the Selous lakes can bring you close to huge Nile crocodiles, which lay in wait for animals forced to water to drink; and which fish for some large river species. These lakes can also be full of hippos and the banks rich in birdlife, which can include spoonbills, yellow-billed storks and Bateleur eagles. Gallery woodlands are beautiful fertile areas to see giraffe, wildebeest, and many other grazers. These are rich hunting grounds for lions, as are swamps where we have seen buffalo stuck on the mud and consequently unable to fend off an attack.
Hyenas are an uncommon sight, as are African Wild Dogs - but these do survive here is some of Africa's greatest numbers.
When the rains come, game is able to spread out from the river. This is a period when it is more difficult to locate elephants and other game, but fantastic for birdlife which descends upon the area. The same wet and dry season process takes place in the Ruaha National Park further west. Like the Selous, a river through its heart (the Great Ruaha River) provides a focus for wildlife in the dry season. It is too narrow for boat based safaris, but excellent for game drives and walking safaris.
Eastern Ruaha provides the best game viewing, with its Little Serengeti providing much of what its namesake can, just with fewer visitors. The western Ruaha has just one lodge making you feel far more into the wilderness than most places in Tanzania. We find some huge herds of elephants here and some of Tanzania's best walking safaris.
Two other important areas in southern Tanzania are Mikumi, which is the 4th largest park in Tanzania; and the tropical forests and waterfalls of the Udzungwa Mountains which lie a little further to the west. Please Contact Us for further details and how we can take you to these areas in combination with the Selous and / or Ruaha.
Dates
These Southern Safais are an ideal extension to one of our North Tanzania or Mafia Island itineraries. Contact Us for more information!
These durations can be extended or shortened … and for Ruaha a dual location staying in both the East and West of the national park is worth considering. A combination of lodge based and 'fly camping' can also be arranged.
Prices include:
- All accommodation
- Fully guided 4WD, river and walking safaris in the Selous
- Local flights starting and ending Dar es Salaam or Zanzibar
- All transfers by land and sea
- Full board on safari and at island lodges.
- Coffees, teas and water on safari
- Activities specified within itineraries
- Park fees and conservation fees
Prices exclude
- International flights
- Walking safaris in Ruaha
- Insurance
- Tips
- Visas
- Alcoholic and soft drinks
Timing: Throughout the year, although please note that itineraries may need to be adjusted when accommodation at certain locations is closed.
Activity Level: Low to moderate depending upon how far you wish to walk.
Standard of Accommodation: From rustic to luxury. Please enquire for details.