During the winter months the beautiful fjords of Northern Norway play host one of the largest gatherings of Orcas and Humpback Whales in the World, who come here to feast on the huge numbers of spring-spawning herring and mackerel as they take shelter in the calm waters. With stunning snow-covered mountain scenery, spectacular sunsets and long winter nights with excellent chances of Northern Lights - these special live-aboard voyages offer unique and unforgettable encounters with these gentle giants both above and below water.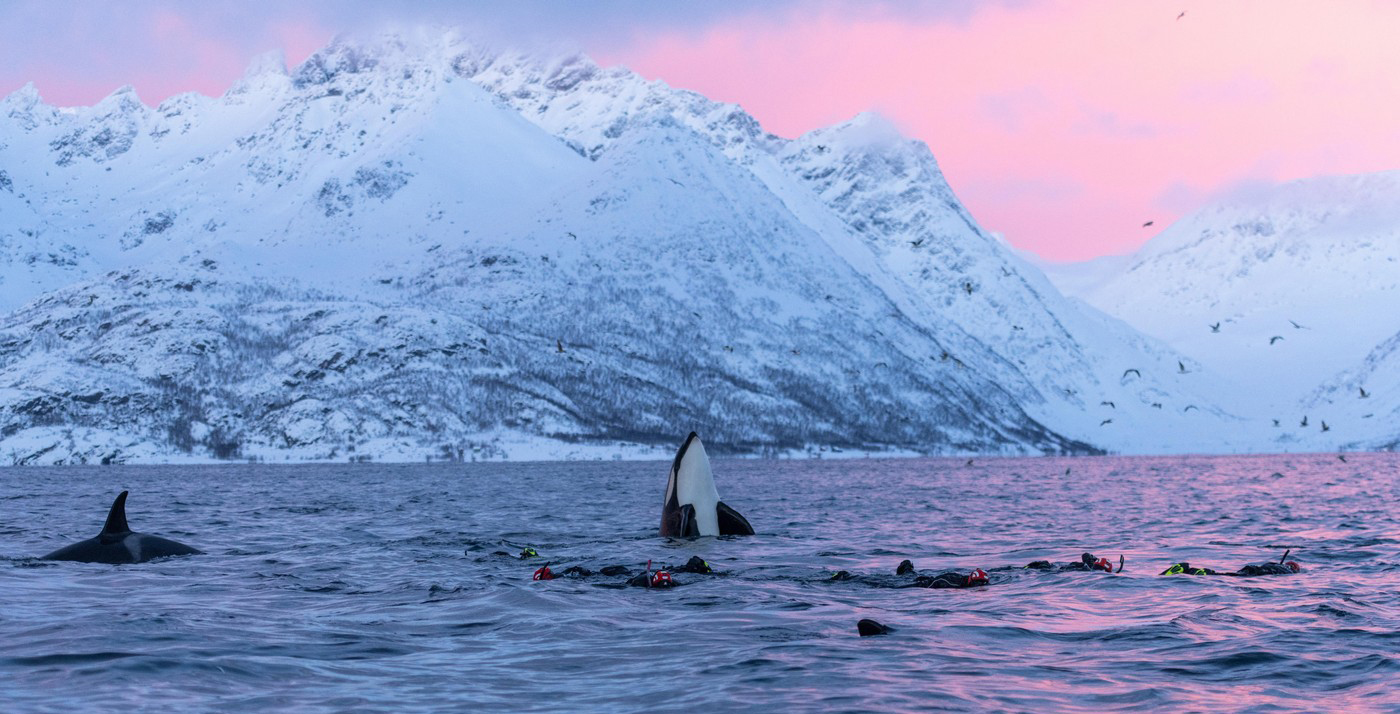 Aqua-Firma offers experiences to swim with humpback whales in other places around the World, but here in Norway you have the unique opportunity to be able to do so alongside pods of Orcas. These intelligent creatures are known to co-operate with each other in rounding up the shoals. If and when the weather conditions and wildlife opportunities present themselves, you can slip into the water and snorkel in the cold, rich waters with the whales.
When you are not in the water, you will keep watch for whale activity from the deck of your comfortable ship base and her zodiacs. You will be accompanied throughout your trip by two expert guides as you follow the schools of herring, always watching for signs of dorsal fins, blows and increased bird activity which is usually a good indicator of whales driving the fish towards the surface of the water. You should also keep your eyes on the sky in search of seabirds and white tailed eagles who are here to take advantage of the bountiful seas.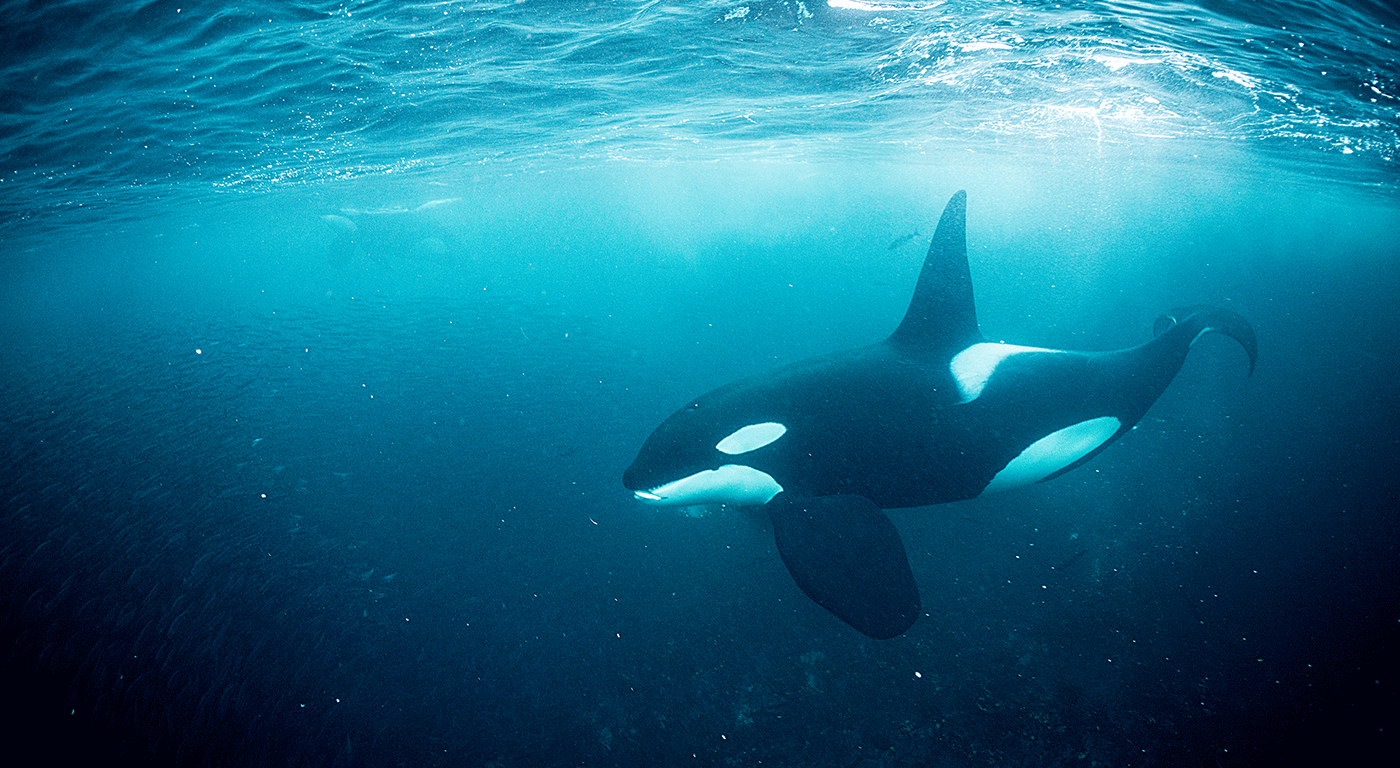 Your trip will include full board accommodation on a comfortable, small expedition style ship, zodiac cruising and snorkelling activities, snorkelling dry suit and equipment and a series of educational presentations onboard by your expert guides. Whenever you are not in or on the water, you are invited to join your guides and crew on the bridge as they constantly scan the waters for tell tale signs of whale activity.
This is an incredible opportunity for those passionate about whales, the polar regions and photography.
Itinerary
Sample 7 Day Itinerary
Please note that our polar itineraries are written to provide a flavour of each voyage. Your experienced crew and guides are always ready to alter plans to take advantage of light, weather conditions, wildlife sightings and other once-in-a-lifetime opportunities which can vary unpredictably day by day. Please remember that any changes in your itinerary are made with you in mind.
Be prepared for cold but rewarding days out at sea.
Day 1: Embarkation in Tromso
Upon arrival at Tromso Airport, you will make your way to the harbour area ready for embarkation in the afternoon. You will have time to settle into your cabin and explore the ship before heading out into the sheltered waters of the Norwegian fjords.
Days 2 - 6: In Search of Humpback Whales & Orcas
You will spend these full five days following schools of herring and pods of Orcas and Humpbacks in the protected surroundings of the stunning Norwegian fjords. Two expert guides will accompany you on your whale watching adventures. The bridge of the ship is a great place to look for whales and enjoy the beautiful light and scenery of the Norwegian fjords. Your guides and crew will be constantly on the look-out for Whales and Orcas. Whenever the conditions are right, you will take the zodiacs and go out on the water.
Snorkelling: Always have your camera charged and be ready to put your snorkelling gear on and to slip into the cold water for a polar snorkel adventure. You will be provided with a snorkel dry suit and snorkel equipment onboard.
Zodiac Cruising and other activities: The combination of wildlife encounters, the beautiful scenery of the Norwegian fjords and the possibility of Northern Lights, make this trip an exclusive experience of nature. If you choose not to snorkel, you can enjoy the phenomena from the spacious deck on board your ship or join the zodiac excursions for up-close whale watching and excellent photography opportunities. You may also go ashore to visit some historical fishing villages that are situated in the fjords.
The long winter nights: During the darker hours you will enjoy the warm and cozy comfort of the expedition yacht while your expert guides entertain you with presentations and educational information on wildlife and cinematography and films. In the winter months Northern Norway is the perfect place for potential aurora borealis sightings; appearances can be fleeting or prolonged, so always be prepared for a call!
Day 7: Disembark in Tromso
After returning to port, you will disembark this morning for your flight home or to extend your time in Norway.
Vessel Option 1 (16 passenger luxury expedition ship)
Originally built in 1976 as a Norwegian weather station, this ship was completely refurbished in 2018 as a high-end luxury expedition vessel complete with an advanced stabilisation system to prevent rolling of the ship to ensure a more comfortable voyage. She carries 16 guests in 8 spacious suites located on the lower deck, each with a at least two portholes view and private bathroom facilities. Onboard you will find a large outside deck space with sauna and hot tub, comfortable lounge area and library.
Cabin options:
| | |
| --- | --- |
| Deluxe Suite | Double / Twin beds (18-22m2) |
| | Portholes (2 / 3) |
| Superior Suite | Double / Twin beds (19-23m2) |
| | Portholes (2 / 3) |
| Executive Suite | Double / Twin beds + Living area (25m2) |
| | Portholes (4) |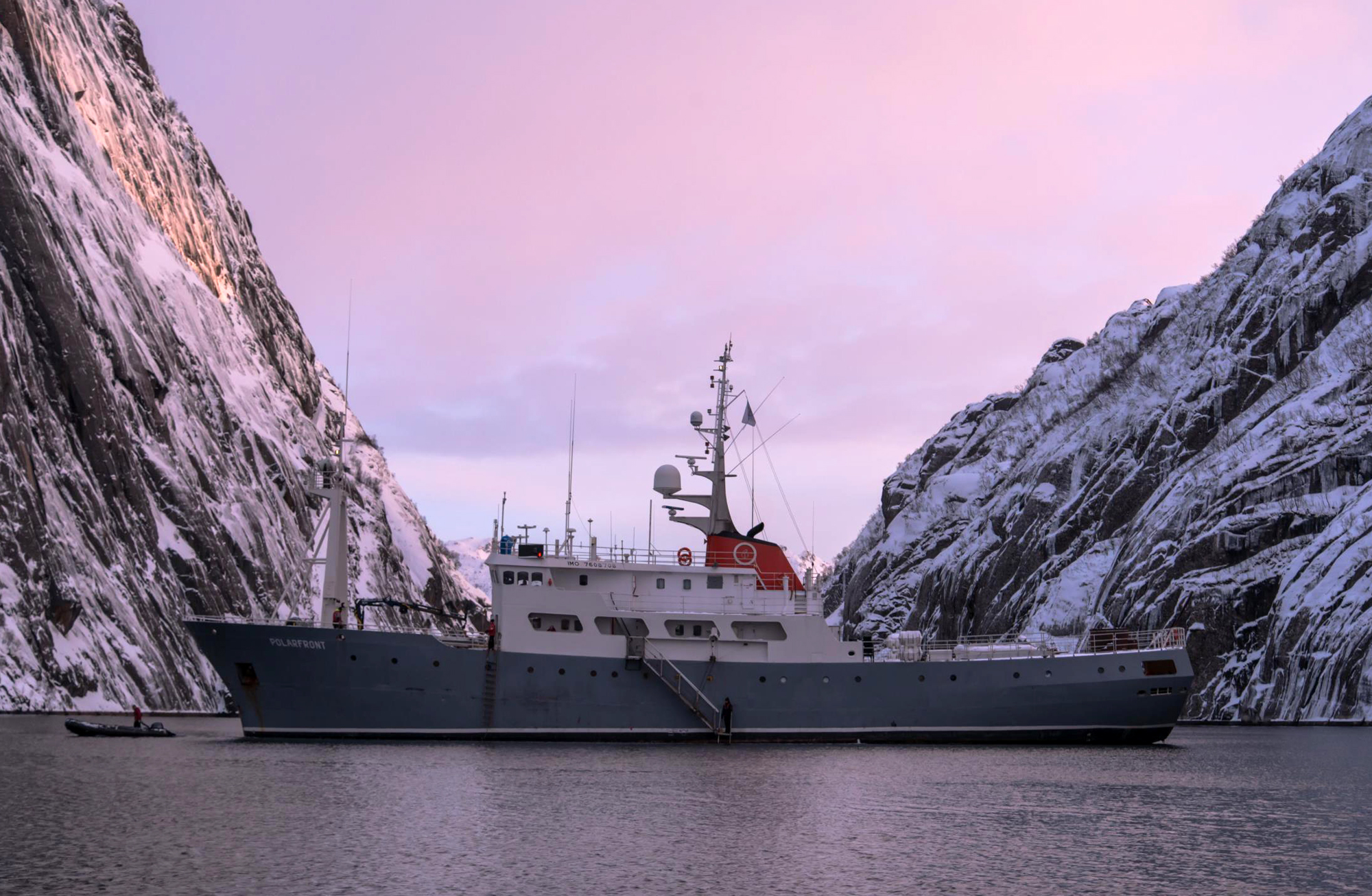 Vessel Option 2 (12 passenger expedition ship)
This polar yacht was built in 1994 as an oceanographic research vessel and has been recently refurbished to offer comfortable accommodation for just 12 guests in 9 cabins each with a private bathroom. Onboard you will find a spacious panoramic lounge area, outside lounge-bar, observation deck, gym, sauna and jacuzzi.
Cabin options:
| | |
| --- | --- |
| Deluxe Suite | Lower Deck. Double / Twin beds |
| | Porthole window (1) |
| Superior Suite | Lower Deck. Double / Twin beds |
| | Porthole windows (2) |
| Executive Suite | Upper Deck. Double bed + seating area |
| | Floor to ceiling windows |
| Single Suite | Upper Deck. Single bed + seating area |
| | Picture window |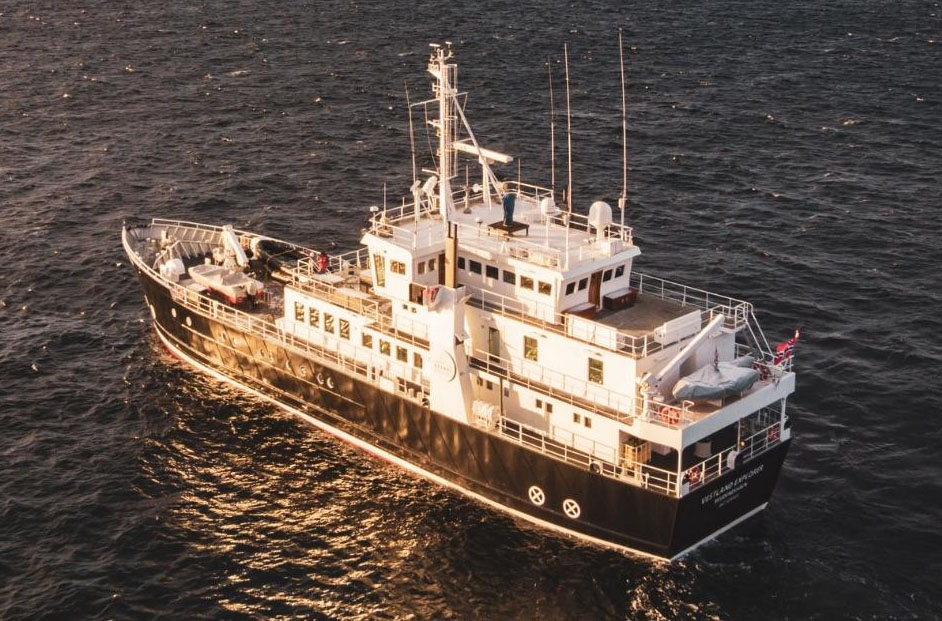 Vessel Option 3 (12 passenger expedition ship)
This small ship was originally built as a Swedish buoy laying vessel and has been completely refurbished in 2021 as an expedition ship. She carries 12 guests in 9 cabins each with fresh Scandinavian style decor and a private bathroom. Her large spacious lounge will be your main common area, with large windows and plenty of space to enjoy evening lectures.
Cabin options:
| | |
| --- | --- |
| Twin Cabin | Upper Deck. Twin beds |
| | Window (1) |
| Superior Cabin | Upper Deck. Twin beds + seating area |
| | Windows (2) |
| Single Cabin | Lower Deck. Single bed |
| | Porthole or Window (1) |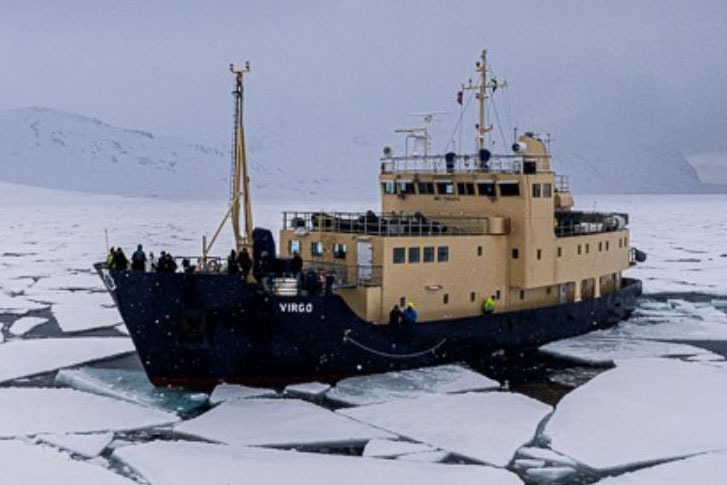 Dates
Notes
Our prices include:
- Accommodation in the cabin of your choice
- Full board, tea and coffee onboard
- Snorkelling activities
- Use of drysuit and equipment (hood, gloves, fins, mask, snorkel & boots)
- Experienced guides
- Zodiac excursions from the ship
- All miscellaneous service taxes and port charges onboard
- Comprehensive pre-departure material.
Excluded:
- Airfares
- Fuel surcharge where applicable*
- Passports and visas
- Airport transfers in Tromso
- Pre and post land arrangements
- Items of a personal nature (alcohol, laundry etc)
- Cancellation and personal insurance
- Warmtec undergarment (to be worn inside the drysuit)
- Meals ashore
- Drinks
- Baggage
- Tips
Single supplement: This supplement can be avoided if you are willing to share with someone of the same gender (note that some cabins have double beds only and can only be booked for single travellers or couples). Single occupancy is 1.8 times the per person sharing cabin price (2x per person rate for the Executive Suite on Vessel Option 1).
Single cabins are available on Vessel Options 2 & 3
*Fuel surcharge:
The cost of fuel is currently volatile, so a fuel surcharge may be applied by the ship without notice. We will let you know if this applies to your booking and send you an updated invoice.