The diversity of marine life, wildlife and island beauty we experience on our October Madagascar Whale Shark Research - Islands, Marine Life & Lemurs trips, can really spoil you for tropical travels you do elsewhere.
Central to this experience is the team you will join, which consists of the leading Whale Shark researcher in Madagascar, Stella Diamant; and Aqua-Firma's Ralph Pannell, formerly of the charity Rainforest Concern. Stella & Ralph are passionate about all that Madagascar has to offer and can provide great insights into the ocean giants and wildlife we can see there. Your hosts are also highly experienced marine life and wildlife photographers, who can help you to log the highlights of what you see with on the go assistance with your own cameras; and copies of the best of what they photograph on the trip.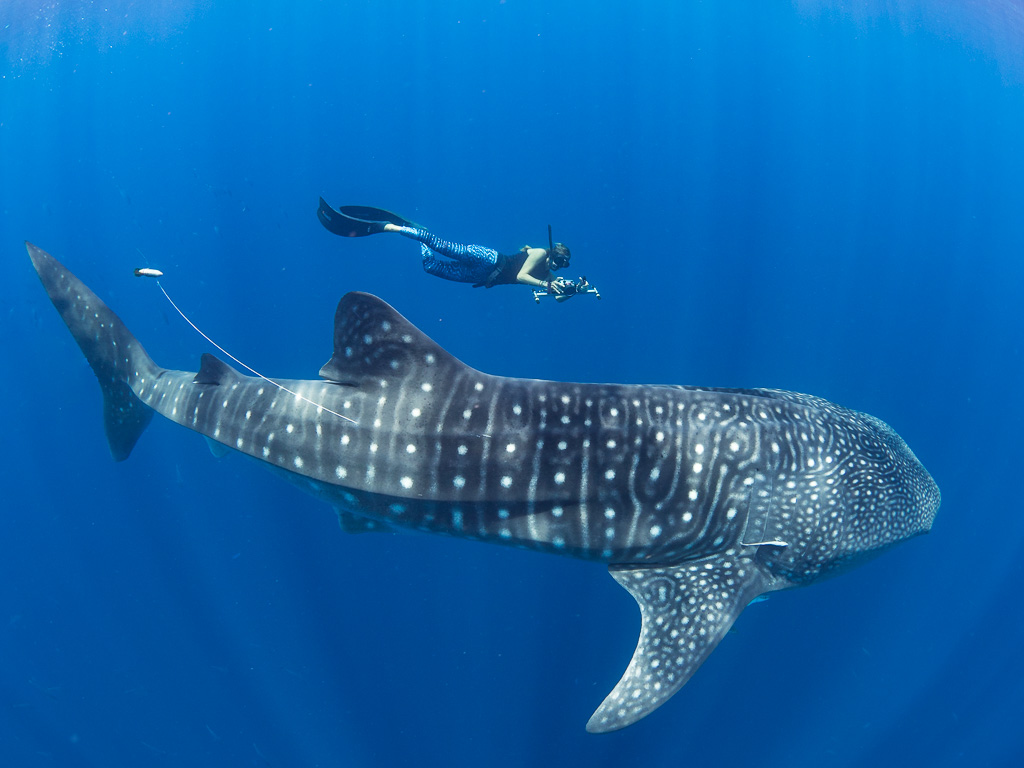 Whale Sharks are huge and beautiful creatures, which in Madagascar we find in some of the clearest bluest waters you can imagine. Something particularly exciting about locating them here, is what we find them with. Whale Sharks glide the tropical oceans in search of hotspots for plankton and small fish; something which the team's satellite tags monitor throughout the year. They are not alone in this search and when we swim with them in Madagascar, we usually find ourselves snorkeling with dozens of seabirds diving into the water around us; and schools of 200 or more bonito tuna, so busy at that the sea surface that the water literally boils with their feeding frenzies.
We might also snorkel amongst large schools of fast-moving Mobula Rays; sometimes a Giant Manta Ray or two; and of we are really lucky, one of the rarest whales on Earth: the Omura Whale (Balaenoptera omurai). Also known as a False Fin or False Brydes Whales, there 'roqual' baleen whales can reach 11 metres or so. Dolphins are usually a daily sight and we can sometimes snorkel with these too. Humpback Whales are another regular sight above water - usually females with their calves, getting ready to migrate to Antarctica for the southern polar summer.
Healthy corals reefs and seagrass beds house yet more marine life. Reefs, such as those at Nosy Tanikely, are best for Hawksbill Turtles; whilst the seagrass beds stepping out from our base, provide excellent opportunities to swim with Green Turtles as they graze.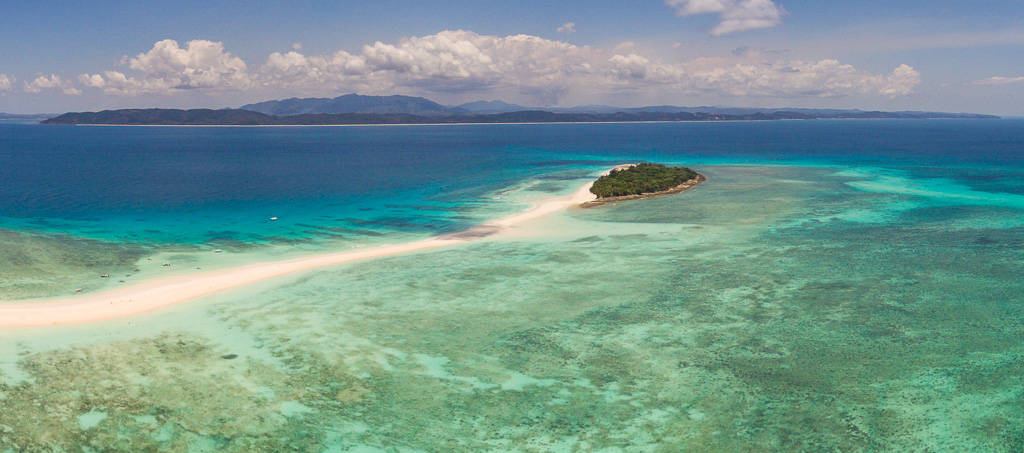 No trip to Madagascar is complete without seeing Lemurs and Chameleons. For starters, we will base ourselves close to a Sacred Forest where Black Lemurs frequently feed close to our camp. We will also spend a full day in the best-preserved forest on Nosy Be (Lokobe) in search of the Nosy Be Sportive Lemur, Mouse Lemur and Black Lemurs; and watch large troops of Brown Lemurs on the island of Nosy Tanikely.
In pursuit of pure beauty, we will embark on an overnight trip to one of the most idyllic tropical islands you can hope to find called Nosy Iranja. When we head to this island, we will start by seeking whale sharks, but also keep an eye out for female Humpback Whales nursing their newborn calves. Once at Nosy Iranja, we will provide excellent food and a large comfortable yet rustic beach tent from which you can walk across powder white sand into a shallow calm water bay.
Photography and video opportunities will be available above and below water. Stella and Ralph will be able to provide photography guidance and support throughout the trip. This will cover underwater and above water photography, plus use of software to edit your hard-earned images. Stella will also provide evening talks and day by day insights when out at sea into Whale Shark Ecology and latest research findings from around the world. Your participation in this trip helps to fund whale shark research in Madagascar, as do our other Whale Shark Research experiences at Mafia Island in Tanzania and The Yucatan of Mexico; and our Special Galapagos Shark Insights & Photography liveaboard trips.
Some scuba diving can be fitted in for those qualified, including night dives in which you can opt to use fluorescent dive lights and mask filters. You will be amazed how the reef and fish look when we bring colours usually outside our visible range, into the observable spectrum. If you would like to conduct additional diving, then we can arrange an extension on Nosy Be dedicated to that.
Swimming with Whale Sharks - Snorkel with Whale Sharks - Swim with Whale Shark Madagascar - Freediving - Freedive holiday - Baleine Safari
Itinerary
8 Day / 7 nights Itinerary
This trip starts and ends in Nosy Be, but we can route you via Antananarivo and extend your stay within Madagascar with tailor made travel arrangements throughout the country. International flights do, however, go into and out of Nosy Be such as via Addis Ababa with Ethiopian Airlines, South Africa and Reunion with Air Austral / Air France.
Day 1: Arrive on the island of Nosy Be
You will be met upon arrival and then be transferred overland and then by boat to a small island just off the coast of Nosy Be. Here we will stay at a lodge set within trees overlooking a quiet bay. Beside us is a hill covered in 'sacred' forest - wildlife from which will often wander through the lodge.
Dinner is included tonight only.
Our research host will hold an initial briefing into Whale Shark Research in Madagascar. There will be further talks during the week about marine life research in Madagascar as well as elsewhere in the world. Aqua-Firma leader, Ralph Pannell, and researcher Stella Diamant will also be able to provide assistance with camera gear before we head out in search of marine life in earnest tomorrow.
This morning we will head out in search of whale sharks, as well as leaping tuna, diving sea birds, humpback whales and possibly other marine life.
In the afternoon, we will head out amongst seagrass meadows in search of grazing turtles; or you can conduct an afternoon dive.
Day 3: Nosy Be & Nosy Tanikely
This morning we will head out in search of whale sharks again.
After lunch we will head to Nosy Tanikely in search of lemurs and lizards on the island and snorkelling on its coral reefs.
This evening, scuba divers will have the opportunity to embark on a night dive. This can be a 'regular' night dive, or one using fluorescent lights and mask filter.
AM: Whale Shark & Marine Life (re)search.
PM: Snorkelling / opportunity for 1 daytime dive.
Late PM: Night dive opportunity.
Day 5: Lokobe Forest Reserve
Today we will head to the forest reserve of Lokobe, looking as we go for chameleons and lemurs.
Day 6: Heading to Nosy Iranja
This morning we will set out for one of Madagascar's most beautiful offshore islands: Nosy Iranja. En route we will seek whale sharks to research, as well as try to spot humpback whales and other life.
You can keep your room at the lodge, so you can leave all that you need to there.
When we reach Nosy Iranja, we can enjoy food, an absolutely stunning white sand beach leading into calm clear water; walk to a wild second beach where we might spot a lovely kingfisher, or wading bird; or walk to a village, along a long white sand spit to a neighbouring island, or take in views from a lighthouse on the highest point.
We recommend a dip in the warm sea first thing in the morning. After breakfast we will head back out to see in search of whale sharks.
Overnight back at the lodge.
If you are not flying tomorrow then the option exists for a night dive.
Transfer to the airport and flight home or elsewhere in Madagascar.
Dates
Enquire / Book
10 - 17 Oct 2024
-
from £ 2,090
from US$ 2,550
hosted by Aqua-Firma Photographer Ralph Pannell & Madagascar's leading Whale Shark Researcher, Stella Diamant
Notes:
The trip begins and ends in Nosy Be. Please contact us if you wish to start the trip from Antananarivo instead**
Price per person sharing in a standard cottage
Single supplement* from £285 / $345
Room upgrades available. Please enquire
*If you would like to share and we can pair you with someone of the same gender to share with, then you can avoid any single supplement.
Diving (payable locally)
- Daytime dive £55 including full kit rental
- Regular night dive £55
- Fluorescent night dive £75
Save £10 per dive if you bring your own full dive kit, including dive lights for regular night dives.
Price includes:
- All transportation by land and sea
- All accommodation
- All trips within itinerary (except diving at additional charge)
- Contributions to funding the research
- All breakfasts
- 2 dinners (first night and when on Nosy Iranja)
- 4 lunches
- Water when out by boat
- Donations to our research partners
- Series of evening talks about whale shark biology, Madagascar's terrestrial wildlife and latest whale shark research findings from around the World
- Photography and photo software master classes as requested
Not included:
- International air fares
- Domestic air fares (if applicable)
- Additional accommodation in Antananarivo (if applicable)
- Travel insurance
- Meals not specified
- Drinks
**Starting the trip from Antananarivo: if you choose to fly into Tana and then take a domestic flight to Nosy Be, please note that you will need to spend at least one night in Tana before the trip is due to start and at least one night afterwards. This is to mitigate against any potential flight schedule changes or delays to your domestic flights. Please contact us for more information.