This land-based Galapagos Wildlife, Marine Life & Photography journey will be hosted by Aqua-Firma director Ralph Pannell, who has been working in conservation and travel in Ecuador for more than 20 years; local guides trained by the Charles Darwin Research Station; and a Marine Biologist & Photographer from the Marine Megafauna Foundation, active in ongoing research and conservation of sharks in the Galapagos. In 2022 this will be Dr Simon Pierce and in 2023 it will be Dr Chris Rohner.
Volcanic Scenery
After landing into the Galapagos, we will take you first into the Highlands of Santa Cruz Island where amongst endemic cloud forest, we will soon be amongst Galapagos Giant Tortoises. We will also be on the lookout for Vermillion Flycatchers, Darwin's Finches and explore forests of Scalesia trees, which are actually 20 metre endemic daisy plants.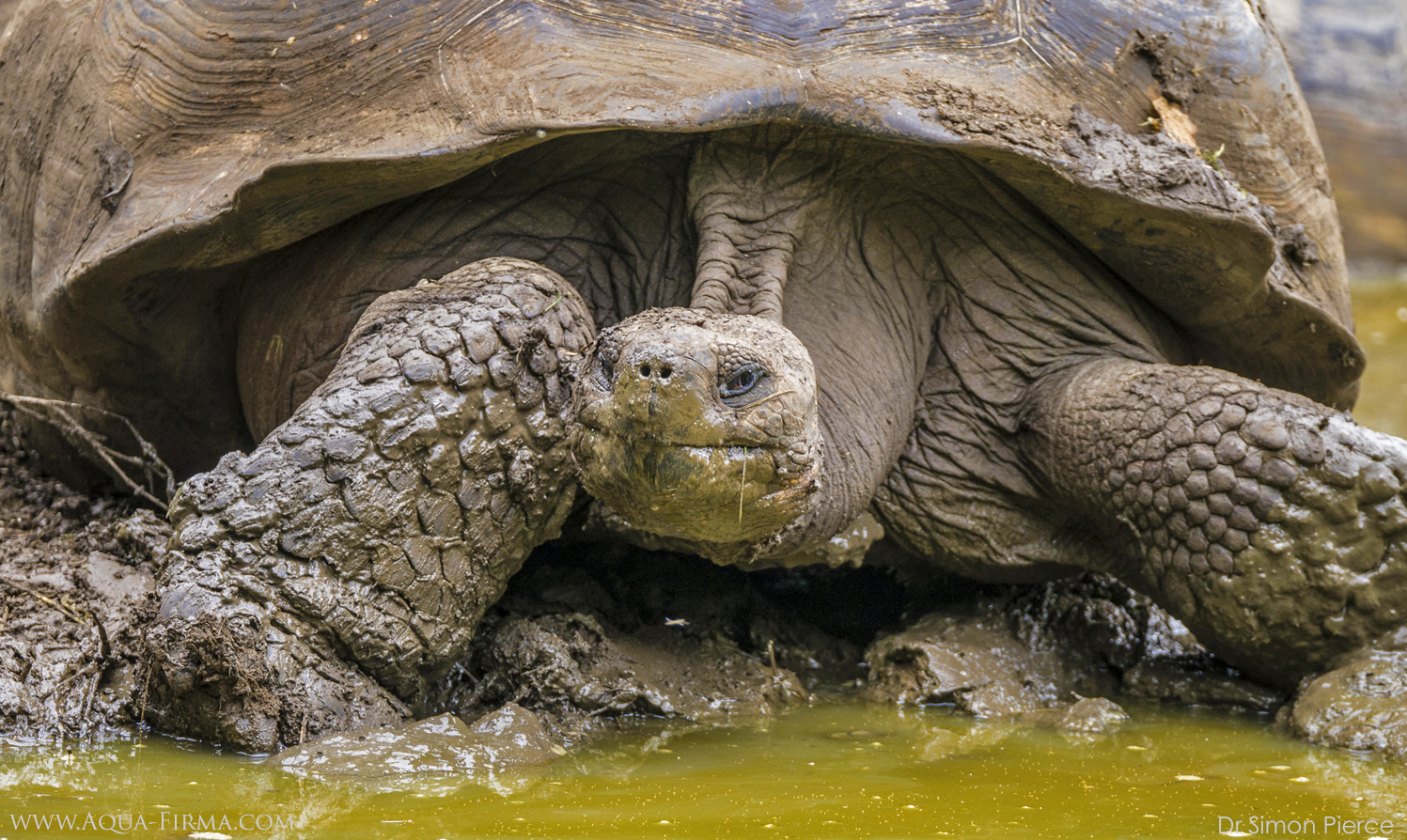 From Santa Cruz we will head by boat to the Galapagos's largest and perhaps most beautiful island of Isabela. This is where we find the Sierra Negra Volcano which reaches 1,124 metres above sea level. It last erupted in 2005 when the BBC were filming a four-part series about the islands. The centre of the explosions was a parasitic cone called Cerro Chico - the target point for a trek we will make. Scratch the Earth's surface just a few inches below the lava surface here and the temperature is too hot to touch. The landscape is one of multicoloured igneous rock, oozing in places with sulphurous fumes. We have to stick strictly to tested pathways here: as with so much of the Galapagos, the lava has solidified above a Swiss cheese network of gas bubbles.
To reach Cerro Chico, we will trek along part of the second largest volcanic crater in the World, measuring 6 miles across. Only the Ngorongoro Crater in Tanzania is wider. Cloud cover is highly variable here, with the best conditions when skies are clear above clouds, pushed up by the wind before cascading over cliffs into the huge crater. These clouds sustain a gnarly cloud forest on the slopes of Sierra Negra, where we can sometimes find endemic Galapagos Hawks and Mockingbirds.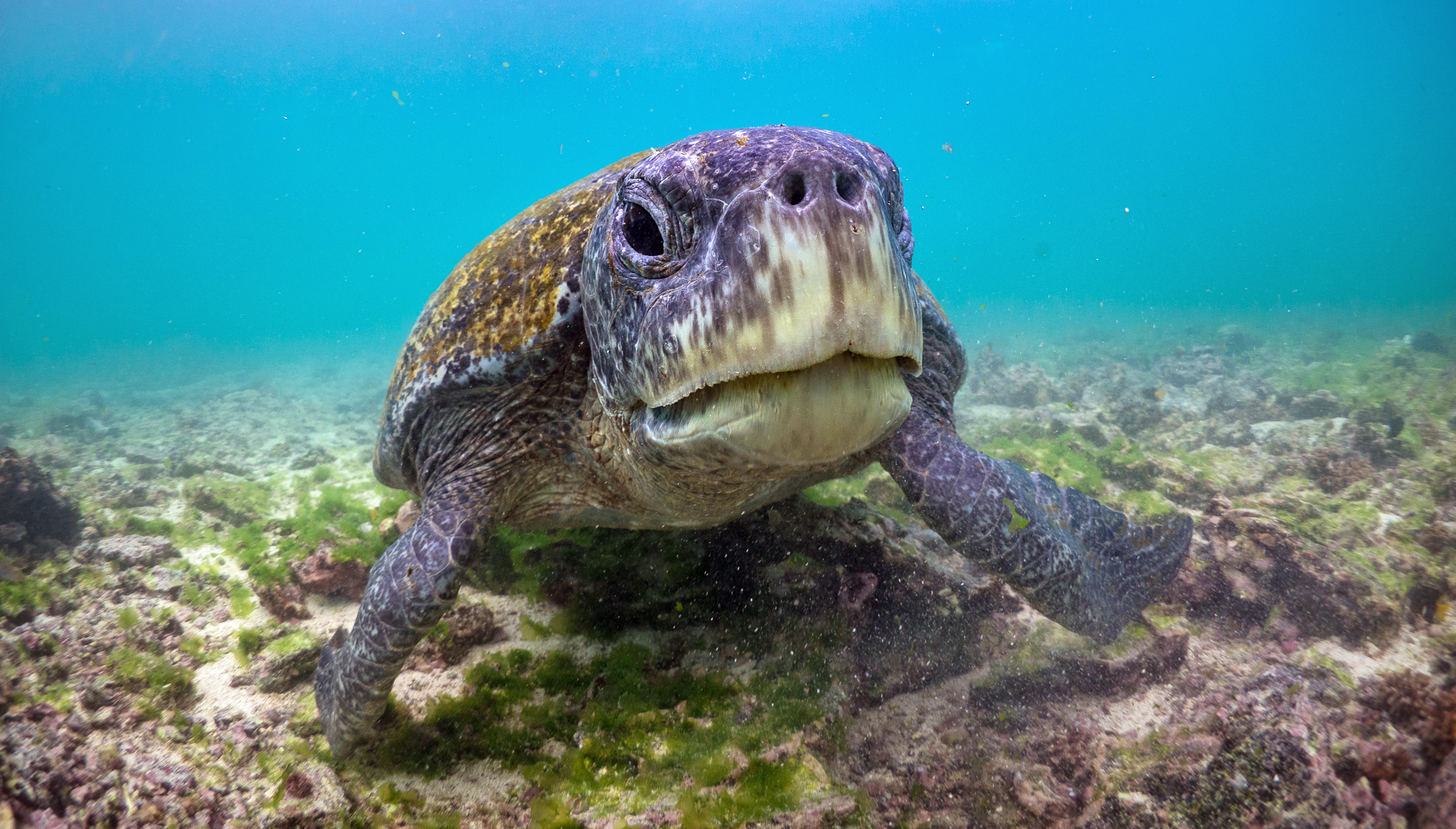 Wildlife & Marine Life
From Isabela, we will head far to the west of the archipelago and a series if islets where we can find best snorkeling in all of the islands. Our underwater targets will include schools of Golden Cownose Rays, Green Turtles and White-tip Reef Sharks which swim amongst tree roots and pack into a tiny cave we can spy into. On top of these islets we can find nesting Blue-footed boobies and lava lizards; and offshore we find rocks where Nazca Boobies roost and waters where we can sometimes see a Hammerhead Shark, Mobula or Manta Ray close to the surface.
South Plaza is another particularly beautiful island we will visit, characterised by Opuntia, or prickly pear trees; and endemic sea purslane plants, which in August will be a lovely red colour. South Plaza also has some dramatic sea cliffs, filled with seabirds; whilst on its gentler slopes we can find plenty of land iguanas, swallow-tailed gulls and all grey lava gulls.
One of the other great marine highlights we visit on this trip, is a channel that runs through a huge split in Kicker Rock (Leon Dormido), which lies just off San Cristobal Island. What we can always be sure of here is the drama of the scenery, enjoyed looking up from the water. Birdlife in the form of Blue-footed boobies, Nazca boobies and Magnificent Frigatebirds are quite likely to fly overhead, whilst at the sea surface, turtles often pop up close by. If visibility allows, you will be able to see beneath you a huge amount of sealife. Leader, Ralph Pannell, has seen as many as 200 Galapagos Sharks here, holding their position in the current, as well as schools of as many as eight Hammerhead Sharks and beautiful Blue Spotted Rays gliding gently past. These marine species are nothing to be concerned about, but certainly sights you won't find in many places on our Blue Planet whilst snorkeling. It is no wonder that the record breaking freediver, Tanya Streeter, rated the Galapagos as the best place in the World to snorkel.
Photography & Insights
We will have lots of opportunities for photography on this trip, with assistance on the go, evening workshops as requested; and any advice you need before you head to the islands. We will also provide some evening talks about wildlife, marine life and geology of these most special islands.
Itinerary
8 Day Wildlife & Marine Life of the Galapagos itinerary
Itinerary shown here is for 2021 starting Baltra Island and ending San Cristobal.
In 2022 & 2023 we will run the itinerary in reverse.
Day 1 - Baltra to Santa Cruz
Our journey begins at the airport on Baltra Island, which is also known as South Seymour. The airport here was built by the US military in 1941.
From the airport, we will travel across the flat and dry Baltra Island to the Itabaca Channel. We can usually see Magnificent Frigate Birds amongst mangroves on this coast.
Once across the Channel we will drive across the similarly barren north of Santa Cruz until we start to rise through Scalesia Forest and eventually the forest covered tropical volcanic peaks of the island. Here we will go in search of Giant Tortoises, Darwin's Finches and Vermillion Flycatchers inside the forest, before descending through farmlands of the most populous part of the Galapagos. We will eventually reach Puerto Ayora, the largest town in the Galapagos.
The town is worth exploring and your guides can provide some first introductions to Galapagos sealions, Sally lightfoot crabs, brown pelicans, marine iguanas and possibly some reef sharks observed from a jetty.
A visit to the Charles Darwin Research Station will also take place.
We will spend the night in a hotel in Puerto Ayora.
Day 2 - Santa Cruz to Isabela
This morning we will travel from Santa Cruz Island to the south of Isabela Island. This open sea crossing will take about two hours.
We will check into a hotel on the coast before exploring mangroves and lagoons in search of Flamingos, marine iguanas, Yellow legs and different types of Darwin's finches.
We will also visit the Galapagos National Park Tortoise Breeding Center.
Early morning we will take a speed boat to the far south western tip of Isabela Island. Along the way we will pass by rocks where Nazca Boobies roost. We will eventually ride the surf into a series of tiny lava islets - a unique and beautiful coastal scenery where we can come across Blue-footed Booby nests with fledglings, lava lizards and Opuntia cacti.
For one of the best marine life snorkelling opportunities in the whole archipelago, we will move to a mangrove-fringed bay where we have great chances of swimming with White-tip Reef Sharks, schools of Golden Cownose Rays and Green Turtles.
We will head back to Puerto Villamil later on where you can relax, or join your hosts for a gentle bike ride along the south coast to areas where we can usually find hundreds of marine iguanas warming themselves on black volcanic rocks; and Lava Herons pursuing Sally lightfoot crabs.
Day 4 - Volcan Sierra Negra, Isabela to Santa Cruz
This morning, we will head inland to the Sierra Negra Volcano in search of dramatic vistas and terrestrial wildlife.
In the afternoon, we will take a speed boat back to Santa Cruz Island.
Day 5 - South Plaza Island
Today we will head out by small boat to South Plaza Island.
South Plaza is a beautiful island formed out of lava which bubbled up to the sea surface. It is relatively small but very diverse in its botany, full of birdlife and very good for spotting land iguanas. There are approximately 1,000 Galapagos sealions on the island and birdlife is plentiful. Cliffs on the western side are nesting sites for Blue-footed and Nazca boobies, whilst we can find Darwin's Finches amongst the rocks of the eastern side, alva guls and lovely swallow-tail gulls.
Overnight in Puerto Ayora.
Day 6 - Santa Cruz to San Cristobal
This morning we will take you by speed boat to San Cristobal Island. Here we will check into a hotel and then pay a visit to the Galapagos Interpretation Center and a beach where we can find rock pools and beaches littered with resting Galapagos sealions. Photo opportunities are wonderful.
This morning we will head out to Kicker Rock (Leon Dormido) in search of spectacular coastal scenery, birdlife and snorkelling with abundant marine life.
This morning you will have the chance to top up on rock pool and sealion photographs if you wish.
In the afternoon, you will be taken to San Cristobal airport for your flight back to he mainland .... or continue your exploration of the Galapagos.
Dates
Enquire / Book
01 - 08 Aug 2022
-
£ 2,890
US$ 3,690
8 days hosted by marine biologist & filmer Dr Simon Pierce, Founder of the Marine Megafauna Foundation; Aqua-Firma director Ralph Pannell; and local guides trained by the Charles Darwin Research Station.
Itinerary in the reverse direction starting San Cristobal and ending Sta Cruz / Baltra
Enquire / Book
10 - 17 Aug 2023
-
£ 2,990
US$ 3,825
8 days hosted by marine biologist & filmer Dr Chris Rohner, Principal Scientist of Marine Megafauna Foundation; Aqua-Firma director Ralph Pannell; and local guides trained by the Charles Darwin Research Station.
Itinerary in the reverse direction starting San Cristobal and ending Sta Cruz / Baltra
Single room occupancy supplement £590 / US$770
+ £25 / $30 in 2023

Prices include
All transfers by land and sea
Accommodation
Expert guided exploration as per itinerary
Evening talks
Breakfasts & lunches
Snorkelling equipment if needed

Not included
Flights to / from the Galapagos
Galapagos National Park fee (US$100*)
INGALA immigration fee ($20*)
Dinners
Tips
Excess baggage fees

(*correct at the time of writing - payable locally - may be subject to change without notice)