This week-long journey combines the most biodiverse area of our planet: the Tropical Andes … with our biggest tropical wilderness: the Amazon. Locations will include Ecuador's largest protected wilderness area; an indigenous Amazon wildlife reserve; and one of South America's most successful rainforest corridor projects, from High Andes to lowland Amazon.
Throughout, we will follow expert local trackers in search of wildlife; whilst host, Ralph Pannell, formerly of our partner charity, Rainforest Concern, will help you to see under the skin of Ecuador's ongoing conservation challenges and successes.
In the Tropical Andes, we will explore some of the most pristine forest within the Choco-Andean rainforest conservation corridor. This inspirational project protects an incredible variety of flora and fauna, from land reaching almost 5,000 m at the Cotocachi Volcano, to lowland rainforest on the Pacific coast of Ecuador and Colombia. The corridor is a complex patchwork of national parks, private reserves and community reserves; some of which Ralph was involved in creating for Rainforest Concern. Aqua-Firma has supported Rainforest Concern's efforts here since 2005 and in joining this trip, you will be sponsoring further conservation in this area.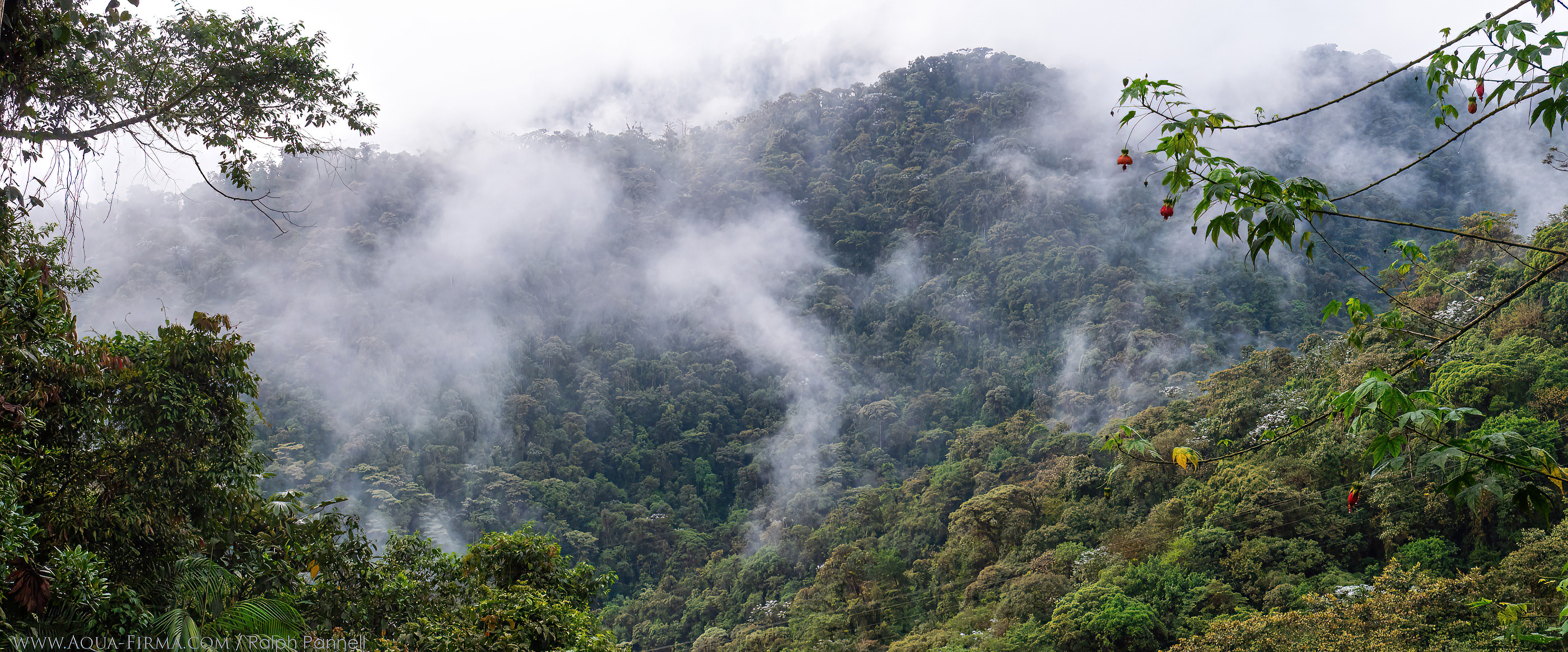 In the Amazon, we will explore Ecuador largest protected area, the Yasuni National Park; and an indigenous-owned 10,000 acre rainforest reserve Ralph first surveyed for primates with a research expedition more than 30 years ago. 13 species of monkey can be found in the forests here, including the world's smallest: the Pygmy Marmoset; and the world's loudest: the Red Howler. Golden Tamarins are particularly attractive monkeys we might see; whilst troops of Squirrel Monkeys and prehensile tail-gripping White Fronted Capuchins travel in troops of several dozen.
Other mammals we can hope to encounter include a type of Amazon wild boar, the Collared Peccary; Two-toed Sloths, Jaguarundis and both Black and Spectacled Caiman. Pumas and Jaguars certainly exist in these forests. Whilst we may find their tracks, we will probably need to review camera trap images for sightings of these stealth hunters.
Of birdlife, we can find up to 550 species in the Amazon forests we will be exploring, of which some of the most iconic are prehistoric-looking Hoatzins and several very colourful species of toucan, macaws, parrots and parakeets. In the cloud forest, we have good chances of seeing Plate-Billed Mountain Toucans; a fantastic variety of hummingbirds; and South America's answer to the New Guinean Bird of Paradise: the Cock of the Rock.
The scenery on this trip is as spectacular in its variety as is its wildlife. In the Choco-Andes we can enjoy vast vistas of steep Andes cloaked in forest. Cloud comes and goes across this landscape; at times burying valleys beneath us to leave islands of forest surrounded by swirling mists. Later in the day, clouds often rise like a dampened cloak - a perfect environment in which orchids, mosses and bromeliads can thrive. With land both above and below us, we can admire the forest from root to the curled canopy of a tree fern, or silver leaves of a fast-growing Cecropia tree.
In the Amazon, our scenery will vary from the wide Rio Napo and serene oxbows lakes, to narrow tributaries and darkened understorey beneath towering buttressed trees. For a wider perspective, we will ascend a canopy tower; and as we fly from Andes to Amazon and back, we have good chances to gazing at the glacial volcanic peaks of Antisana, Cayambe and Cotopaxi.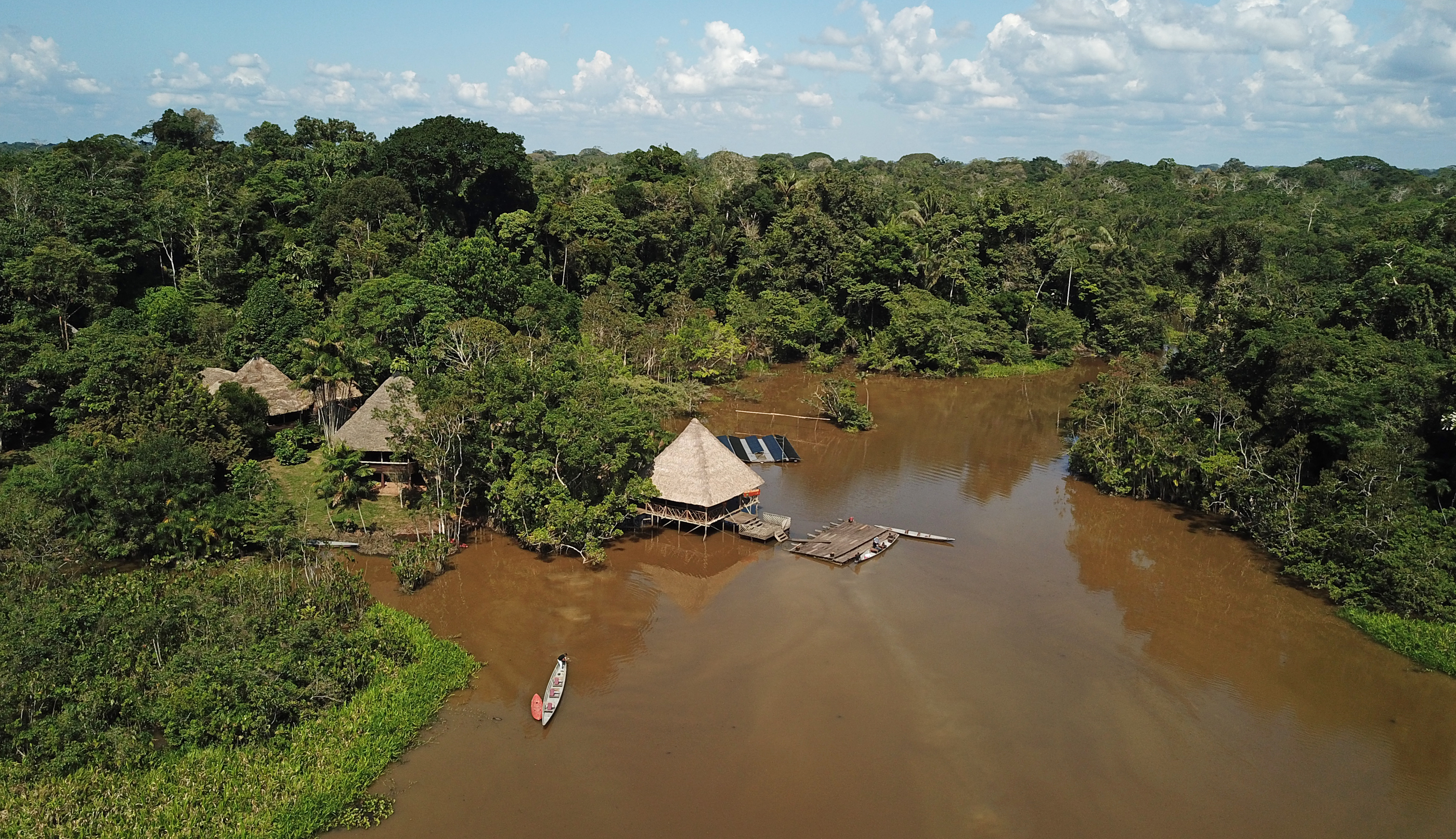 Accommodation will be in very comfortable en suite community owned cabanas; our payments for which help communities generate sustainable income by preserving forest, rather than exploiting it. All meals, guiding, conservation contributions, Amazon flights, river and land transportation is included.
These journeys have been timed to combine with these special Galapagos experiences:
Galapagos Wildlife Marine Life & Photography
hosted by Marine Biologist & Photographer, Dr Chris Rohner
20 - 27 June, 2023
18 - 25 June, 2024
17 - 24 June, 2024
Galapagos Shark Research Insights & Photography Dive Liveaboard
led by Dr Chris Rohner
27 June - 4 July, 2023
25 June - 2 July, 2024
24 June - 1 July, 2025
You can also discuss with us, tailor-made travel options in Ecuador, Peru and more widely through Central and South America.
Itinerary
Andes to Amazon Wildlife & Conservation
You will be collected from Quito airport, or anywhere else you need within the city. You will then be transferred to a lovely boutique hotel in a premium part of the city where the group will meet, take a gourmet three course dinner and receive an introduction about the journey ahead from trip host, Ralph Pannell. Ralph is a director of Aqua-Firma and worked 5 years at partner charity, Rainforest Concern.
Day 2 - Quito to Choco-Andean Rainforest Corridor
We will take an early breakfast and then head out of Quito, into a very dry part of the alto plano, before heading west towards the Pacific Ocean. As we descend, the scenery becomes dramatic, which Andean mountainsides plunging steeply into deep valleys below. Forest cover is complete in some places as we drive into the Choco-Andean Rainforest Corridor.
When we set off, the climate will be cool and distinctly high Andean; but as we reach our lowest altitude on the journey, it will feel comfortably warm and humid. At a small town, we will leave tarmac and make our way along a river valley which ends where the rainforest corridor beings. We will be at about 1,200 metres, at the edge of a rainforest reserve run by a local foundation, whose initial funding was assisted greatly by Rainforest Concern.
At a river, we will transfer your baggage to mules, whilst we take our time to walk up a trail and into a community-owned reserve which was one of the prime beneficiaries of Rainforest Concern work in the late nineties. The views become ever more impressive as we approach 1,800m, whilst the forest changes very noticeably in sound and what grows around is.
At the top of our walk, we can settle into our very comfortable community-owned cabanas, have lunch and take photographs of views and hummingbirds.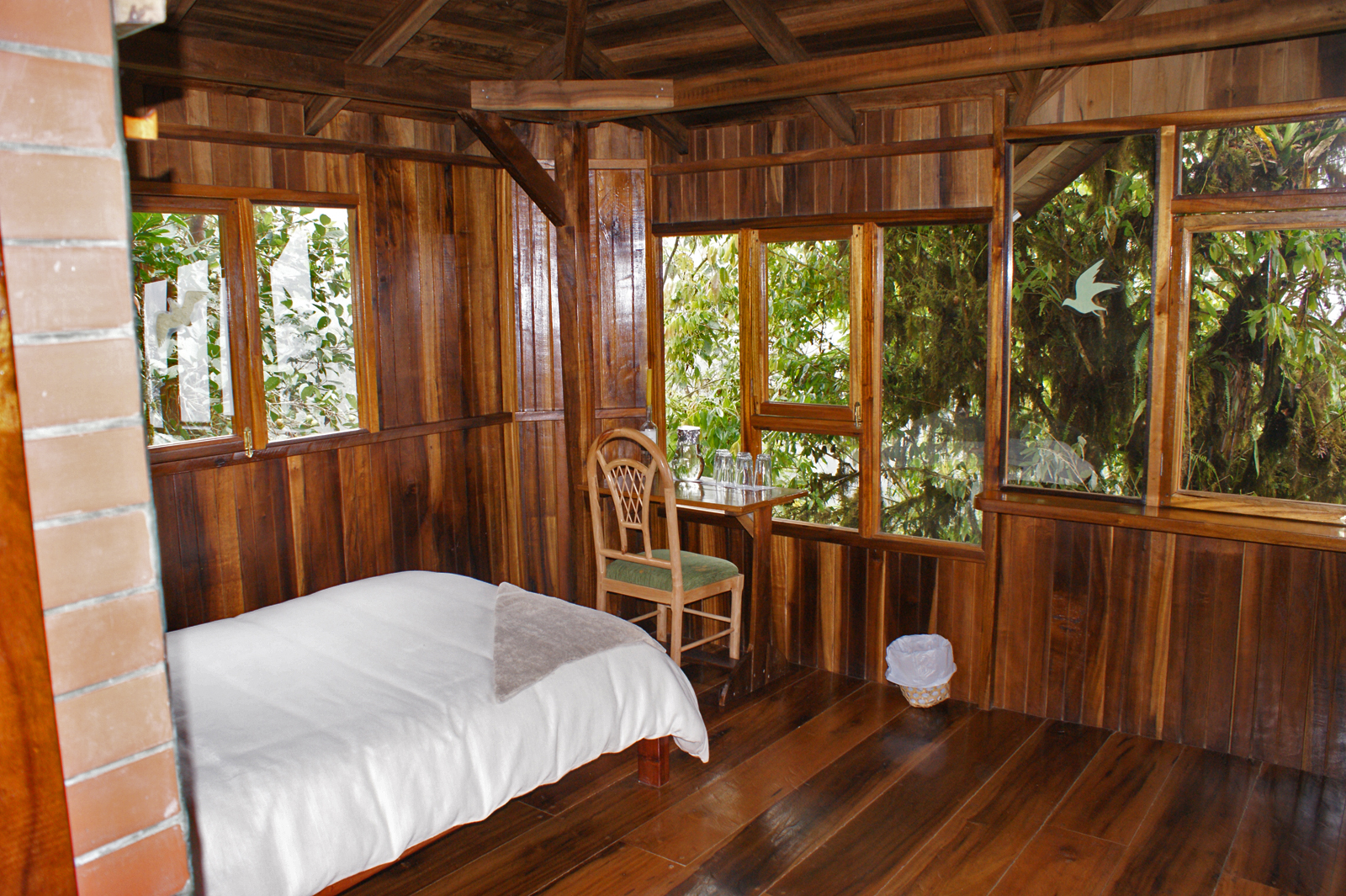 In the afternoon, we will trek in search of wildlife and birdlife and admire an incredible abundance of flora.
Very early morning, we will trek to a 'lek' where we will try to watch bright orange / red male Cock of the Rock birds perform to females. We can enjoy lots more birdlife, scenery and potentially mammals, this morning and throughout the rest of the day.
Depending upon cloud cover (which changes quickly through the day), you may be able to enjoy far reaching views of the Choco-Andean Rainforest Corridor. Ralph will take you to a reforestation sites and explain the status of different parts of Corridor.
We will have some time this morning for exploring, before setting off to the airport for our flight to the Amazon.
As we fly from Ecuador's Andean capital, watch out of the windows for volcanic peaks. On days when cloud does not obscure, we might be able to see the snow-capped peaks of Antisana, Cayambe and Cotopaxi - Ecuador's highest active volcano.
We will fly over the edge of the Andes, over Andean foothills and eventually see the Rio Napo beneath you as you come into Coca. At Coca, you will pick up your baggage and we will then take you to the river where we will transfer to a covered long motor canoe.
From Coca, we will follow the flow of the river about 2 ½ - 3 hours downstream. The forest steadily improves and we will eventually step off the canoe and onto the banks of the Rio Napo. We will walk for about 10 minutes through swamp forest, before transferring into a paddle-powered canoe which will take us down a stream which opens out onto a large oxbow lake. We will take it slow, watching for herons, caiman and monkeys as we go.
You will be able to you settle into your en suite cabana, possibly to the tune of Red Howler Monkeys, before we set out on a night walk after dinner. Night walks are a great way for us to see some of the smaller life in the forest, as well potentially Night Monkeys which exist in this part of the Amazon.
Day 5 - Amazon Rainforest
We will have an early breakfast today before taking a slow paddle across oxbow lakes, through swamp forest and along narrow tributaries in search of wildlife and birdlife. Dusky Titis, White-fronted Capuchins and Squirrel Monkeys are the primates we are most likely to spot, before we trek to a a canopy tower, built around a giant Kapok tree. The buttress roots of this tree are simply enormous.
We will spend at least an hour in trher canopy, enjoying commanding views over canopy and swamp forest. We will be equipped with a scope to spot birds and wildlife for you, both near and far.
From this canopy tower, we will take you to a bird hide within the forest; and then on a forest trail seeking wildlife and birds, whilst learning a few things about local plants and their traditional uses.
After lunch, we will head out in canoes through flooded forest and narrow tributaries in search of wildlife, birdlife, reptiles and amphibians such as Spectacled Caiman or Amazon Dwarf-Iguana.
As darkness falls, we will make a lakeside paddle by canoe. Canoeing at night is incredibly atmospheric and provides easy opportunities to spot caiman, whose eyes light up with the reflection of your torch light.
Day 6 - Amazon Rainforest
Another early breakfast, so that we can go in search of wildlife and birdlife again on an oxbow lake and narrow river. We will then take to a motor canoe and head to a salt lick where hundreds of parrots and parakeets come to top up on salt and minerals.
We will then head into the Yasuni National Park in search of wildlife.
We will take lunch at a Kichwa village where we will be able to show you some of the crops local people grow and natural materials they use to make the things they need. This will also provide us with an opportunity to discuss how life in the Amazon is evolving. Blow darting is a bit of a sport here, so if you would like the opportunity to dart a papaya or two, that can be arranged! Trip leader, Ralph Pannell, will certainly be aiming to hone his skills.
Further search for wildlife and birdlife in the late afternoon before dinner.
Today you will head back to Quito, first by paddle canoe … then on foot … then motor canoe … and eventually by plane, arriving in the afternoon.
Dates
Enquire / Book
13 - 19 Jun 2023
-
£ 2,280
US$ 2,990
7 days Wildlife & Conservation Insights Journey
led by Ralph Pannell formerly of Rainforest Concern
Enquire / Book
11 - 17 Jun 2024
-
£ 2,370
US$ 3,090
7 days Wildlife & Conservation Insights Journey
led by Ralph Pannell formerly of Rainforest Concern
(itinerary in reverse direction)
Enquire / Book
10 - 16 Jun 2025
-
£ 2,460
US$ 3,190
7 days Wildlife & Conservation Insights Journey
led by Ralph Pannell formerly of Rainforest Concern
Single supplement £265 / US$330
add £40 / $50 in 2024
add £60 / $80 in 2025
Price includes
All guiding
Accommodation
Return flights Quito to the Amazon
All transportation by river and land
All meals on location in the Amazon & cloud forest
Park entry fees
Community fees
£50 towards Aqua-Firma's Rainforest4Climate fund which will be donated to Rainforest Concern's efforts to build the Choco-Andean Rainforest Corridor
Water, coffees & teas