Characterised by calving glaciers, colossal icebergs, a miriad of islands and sheer mountain peaks, the extremities of the Antarctic Peninsula provide the ideal setting for our Antarctic Wilderness Adventure Voyages.
From your basecamp on a comfortable expedition motor ship, you are able to explore the Antarctic wilderness by whichever means you prefer: sea kayak, snow shoe walking, remote mountain treks, overnight camping, mountaineering and on some departures - scuba diving for those with the inclination and right experience. Specialist week long programmes are available whilst on some basecamp departures most optional activities are integral and free of charge!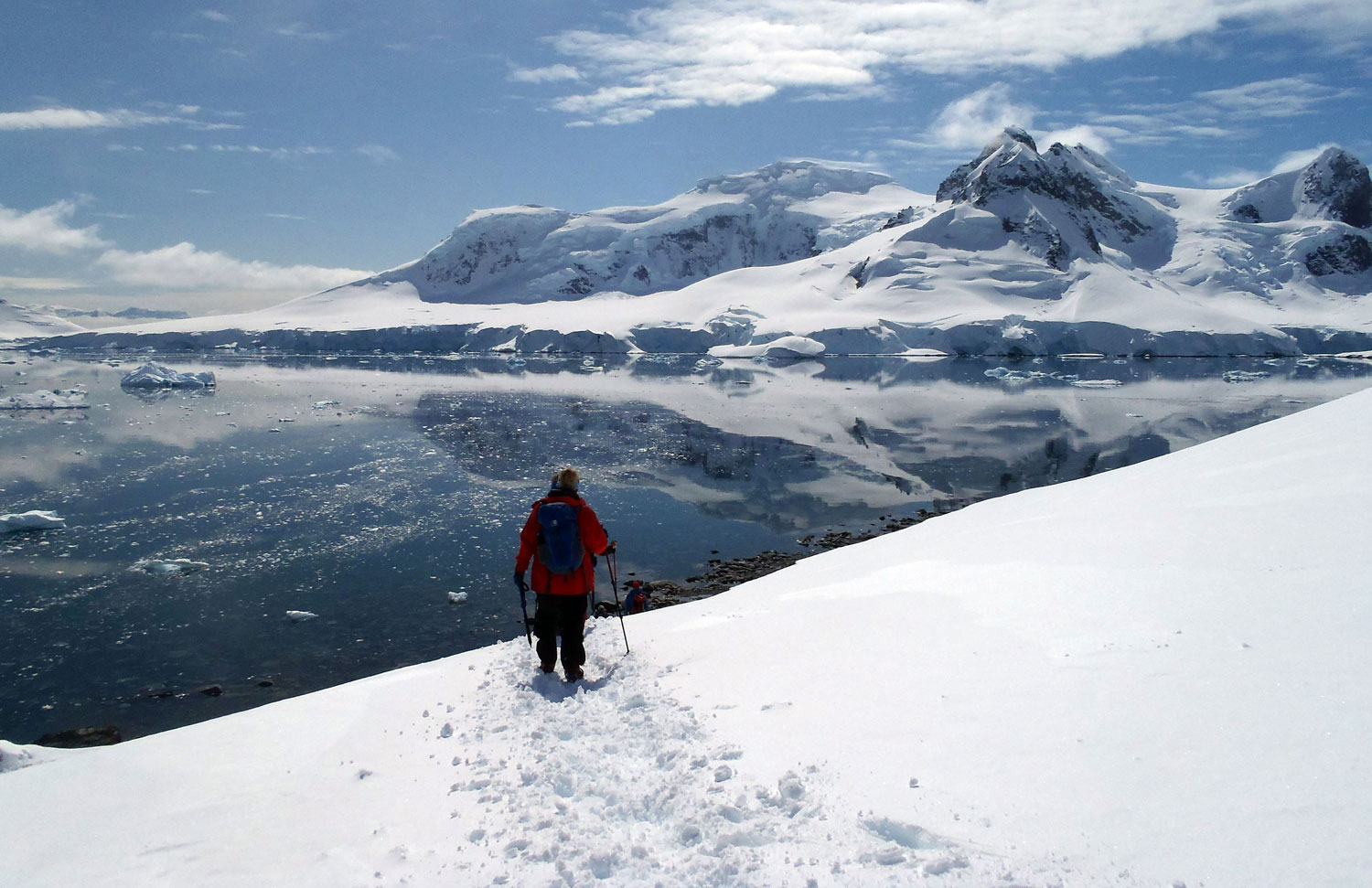 Escorted by activity specialists you will be on constant watch for encounters with Adelie, Gentoo and Chinstrap penguins, many of which can be observed in large colonies and often with chicks. Inquisitive and charismatic by nature, close encounters are likely never to be forgotten be that above, on or below the water. Surfacing eloquently from the icy depths below, there may be chances to spot Humpback, Minke and Fin and other whales.
Aqua-Firma Adventure expertise
The team at Aqua-Firma has spent a considerable time in the Polar Regions, and often guide onboard these Adventure departures. We can help provide a first-hand insight into the activity options available and what to expect before you leave home. To speak to a someone with onboard guiding experience on these trips, or who has dived amidst Antarctica's icy waters, please just pick up the phone and contact us to speak to an Aqua-Firma professional polar guide.

All of the activities are undertaken under the guidance of skilled experts, whose enthusiasm and experience helps passengers to enjoy them to the full. The expertise of onboard polar experts may extend further to personal specialities such as marine biology, geology, glaciology, ornithology and history, aspects of which will inspire a programme of onboard presentations.

Kayaking
The Aqua-Firma polar team are keen kayakers, who when not in the icy waters of the polar regions can be found exploring our local rivers and coast. Ask us about kayaking possibilities. Some experience rather than expertise is required to enjoy Kayaking in Antarctica. You are invited to paddle between icebergs, or cruise along majestic glacier fronts, onboard sturdy single or double sea kayaks, escorted by an instructor and followed by zodiac support.
Causing minimal disturbance, kayaking is the ideal way to get close to resting seals and penguins out on the ice and with luck enjoy breath-taking encounters with whales. A kayak also provides a peaceful personal retreat from the rest of the adventure-fuelled voyage.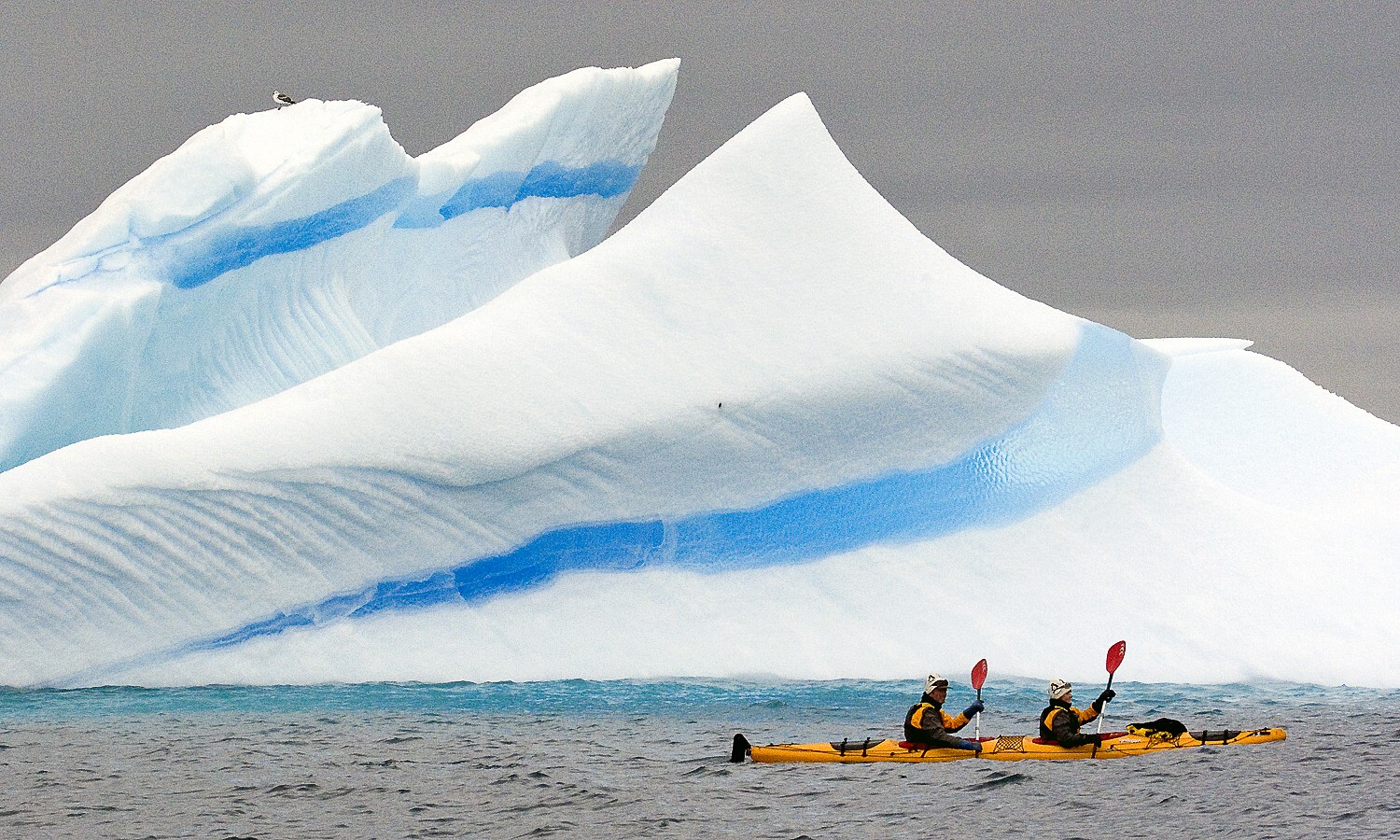 Camping in Antarctica
Adventures aboard these voyages do not cease come nightfall, with opportunities to camp in Antarctica, a memorable once in a lifetime experience. With all equipment supplied, campers will get the chance to feel at one with the surrounding ice, listening to the vast silence of the polar world, interspersed by the sound of glacial melt water, creaking glaciers, or chattering inquisitive penguins nearby.

Snow Shoeing
Snow shoeing is a fun activity open for all to try and enabling you to confidently walk on virgin slopes to stunning vistas. Knowledgeable and experienced onboard guides will be on hand to help passengers identify and spot different wildlife and marine life species as well as provide an insight into the polar history of the region.

Photography Workshops
Photographic opportunities abound during these voyages and the addition of expert led workshops can help capture lasting photographic memories. With the guidance of an onboard photography professionals, workshops and guided excursions will provide advice on how to best capture polar landscapes and wildlife through exposure control and composition.

If you can manage more time for adventure in the Southern Hemisphere, then please Contact Us to speak to one of our experts about adventure travel in Tierra del Fuego, Patagonia and other parts of Latin America you will be passing through to reach Antarctica.
"It was absolutely the best trip I've done in my entire life, without a doubt. ...... I literally don't have enough adjectives to praise it enough."

A Mallett.
Read more reviews on our Antarctic Adventure voyages here
Itinerary
12 Day Sample Itinerary
This is a sample only based upon an 12 day voyage. The final itinerary will be determined by the Expedition Team and is influenced by local conditions, like ice and weather - in particular actual or anticipated headwinds affecting crossings of the Drake Passage.
Your voyage begins where the world drops off: Ushuaia, Argentina, reputed to be the southernmost city on the planet, located on the far southern tip of South America. Starting in the afternoon, you embark from this small resort town on Tierra del Fuego – nicknamed "The End of the World" – and sail the scenic, mountain-fringed Beagle Channel for the rest of the evening.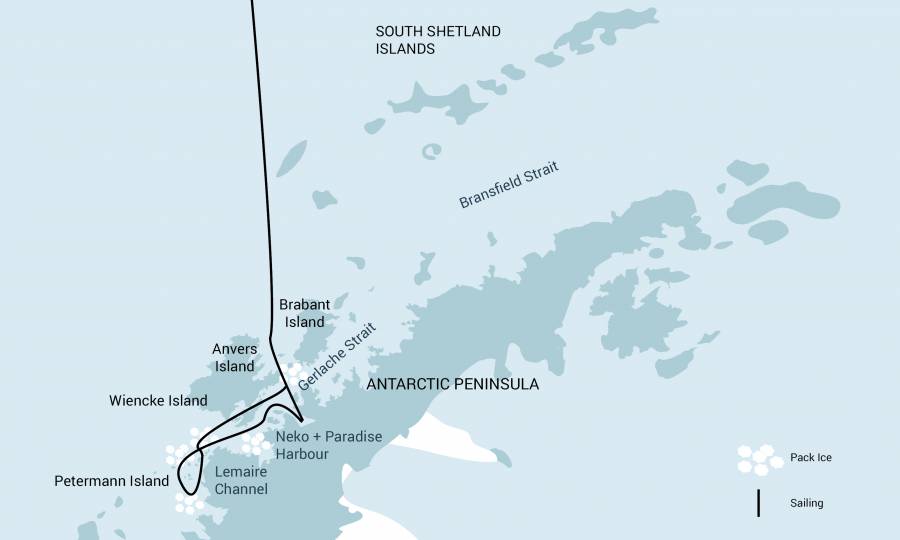 Day 2-3: Path of the Polar Explorers
Over the next two days on the Drake Passage, you catch a taste of life from the perspective of the polar explorers who first braved these regions: cool salt breezes, rolling waves, maybe even a fin whale blasting up a column of sea spray. After passing the Antarctic Convergence – Antarctica's natural boundary, formed when north-flowing cold waters collide with warmer subantarctic seas – you are in the circum-Antarctic upwelling zone. Not only does the marine life change, the avian life changes too: A variety of albatrosses and petrels show up, along with Cape pigeons and southern fulmars. Then, near the South Shetlands Islands, the first icebergs flash into sight.
Day 4 - 9: Antarctic Peninsula
Gray stone peaks sketched with snow, towers of broken blue-white ice, and dramatically different wildlife below and above. You first pass the snow-capped Melchior Islands and Schollaert Channel, sailing between Brabant and Anvers Islands.

The basecamp concept lets you feel more like a resident than a visitor, getting the most out of all available activities.

Here are all the places you might go:

Neumayer Channel – The vessel may position itself for the multi-activity basecamp here. The protected waters around Wiencke Island become a veritable playground for all manner of activities. You can enjoy the splendors of this alpine environment at sea, with Zodiac and kayaking trips. Or if you're among the walkers, there are possible snowshoe hikes and mountaineering (soft climb) options farther inland. Naturally, favorable weather conditions determine the possible activities. The plan is to stay two nights at anchor: two camp nights, two full activity days.

Port Lockroy – After sailing through the Neumayer Channel, you get a chance to visit the former British research station – now a museum and post office – of Port Lockroy on Goudier Island. You may also be able to partake in activities around Jougla Point, meeting gentoo penguins and blue-eyed shags.
Booth , Pléneau, and Petermann Islands – If the ice allows it, you may sail through the Lemaire Channel in search of Adélie penguins and blue-eyed shags. There's also a good chance you'll encounter humpback and minke whales here, as well as leopard seals. Kayaking, glacier walks, and mountaineering are potential activities in this location. You may also visit Booth Island's Port Charcot.
Neko Harbour – An epic landscape of mammoth glaciers and endless wind-carved snow. Opportunities for Zodiac cruising, kayaking, and walking provide you the closest possible view of this location's ice-crusted alpine peaks.
Paradise Bay – You have the chance to pitch camp here like a true polar explorer (but with a better tent), enjoying the supreme overnight Antarctic adventure. You depart at noon, depending on conditions on the Drake Passage.
Day 10 -11: Crossing the Drake Passage
Your return voyage is far from lonely. While crossing the Drake, you're again greeted by the vast array of seabirds remembered from the passage south. But they seem a little more familiar to you now, and you to them.
Day 12: Disembark in Ushuaia
Every adventure, no matter how grand, must eventually come to an end. It's now time to disembark in Ushuaia, but with memories that will accompany you wherever your next adventure lies.
Dates
Notes:

Our prices include:
- Voyage as indicated in draft itinerary
- All meals, snacks, coffee and tea
- All shore excursions and zodiac activities
- Program of lectures by noted naturalists and leadership by experienced
expedition staff
- All miscellaneous services taxes and port charges throughout the programme
- Comprehensive pre-departure material
- Aqua-Firma automatically offsets the Carbon Emissions of your polar voyage

Prices exclude:
- Airfares
- Fuel surcharge where applicable*
- Pre and post land arrangements
- Transfers to and from the vessel
- Cancellation and personal insurance
- Passports and visas
- Arrival and departure tax
- Meals ashore
- Baggage
- Items of a personal nature (alcohol, laundry etc)
- Tips.

Activity Level:
Low unless you select an adventure activity such as kayaking, mountaineering or scuba diving.

Single supplement: Single occupancy price is 1.8 times the per person cabin price. However, this does not apply if you are prepared to share a cabin with another passenger of the same gender.
*Fuel surcharge:
The cost of fuel is currently volatile, so a fuel surcharge may be applied by the ship without notice. We will let you know if this applies to your booking and send you an updated invoice.