The Temple of the Tooth Relic (Sri Dalada Maligawa) in Kandy is Sri Lanka's most important Buddhist religious monument - a symbolic, cultural centre of Sri Lankan independence and pride. According to Buddhist legends, more than 2500 years ago (in 543 BC) the Buddha was cremated in Kushinagar in northern India. Several parts of the Buddha's body were saved from the flames, including one of the Buddha's teeth. Many centuries later, when Buddhism as a system of belief was on decline in India, it was smuggled into Sri Lanka, which was a stronghold of Buddhism in the 4th Century AD. The Tooth found several unique homes: in the original Sri Lankan capital of Anuradhapura, then moving to Polonnaruwa, Dambadeniya and Yapahuwa. An important religious symbol, it was re-captured by South Indian army for 4 years in the 13th Century.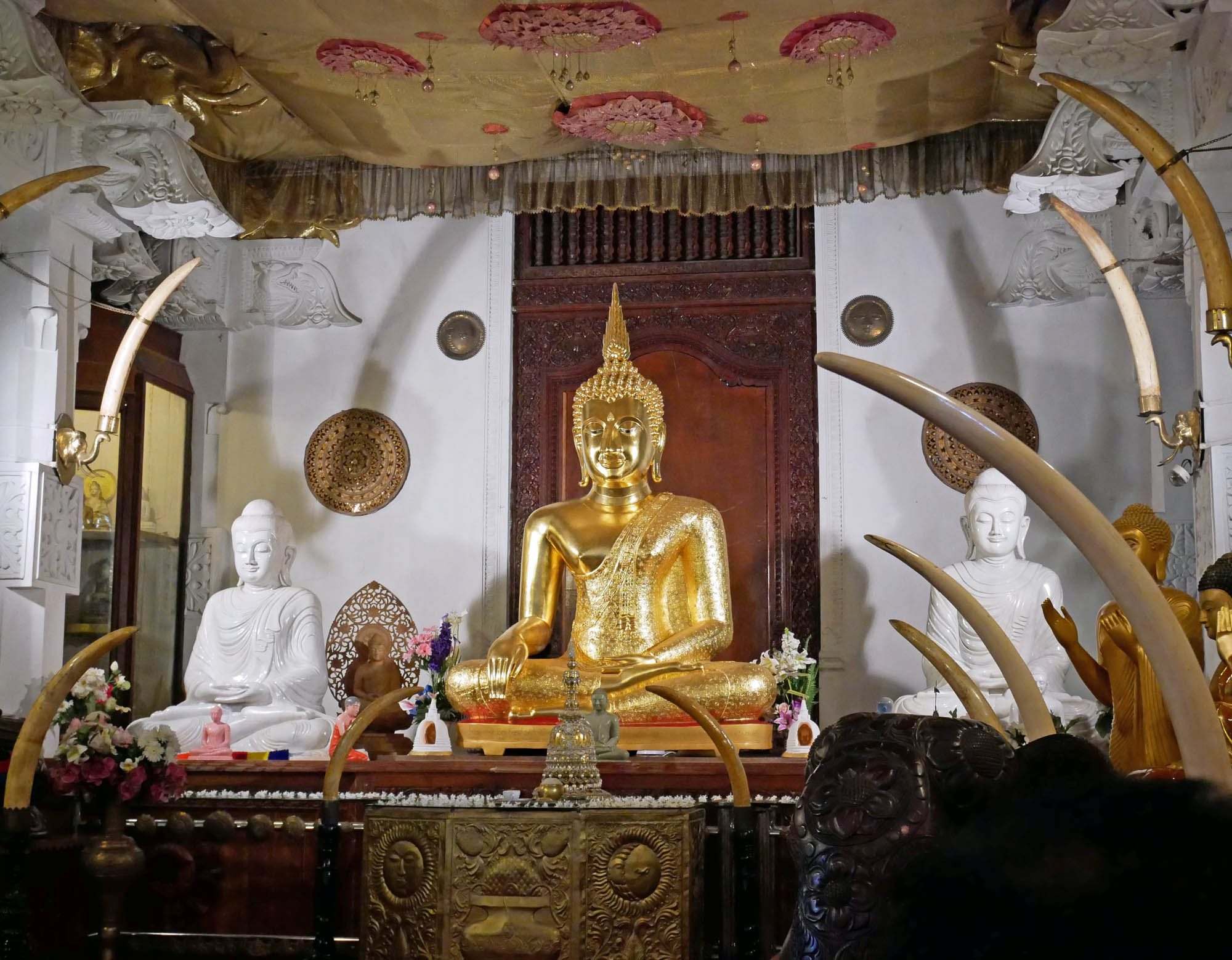 The tooth finally arrived in Kandy in 1592 in what is now the Temple of the Tooth. Kandy was the last cultural and religious capital of Sri Lanka prior to the country's takeover by the colonial powers. Whether the tooth is actually that of the Buddha is highly questionable; the Portuguese say they captured the tooth in the 17th century and destroyed it and many say the current tooth on display isn't even from a human - it is actually from a buffalo. Since this time, the elegant, easily defendable mountain town has been the cultural, religious and artistic capital of Sri Lanka, a symbolic centre of the Sri Lankan people's toughness and resilience.
The Temple of the Tooth is beautifully located just below the rainforest covered hills of the Udawattakele Sanctuary and above the elegant artificial Kandy Lake. The first temple, constructed in 1600, was destroyed and rebuilt 100 years later and modified many times after this. The temple, part of the original royal palace, is a beautiful, elegant building with numerous styles, reflecting its many different designs and ages. In some sections complex doorways show designs of animals, whilst other areas represent images of the Buddha, his life and journey of the tooth to Kandy. The temple is a living, evolving representation of Sri Lankan Buddhism and the modern day site for pilgrimages and colourful festivals.
At Aqua-Firma, we can incorporate insightful privately guided visits to the Temple of the Tooth within any trip passing through the area. There are some lovely places to stay in the city and visits combine very easily with Udawattakele Rainforest Sanctuary, which occupies 104 hectares of hillside just above the famous Temple of the Tooth Relic.