These privately-guided safaris are designed to go deep in search of leopards and other wildlife, as well as some of the most inspirational cultural and scenic highlights of Sri Lanka.
For leopards, the Wilpattu and Yala national parks are our primary targets, with our naturalist guides who have years of experience in these areas. We find a lot more that just leopards here; and widen our search to other wildlife reserves in search of sloth bears, Asian elephants, mongoose, wild water buffalo, crocodiles and monkeys, including the endemic Purple-faced Langur.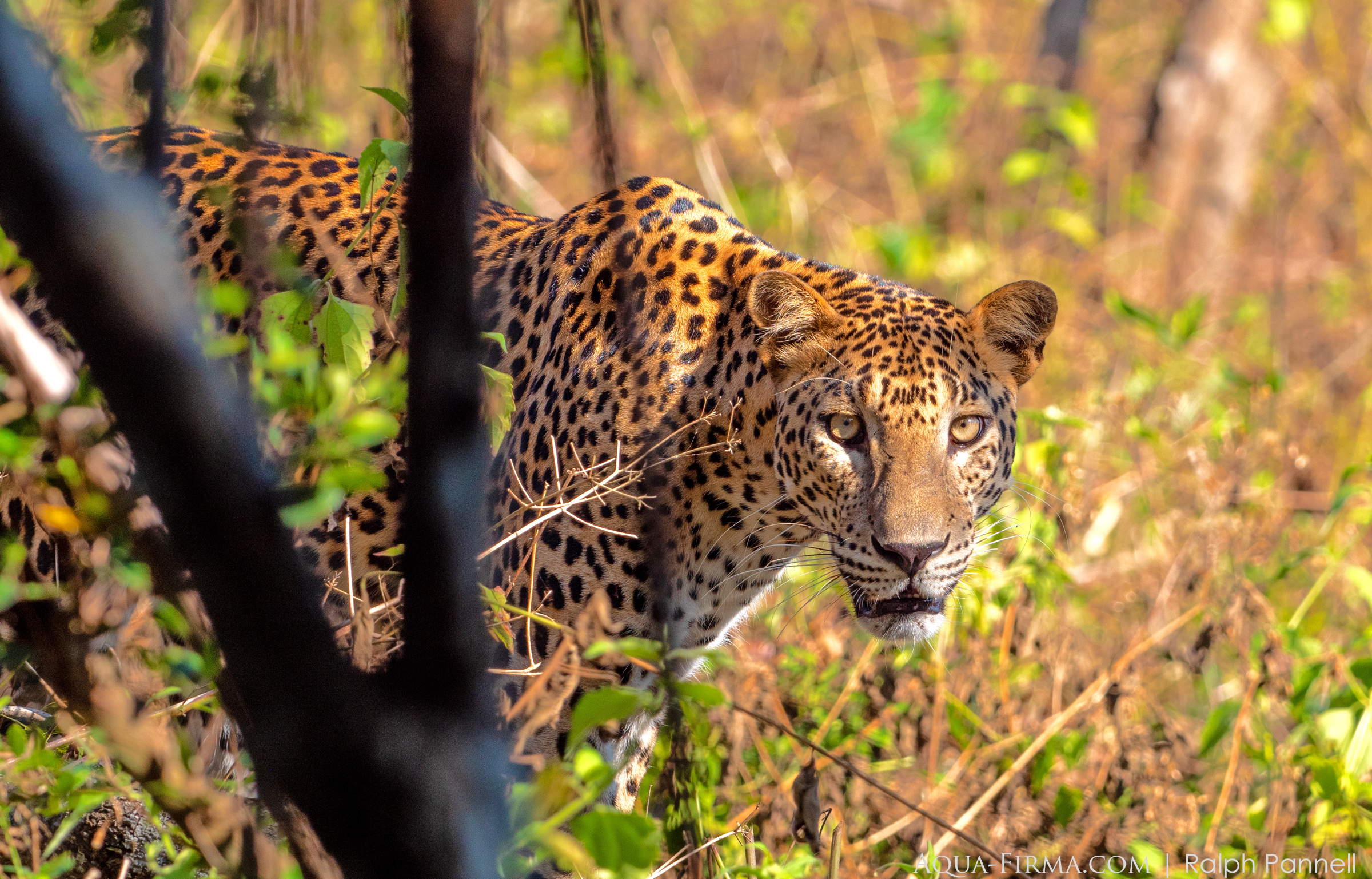 These safaris will take you from areas of dense bush, open savanna, rivers, flooded wetlands and the Indian Subcontinent's largest surviving area of lowland rainforest. In between, we will take you to some of the most important cultural monuments; and amongst some of the country's stunning scenery from Indian Ocean beaches to Sri Lanka's hill country tea plantations.
Our guides are highly experienced, selected according to your priority interests; and your vehicle will be a modern saloon car or mini-van if you need more space. This is your journey, so we can plan the itinerary with you to match your needs.
Below is a summary of areas and sites this sample itinerary includes. Our specialist marine team can add in whale watching and coral reefs, which need to be incorporated in line with seasonal sea conditions and cetacean migrations. Sri Lanka's best coral reefs are in the northeast of the country, or better still, experienced by adding the Maldives to your trip. Cetaceans we find in Sri Lanka include Blue Whales, Sperm Whales, Brydes Whales, Pilot Whales, Spinner, Indian Ocean Bottlenose & white-scarred Risso's Dolphins.
Accommodation we use is comfortable and can be upgraded in order to meet your preferences for comfort and budget. If you have special interests in marine life, plantlife, birdwatching or anything else; or you are keen on activities such as longer trekking, snorkeling, kayaking, surfing or diving; then speak with one of our Sri Lanka experts to help design an itinerary to match.
Here is a summary of main locations this sample itinerary will take you:
| | |
| --- | --- |
| | Wilpattu National Park in northern Sri Lanka is the country largest national park. It closed during the civil war when it straddled the frontline between Tamil and Sinhalese held areas. It has since reopened and its wildlife recovering with sightings of leopards and elephants now quite common. Much of the park is covered by a dense tropical dry forest. There are also many lakes… more |
| | Yala National Park is most famous for its concentrated population of leopards and elephants. Your chances of seeing leopards here are pretty much as high as anywhere in the world. This beautiful coastal savannah and woodland reserve in southern Sri Lanka... more |
| | Sinharaja is Sri Lanka's last area of primary (unlogged) lowland rainforest. Amongst trees reaching 45m, reside 19 out of Sri Lanka 20 endemic birds, primates, orchids, tree frogs. Sinharaja is a highly rewarding rainforest experience with one of our expert guides... more |
| | Minneriya National Park is a dry zone forest not far from the city of Polonnarauwa. A dominant aspect of the park is the 'tank'; a water catchment built on the 3rd Century BC. In the dry season in particular, grasslands surrounding the tank attract large herds of elephants... more |
| | Tissamaharama Wetlands are adjacent to the pretty Tissa Wewa Reservoir which was built in the 2nd Century BC by King Kavantissa. Along the shore we can find flocks of aquatic birds including spot-billed pelicans, stork-billed kingfishers and lesser whistling ducks... more |
| | Udawalawe National Park is famous primarily for great opportunities to see Asian elephants. This 308 km2 park comprises of open grassy plains and a huge lake which was created by a dam. Here we can see crocodiles, monitor lizards and a large array of birds... more |
| | Udawattakele Forest borders Sri Lanka's second city of Kandy. There is a surprising variety of flora and fauna here, including several endemic species of plant. About 80 types of bird can be found here including the endemic Layard's parakeet and Sri Lanka hanging parrot. Mammals include... more |
| | Dambulla is most famous for its Cave Temple Complex, which is the largest and best preserved of its kind in Sri Lanka. There are more than 80 documented caves in the area, but there are five major caves which contain statues... more |
| | Sigiriya, or Lion Rock, is a temple fortress carved literally from a solid piece of rock nearly 200m high. Lying in the north central region of Sri Lanka, this is perhaps the single most famous monument in Sri Lanka... more |
| | Anuradhapura is one of the world's great ancient monuments; the capital and birthplace of the Sinhalese culture and one of the Southern Asia's longest continuously inhabited cultural and sacred centres. It was once set deep in jungle... more |
| | The Temple of the Tooth Relic (Sri Dalada Maligawa) in Kandy is Sri Lanka's most important Buddhist religious monument - a symbolic, cultural centre of Sri Lankan independence and pride… more |
Itinerary
In Search of Leopards, Wildlife & Culture
When you arrive at Colombo airport, you will be met by a driver who will transfer you privately to a beach hotel in Negombo, just north of Colombo international airport. You will be staying here on a breakfast + dinner basis (half board) - just as you will throughout your visit to Sri Lanka.
Day 2 - Negombo - Anawilundawa Wetland Sanctuary - Anuradhapura
After breakfast, your driver / guide will pick you up from your hotel and drive you north to the Anawilundawa Wetland Sanctuary, located between Chilaw and Puttalam. What makes Anawilundawa so special is the fact that it sits at a point where three very distinct eco-systems collide. Bordering the coast, Anawilundawa is also flanked by mangroves and freshwater lakes. This results in a huge diversity of resident and migratory species of animals and birds. Indeed, there are over 150 species of birds known to inhabit the sanctuary.
From here you will continue north to a hotel set in 50 acres of reforested land.
Days 3 & 4 - Wilpattu National Park Safaris
For 2 days you will set out on wildlife safaris within the Wilpattu National Park - one of the two best places in Sri Lanka to find leopards. Other wildlife you can hope to see include sloth bears, elephants, deer and a huge diversity of birdlife.
Wilpattu is the largest and one of the oldest national parks in Sri Lanka. A unique feature of the area is the existence of natural lakes, known as Willus. The park is in the northwest coastal lowland dry zone of Sri Lanka, some 30 km west Anuradhapura and approximately 180 km north of Colombo. The park's total area is 131,693 hectares and ranges from 0 to 152 meters above sea level.
Day 5 - Anuradhapura - Sigiriya
After breakfast visit Anuradhapura ancient city.
Anuradhapura is one of the ancient capitals of Sri Lanka, famous for its well-preserved ruins of ancient Sri Lankan civilization. It was the third capital of the Kingdom of Rajarata, following the kingdoms of Tambapanni and Upatissa Nuwara.
The city, now a UNESCO World Heritage Site, was the centre of Theravada Buddhism for many centuries. It is one of the oldest continuously inhabited cities in the world and one of the eight World Heritage Sites of Sri Lanka.
From Anuradhapura your guide will take you east to a hotel with a terrific view to Sigiriya. There is some fantastic birdlife in the area which your guide can take you to see before sunset.
Day 6 - Sigiriya & Minneriya
After breakfast, climb Sigiriya Rock Fortress.
Sigiriya, a 5th Century Rock Fortress, is a world heritage site, built by King Kashyapa (477-495 AD). Also know as Lion Rock, it is a citadel of unusual beauty rising 200 metres from the scrub jungle. The rock was the innermost stronghold of the 70 hectare fortified town. A moat, rampart and extensive gardens, including the renowned water gardens, ring the base of the rock.
In the afternoon proceed to the Minneriya National Park for safaris
After breakfast your guide will take you to the Dambulla - is the largest and best-preserved cave temple complex in Sri Lanka. The rock towers 160 m over the surrounding plains. There are more than 80 documented caves in the surrounding area. Major attractions are spread over five caves, which contain statues and paintings. These paintings and statues are related to Gautama Buddha and his life. There are a total of 153 Buddha statues, three statues of Sri Lankan kings and four statues of gods and goddesses.
From Dambulla you will be driven to Sri Lanka's second city of Kandy.
In the morning you will be taken to Kandy Temple of the Sacred Relic Tooth. The local name is Dalada Maligawa and it is occupies and most impressive setting against a vast serene lake.
If you wish, we can fit in boat trip along the Mahaweli River.
In the afternoon visit Udawatekele Sanctuary.
The steep, densely forested slopes of Udawattekele Sanctuary offer a totally unexpected patch of untamed nature almost in the heart of the city centre. This sanctuary is fairly dense forest, mostly plantation and secondary formations.
Day 9 - Sri Lanka's Hill Country
After breakfast you will take a 2 hour drive to Nuwara Eliya - the capital of Sri Lanka's verdant cemtral hill country. You will stay at a hotel with a rather Scottish manor house feel to it.
Afternoon, your guide will show you around the area.
Day 10 - Nuwara Eliya to Yala
From Nuwara Eliya, you will head south to a hotel close to Tissamaharama and the Yala National Park. The elegant restaurant and bar offers breathtaking views of the surrounding landscape garden. The pool secluded amongst the landscape garden is a vantage point to soak in spectacular views of the sunset.
Day 11 - Yala National Park
A full day of safaris in the Yala National Park. Leopards will be a prime target, but there is plenty of other wildlife to see and some beautiful rocky bush and coastal scenery too.
Day 12 - Udawalawe National Park
After breakfast, you will head west to one of the best places in Sri Lanka to see elephants: the Udawalawe National Park.
Day 13 - Hills, River Valleys, Tea Plantation & Sinharaja
Today you will drive along river valleys and amongst tea plantations to some dramatic hills, staying at the edge of the Indian Subcontinent's largest remaining lowland rainforest: Sinharaja.
Day 14 - Sinharaja Rainforest
A full day to explore the Sinharaja rainforest.
From the rainforest, you will drive to central Colombo, staying at the historic Kingsbury Hotel.
In the afternoon visit Kelani Temple situated close to your hotel. The temple is famous for its image of the reclining Gautama Buddha and paintings by the native artist Solias Mendis which depict important events in the life of the Buddha, in the history of Buddhism in Sri Lanka, also incidents from the Jataka tales.
Private transfer to Colombo airport.
Dates
Enquire / Book
01 Jan - 31 Dec 2023
-
from £ 2,690
from US$ 2,990
16 days privately guided safari
Enquire / Book
01 Jan - 31 Dec 2024
-
from £ 2,950
from US$ 3,280
16 days privately guided safari
Price per person sharing (based on 2 people travelling)
Price will be lower for 3 or more travelling together
Prices include:
- Expert private guide
- Private transportation - 4WD in national parks
- All accommodation 3 - 5 star (upgrades available)
- Breakfasts & Dinners
- Park entrance fees
Not included:
- International flights
- Activities not included within the itinerary
- Tips & gratuities
- Video and camera permits
- Beverages
- Lunches