S/V Antigua : our Aqua-Firma polar team are proud to be regular guides on this beautiful 32 passenger sailing ship in Svalbard. For many years we have hosted guests onboard, taking them on twice daily guided hikes, ensuring close encounters with wildlife and Spitsbergen's stunning glacial scenery. In the evenings, after a delicious three course meal you will be inspired and entertained by a series of evening talks and recaps all within a small group, welcoming environment.
Antigua has a traditional, nautical feel; her Yorkshire fishing boat origins have over time been transformed into a ship with exceptionally spacious decks, 16 cabins each with twin beds and en suite available, a wood panelled bar and dining saloon. Throughout, an enormous amount of maritime detail and impressive craftsmanship has gone into her remodelling; something which is evident throughout the vessel.
Please click on any side photo to view ships gallery.
Length:

49.5 metres

Speed:

Sailing up to 9 knots

Passengers:

32

Staff & Crew:

Captain, Nautical crew, Cook and service crew

Cabins:

Twin Cabins (16)
- bunked with en-suite bathroom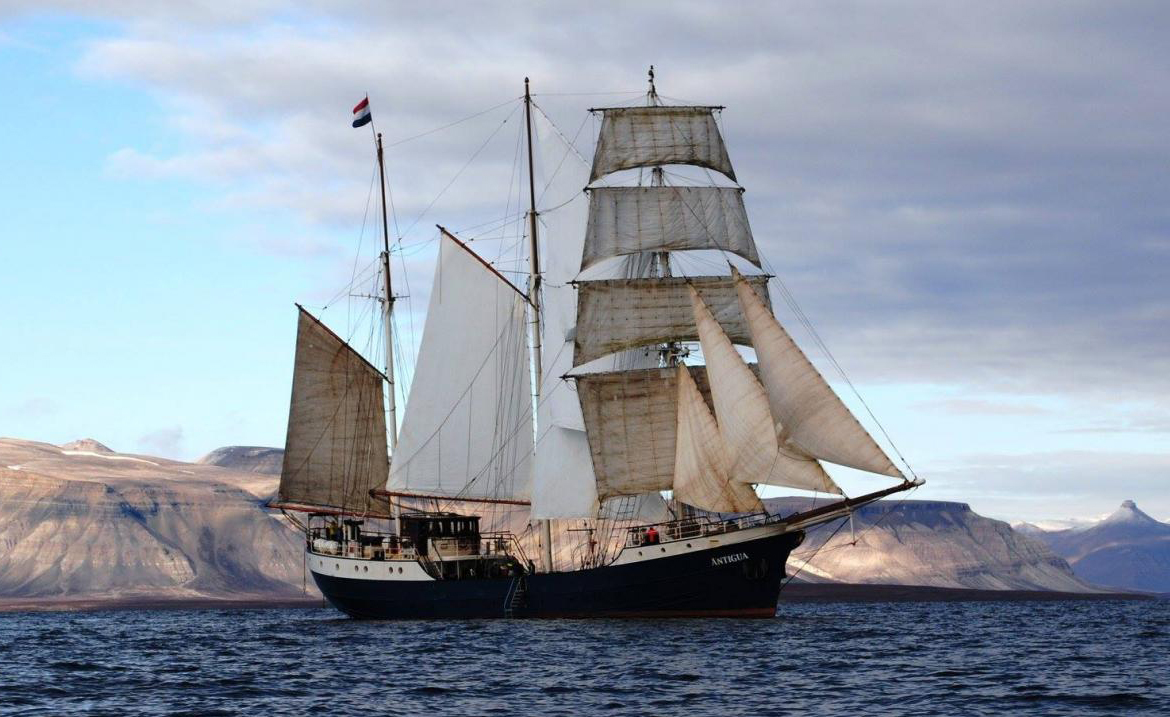 She offers all the comforts and facilities of a modern passenger vessel, while still maintaining her classic appeal and delivers a truly memorable nautical experience. Guests will have the opportunity to assist with the sails when they are used, which is an exciting experience for both beginner and expert sailors. There are opportunities for passengers to climb the main mast, stand at the helm or assist simply sit back and learn some valuable navigation skills.
S/V Antigua is a fantastic way to explore the Arctic region and is a great choice for anyone seeking a small group, hands-on sailing adventure, as well as those seeking a more relaxing experience.
"I have to say I had a fantastic time. The experience of sailing on the Antigua was one of the highlights of the trip. I can't praise the crew and the guides enough - they truly helped to make this a fulfilling and very memorable experience. And of course, what is there to say about Spitsbergen? I've done a fair amount of travelling in my life and Spitsbergen comes pretty close to the top of the A list.
I could go on, but needless to say I rate the holiday 5 star and I have no negative comments whatsoever. I'm still working through my photos!........"K McLoughlin