Northwestern Norway, above the Arctic Circle, is incredibly beautiful, boasting isolated islands, steep rugged mountains and tucked away fishing villages, all waiting to be explored under sail. These unique sailing voyages go in search of pods of Orcas and Humpback Whales who we know, seasonally, to congregate within the deep fjords near the islands of Kvaløya and Senja. Orcas and whales come here take advantage of the huge schools of herring, as they take shelter from rough ocean seas during the winter. Orcas and humpbacks can sometimes be observed cooperating with each other in rounding up the bountiful shoals, before mutually gorging on their catch.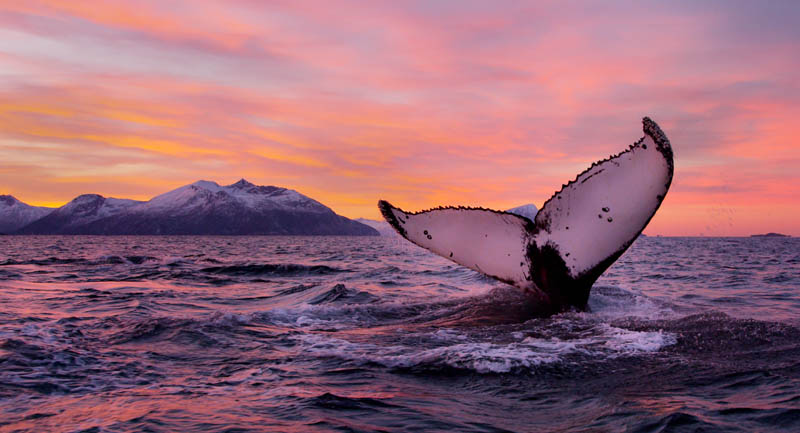 Above the Arctic Circle, Winter days are short, but twilight and night time hours are not wasted. Far from the urban environment, there is little light pollution to disturb spectacular sunsets; and the long polar nights offer great opportunities for the dancing lights of the Aurora borealis above – Northern Lights witnessed amid spectacular surroundings from the deck of a traditional sailing ship.
Our floating base for these voyages is a 34 passenger three-masted ice-strengthened sailing schooner. She retains an immense amount of classic charm and lots of space on deck. She was refitted making her comforts meet modern expectations, along with winches for Rigid Inflatable Boats (RIBs or Zodiacs), which enable quick landing on remote shorelines for hiking and snowshoe trekking.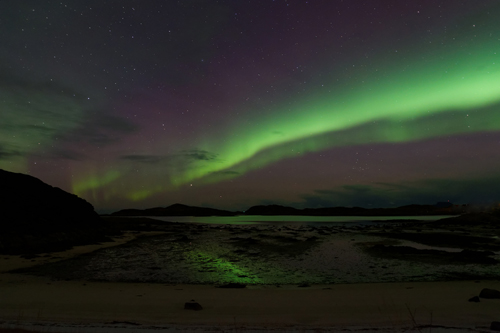 Your voyage will begin in Tromsø, known affectionately as the Paris of the North - a charming small city with a long history of Polar exploration.
Itinerary
8 Day Sample Itinerary (Southern Route)
This 8 Day sailing voyage explores some of the stunning fjords of Northern Norway in search of Humpback Whales, Orca and the Northern Lights.
Important note: the map here shows two possible routes that the ship may take to maximise your chances for encountering Orcas and Humpback Whales. The route described here heads south around the island of Senja, mainly between mid-January to March. The dotted route heads north to the Kvaenangen fjord, which is more likely between November to mid-January.
Please note that our polar itineraries are written to provide a flavour of each voyage. Travelling under sail power alone will be undertaken where and when conditions allow. The actual route will be decided by the captain and expedition team in accordance with prevailing ice, weather and sea conditions and opportunities to see wildlife and wilderness scenery. We aim to provide the most rewarding experience possible and as a result, our itinerary may need to change at short notice.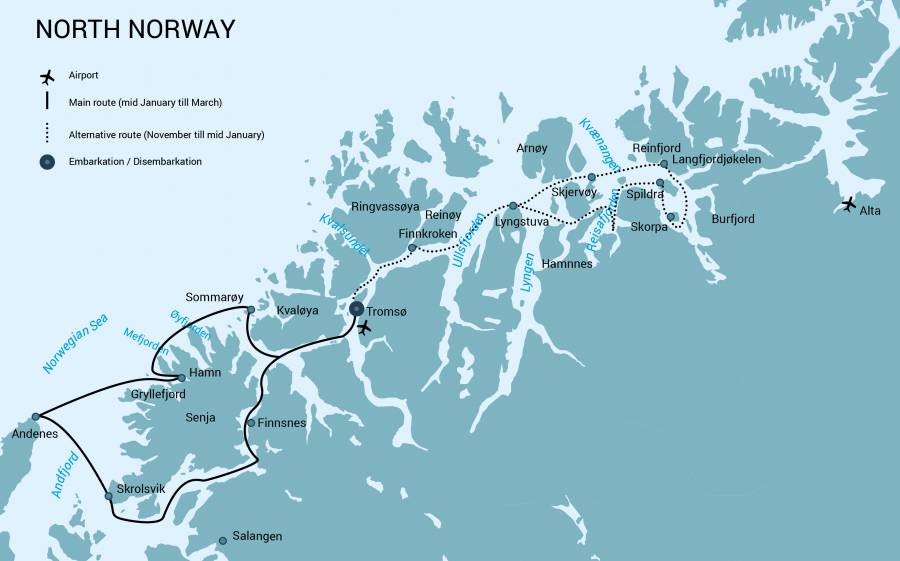 We strongly recommend that you arrive in Tromsø at least one day before your trip is due to begin to mitigate against any potential flight or baggage delays and to allow yourself time to relax and explore before your trip begins!
Day 1: Embarkation in Tromsø
You will embark this afternoon in Tromsø, also known as the Paris of the North which is said to have been inhabited since the last ice age, and is rich in Norse and Sámi history. Voyages will depart from Tromsø this evening.
Day 2: In Search of Whales
You will begin your search for whales today. Your route will depend on weather conditions, amount of daylight during your voyage and the expected location of the whales. You may sail clockwise or counter-clockwise around the island of Senja.
Days 3 – 6: Senja & Andfjorden
You will spend these days along the coasts of Senja and Andfjorden; areas where many whales have been spotted in recent years. Also keep a look out for sperm whales and other cetaceans here. Sperm whales are often seen along the edge of the continental shelf near Andenes, where they dive incredibly deep in search of giant squid.
You should also keep an eye on the skies for white-tailed eagles as they look to take their share of the herring. These are one of the largest birds of prey in Europe.
Each afternoon you will find a place for the night at a local fishing village such as Skrolsvik, Andenes, Gryllefjorden, Hamn and/or Sommarøy. Once the sun has set, you can expect to take a short hike along the coast or through the village in search of the northern lights.
Continuing your circumnavigation of Senja, you will plan to sail to the small island of Sommarøy where you will find good chances for northern lights and pleasant hiking opportunities. You will spend this morning cruising around the island's small bays and white beaches.
This afternoon you will return to Tromsø aiming to arrive at around midday, you will have the opportunity to explore the town on your own, or take a hike in the fresh winter air. You will return to the ship for your final evening onboard.
Day 8: Disembark in Tromsø
You will disembark this morning and are free to depart Tromsø at any time today, or consider spending a couple more nights here to explore the city.
Dates
Enquire / Book
22 - 28 Oct 2023
-
from £ 1,425
Tromsø - Tromsø (7 Days)
Three-masted sailing schooner: 34 passengers
Price per person for twin en suite cabin
Add £195 pp for upgrade cabin
Single supplement
A supplement can be avoided if you are willing to share with someone of the same gender. Single occupancy is 1.7 times the per person sharing cabin price.

Our prices include
Voyage as indicated in draft itinerary.
All meals, snacks, coffee and tea.
All shore excursions and zodiac activities.
Programme of lectures by noted naturalists and leadership by experienced expedition staff.
All miscellaneous services taxes and port charges throughout the programme.
Comprehensive pre-departure material.

Not included
Airfares.
Passports and visas.
Pre and post land arrangements.
Transfers to and from the vessel
Items of a personal nature (alcohol, laundry etc).
Cancellation and personal insurance.
Arrival and departure tax.
Meals ashore.
Baggage.
Tips.
Flights: We can arrange flights or we are happy for you to do this yourself. Please contact us for advice.

Fuel surcharge:
A fuel surcharge may apply on certain departures should the price of Brent crude rise above US$120 barrel 90 days before the voyage.