These privately guided adventures take you to some of the best preserved and most idyllic wildlife areas in Mexico's Yucatan Peninsula; and to three of the region's largest and best preserved Mayan Sites: Chichen Itza, Tulum and the forest enshrouded Coba.
The variety of locations we can explore within five days is difficult to match - here is a check list of the habitats, Mayan sites and ways in which we explore the area:
- Rainforests of Otoch Ma'ax Yetel Kooh on foot and serene paddling in open canoes at sunrise
- Mexico's largest known troops of the endemic Yucatan subspecies of Spider Monkeys
- Mayan sites of Chichen Itza, Tulum and Coba
- Snorkel with juvenile Green Turtles feeding in seagrass beds
- Explore lagoons, forests and forest canopy in the 4,500km2 Sian Ka'an Man & Nature Biosphere Reserve
- Swim and snorkel in a cenote and through clearwater channels amongst mangroves, herons and orchids
- Explore caves where snakes have uniquely adapted to capture bats as they fly in their thousands to feed in surrounding tropical forests and lakes
- Birdwatching: colourful birdlife, including hummingbirds, toucans, giant woodpeckers and trogons, with local birding guide
- Spanish colonial architecture of Valladoid
* * * * * * * *
For wildlife, our first target is the forest of Otoch Ma'ax Yetel Kooh, which in Mayan means House of the Spider Monkeys & Pumas - two key species which this reserve protects. One of the most unique features of the reserve is its large shallow lagoon where we canoe serenely through rising mist at dawn. A lake like this is rare to find in the Yucatan. Most freshwater winds its way underground, where it erodes a system of underground rivers in the mainly limestone bedrock.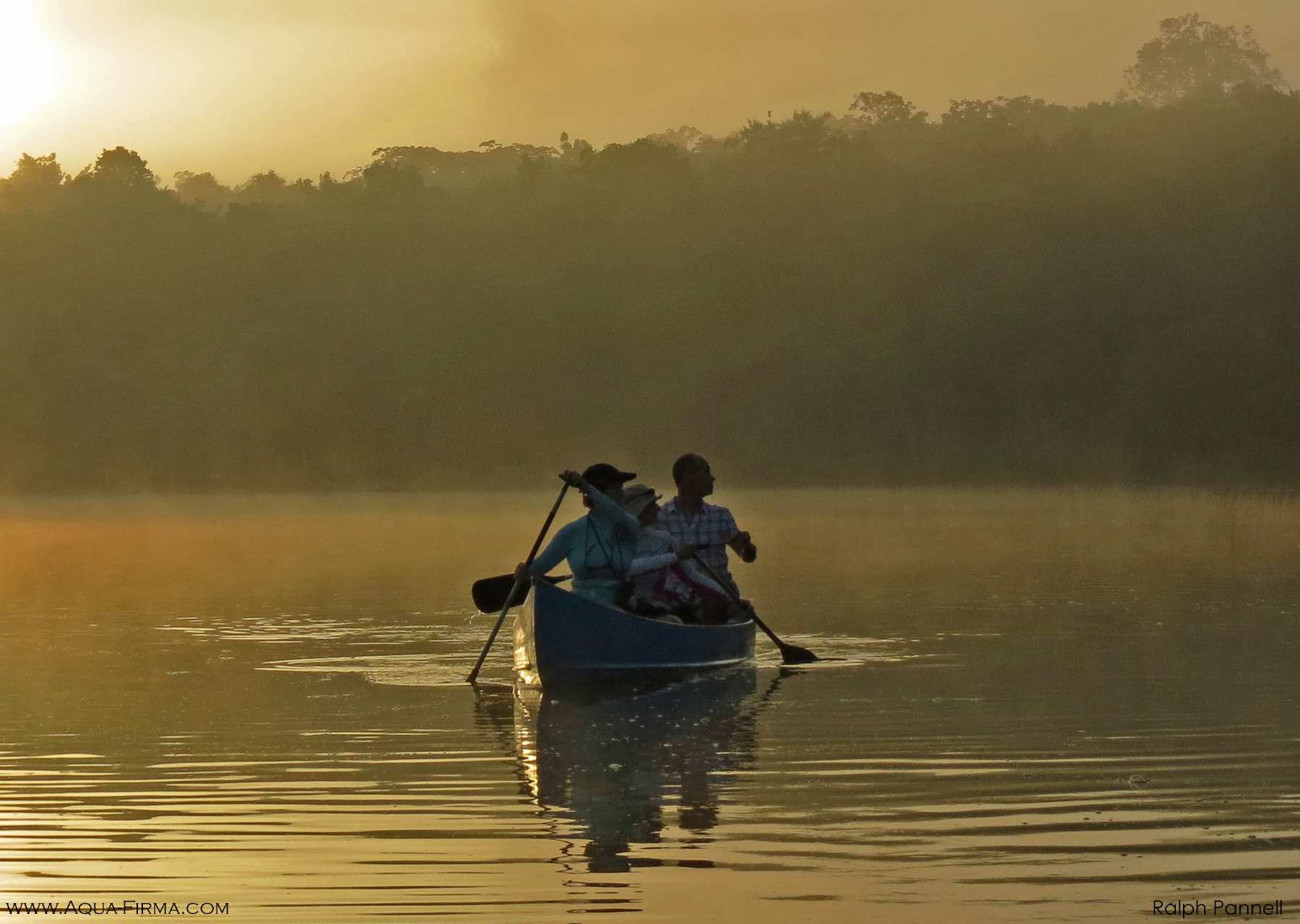 Limestone is the predominant foundation of the Yucatan - once the seabed, brought to the surface 66 million years ago when the giant meteorite Chicxulub landed in the north of the peninsula. This is the catastrophic event which brought to an end the era of non-avian dinosaurs.
We can take you to see evidence of this seabed in caves south of the Sian Ka'an Biosphere Reserve, where thousands of perfectly fossilized shellfish cover parts of the cave surfaces. These are the caves where snakes have uniquely learned to live in darkness, feeding on bats which fly out of the caves in their thousands each night. We cycle through forest to reach the caves and don helmets and head torches to go in search of bats, snakes and fossils in one of the Yucatan's most unique locations.
The northern part of Sian Ka'an is dominated by three huge clear water lagoons. Here we use sit-on-top kayaks supported by a speed boat, to explore through reeds and along the forest edge where dragonflies, hawks and other birds can be seen. You don't have to kayak and indeed we all switch to speed boat to reach a channel between the second and third lagoon. Here we can swim (and snorkel), drifting with the flow amongst the contorted stems of mangroves, orchids, herons and small fish. For wide perspectives across Sian Ka'an we can scale a canopy watch tower; and also look for butterflies, small deer and racoons from raised walkways through boggy lakeside forest.
The Yucatan has some stunning birdlife and for those keen, we will explore forests late afternoon or early morning close to where we stay for the Mayan site of Coba. Most Mayan sites were rediscovered engulfed in forest. At Coba, much of the forest has been left and we can climb the main temple for a dramatic perspective over the canopy.
We will also visit Chichen Itza, which one of the region's most impressive pre-Colombian Sites built more than 1,200 years ago. Chichen Itza covers a vast area and means 'The Mouth of the Well of Itza - the Water Sorcerer'. Its huge Pyramids, ball courts and temples carry a strong influence of the central Mexican Toltec culture, giving the site a unique architectural style.
The third site we visit is the coastal temple and port city of Tulum. This has perhaps the most fascinating known history and occupies a beautiful location overlooking the Caribbean Sea. A little to the north of this area we find a lagoon at Akumal inside a barrier reef where green turtles can often be seen grazing on sea grass. Here the water is warm and shallow, so we can don snorkelling gear and hope to swim with turtles as we go.
By the end of this trip, you will have experienced a fascinating insight into the history and diverse ecosystems of the Yucatan Peninsula. This 5 days trip is an ideal extension to one of our expert led Whale Shark Research & Photography Experiences.
Itinerary
Sample 5 Day Itinerary
This itinerary can be tailored to your own interests and timings.
Arrive at hotel in Cancun e.g. from our Whale Sharks of Isla Mujeres - Research & Photography Experience.
Overnight at your beachside hotel on an Half Board basis.
(D)
Day 2: Chichen Itza, Cenote & Valladolid
Set out early from Cancun by road to Chichen Itza.
Guided introduction to Chichen Itza, it's history and culture, followed by free time to wander amongst this Mayan temple complex.
To cool off, we will next head to the lovely cenote of Ik Kil where we can swim and snorkel.
Afternoon and overnight in the historic colonial town of Valladolid.
(B)
Day 3: Otoch Ma'ax Yetel Kooh Spider Monkey Rainforest & Coba
Early morning, drive east to head out in canoes at dawn across a lagoon in the heart of the Otoch Ma'ax Yetel Kooh Reserve.
We will then go in search of troops of the Yucatan sub-species of Spider Monkey (Ateles geoffroyi yucatanensis). We can also scale a tall canopy tower for views across the forest and lagoon.
From the lake we will head to the Mayan temple ruins of Coba.
In the evening, we can go in search of the Yucatan's colourful birdlife in forests surrounding this Mayan site.
(B)
Day 4: Sian Ka'an Biosphere Reserve & Kantemoh
We will then set out in canoes around the edges of one of Sian Ka'an's large northern lagoons. There is an ancient cut through channel to a second lagoon which we will kayak through and eventually swap to a motorised boat and head to a third lagoon. The clear water channel which connects this lagoon is wonderful for gliding through with the gentle current, spying into the mangroves where we can often see orchids on 8 feet long stems.
From here we will drive south to Kantemoh. There is a village there where we will set you up with mountain bikes so that we can cycle into a forest reserve to the point where bats flood out of caves in their thousands.
Next we will don helmets and head torches to enter the caves, both to see fossilized prehistoric shellfish and locate the snakes which snatch bats out of the air.
We will cycle back to the village and then drive north to Tulum where we will spend the night.
(B)
Day 5: Tulum & coastal Yucatan
This morning we will explore the stunning coastal Mayan Ruins of Tulum with an expert local archaeological guide.
From here we will head north to a stretch of coast where we have very good chances of snorkelling with green turtles as they feed on seagrass inside a barrier reef lagoon.
We will then head back to Cancun.
(B)
Dates
Notes:
Price per person sharing
Single Supplement on Small Group trip:
2019: £180
2020: £200
This supplement can be avoided on our group trips if we are able to find someone for you to share a room with.
Price includes:
- Land transportation in air conditioned vehicle
- All accommodation
- Meals - all inclusive in Cancun … breakfasts elsewhere
- Entrance fees to temples, terrestrial, cenotes and marine park areas
- Boat and kayak equipment
- Expert local naturalist bilingual guide
- Archaeological & historical specialist guides at Chichen Itza, Tulum & Coba
Not included:
- Air fares
- Lunches and dinners days 2 - 5
- Beverages days 2 - 5
- Personal expenses
- Tips