This journey to the far north of Madagascar offers an incredible range of what the country has to offer, including rocky mountains cloaked in rainforest; Indian Ocean islands; caves, caverns and tropical wildlife havens within forests of limestone needles, called tsingy.
One of our main ports of call will be the Amber Mountain National Park (Montagne d'Ambre). This was Madagascar's first national park for good reason: not only it is an island of tropical rainforest within a semi-arid region, but its landscapes are an Eden of waterfalls, volcanic lakes and rocky cliffs covered in luxuriant vegetation.
This journey will take you on a tour of three magnificent waterfalls within Amber Mountain, at the same time searching for some of Madagascar's classic endemic species. Madagascar is home to about half of the 150 species of chameleons which exist in the world and Montagne d'Ambre has two of its very own endemics: the larger and very attractive Amber Mountain Chameleon (Calumma amber); and one of the tiny Brookesia species, Montagne d'Ambre Leaf Chameleon.
The altitudinal range of Amber Mountain (between 850m and 1475 m) encourages a high diversity of flora, amongst which we can find up to 77 species of bird. Of lemurs, we can find 7 species, including Sanford's Brown Lemur (Eulemur sanfordi) and the Crowned Lemur (Eulemur coronatus).
A book by primatologist Jane Wilson called Lemurs of the Lost World, made the Crowned Lemur best known for our next target of this trip: the Ankarana Reserve. There are two major areas of tsingy in Madagascar and Ankarana is the one most hollowed out from below by underground rivers. In fact, Ankarana has the most extensive system of caves anywhere in Madagascar or continental Africa. Expeditions continue to explore the area, with one of the most recently discovered species being a blind form of Gobi fish. This Ankarana Cavefish makes up for a total lack of vision with a highly sensitive sense of feel achieved through collections of sensory hairs on its scales.
The sharp rocks of Ankarana make it incredibly difficult to move about it, which is why Nature has survived so untouched here for centuries. To help you see it close up and absorb some stunning views, we use a system of suspended rope bridges, which take you above the razor-sharp limestone karst. Below, you will sometimes be able to see how Crowned Lemurs deftly leap from one knife edge to the next.
96 species of bird exist at Ankarana and 14 species of bat, some of which you will be able to see when we take you amongst the stalagmites and stalactites of caves within the limestone massif.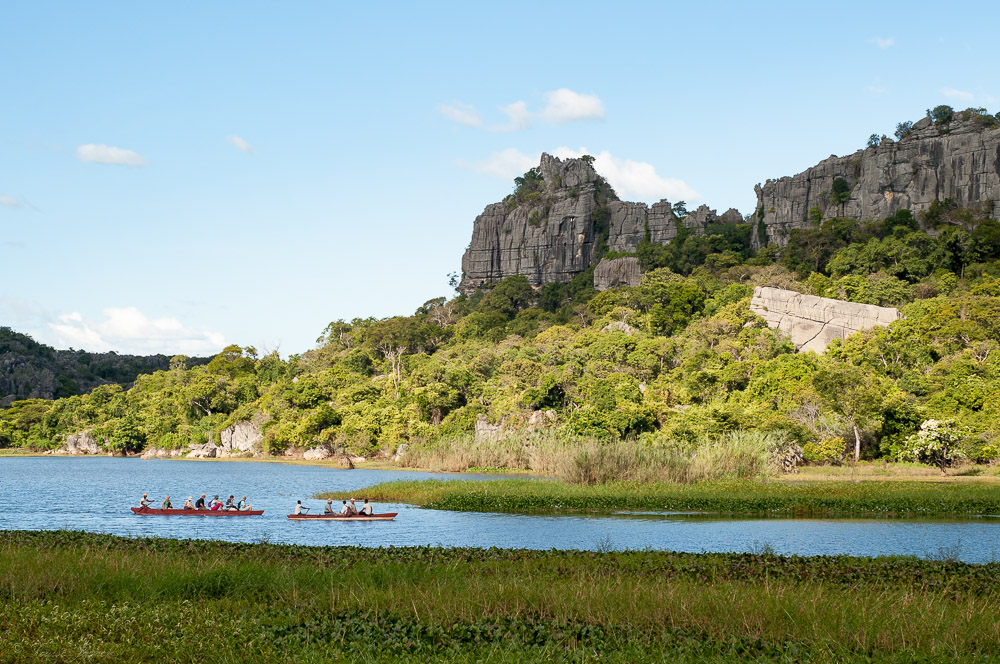 Approaching the Tsingy Massif at Ankarana from bush camp Iharana
Another location we will take you to on this trip is the Red Tsingy, as well the beautiful island of Nosy Be where you will spend your first & last nights of the trip, overlooking turquoise waters of the Indian Ocean.
Itinerary
Tsingy, Amber Mountain, Cap d'Ambre (8 days hosted)
null
You can arrive into Nosy Be at any time today, where you will be met and transferred to a lovely beachside hotel.
Day 2 - Nosy Be to Red Tsingy & Joffreville
Early morning we will drive you to the harbour of the capital of Nosy Be, Hellville. From here we will take you by speed boat to the mainland at Ankify. This will take about 40 mins.

At Ankify, we will meet our vehicle and local guide and drive to the town of Joffreville, which lies just outside of the Montagne d'Ambre National Park. This drive takes about 7 hours total, on a combination of tarred road and laterite track.

En route you will stop at the Red Tsingy, which is actually an artistic example of extremely eroded laterite (click HERE for details). From here, we will proceed to a lodge with views of of Indian Ocean and rainforest.
Day 3 - Amber Mountain (Montagne d'Ambre)
Daytime today will be devoted to exploring the National Park of la Montagne d'Ambre. Our rainforest walks will take you to some of most beautiful waterfalls and volcanic lakes in Madagascar; and provide opportunities to see some of the area's 77 species of birds, 7 species of lemur and 24 species of amphibian.

Before dinner, we will head out with torches on a stroll through forest close to the lodge.
Day 4 - Joffreville to Ankarana East
Breakfast at the lodge before driving along a combination of tarred and damaged road to Mahamasina, near the East gate of the Ankarana Tsingy Reserve (drive around 4 hours). In the afternoon, we will take you into the Reserve and take a 2 - 2 ½ hour stroll (easy walk, hiking trail) by the "Tsingy Rary" circuit which takes us through canyons and viewpoints. With a bit of luck, you might spot a few crowned lemurs.
Day 5 - Ankarana East to Ankarana South West
After breakfast, we will take you to our next base at the southwestern part of Ankarana. In the afternoon we will take you to a cave where you will have excellent chances to see Madagascan Flying Foxes, as well as some beautiful stalactite and stalagmite systems.
Night walk before dinner.
Today we will take you to explore the tsingy, taking in some dramatic aerial panoramas. Of wildlife here, we can hope to see Crowned lemurs and Sanford's lemurs. Inventories have listed 60 species of reptiles and amphibians, 96 species of birds, 50 species of molluscs and great number of snails. 14 species of bats live in the caves of Ankarana , which is half of all bat species in Madagascar.
You can take lunch at your lodge before heading out by pirogue for stunning views towards cliffs of the Ankarana Massif.
Day 7 - Western side of Ankarana - Ankify - Nosy Be
After breakfast, you will head by road to Ankify on the Indian Ocean. En route you will cross the Valley of Sambirano known for its cocoa plantations.
You will eventually board a speedboat which will take you back to Nosy Be.
Private transfer to same hotel in Nosy Be.
Private transfer to Nosy Be airport.
Dates
Enquire / Book
01 Aug - 22 Dec 2023
-
£ 2,190
8 days tailor made safari.
Prices include
All accommodation
All transportation starting & ending Nosy Be airport
Breakfasts
Dinners on mainland Madagascar
All guiding
National park entry fees
Taxes
Not included
Flights
Travel insurance
Drinks
Lunches
Dinners on Nosy Be
Tips
Items not specified in the itinerary