This journey to the far north of Madagascar offers an incredible range of what the country has to offer, including rocky mountains cloaked in rainforest; Indian Ocean islands; caves, caverns and tropical wildlife havens within forests of limestone needles, called tsingy.
The journey begins in the far northern coastal town of Antsiranana, or Diego Suarez as it was called by the former French administration; and ends on the island of Nosy Be, which is where we find one of Madagascar's two international airports.
Our first port of call is the Amber Mountain National Park (Montagne d'Ambre). This was Madagascar's first national park for good reason, because not only is in an island of tropical rainforest within a semi-arid region, but its landscapes are an Eden of waterfalls, volcanic lakes and rocky cliffs covered in luxuriant vegetation.
This journey will take you on a tour of three magnificent waterfalls within Amber Mountain, at the same time searching for some of Madagascar's classic endemic species. Madagascar is home to about half of the 150 species of chameleons which exist in the world and Montagne d'Ambre has two of its very own endemics: the larger and very attractive Amber Mountain Chameleon (Calumma amber); and one of the tiny Brookesia species, Montagne d'Ambre Leaf Chameleon.
The altitudinal range of Amber Mountain (between 850m and 1475 m) encourages a high diversity of flora, amongst which we can find up to 77 species of bird. Of lemurs, we can find 7 species, including Sanford's Brown Lemur (Eulemur sanfordi) and the Crowned Lemur (Eulemur coronatus).
A book by primatologist Jane Wilson called Lemurs of the Lost World, made the Crowned Lemur best known for our next target of this trip: the Ankarana Reserve. There are two major areas of tsingy in Madagascar and Ankarana is the one most hollowed out from below by underground rivers. In fact, Ankarana has the most extensive system of caves anywhere in Madagascar or continental Africa. Expeditions continue to explore the area, with one of the most recently discovered species being a blind form of Gobi fish. This Ankarana Cavefish makes up for a total lack of vision with a highly sensitive sense of feel achieved through collections of sensory hairs on its scales.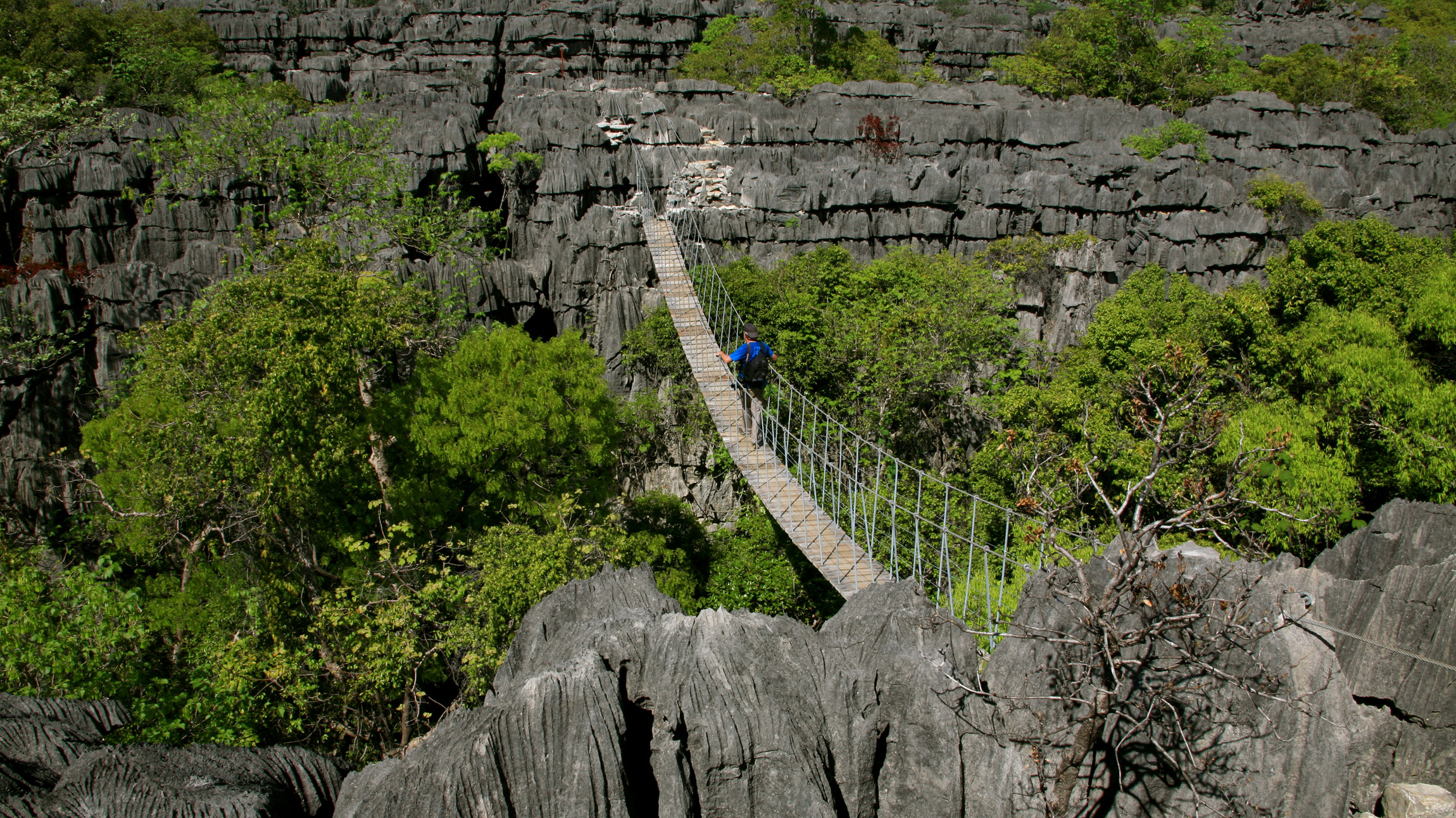 The sharp rocks of Ankarana make it incredibly difficult to move about it, which is why Nature has survived so untouched here for centuries. To help you see it close up and absorb some stunning views, we use a system of suspended rope bridges, which take you above the razor-sharp limestone karst. Below, you will sometimes be able to see how Crowned Lemurs deftly leap from one knife edge to the next.
96 species of bird exist at Ankarana and 14 species of bat, some of which you will be able to see when we take you amongst the stalagmites and stalactites of caves within the limestone massif.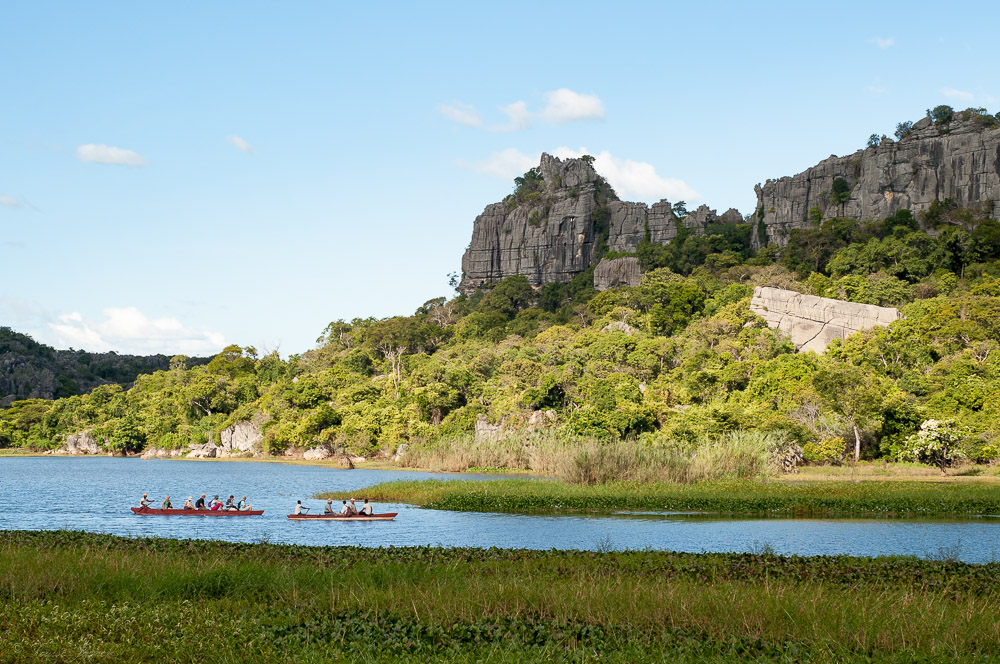 Approaching the Tsingy Massif at Ankarana from bush camp Iharana
Another location we will take you to on this trip is the Red Tsingy, as well by speed boat, the beautiful island of Nosy Be, where you will spend your last night overlooking turquoise waters of the Indian Ocean.
Itinerary
Tsingy, Amber Mountain, Wildlife & Indian Ocean
Day 1 - Antsiranana (Diego Suarez) - Joffreville
Arrive into Antsiranana where you will be met by your English-speaking guide.
Antsiranana, or Diego Suarez as it was called until 1975, is in the very far north of Madagascar. Its earlier title is combination of the names of two explorers who "discovered Madagascar" around 1506 - Diego Diaz and Fernando Suarez.
Diego is set within the protected waters of Antsiranana Bay. The Bay is one of the Indian Ocean's best natural harbours, which in most countries would make it a important shipping hub. However, Madagascar's road connections are so poor that its potential cannot be exploited. In its place, the bay remains naturally very pretty. In the middle of the bay is the Sugar Cube: a small island which is an almost perfect equalateral triangle. The town has an interesting cultural and architectural mix of French colonial, Arab, Indian and Malagasy Creole.
Your guide will take you on a short tour of the city before heading inland 30km to Joffreville. This is a little mountain village founded as a retreat for French officers during the colonial period, set close to the Amber Mountain National Park (Montagne d'Ambre).
When you arrive, you will be able to settle into your lodge and relax where dinner is included. You can enjoy some lovely views of lush vegetation and the turquoise waters of Antsiranana Bay.
Day 2 - Amber Mountain (Montagne d'Ambre)
Today will be devoted to exploring the National Park of la Montagne d'Ambre. Your rainforest walks will take you to some of most beautiful waterfalls and volcanic lakes in Madagascar; and provide opportunities to see some of the area's 77 species of birds, 7 species of lemur and 24 species of amphibian.
Day 3 - Joffreville to the Red Tsingy and Mahamasina
After breakfast, you will journey towards the eastern side of the Ankarana National Park. On your way to Ankarana, you will visit the Red Tsingy in the Southeastern Mountains of Diego.
You will then continue your journey to Mahamasina, close to the eastern entry point of Ankarana. You will get there towards the middle of the afternoon, staying at a lodge with it's own little tsingy to explore. This will be a great opportunity to look at tsingy, its flora and fauna in detail for yourself, taking photos of its rock forms whilst looking for chameleons and Crowned Lemurs.
Day 4 - Mahamasina / Western side of Ankarana
Today will be devoted to exploring the Big Tsingy of Benavony at the eastern side of Ankarana.
You will be able to enjoy up to 7 hours of walking amongst the tsingy, which can be moderately difficult. You will be able to enjoy some wonderful views over the tsingy, as well as exploring its underground caves. Some of the best views can be enjoyed from suspension bridges which join 2 small canyons. If you suffer from vertigo, its best you refrain from that option.
Of wildlife, you are likely to see Crowned lemurs and Sanford's lemurs. Inventories have listed 60 species of reptiles and amphibians, 96 species of birds, 50 species of molluscs and great number of snails. 14 species of bats live in the caves of Ankarana , which is half of all bat species in Madagascar.
After your visit, you will be taken to a bush camp where you can cool off in a natural pool and enjoy stunning views towards tsingy cliffs.
Day 5 - Western side of Ankarana
After breakfast, you have the choice of setting out first on foot or by boat. Either way, you will make it to Chameleon Cave. You will also set out along trails designed by the cabe specialist (speleologist) Jean Claude Dobrilla. These include ladders, bridges and guardrails to a panoramic viewpoint with a fantastic panorama over the tsingy.
In the afternoon, you will go to the Mandresy Cave where your guide will provide you with a head lamp so that you can explore this huge cavity full of stalagmites and stalactites. The cave is accessible for everyone, providing the opportunity to see the Blind Cavefish of Ankarana and Roussette fruit bats (Rousettus madagascariensis).
Day 6 - Western side of Ankarana - Ankify - Nosy Be
After breakfast, you will head by road to Ankify on the Indian Ocean. En route you will cross the Valley of Sambirano known for its cocoa plantations.
You will eventually board a speedboat which will take you to Nosy Be. Here you will be met by our local representative and transfer to a very comfortable seaside hotel.
Transfer to Nosy Be airport, or continue your travels in Madagascar.
Dates
Enquire / Book
25 Jul 2021 - 31 Dec 2022
-
from £ 1,590
from US$ 1,990
Price based on 4 persons
For 2 persons sharing price £1,890 / $2,360
Single room occupancy add £350 / US$450
Prices include
All accommodation
Breakfasts & dinners
Join-in guide service (private can be arranged at extra cost)
All guiding
National park entry fees
Taxes
Not included
Flights
Travel insurance
Drinks
Lunches
Tips
Items not specified in the itinerary