For hiking and nature enthusiasts alike, this Winter Iceland experience will not disappoint. In the land of fire and ice, we have combined hikes through some of the country's famous volcanic landscapes of spurting geysers, glistening glaciers, meandering rivers, dense forest and cascading waterfalls; with opportunities to see the mystical Northern Lights (Aurora Borealis).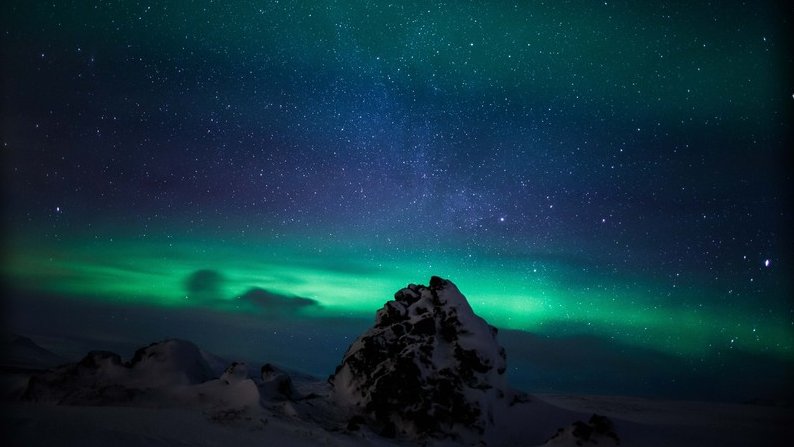 Northern Lights sightings can occur anytime from Autumn to early Spring, though largely rely on clear skies and a little bit of luck. They are best observed in areas away from artificial light, with full moon periods avoided since strong moonlight can itself partially obscure the Northern Lights. Some say that the colder the night's frost, the more vibrant and intense the colours. Swirling and swaying overhead, displays are usually greenish yellow; but white, red and pink lights also frequently appear. One thing is for sure - witnessing the Northern Lights is a sight not soon forgotten.

Amidst the excitement of chasing the Northern Lights, we will take you to explore some of Iceland's dramatic volcanic landscapes. Taking to a 'super jeep', with extra wide tyres for enhanced off road capacity, you will visit the spectacular 32 metre high Gulfoss waterfall; the famous Geysir hot springs; and Thingvellir National Park where you can witness one of the only two tectonic rift valleys in the world. Taking to one of Iceland's most famous hiking trails, you will also walk at the foot of the characteristic Unicorn shaped mountain Einhyrningur.

You will get the exciting opportunity to hike between the two glaciers Eyjafjallajökull and Mýrdalsjökull where you can explore the warm lava from the 2010 eruption. An 800 metre glacial ascent will take you through diverse and dramatic landscapes: sandstone sculptures, deep canyons and sharp ridges will provide fantastic photography opportunities, meanwhile you can marvel over views of glaciers, snow capped mountains, new craters, lava and volcanoes.

A comfortable and traditional Icelandic hotel in the centre of Reykjavik provides an ideal start and end point for this experience. The three nights in between will be spent in an isolated and cosy lodge in the mountains, free from the interference of artificial light. Come nightfall, we will take you in search of the Northern Lights, meanwhile the daylight hours will be maximized to explore some of Iceland's most spectacular geological wonders.

After all that hiking, your experience will be rounded off with a relaxing and well deserved bathe in the world famous Blue Lagoon, where you can soak up the scenic beauty, fresh air and geothermal seawater with an enhanced understanding of where this relaxing 'spa water' comes from.
Itinerary
6 Day Sample Itinerary
Please note that this itinerary can be shortened, lengthened and changed to incorporate any of the other short trips you can find through the Iceland Home Page on our website.
Please Contact Us to receive a flight quotes.

You will be spending tonight, and night 5 in a comfortable traditional style hotel within the heart of Reykjavik on a bed and breakfast basis, conveniently located on one of the city's oldest streets, in close proximity to shops, restaurants and bars. Hotel upgrades can be arranged.

Tonight you will go in search for the Northern Lights in the comfort of a super jeep on a 3-4 hour trip, to where the tour buses cannot and learn all about this amazing light display from an expert guide in a small group setting. You will be dropped back to your hotel in Reykjavik afterwards.
Day 2: Golden Circle & Glacier Hiking
You will be picked you up at your accommodation in Reykjavík in the morning. You will receive a briefing on what the next 4 days have in store. You can leave some of your luggage at the hotel and load just what you need into a specially modified 4x4 off-road vehicle that will be waiting outside. You will then set off on your Northern Lights Hiking Adventure.

You will first head to Thingvellir National Park, a UNESCO world heritage site, and then continue on the Golden Circle. In the Geyser area, you will see Strokkur, the famous geyser which spouts every 5-10 minutes. Your journey will then continue on to Gullfoss, one of Iceland's most beautiful waterfalls, falls 32 meters into a deep canyon. Here you will stop at the Gullfoss Kaffi Restaurant for lunch and enjoy a delicious Icelandic Lamb Soup.

You will continue towards Solheimajökull Glacier. You will be provided with strap on crampons (spikes for the soles of your shoes) and go for a glacier walk on the blue ice. Solheimajokull is a spectacular tongue of ice that flows down from Myrdalsjokull, the fourth largest glacier in Iceland. Your experienced glacier guide will teach you how to use the crampons and then take you for a 2-hour walk around the glacier. As you safely explore the ice formations, ridges and crevasses, your guide will enlighten you all about the history of the glacier, the effects of global warming and how the glacier was formed.

You will then continue into to the highlands to the astounding Thorsmork valley. On the way to Þorsmörk you will drive across unabridged glacial rivers that can be crisscrossed only by specialized vehicles or 4×4.

This evening after dinner, you will go in search of the Northern Lights that you can hope will appear if the sky is clear.

Your night will be spent in a cosy sleeping bag accommodation in a timber lodge. The lodge is heated and kept warm throughout the whole year. On its two floors, there are spacious sleeping areas with bunk beds, a large and spacious kitchen, sitting area, mud room and upstairs separate sleeping areas. The lavatories are situated in a small outhouse located next to the main building.

Driving Time: 4.5 hrs
Walking Time: 2.5 hrs
After breakfast, you will embark on a 'must-do trek' for any and nature lover to Fimmvörðuháls. This trail is one of Iceland's most famous, offering spectacular sights that you are sure never to forget. You will hike between two glaciers, Eyjafjallajökull and Mýrdalsjökull, to the new volcano where you will be able to observe the warm lava from 2010.

On your way, you will be simply amazed by the immense beauty of the truly unique valley of Þórsmörk with its rugged nature. For thousands of years glaciers and glacial rivers have carved out this valley, creating a very dramatic landscape of sandstone sculptures, deep canyons and sharp ridges. Here you will set off on your 6-8 hour hike. The ascend is between 700-800 meters and the trail of approximately 20 km, through Iceland´s varied landscape, encompassing views on glaciers, snow-capped mountains, newly formed craters and lava, volcanoes and the most surreal beauty.

In the afternoon, you will walk back into the Thorsmork valley, where you will again stay overnight in your homelike lodge. After a relaxed dinner you will go out to hunt for Northern Lights once again.

Distance: 16km (10 miles)
Walking time: 7-8 hrs
Ascent: 1,000 m (3,280)
* In winter departures the trail across Fimmvörðuháls can be impassable due to deep snow. If this is the case, you will instead go in search for alternative passable trails in the area.
Today you will explore part of one of the most famous trail of Laugavegur. Starting from Thorsmork, you will then walk at the foot of the characteristic mountain Einhyrningur and into the dense birch forest of Thorsmork, along impressive canyons. In the evening, you will enjoy your last day of Aurora Borealis hunting.

Distance: 12km (7.5 miles)
Walking time: 4-5 hrs
Day 5: Ice Cave & Seljalandsfoss
Today you will head back to Reykjavik. On the way, you will stop at Gígjökull glacier and weather permitting visit the ice cave. Gígjökull drains north from the Eyjafjallajökull Icecap and is a 7.5-kilometer long glacier that empties out of the summit crater area at 1600 meters. Before the infamous eruption of Eyjafjallajokull in 2010, there was a glacial lagoon filling up the valley next to the glacier, but after eruption a massive flood of meltwater and small icebergs from the volcanic crater ripped the glacier to shreds and flooded the area completely.

You will then make a brief stop off at Seljalandsfoss waterfall, which cascades from ancient sea cliffs down over 60 meters to a shallow pool. It is possible to take a walk behind the waterfall and enjoy the beautiful scenery from there.

You will arrive back to Reykjavik around 2pm and will be dropped back to your hotel.

Driving time: 3.5 hrs
After breakfast, a shuttle transfer bus will come to your hotel and take you to the airport. Alternatively, if you are departing on the afternoon flight, you will have the morning free to explore Reykjavik and spend as you wish or visit the Blue Lagoon.
Dates
Available: Every Tuesday from 18th October - 28th March

Price Includes:
Return Airport Transfers
Accommodation
Meals as per itinerary
Expert Guides

Not Included:
Personal Medical Insurance
Sleeping Bag

Minimum Age: 15 years
Activity Level: Moderate

Please Note: Ice caving in Gígjökull is subjected to conditions and should be looked at as the icing on the cake when possible.