Experience the magic of being in the wilderness at Camp Barentz at 78 degrees north! Camp Barentz boasts an amazing location at the foot of the mountain, Breinosa, right below Mine 7. One of the buildings at the camp, Barentz Hus, is a copy of the cabin that the discoverer of Svalbard, Willem Barentz, overwintered in on Novaya Zemlya in 1596. Here, far from town, you can take in the stunning Svalbard landscape. At Camp Barentz, you can often see Svalbard reindeer, and even grouse and foxes if you are lucky. Your knowledgeable hosts are also on watch in case a polar bear should appear.

You will be met on arrival at the cosy wooden cabins by your host. Good drinks and a delicious homemade reindeer bidos will be served, together with campfire coffee and dessert. Welcome to a real Svalbard meal!

After your tasty dinner, it is time to learn more about the King of the Arctic. With everyone sitting around the open fire in the cabin, your host will share information and photos about our most famous residents. You are guaranteed to learn something new about polar bears, and you may also here a few tall tales. After the presentation there will be time to take photos of the stark landscape, before returning to civilisation.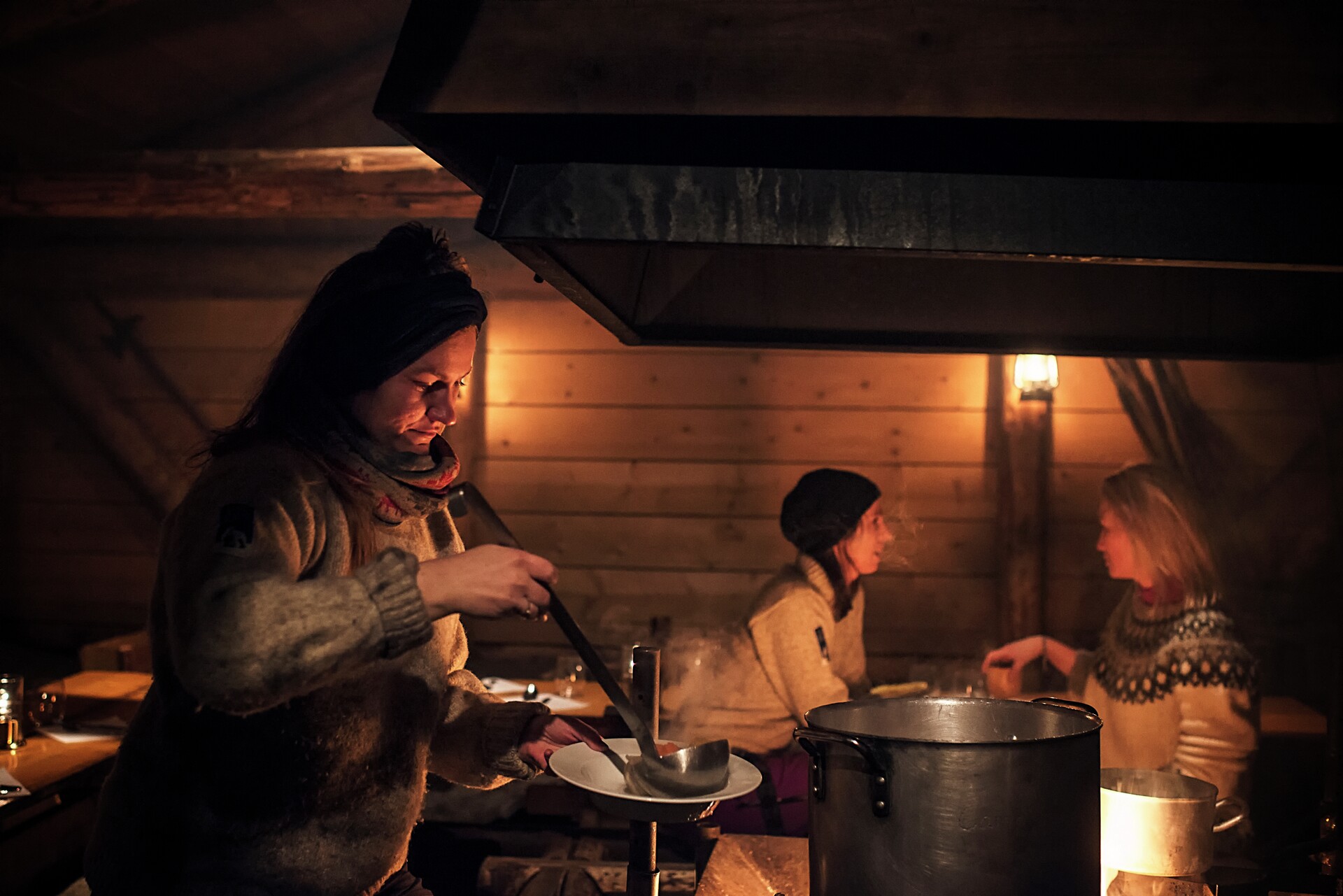 The price includes transport from your accommodation, reindeer soup, drinks, campfire coffee, homemade cake and presentation about polar bears. We recommend wearing comfortable, warm outdoor clothing and warm shoes, since there can be a cold draught from the floor. Clothes may smell of smoke after the tour. Participants must speak and understand English or one of the Scandinavian languages.

Dates
Price includes:
- Transport to / from main hotels in Longyearbyen
- Dinner, drinks (beer, wine, water) cake and coffee
- Polar Bear lecture

Trip Starts: 19:00
Duration: 3 hours
Difficulty Level: 2 – suitable for most
Minimum Age: 8 years with an adult
Minimum Number of Participants: 6 people
Available: March – September