Socorro Island is the largest island in the Revillagigedo Archipelago Biosphere Reserve which is famous worldwide for its Giant Manta Rays (Mobula birostris). These gentle marine giants can reach up to 7 metres in span and have become increasingly interactive around divers over the past twenty years.
On these dive liveaboard trips we plan to visit the islands of Socorro, San Benedicto and Roca Partida. With their steep drop offs and upwelling currents, these islands are a magnet for manta rays, sharks and other marine life. The islands are also visited by majestic humpback whales which visit the islands to breed and calve. If you are lucky you may catch sight of them not only above the water but also when diving.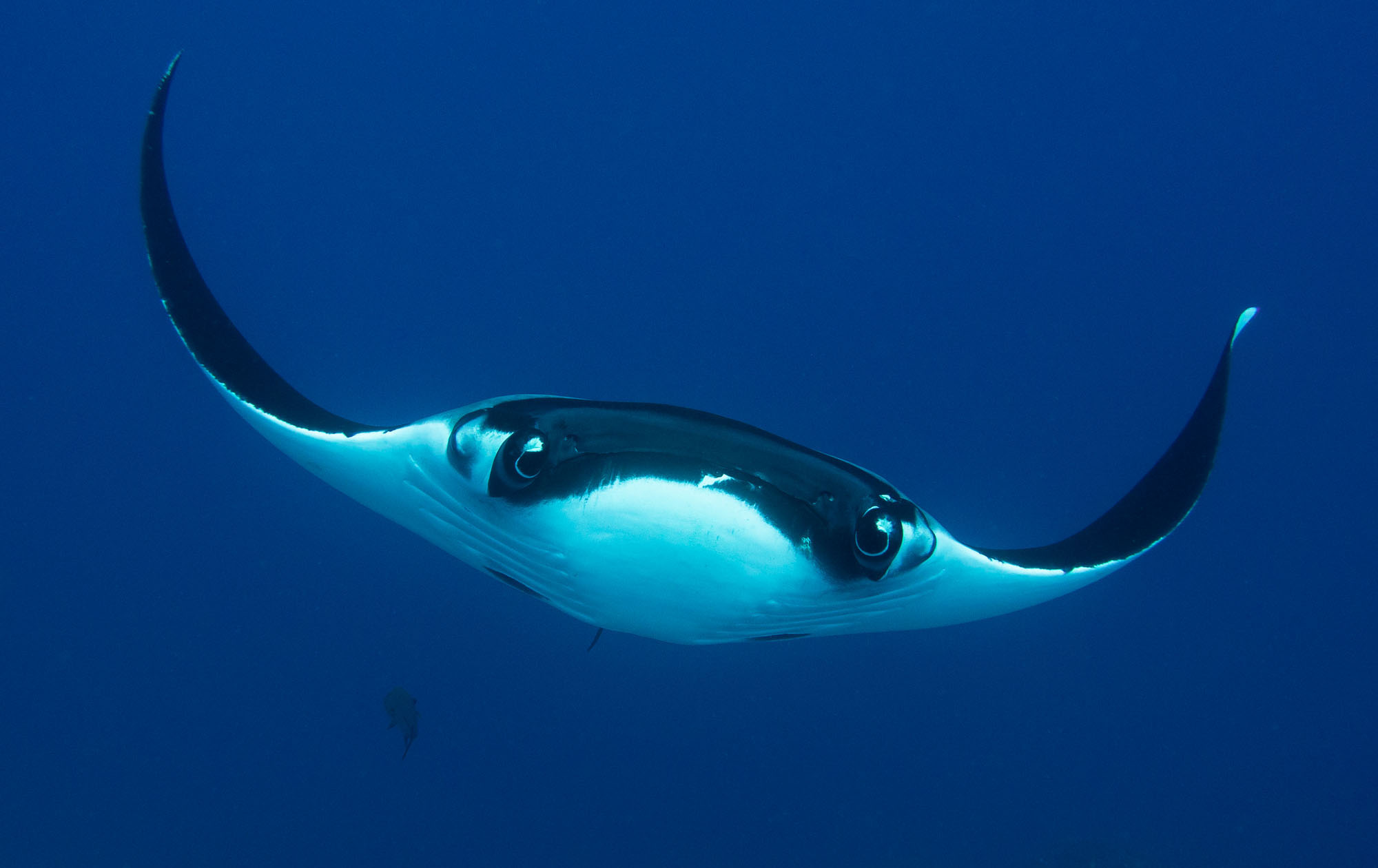 Dive liveaboard is the only way to see these islands, not just because you need a self-sufficient floating unit to move between dive sites, but because there are no flights to these islands. To get there, you need to join the boat at Cabo San Lucas on San Jose del Cabo on the Mexican Baja California Peninsula. The 240 mile voyage to the islands is a great marine life opportunity in itself, providing you with a peaceful sense of open ocean wilderness and chances to see whales and dolphins above the water.
The mid ocean sight of Socorro is of a dramatic volcanic mountain standing thousands of metres above the seabed. Its peak is a perfectly shaped cone and the land beneath a combination of hardened lava and sparse but rare vegetation. There is a surprising diversity of life here including endemic plants and species of bird. The only people permitted onto the island are those stationed at the Mexican naval garrison and their families who live on these remote islands with them. Their lives are a far cry from Mexico City.
From Socorro, our next port of call will be either San Benedicto Island or Roca Partida Island. San Benedicto is much smaller than Socorro but attracts a greater variety of pelagic life. Underwater sightings may include tiger sharks, whale sharks and humpback whales - but it is best known as one of the prime locations anywhere to see giant manta rays as they glide gracefully around you at the island's cleaner stations. The island of San Benedicto is still volcanically active and has a large lava delta pushing its way out into the Pacific from the south west part of the island.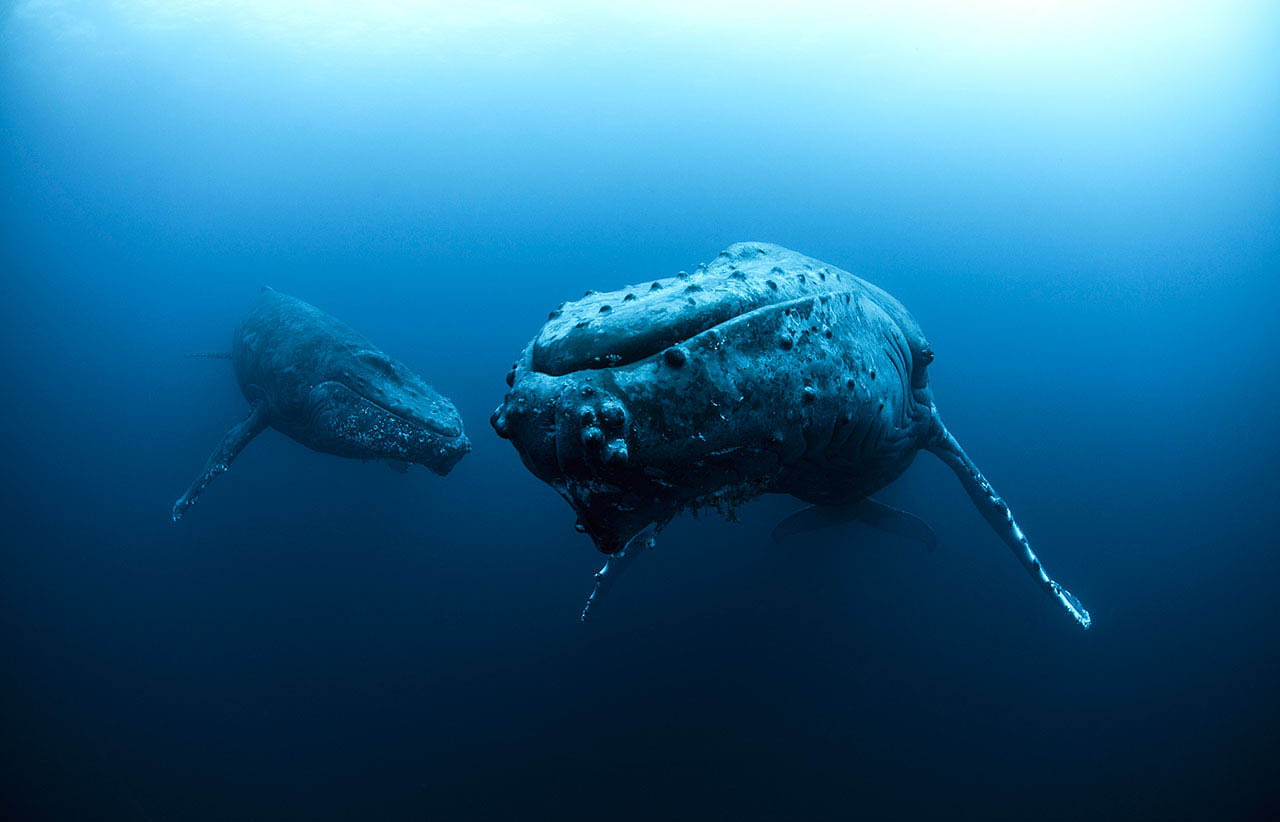 Weather dependent, we may also visit the tiny island of Roca Partida. It is only 92m from end to end but harbours a large variety of shark species including white tip sharks, Galapagos sharks, silky sharks, giant manta rays and even an occasional whale shark. You may also encounter some of the playful bottle nosed dolphins that inhabit the area as well as migrating humpback whales. At a depth of 12 metres there are underwater caves where you can find groups of sleeping white tip reef sharks.
If you have time to see more of Mexico or other parts of Latin America such as Belize, Costa Rica, Panama and the Galapagos, Aqua-Firma is a specialist at helping you to do this. Please Contact Us to discuss the possibilities.
Diving Experience
Beginner to intermediate. All dives will be assisted by a divemaster. Skiff pick-ups will be available on all dives. Descent and ascent line provided on all dives except at Roca Partida due to the extreme depth.
Itinerary
Sample 12 Day Itinerary
This is a draft itinerary assuming that also arrange hotels and transfers for you
Please note that any liveaboard voyage may be subject to change without notice according to sea conditions, national park rules, military exercises which may put some of the dive sites off limits, or improvements in response to opportunities to see the best marine life.
Note: Some liveaboard departures set sail from San Jose del Cabo. Please contact us for details of specific departures.
Day 1: Arrive San Jose del Cabo
Arrive into San Jose del Cabo where you will be met and transferred to your hotel at the tip of the Baja Peninsula at Cabo San Lucas. Your flights may require a night stopover in Mexico City in which case we can swap your first night to a hotel close to the airport there.
A day of rest and acclimatisation after your long haul flight.
Overnight in Cabo San Lucas
(B)
Day 3: Board in Cabo San Lucas
You will be collected from your hotel and taken to your dive liveaboard. You will then set sail for the Revillagigedo Archipelago. This is a 22 - 24 hour journey offering a great opportunity to be out in the open ocean, often with sightings of whales and dolphins swimming under the bow.
(B,L,D)
Day 4: Arrive at the Socorro Islands
Arrive at Socorro Island to check in at the naval base and start your diving.
(B,L,D)
Days 5 - 9: Diving at the Socorro Islands
5 full days of diving at the islands of Socorro, San Benedicto and Roca Partida.
(B,L,D)
Day 10: Return to Cabo San Lucas
Start your voyage back to Cabo San Lucas keeping a watch out for whales and dolphins
(B,L,D)
Day 11: Disembark in Cabo San Lucas
After breakfast you will be taken from your dive liveaboard back to your original hotel.
(B)
After breakfast you will be picked up from your hotel and taken to the airport for your international departure.
(B)
Dates
Various dates available November - June
Our prices include:
- Compressed air tanks, weights & weight belts
- 16% local Mexican taxes
- Dive master service
- All meals and snacks, non-alcoholic beverages (onboard dive liveaboard)
Prices exclude
- Single supplements
- Seasonal supplements
- International and domestic flights
- Insurance
- Equipment rentals
- Nitrox fills
- Certification or specialty courses
- Dinner on final evening
- Crew tips
- Fuel surcharges may be applied onboard
- Port fees apply on some boats ($65 payable locally)
Activity Level: Medium.
International flights and Extensions
As a fully ATOL and ABTOT bonded company, we can arrange your international flights, airport transfers and any additional accommodation in Mexico. As a specialist in tailor made travel we can offer extensions in Mexico, Latin America or Antarctica! Please Contact Us to discuss.