The attractions of this unique sailing voyage in the Arctic are threefold: to explore onboard a 100 year old sailing schooner amid dramatic fjord and Nordic island landscapes; the possibility of seeing Orcas and Humpback Whales feeding at close quarters; and to have the opportunity to witness the glorious Northern Lights (Aurora Borealis) from a remote and wild location.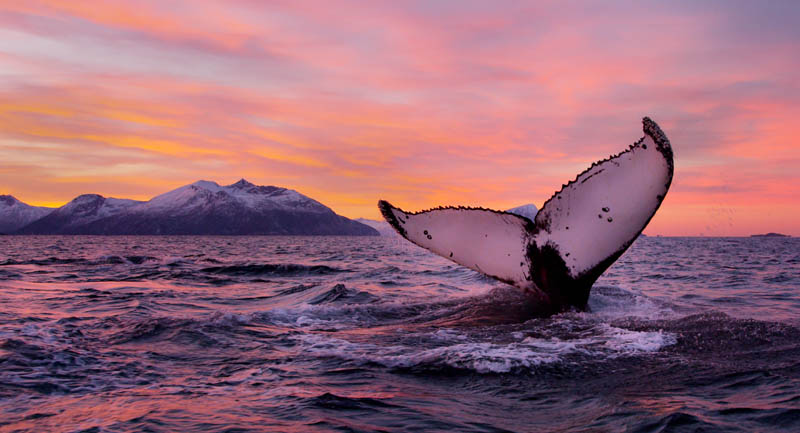 Northern Norway is incredibly beautiful, boasting isolated islands, steep and rugged mountains and tucked away fishing villages, all waiting to be explored under sail. However, the prime objective will be to try and locate and experience the pods of Orcas which seasonally congregate within the deep fjords in search of their herring prey. Alongside these, Humpback Whales are often seen, who are known to assist the Orcas in rounding up these bountiful shoals, before mutually gorging on their bounty.

Although during these months the northern days are short, in the evening one can hope to be joined by the dancing lights of the Aurora Borealis above - a special sight witnessed amid spectacular surroundings - from the deck of a splendid traditional ship, far from the pollution of an urban environment.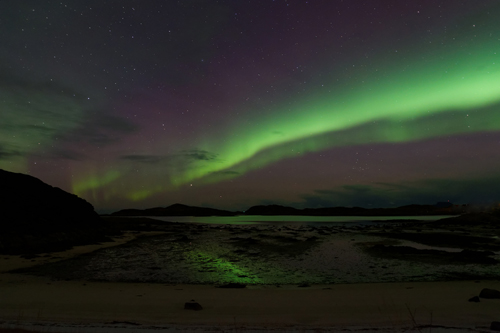 Onboard just 20 passengers will travel with an expert crew and guide who are keen to inform and inspire. The ship herself is cosy and welcoming and for more than a decade our clients have enjoyed her wood panelled interior, hot showers, great food and camaraderie. Her pilot house provides all round views from a warm and comfortable interior whilst outside large open decks offer an inviting viewing platform Opportunities are taken whenever possible to go for landings, enjoy hikes and sample the experience of snow shoeing, an easy but rewarding way to explore.

Voyages depart from Harstad during January and February and from the beautiful town of Tromsø between Oct-Dec.
Itinerary
8 Day Sample Itinerary
Please note that our polar itineraries are written to provide a flavour of each voyage. Travelling under sail power alone will be undertaken where and when conditions allow. The actual route will be decided by the captain and expedition team in accordance with prevailing ice, weather and sea conditions and opportunities to see wildlife and wilderness scenery. We aim to provide the most rewarding experience possible and as a result, our itinerary may need to change at short notice.
You will embark you vessel in Tromsø, also called 'the Paris of the North'. Here the 100 year old two mast schooner Noorderlicht will be waiting in the harbour. In the evening there is time to explore the town. You will not sail out of the port until the following morning.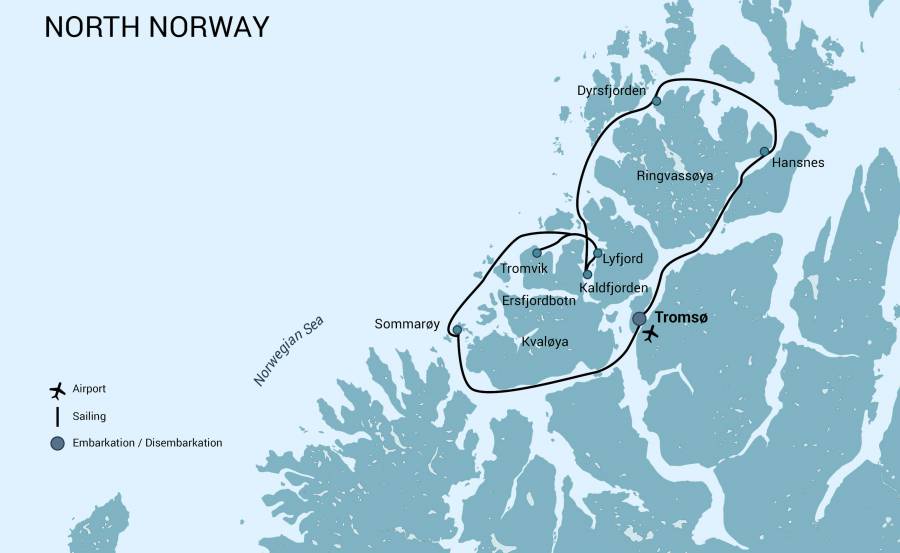 Early in the morning you depart from Tromsø, sailing northeast into the fjord of Langsundet. The aim is to land at the small village of Hansnes, where you can hike to the 306-meter-high (1,004 feet) hill, Storheia, to admire the view across the fjord. You spend the night in Dyrsfjorden, at the northern tip of the island Ringvassøya.
Day 3 - 5: Whales and White-Tailed Eagles
You spend the next several days in Vengsøyfjorden and Kaldfjorden, areas where many whales have been spotted in recent years. Orca, humpback, and sperm whales are all possibilities here. You may also see white-tailed eagles, one of the largest birds of prey in Europe, vying for their share of the herring. Once the sun has set, you can make small hikes along the coast – and maybe even catch sight of the aurora.
Continuing your circumnavigation of Kvaløya, you sail to the small island of Sommarøy. Here there are good opportunities to see the northern lights as well as embark on pleasant hikes. You spend the last morning of the cruise exploring the island's small bays and white beaches. You can even climb the 211-meter-high (692 feet) Mount Hillesøya, the summit of which affords panoramic views of the rugged coastline.
Day 7 - 8: Cinching the Circumnavigation
Every adventure, no matter how grand, must eventually come to an end. In the afternoon you sail back to Tromsø, and complete your circumnavigation of Kvaløya. Spending the last night on board, you disembark the following day with memories that will accompany you wherever your next adventure lies.
Dates
Single supplement
A supplement can be avoided if you are willing to share with someone of the same gender. Single occupancy is 1.85 times the per person sharing cabin price.

Our prices include
Voyage as indicated in draft itinerary.
All meals, snacks, coffee and tea.
All shore excursions and zodiac activities.
Programme of lectures by noted naturalists and leadership by experienced expedition staff.
All miscellaneous services taxes and port charges throughout the programme.
Comprehensive pre-departure material.

Not included
Airfares.
Passports and visas.
Pre and post land arrangements.
Transfers to and from the vessel
Items of a personal nature (alcohol, laundry etc).
Cancellation and personal insurance.
Arrival and departure tax.
Meals ashore.
Baggage.
Tips.
Flights: We can arrange flights or we are happy for you to do this yourself. Please contact us for advice.
Ski & Sail Voyages: Please contact us for a detailed itinerary and minimum experience requirements for these departures