This Southern Oman dive liveaboard holiday takes you to a spectacular part of Oman's 1,700km coastline, nestled offshore of the Dhofar Mountains. Along the mainland here, cliffs plummet into the sea from coastal escarpments in a way most similar to the Musandam Peninsula in the far north of Oman; whilst huge sweeping beaches are similar to shorelines within reach of Muscat. Inland, surprisingly fertile peaks rise to more than 2,000m above sea level. These mountains, with deep valleys and high altitude forests are known as one of the last refuges of the Arabian Leopard and provide a spectacular backdrop for this dive liveaboard experience.
Our dive liveaboard target is the Hallaniyat Islands, which are themselves rugged and largely submerged outliers of the same Arabian mountain chain. The seas in this area are highly productive and uniquely provide a tropical year round home for Humpback Whales. Sperm whales are also regular offshore visitors as well as Arabian Long-beaked Common Dolphins which can school in their thousands. Indo-Pacific Bottlenose Dolphins are another regular visitor.
Beneath the waves, productive waters mean that coral reefs are home to some huge schools of fish - much larger than a clearwater coral reef might provide home to. There are colourful corals, seasonal kelp beds and thriving marine life. Manta and Devil rays often visit these waters, along with green, hawksbill and olive ridley turtles. Marlin are also sometimes encountered.
Wrecks are another highlight here, with the unfortunate WW1 warship City of Winchester, sitting in about 28 - 30 metres of water, now providing home for marine residents. The Winchester was the first British ship to be sunk in 'the Great War'.
This dive liveaboard experience starts and ends in a comfortable hotel in the town of Mirbat. If you want to explore further, speak to one of our Oman travel experts about some of the incredible mountain, coastal and desert scenery we can take you to see, in the Dhofar Mountains and the Empty Quarter Desert which stretches into Saudi Arabia.
"This is probably the best dive liveaboard trip I have ever done."
Season: December - May

Out of season in the Hallaniyats is in season for the north eastern coast off of Muscat. You can join a dive trip which connects these two areas, with the opportunity to dive for 11 days in rich, diverse parts and rarely dived parts of the Arabian Sea and Gulf of Oman and explore hundreds of kilometres of coast. This includes Oman's largest offshore island of Masirah.
This is a journey of marine exploration in the Arabian Sea with a good chance of seeing Humpback Whales and much more in their Arabian home.

Itinerary
Sample 8 Day Itinerary
This spacious steel liveaboard was completely renovated in 2015 and carries 22 divers in one master cabin on the main deck and 10 twin cabins on the lower (6 cabins) and upper deck (4 cabins). All cabins are well equipped with twin beds, air-conditioning, fan, storage cupboard, porthole and a private bathroom. The Master Cabin is furnished with a king-size bed and also a fridge and TV. Onboard you will find an air-conditioned salon, large sun deck with shaded areas, comfortable seating area on the upper deck and a spacious dive deck. Dives will be made from either the dive platform onboard or from her two zodiacs.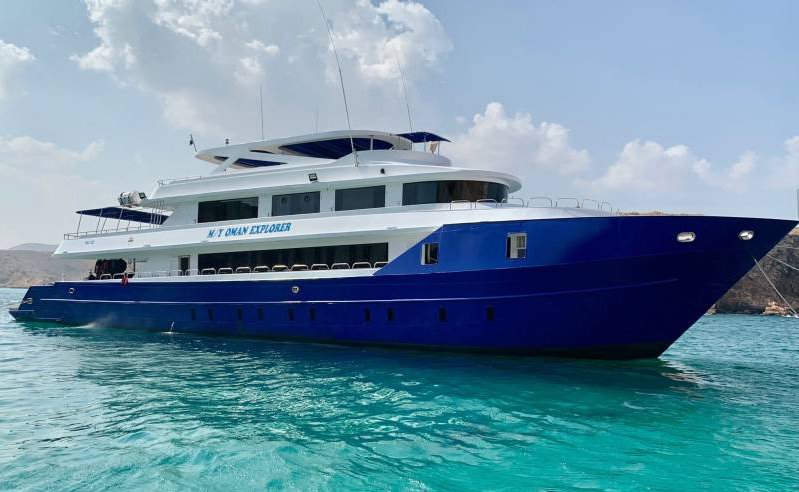 You will embark this afternoon in Mirbat, near Salalah at approx 2pm. After lunch and settling into your cabin, you will depart later this evening ready to begin diving tomorrow morning.
Days 2 - 6: Exploring the Hallaniyat Islands
You will be diving up to 4 times per day including a night dive at the various locations around the Hallaniyat Islands.
The waters of Oman are home to reefs, wrecks and more than 1,000 types of fish and shellfish! Strict fishing conditions and large marine parks ensure the protection of the marine environment here, with potential encounters with a wide range of marine life both large and small including humpback whales, manta rays, dolphins, sharks, turtles, mobula rays, moray eels, stingrays, king mackerel, tuna, lobster, crayfish, nudibranchs and a variety of other macro life.
The Hallaniyat Islands are located off the south eastern coast of Oman and are known as an undiscovered diving region where you can expect a bit of everything! There are reefs here, wrecks and whales; with new dive sites and wrecks still being discovered. There is a resident population of humpback whales in Oman. Whilst encounters with these is most likely to be above water, underwater potential encounters include manta rays, green turtles, giant groupers, giant catfish and mobulas to name just a few! The islands boast a healthy marine life with stunning coral gardens and large numbers of reef fish.
You will make up to 2 dives this morning before returning to port. Depending on your itinerary, you may spend tonight onboard or may be transferred to a local hotel for your final night in Oman.
Day 8: Disembark in Salalah
You will disembark at approx 9am this morning for your onward travel arrangements, or why not extend your time here in Oman to explore further underwater with some hotel-based diving or overland on our Oman Desert Crossing Safari, which can be shortened according to your requirements! Please contact us to discuss your options.
The Hallaniyat Islands: When To Go
Seasonal variations around the Hallaniyat Islands can reward divers with very different underwater conditions and potential encounters.
During the months of November and December, you can hope to encounter rays, giant catfish, mobulas, leopard shark, schools of jacks, barracudas, morays eels, honeycomb moray eels, nudibranchs and fish in the thousands. Giant oceanic manta rays can be encountered at these times. Close to shore there is plenty of kelp with animal life nestled in there.

| | | |
| --- | --- | --- |
| | Visibility: | 13 – 56 feet / 4 m - 17 m |
| | Depth: | 92 feet / 28 m92 feet / 28 m |
| | Water Temperature: | 75 – 80°F / 24 - 27°C (thermoclines) |
| | Current: | medium and swell |

Humpback whales can be encountered anytime, but best chances are between January and March. Hearing the sound of whales while diving is certainly a unique experience. Other encounters can include giant groupers, moray eels, honeycomb moray eels, dragon morays and thousands of colorful reef fishes.

| | | |
| --- | --- | --- |
| | Visibility: | 16 – 65 feet / 5 - 20 m |
| | Depth: | 92 feet / 28 m |
| | Water Temperature: | 73 – 77°F / 23 - 25°C (thermoclines) |
| | Current: | less |

Diving in April can offer encounters with yellowfin, barracudas, schools of jacks, big rays, octopus, giant groupers, leopard sharks, milk fish, schools of dolphins and beautiful colorful reef fish in the thousands as well as the possibility of humpback whales.

| | | |
| --- | --- | --- |
| | Visibility: | 39 – 130 feet / 12 - 40 m |
| | Depth: | 92 feet / 28 m |
| | Water Temperature: | 73 – 77°F / 23 - 25°C (thermoclines) |
| | Current: | strong |
Dates
Minimum Dive Certification Level: AOWD or equivalent
Minimum No Logged Dives: 50
Price includes:
- Full Board accommodation
- Tea, coffee and water onboard
- All diving and shore landings
- Tanks, weight belts and weights
- Standard arrival and departure airport transfers

Not included:
- €125 / €150 Port Fees & Fuel Surcharge*
- Dive Permit (4 OMR per diving day)*
- Use of NITROX (22 OMR per week)*
- 15l tank rental (15 OMR per week)*
- Equipment rental and diving courses
- Other drinks (soft and alcoholic) onboard
- Oman entry visa (20 OMR - approx £35)
- Gratuities
*These fees may be subject to change without notice
Extending your time in Oman: we can arrange additional land based diving either before or after your liveaboard. Please contact us for details.
Stopovers in other Middle Eastern countries can also be arranged such as Dubai … or the capital Muscat or Oman's Musandam Peninsula from where further diving can be arranged.