If you ever want to experience desert wilderness travel, from vast sand dunes to wadis and coastlines, then this is a journey you should consider. You will be privately guided and chauffeured in a robust 4 wheel drive across possibly the most politically stable and beautiful of Arabian countries, starting in the Omani City of Muscat and ending in the surprisingly green and lush coastal city of Salalah (or vice versa).
In between, we will take you on a desert safari across the Wahiba Sands and Empty Quarter Deserts; along remote wadis leading into the Hajar Mountains; across pink salt flats; and along some simply stunning Indian Ocean desert coastlines isolated fishing communities live beside beaches back by mountains, dramatic cliffs and sand dunes. Traditional coastal and inland Bedouin culture is very much alive in parts of Oman, where you will share crystal clear starlit skies in permanent and temporary coastal and desert camps.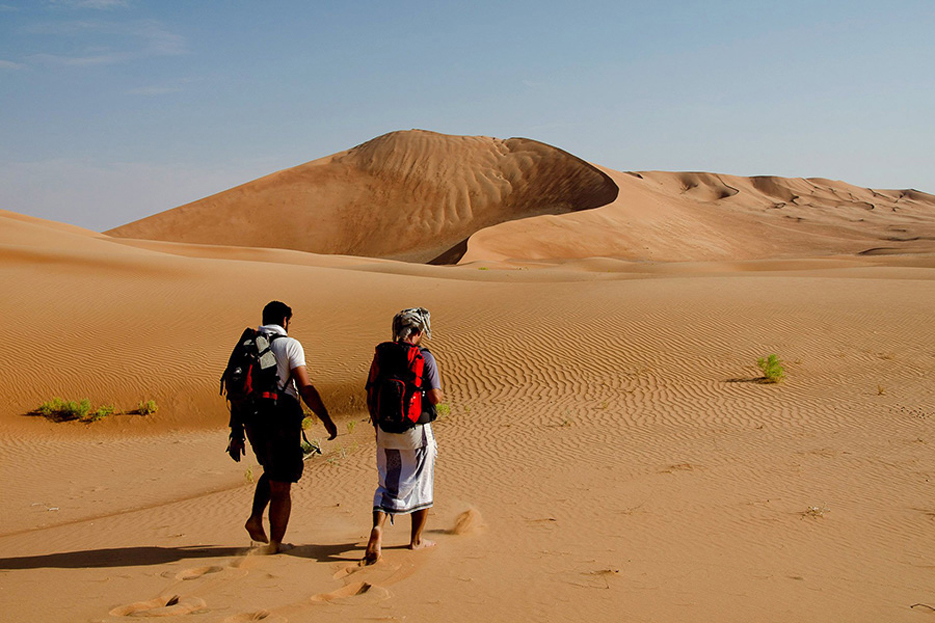 Deserts
The two desert areas you will visit have some stark contrasts. The Empty Quarter Desert, or Rub Al Khali, is the largest sandy desert on our planet, occupying an area larger than France. Its major portions are in Oman and Saudi Area, but it also touches Yemen and the United Arab Emirates. Here we find a vast sea of sand dunes and isolated Bedouin (or Bedu) whose living customs are a combination of Island and tribal tradition. You will spend two nights glamping in this area, giving you time to truly appreciate this vast desert wilderness. One of our fondest desert experiences is to walk alone over a sand dune, out of sight of your vehicle or any sign of humanity and just imagine what it would be like to be left alone here.
The greatest drama of the Wahiba Sands is arguably where it meets the coast, with 100 metre high sand dunes colliding with the Indian Ocean. You will drive amongst these dunes as well as some huge pink salt flats you will pass to reach there from Muscat.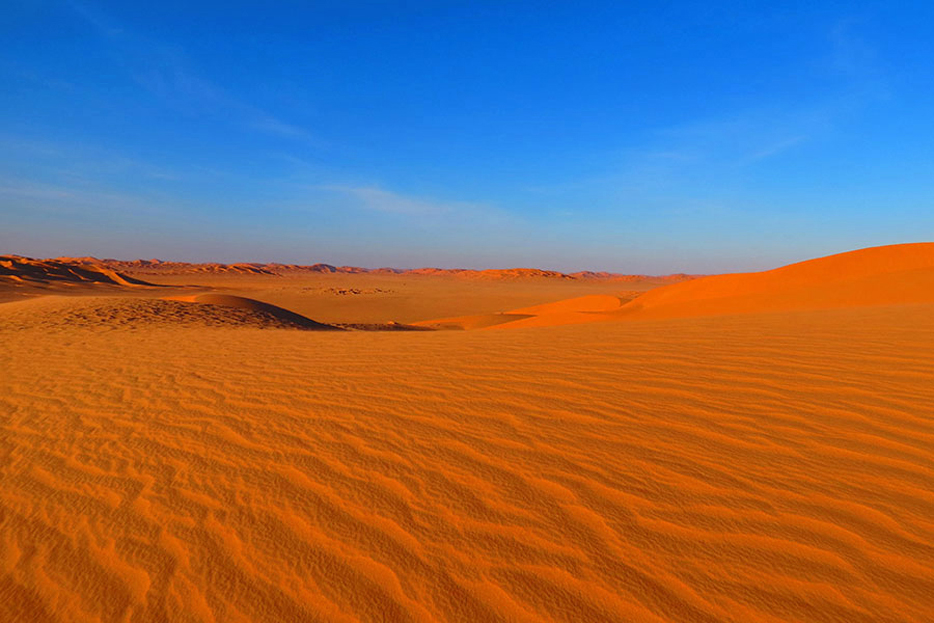 Coastlines, Wadis & Mountains
From the dramatic coast of the Wahiba Sands, you will drive along a coastline where beautiful Wadis run to the sea from the high rocky Hajar Mountains. You will visit some isolated coastal fishing villages and enjoy fish from markets that bear witness to the rich waters of this part of the Indian Oceans. Oman's coast is full of white sand beaches populated by thousands of shore birds and sometimes steep cliffs lapped by warm turquoise seas.
Itinerary
Sample 8 Day Itinerary
This itinerary is written as Muscat to Salalah, but it can be operated in the opposite direction.
You will meet your driver and private guide and load up your 4WD vehicle before setting off from Muscat to the Wahiba Sands. The drive will take about 2 hours.
You will be staying in a rustic desert tented camp.
Day 2: Wahiba Sands to Al Khaluf
From the Wahiba Sands, your guide will drive you to Muhut en route to Al Khaluf. Muhut is the gateway to some fabulous pink salt flats. Al Khaluf is a relatively remote fishing village.
You will camp on a beach backed by sand dunes.
Take the coastal road to Ras Madraka. There are some stunning views with wadis carving into the rocky inland.
Overnight full catered camping at a lovely bay.
Drive to Al Jizr known for its beautiful beachside landscapes.
Continue to Sawqra for great views over the sea and then explore Wadi Ayninah before arriving at the fishing village of Shuwaimiya. More beautiful scenery here with a deep canyon and beaches. Your guide will set up camp for you here.
Empty Quarter Desert - this is one of the most dramatic deserts in the world, shared between Oman and Saudi Arabia.
You will be amongst a great ocean of high rolling sand dunes. It is the biggest sand desert in the world.
Stay at a rustic permanent tented desert camp.
Explore some highlight features of the Empty Quarter, both driving and walking into this desert wilderness. Same base overnight.
Day 7: Wadi Dawka to Salalah
Drive to the UNESCO World Heritage Site of Wadi Dawka.
Arrive Salalah in the afternoon. Check in to hotel.
Check out of hotel after breakfast for your transfer to Salalah Airport.
Why not consider extending your time here on the coast with a luxury hotel stay, or explore the underwater landscape in search of marine life either with a land-based diving extension or dive liveaboard to the Hallaniyat Islands (from Salalah) or Fahul & Daymaniyat Islands (from Muscat). Please contact us for details.
Dates
Privately guided anytime we have a guide and vehicle available for you. Advance arrangement is best.
Prices include
- All transportation which in the desert will be a 4WD
- All accommodation as per itinerary
- English speaking guidance
- Still drinking water
- All meals - lunches will be picnic style out in the desert
Not included
- Flights
- Visa
- Travel insurance
- Beverages
- Tips
- Arrangements not listed in the itinerary
Best time to go
Anytime, but best to avoid the scorching hot period June - August.