Northern New Ireland
New Ireland is one of Papua New Guinea's two largest islands and forms the eastern boundary of the Bismarck Sea. The small but main town of this area is Kavieng, which is the headquarters of an important marine research and conservation outpost, established by the Nature Conservancy and now managed by the Wildlife Conservation Society. It is a marine life focus for good reason, because there are huge areas of highly diverse coral reefs extending from this area, in addition to largely intact mangrove habitat which provides a nursery for fish and young sharks.
This diving or snorkelling journey is also in this area, amongst some beautiful low lying tropical islands, where friendly fishing tribes use dugout canoes with outriggers to fish with artisanal lines and small nets. In contrast to most tribes on the New Guinea mainland which have traditionally protected their spaces through battle and aggression, witchcraft in many coastal communities is traditionally conducted quietly and without physical confrontation; so if you aren't superstitious and go about your business with gentle respect, you have nothing to fear!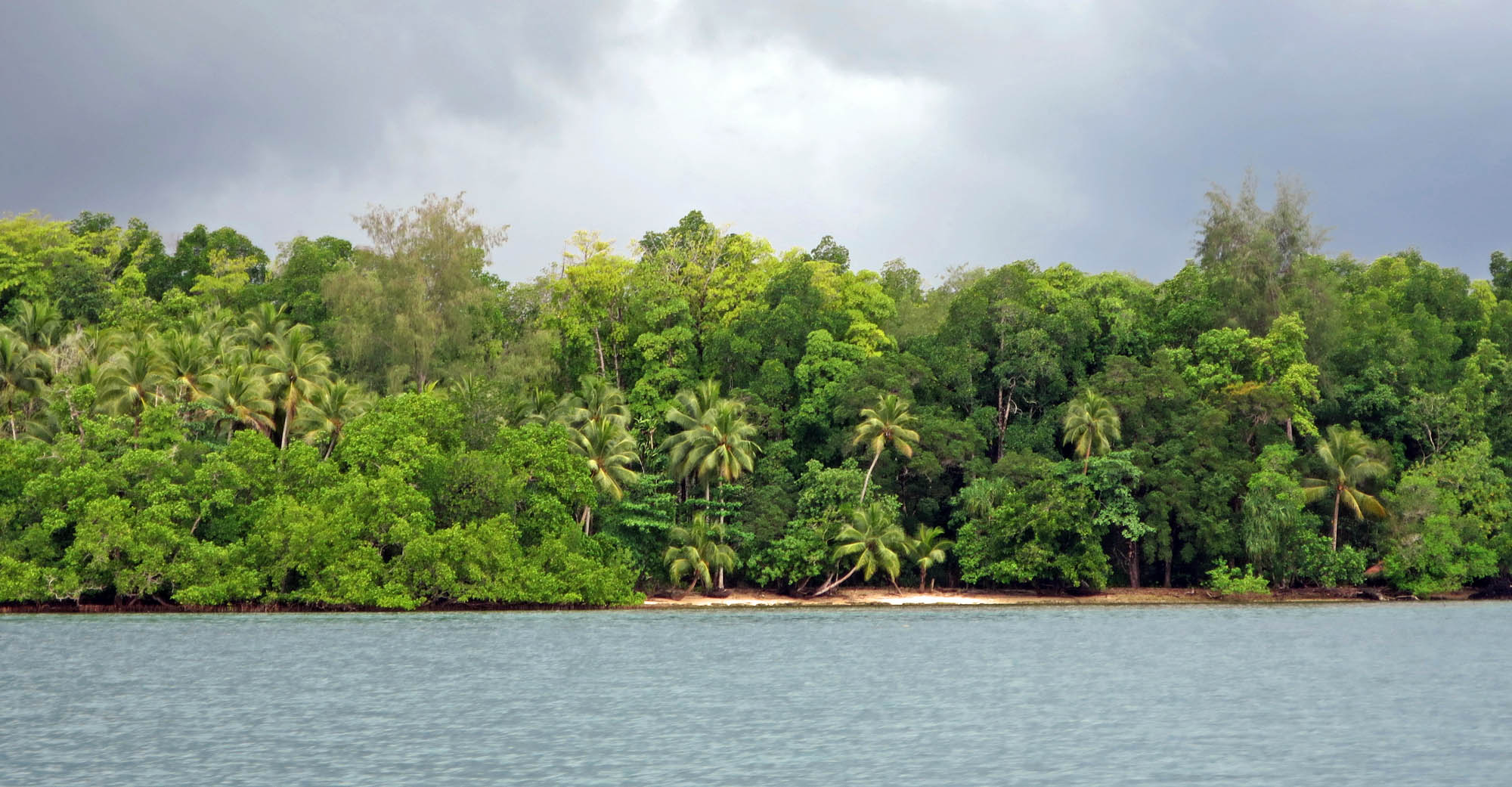 Diving & Snorkelling in Northern New Ireland
Leaving the town of Kavieng, we can take you out for diving and snorkelling amongst a myriad of islands which range in size from a mile or two across, to a white sand-fringed gem whose forest measures little more than 50m across, but whose fringing reefs can span 15 times that. Fringing and barrier reefs encircle the island archipelago at the northern end of New Ireland, with shallower waters within and clearer blue waters dropping into the Pacific coast outside.
Diving in Pacific waters beyond the reefs takes us to some excellent coral walls with lots of hard and soft corals and huge sea fans where pygmy seahorses are a regular sight if you concentrate. There are very healthy schools of fish out here too and in the drier season June - November, clear blue visibility can often be enjoyed. These outer reefs receive strong surf in the wet season, when the area serves surfers better than divers; so coral cover at the top of the reefs here is naturally more weathered, so better coral cover exists beneath the top few metres.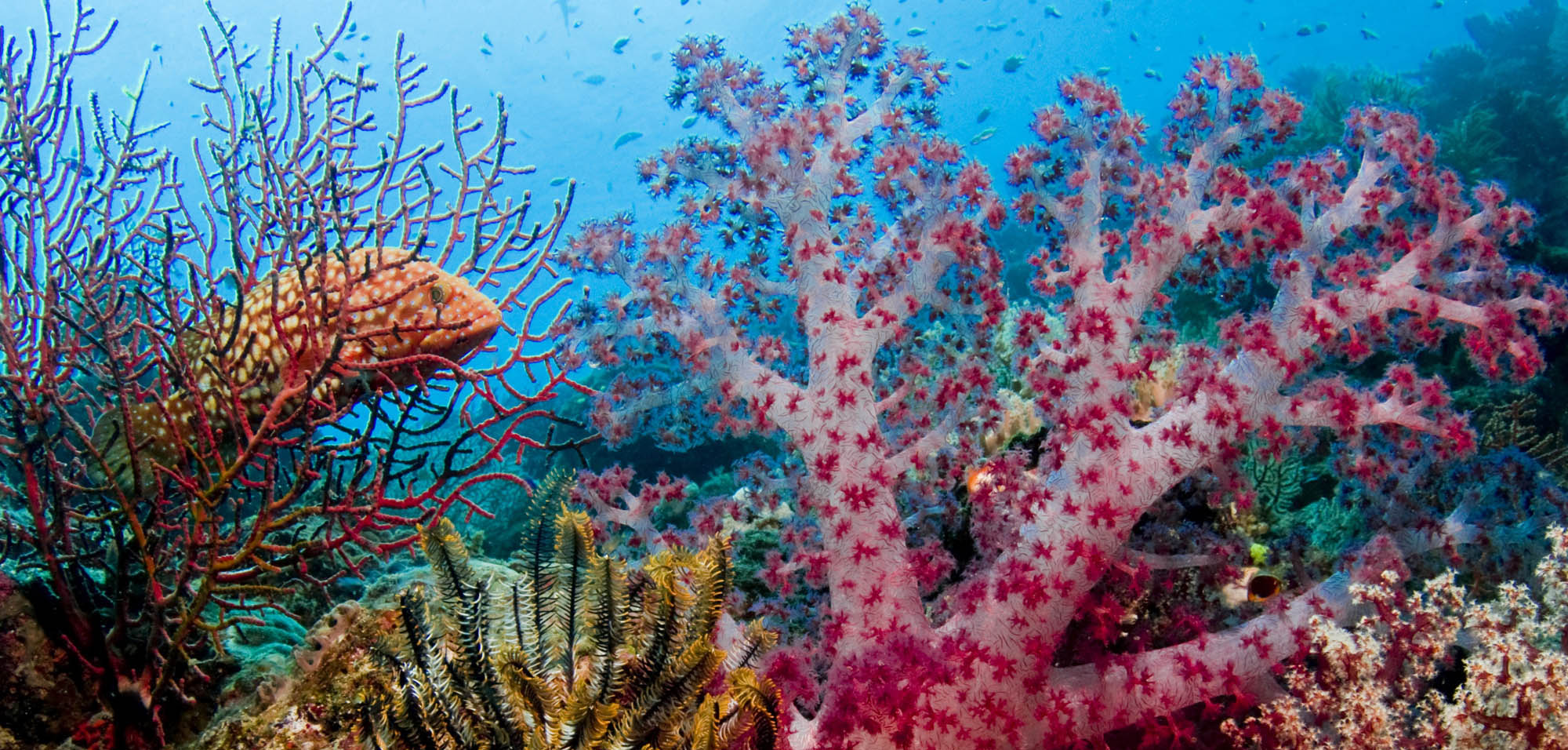 High coral cover also exists on some excellent shallow reefs inside the outer barrier which makes for some particularly good snorkelling. Calm water conditions here provide excellent opportunities for combined coral, beach and green island photos. A passing fisherman will be happy to include him and his outrigger in the scene if you smile; and kids will also happily dive in if they are enjoying a ride.
In additions to reefs there are good pelagic opportunities and the wreck of a WWII 'Pete' Floatplanes to enjoy in northern New Ireland. Pelagic opportunities need coordination with tides, because it is through channels like Albatross Passage where sharks, jacks and hundreds of barracuda swim into between islands, following nutrient rich upwellings which race in with clear blue Pacific water. Don't be surprised to spot something special beyond the barrier reef, such as dolphins or a pod of pilot whales!
Whilst Central New Britain or South Eastern PNG are probably the first ports of call for a dedicated diver or snorkeler to consider, northern New Ireland is more classically South Pacific with its coastal fishing communities and lack of development. Liveaboard diving is not an option here, but on this journey we will take you on daily diving from a lovely rustic island lodge which is blended so well into its forest environment that you can't see it from most angles of approach. This base provides some easy shallow house reef diving by day or night; and walking in the shallows around it you can find black and white sea snakes hunting, surgeon fish breaking the surface with their fins, anemones, isolated corals and some stunning sunsets.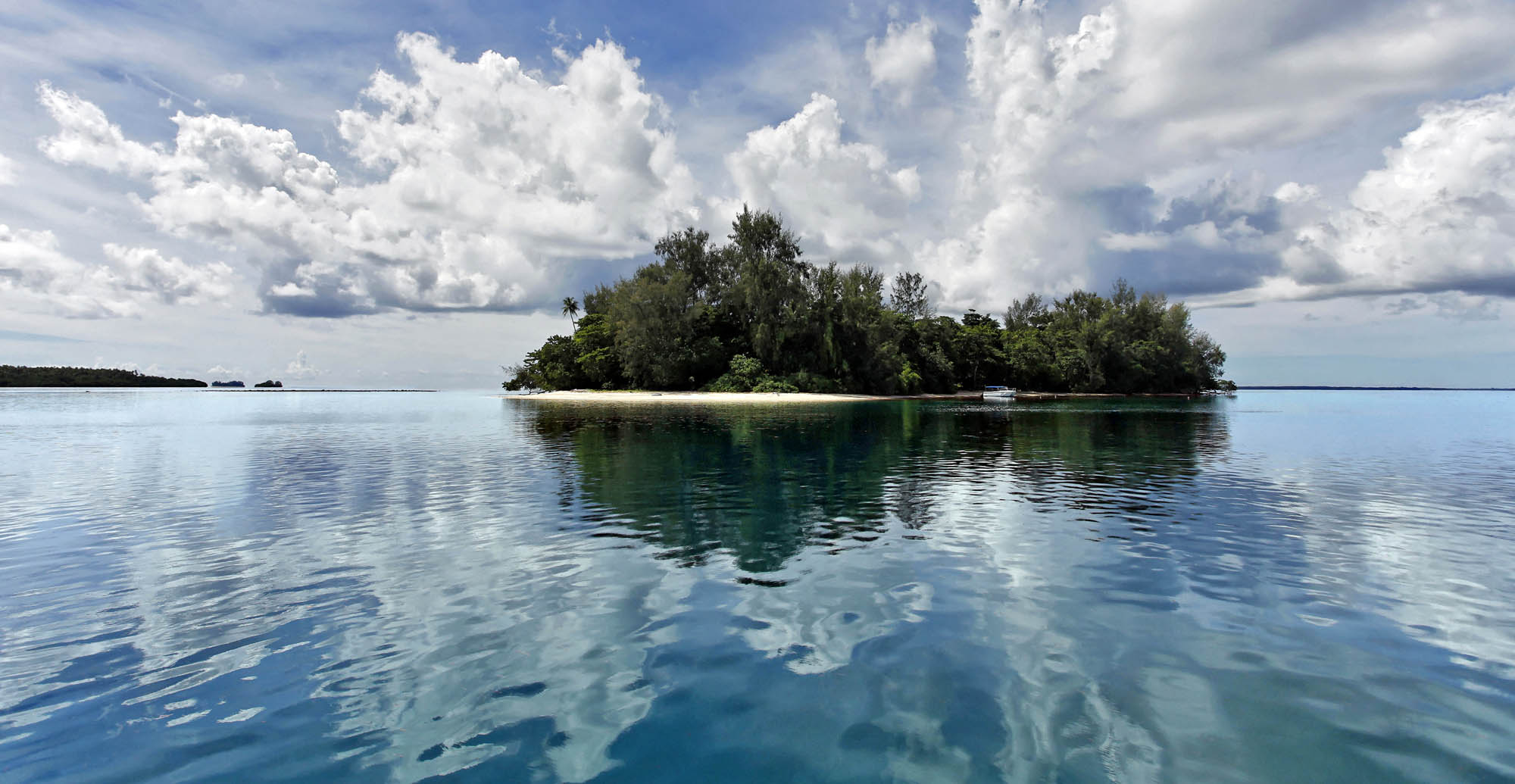 Aside from diving and snorkelling, we can also set up visits to local villages and schools, try your hand at paddling an outrigger canoes and or a stand-up paddle board.
Rabaul and Eastern New Britain
Flights to Kavieng often stop in Rabaul, so we can incorporate eastern New Britain into an extended itinerary. Rabaul is not only good for coral reefs, but the centre of a famous Mask Festival, its World War II history and the Rabaul Volcano. This volcano erupted in 1994 devastating the town. It remains highly active.
Itinerary
Day 1: Arrive Port Moresby
Arrive Port Moresby where you will be met and transferred to your hotel.
Overnight in Port Moresby. You will be staying on a b&b basis, but there are several great food options on site.
Day 2: Port Moresby to New Ireland
You will be transferred from the hotel to Port Moresby airport.
Fly Port Moresby to Kavieng airport in central New Ireland.
You will be met upon arrival and transferred overland and then about ½ hour to a rustic ecolodge hidden within an idyllic forested coral island.
After checking into your room, you will be able to wander amongst the trees, out onto the white sand beach, or take a look through pages of a fish and coral ID book which will wet your appetite for the vast marine diversity you can enjoy in Northern New Ireland. Meals are served under cover but with your feet nestled in fine white sand. Shoes are not required for dinner!
All meals are included here.
Days 3 - 5: Exploring New Ireland
3 full days (or more / less if you wish) out diving or snorkeling the coral reefs, wrecks, channels, barrier reef, fringing reefs and islets of Northern New Ireland. The precise dive plan will be optimised according to tides.
Decompression day in which you can snorkel and pay a visit to a typical South Pacific coastal community and school.
Day 7: New Ireland to Port Moresby
You will be driven back to Kavieng airport.
Fly Kavieng to Port Moresby (or stop at Rabaul for a few days before heading back to Port Moresby).
Overnight in Port Moresby.
Day 8: Depart Port Moresby
You will be transferred to the airport for your flight home, or elsewhere within Papua New Guinea.