The private island of Vilamendhoo is 900m long and 250m long and is located in South Ari Atoll. Refurbished in 2010, this resort island is surrounded by 1.5km of white sandy beach and a beautiful lagoon and is home to an excellent house reef.
Request Information or a Quote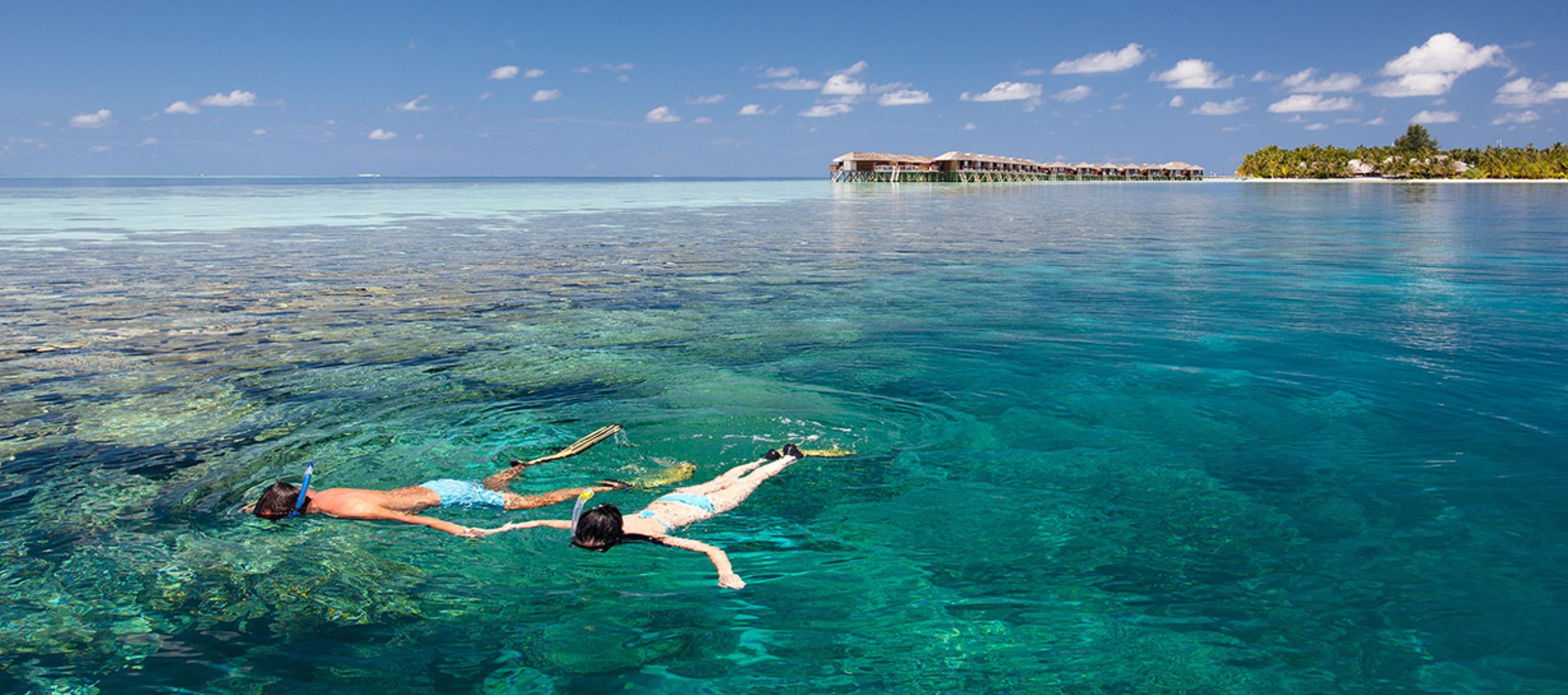 The resort's house reef is excellent for diving and snorkeling with 10 entry points. It is home to a great variety of marine life including sweet lips, trigger fish, butterfly fish and porcupine fish to name but a few. The sheltered lagoon surrounding the resort can interest juvenile sharks and rays, which can grow and learn to survive safely before moving into the reef zone outside. The deeper waters surrounding the atoll sometimes play host to a variety of sharks and turtles, and potentially whale sharks.
Daily boat dives are offered to over 50 local dive sites which can include channel dives, a wreck dive and protected marine areas where highlights can include encounters with pelagics, coral gardens, overhangs and canyons and cleaning stations. Full day snorkeling trips are also offered with the hope of encountering whale sharks, mantas and turtles. Mantas are known to visit the atoll throughout the year, though the peak time to see them is usually June to October around the local cleaning stations.
Day trips are also offered to the first Whale Shark National Park at Maamigili. This Marine Protected Area extends 1km into the sea from the southern end of Ari Atoll. Though not guaranteed, whale sharks can be spotted here year-round.
Reef Health in South Ari Atoll
The house reef is located between two channels on the eastern side of South Ari Atoll, which guarantees a good supply of fresh water which is essential for moderating temperature and avoiding overheating which can lead to bleaching. As with almost everywhere in the Maldives, some of the shallow reefs here were affected by coral bleaching during 2014 - 2016 El Niño event; nevertheless, there are many dive sites nearby which have not been affected much at all. These are mainly the deeper sites and reefs close to, or in the channels which are exposed to more currents. The house reef is showing signs of bleaching but the dive centre has reported signs of recovery with more and more new coral growth recently and no change to the diversity and volume of marine life.
This is what one of our clients who has been to the resort several times: "there has been some bleaching here but still some reasonable coral life. Given the structure of the reef, a drop off going down 30 metres or so even where coral has died the structure is still there so plenty of places for fish to hide so lots of activity … there are a great variety of dive sites here including drift, wreck, coral gardens etc and of course Manta Reef which is a long reef with three cleaning stations where every year we have been there and we have had fantastic encounters … So even if the coral is depleted and lacking colour there is plenty to see and we have never been disappointed. We have always visited between January and into early April"

Resort Details
No of rooms:
184
Board options:
B&B, Half Board, Full Board, All Inclusive or
All Inclusive Plus
Great for:
Diving, Snorkeling, Families
Getting there:
Seaplane (approx. 25 minutes)

The resort features a choice of three restaurants, three bars, fitness centre, tennis and badminton courts, two swimming pools, children's games room, spa, a range of watersports and a dive centre. The watersports centre offers a range of activities including kayaking, catamarans and a range of daily excursions.
Request Information or a Quote
Accommodation Options
| | |
| --- | --- |
| | Garden Rooms are nestled in the natural island gardens just a few steps from the beach, with a king size bed, outdoor seating area, tea and coffee making facilities, ceiling fan and partially open-air bathroom with rainshower ... more |
| | Semi-Detached or Detached Beach Villas are set on the beach just a few metres from the water, with a king size bed, outdoor seating area, tea and coffee making facilities, ceiling fan and partially open-air bathroom with rainshower ... more |
| | The spacious Jacuzzi Beach Villas are located in the adults-only area of the resort with views over the lagoon. Each villa is comfortably equipped with a king size bed, private walled-in outdoor area with seating and Jacuzzi, Nespresso machine ... more |
| | The Jacuzzi Water Villas are located over the lagoon along a private jetty and are exclusively for guests aged 18 and over. Each villa has a private outdoor area with Jacuzzi, a wooden sundeck and stairs leading directly into the water ... more |
All rooms are comfortably equipped with a king-size bed, air-conditioning, mini-bar, personal safe and Cable TV with DVD player.