This exciting trip takes you from Hvítanes peninsula with its large colony of harbour seals, out to and around Vigur Island, where the birdlife is just about as rich as it gets in Iceland. Seeing the teeming life of Ísafjarðardjúp Bay and sometimes even a whale or two, while enjoying the unique, panoramic view of the surrounding mountains and fjords from the sea is an experience like no other. Stopping at Vigur to eat a delicious home-made lunch among the puffins and eider ducks is sure to get you ready for the paddle back to the mainland.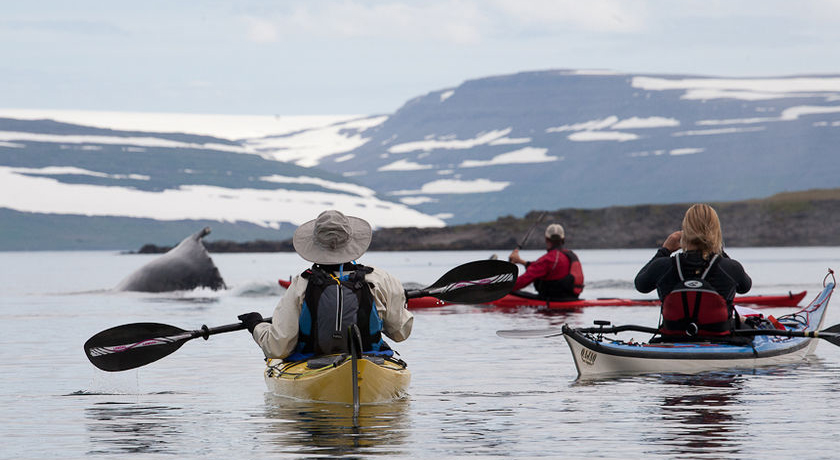 You will meet your guide and fellow kayakers in Ísafjörður where you will gear up before driving to Eyri in Seyðisfjörður Fjord.

After about 40 min. drive you will get the kayaks ready for the first leg of the day, where you paddle to the headland of Folafótur and make a short stop there for lunch. On the way you will keep a lookout for seals and whales that often venture into this fjord.

From Folafótur, you make the last leg to the island of Vigur, where you go ashore to take a little break from kayaking and enjoy the slow paced life on this beautiful island. Thousands of birds call Vigur their home in the summer. Puffins are everywhere around the island and eider ducks, guillemots, razorbills and other marine birds.

The relationship between the farmer and the ducks is very special, since the family has collected the down from their nests for hundreds of years in exchange for a protection from birds of prey.

After the walk on the island, you get back to our kayaks and paddle back. If conditions are good time allowing, you may take a short detour to take a better look at the seals sunbathing on the rocks close to shore.
Dates
Price Includes Transportation, delicious home-made lunch, kayaking gear and professional guiding

Available Mid May - end September every Monday & Saturday at 10:00

Length of Trip 5 hours

Minimum Age 16 years

Minimum Group Size 2 persons

Maximum Group Size 8 persons

We recommend you bring It is recommended to wear wool or fleece bottoms and tops underneath the waterproof kayaking gear that is provided. Please also bring a spare pair of trousers and a jumper, hat, sunscreen, water bottle and camera.

Activity Level Moderate