This High Arctic wilderness dog sledding and snowmobile experience in Spitsbergen takes you about as close to the North Pole as you would ever hope to get in the Winter and early Spring.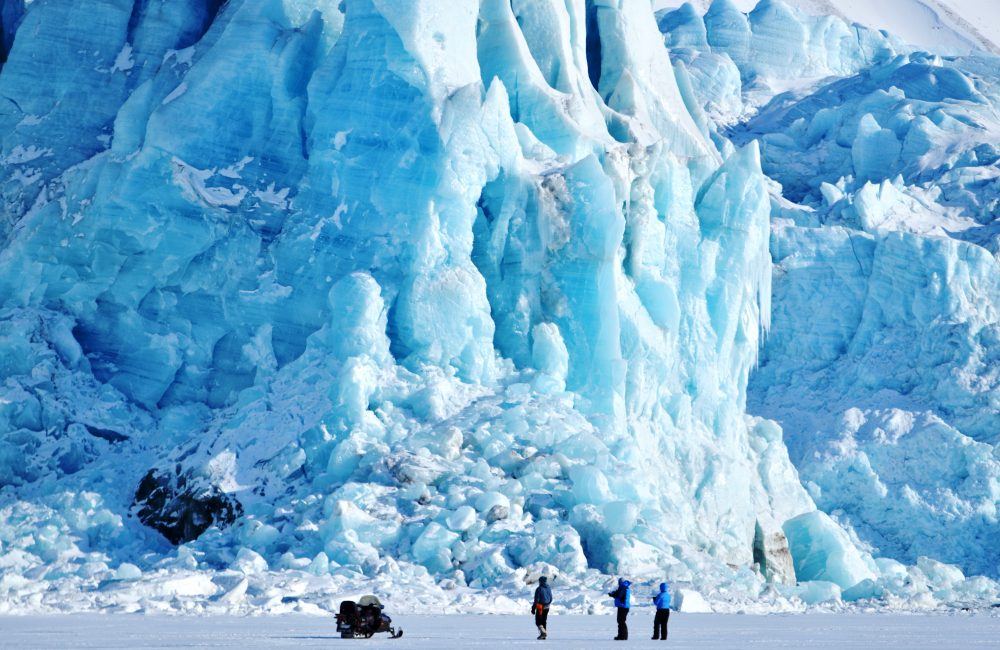 The experience starts in the northernmost city in the world (Longyearbyen) and take you 100 miles north east into spectacular scenery of the Svalbard mountains. Early in March there will be opportunities to experience the Northern Lights (Aurora borealis). Departures run into May and the later you go, the more daylight hours you have to enjoy some stunning Arctic landscapes and be on watch for polar bears, of which some two thousand or more are resident in Spitsbergen.

In Longyearbyen you stay in a hotel designed in the form of an old trappers lodge. You will have a chance to see something of the town and become attuned to a quite different way of life from most peoples' temperate home.

The next day you will kick off your Arctic adventure with an exhilarating full day Dog Sledding journey for a truly authentic introduction to Arctic Spitsbergen. You will be taken to meet your team of working Alaskan huskies and shown how to harness, handle and drive them before you set off. You will be responsible for your own pack of dogs and will soon start to develop confidence in managing your own dog team and by the end of the day you should feel a bond with these incredibly resilient animals. This trip gives you a full day of dog sledging in combination with visit to the ice cave.

After another night spent in Longyearbyen, and following a full safety briefing, your snowmobile adventure will commence.

Your expedition target is a remote wilderness lodge, located deep inside Spitsbergen at the foot of Nordenskiöld glacier. This is one of the northernmost wilderness cabins in the world. To reach the glacier, you will take to your snowmobiles (skidoo) across snow covered lands and frozen seas, travelling beside glaciers and amongst ice covered mountains which dominate the landscape of Spitsbergen.

This modern yet basic wilderness cabin will be your base for two nights, in a scene reminiscent of legendary polar explorers like Captain Scott - who sat through the winter, waiting for their chance to set out for the poles. Here you will be able to absorb your surroundings in a land of complete silence, far from the trappings of modern daily life.

Your third day will be spent exploring your magical surroundings as you take to your snowmobiles again. You will take your lunch in the field but you will retreat back to the cosy confines of your cabin for dinner and to relax in the traditional wood sauna. Polar bears sometimes wander close to the cabin, so you can never wander by yourself across the ice.

This is a true Arctic wilderness experience which provides a complete dislocation from the modern world.
Itinerary
Sample 6 Day Itinerary
Please note that this itinerary can be shortened, lengthened and changed to suit your timings, budget and interests.
Day 1: Arrive Longyearbyen
Please contact us to discuss a potential flight itinerary to suit.

An airport shuttle will be there to meet your flight and take you to your hotel - an Arctic lodge built largely from drift wood in the style of a trappers cabin, where you will spend the next 2 nights.

In the afternoon you are free to explore Longyearbyen.
Day 2: Dog Sledding Day trip (B, L)
After breakfast you meet your guide for a briefing before packing and heading by road to the dog station. Here you will meet your team of huskies and learn how to harness them and manage them as a dog sledding team. On this trip 2 persons share one dog team, and can take turns in driving. You will be supported throughout, but you will be responsible for your own dogs and will need to take part in work tasks along the way.

As soon as you are ready to mush a dog team, you will set out into the Arctic wilderness of Spitsbergen. Arriving to the glacier you will be provided headlamps and helmets. With properly equipment you can take closer look inside the glacier and explore the fantastic formations of ice and rocks shaped by nature's own forces. Based on the weather conditions the lunch can be eaten either inside the cave or outside enjoying the beautiful scenery. Back at the husky kennel all participants will help to take care of their own teams. Before heading back to town you have chance to look around at authentic Trapper's Station with many interesting items from trapping times.
Day 3: Your Snowmobiling Expedition begins (B, L, D)
After breakfast you will meet your guide who will brief you about riding / driving a snowmobile (skidoo). You will then head out across snow and sea ice over the frozen Templefjorden and towards the magnificent Nordenskiöld Glacier. En route you will detour to see some interesting sights along the way. An expedition lunch will be taken en route.

After crossing snowscapes and sea ice, past glaciers and mountains, you will arrive at your base for the next 2 nights - a remote wilderness cabin where you feel like an historic polar explorer. Though basic the cabin provides all of the comfort you need and above all the most magnificent glacial views form the cabin windows that are likely to take your breath away!

Accommodation in wilderness cabin.
Day 4: Pyramiden (B, L, D)
You will get up early and set off again on your snowmobiles through the untouched Arctic wilderness and if conditions allow pay a visit to the Russian town of Pyramiden, which since its abandonment in 1998 everything lies now as it did back then.

Lunch en route.

When you arrive back at the cabin you will get a chance to relax in the traditional wood sauna and enjoy a delicious meal.

Accommodation in wilderness cabin.
Day 5: Snowmobile back to Longyearbyen (B, L, D)
After an early start you will set off for the final time on your snowmobiles and start heading back to civilization.

Lunch will be served en route.

Accommodation in Longyearbyen.
Day 6: Depart Longyearbyen (B)
If you are taking the 14:45 flight you will have plenty of time to relax and see some more of the most northerly town in Europe.
Dates
You will need to arrive into Longyearbyen at least by the Sunday before the start of the trip (Sunday night included in trip price)

Individuals & Groups: If the departure dates above does not suit your itinerary, we can set up a private group for you and your fellow passengers with additional supplement for private guide

Price (based on two people sharing)
Driver: £2,460*
Passenger: £1,910

Single Supplement: £199 (for a single room in Longyearbyen Hotel only)

*If travelling solo, you will automatically be booked as a 'driver'. Drivers must hold a valid drivers' licence.

All drivers must present their driving or motorcycle license to the guide on day 1 in order to drive the snowmobiles.

Price includes
All accommodation and meals as per itinerary
(B=breakfast, L=lunch, D=dinner)
Expert polar guide
Snowmobile instruction, support & fuel
Polar wilderness safety equipment
Rental of snowmobile suit, shoes, gloves, balaclava, goggles
Snowmobile insurance

Price excludes
International flights (but we can arrange these from UK if you wish)
Insurance
Tips
Items of a personal nature
Airport bus transfers (approximately £5 each way)

Minimum group size 4

Minimum age 18 years

Single supplement (for hotel only) £299 (or zero if sharing with someone of the same gender can be arranged)

Equipment needed
International car driving or motorcycle license for those driving a skidoo
Non-essential for the skidoo journey can be left in Longyearbyen.
Rucksack
Breathable wind proof and waterproof jacket and trouser
2 pairs of woolen finger gloves
1 pair of windproof gloves
2 pairs woolen under layers
2 woolen sweaters
Wool or fleece trousers
3 pairs woolen socks
Toiletries
Sunglasses with glare protection and secure bindings
Sunscreen
High UV factor lip balm
Binoculars and camera