Years of exploration onboard ice strengthened motor ships in the east of Greenland has taught us how beautiful this remote area is. Now we are privileged to fly you from nearby Iceland to explore Greenland's icebergs, fjord, glaciers and the World's second largest ice sheet onboard a beautiful three masted sailing ship. The topography of East Greenland with its 2000m high mountains and deep, narrow fjords sits in contrast to the lower undulating landscapes of the west coast where more communities and accessible ports dot the coast.

Our first hand experience of guiding in West Greenland onboard this fine vessel leaves us in no doubt that she is ideally suited to get the very best from the Rugged East Greenland environment. She is spacious with excellent deck space to relax and observe the arctic scenery before you. All meals are served form the dining area and the cosy bar and lounge is a great place to reminisce on the days adventures. All cabins are en suite though the objective will be to get off the ship and explore the natural history of this remote region in the company of experts. Based onboard a beautiful three-masted sailing ship and with the guidance from polar experts, this voyage provides a true Arctic expedition experience, exploring areas otherwise incredibly difficult to access.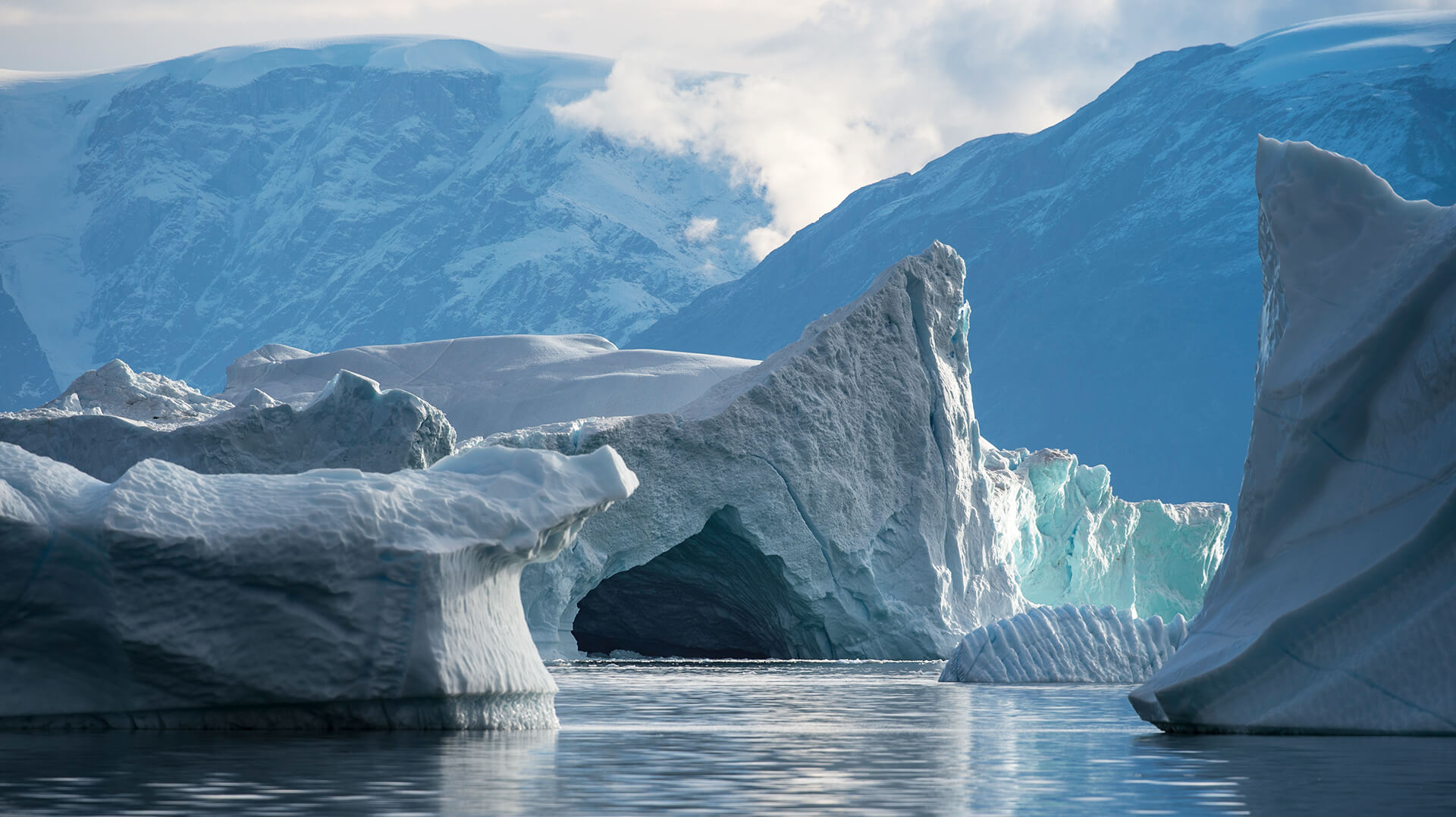 By early September day and nighttime resume and the ship will explore the magnificent Scoresby Sund, the largest and most spectacular fjord in the World. The sheer scale of this inlet is difficult to imagine. All around you, mountains rise 2,000m from the sea and continue beneath the waterline a further 1,000m to the ocean bottom. You will be able to see as many as seven glaciers at once, flanked by crystal clear calm waters dotted with icebergs which dwarf your ship. A wonderful contrast to these glacial landscapes are the warm autumnal colours of the tundra ashore, laden with rich vegetation and Arctic berries. Though early, with luck there may be chances to spot the northern lights. Polar bears and musk oxen can sometimes be seen here and there are often good opportunities for spotting birdlife, particularly near Jameson land where waders and geese gather for the autumn migration.
Itinerary
12 Day Sample Itinerary
Please note that our polar itineraries are written to provide a flavour of each voyage. Travelling under sail power alone will be undertaken where and when conditions allow. The actual route will be decided by the captain and expedition team in accordance with prevailing ice, weather and sea conditions and opportunities to see wildlife and wilderness scenery. We aim to provide the most rewarding experience possible and as a result, our itinerary may need to change at short notice.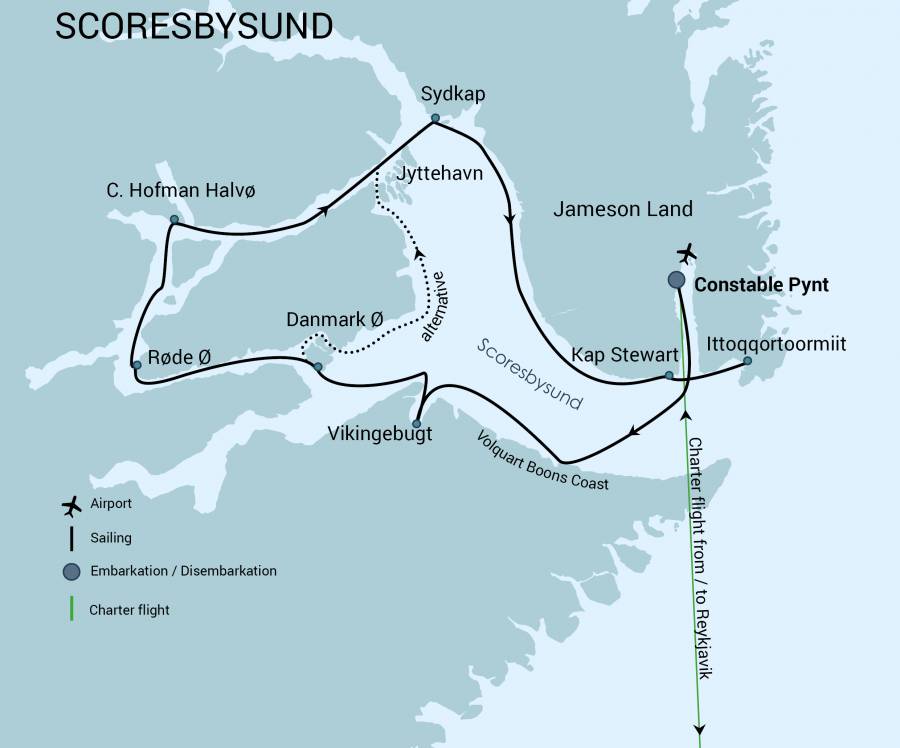 Day 1: Embark at Constable Pynt
You arrive by chartered plane from Reykjavik and land at Constable Pynt, the airfield at the head of Hurry Inlet. This area has a remarkably rich geological history.
Day 2: Sailing the Glaciers
Enjoy the sights as you sail the glaciated Volquart Boons Coast. Here you may set out a Zodiac cruise along one of the shoreline glacier fronts, with your first landing near Måne Glacier or in Vikingebugt.
Day 3: Inuit Neighborhood of Yesteryear
You land on Danmark Island, where you find the remains of an Inuit settlement abandoned around two hundred years ago. The circular stone tent rings indicate the summer houses, while the winter houses can be seen closer to a small cape. The sites are well preserved, with easy identifiable entrances, bear-proof meat caches, and grave sites. During the afternoon you sail along the east side of Milne Land amid a number of scattered icebergs.
Day 4 - 6: Sights of Arctic Autumn
Sailing through the picturesque berg-filled fjords to the west, the goal is to land on Røde Island. Here you see sandstone formations with basalt intrusions set against a backdrop of dazzling blue-white bergs. If ice conditions allow, you could even navigate Røde Fjord, famed for its beauty. You may find a place to land, walking among the autumn vegetation in search of musk oxen and more quintessential Arctic views.
Day 7: Colours of the Cape
The goal is a Zodiac cruise near Røde Ø, one of the world's most cherished iceberg attractions: The austere blue-white of the icebergs sets sharp against the brooding red backdrop of the sediment slopes. The afternoon plan is to sail through the northern parts of Røde Fjord, with the chance to see musk oxen and warm autumnal foliage.
Day 8: Mountain-Fringed Fjord
Today you visit one of the most impressive fjords in the world: Ø Fjord is almost 40 nautical miles long (74 km, 46 miles), with mountains on each side up to 2,000 meters high (6,562 feet), and icebergs that drift over depths of more than 1,000 meters (3,281 feet). Your aim is to find shelter in Jyttehavn, on the Bjørneøer (Bear Islands). You may make a landing in the afternoon.
Day 9: Enormous Bergs, Arctic Hares
In the morning you encounter colossal icebergs, some over 100 meters (328 feet) high and more than a kilometer (.62 mile) long. Most of them are grounded, as the fjord is only about 400 meters (1,312 feet) deep. You then land near Sydkap, with fine views of Hall Bredning and a good shot of seeing Arctic hares.
Day 10: Scoresbysund Settlement
Today you make a tundra landing on Liverpool Land, in Hurry Inlet. The afternoon stop is Ittoqqortoormiit, the largest settlement in Scoresbysund – about five hundred inhabitants. At the post office you can buy stamps for your postcards, or just stroll around to see the sled dogs and drying skins of seals and musk oxen. In the afternoon you sail south, passing the picturesque landscapes of the Blosseville Coast.
Day 11: Hurry Inlet Hikes
In the morning you stop on the south coast of Jameson Land, at a lagoon near Kap Stewart. Here the waders and geese are collecting for their autumn migration, and musk oxen and collared lemmings survive on the meager vegetation. Further inside Hurry Inlet, you may take a walk near the head of the fjord as well as one of the rivers that terminate here. There's also the chance of a climb up the mountain of J.P. Koch Fjeld, near Hareelv. In this remarkable area, scientists found fossils that linked fish and amphibians in the lower Cretaceous period. You spend the night at anchor off Constable Pynt.
Day 12: Final Call at Constable Pynt
Every adventure, no matter how grand, must eventually come to an end. You make your final landing at the airfield on Constable Pynt, flying by chartered plane to Reykjavik and onward – but with memories that will accompany you wherever your next adventure lies.
Dates
Flights:

Please contact us for the price of current flight schedules.

Notes:

Single supplement:

This supplement can be avoided if you are willing to share with someone of the same gender. The single occupancy price is 1.95 times the 'per person sharing cabin' price.

Our prices include:
Voyage as indicated in draft itinerary.
Group airport transfers to & from the vessel (when arriving/departing on charter flight).
Programme of lectures by noted naturalists and leadership by experienced expedition staff.
All shore excursions and zodiac activities.
All miscellaneous services taxes and port charges throughout the programme.
All meals, snacks, coffee and tea.
Comprehensive pre-departure material.

Price excludes:
Airfares.
Passports and visas.
Pre and post land arrangements.
Transfers to and from the vessel (except when arriving/departing on charter flight).
Items of a personal nature (alcohol, laundry etc).
Cancellation and personal insurance.
Arrival and departure tax.
Tips.

Activity Level: Low to Medium