The Mesoamerican Barrier Reef stretches the northern tip of Mexico's Yucatan Peninsula, to Honduras's Bay Islands in the south. Its reefs cover almost 1000km of Caribbean coastline, coral reefs, mangrove forests and seagrass beds. In the centre of this eco-system is Belize, a small English speaking nation with a combined Caribbean and Mayan Heritage, and home of some of Central America's best preserved natural areas both on and off shore.
These dive liveaboard trips provide the perfect mobile base to explore many of Belize's finest atolls including of Lighthouse Reef and the Turneffe Islands. You will be able to explore dramatic underwater landscapes, caves, gentle coral rich inclines and vertigo inducing drop-offs plummeting from the edges of the reef, covered in sponges, sea fans, brain corals and staghorns.
The Mesoamerican Reef limestone formation has created a system of underwater caves and rivers, known to the Maya's as 'Cenotes'. Thousands of years ago one of these formations collapsed, leaving behind one of the Caribbean's most famous spectacles: a 300m wide 'Blue Hole' in a shallow section of Lighthouse Reef. Around 150m deep, this cavern boasts fascinating stalactites dropping from the cathedral like ceiling, a remnant of the time when the caves where terrestrial and seas much lower. Marine explorer Jacques Cousteau described the Blue Hole as one of his favourite dives and placed it in his top 10 dive sites globally. Many divers coming to the Blue Hole find themselves in agreement with this marine pioneer.
Dive sites washed by currents attract larger pelagic species, such as eagle rays, sharks, cruising tarpon and dolphins. These areas often combine sheer coral and sponge encrusted walls with caves and crannies inhabited by green morays, seahorses, lobsters, crabs and other macro life. Night diving is a regular feature of these liveaboard trips, which is often the best way to explore the full detail of life on the reefs.
Come the end of a week's diving on some of the Caribbean Sea's finest, most unique sites, you will head back to colourful and somewhat ramshackle capital, Belize City to soak up the Caribbean atmosphere.
This week long dive liveaboard trip is a great extension to our Isla Mujeres Whale Shark Research Trip, which can be reached by a short flight or private overland transfer crossing the border into Mexico. Please Contact Us to discuss your options.
Itinerary
Sample 8 Day Itinerary
These voyages are available on two modern, comfortable dive liveaboards. All cabins are equipped with climate control, private bathrooms and storage space for luggage. Facilities onboard each ship include a photo centre with digital video and still editing computer and a a spacious dive deck with individual dive lockers, camera table with low-pressure hoses and two hot, fresh water showers.
Liveaboard Option 1
The 110' liveaboard yacht carries 18 guests in one master cabin, and eight twin cabins. The yacht is comfortably equipped with a spacious air-conditioned salon and dining area, sun deck with hot tub, lounge, deck chairs and shaded wet bar and grill.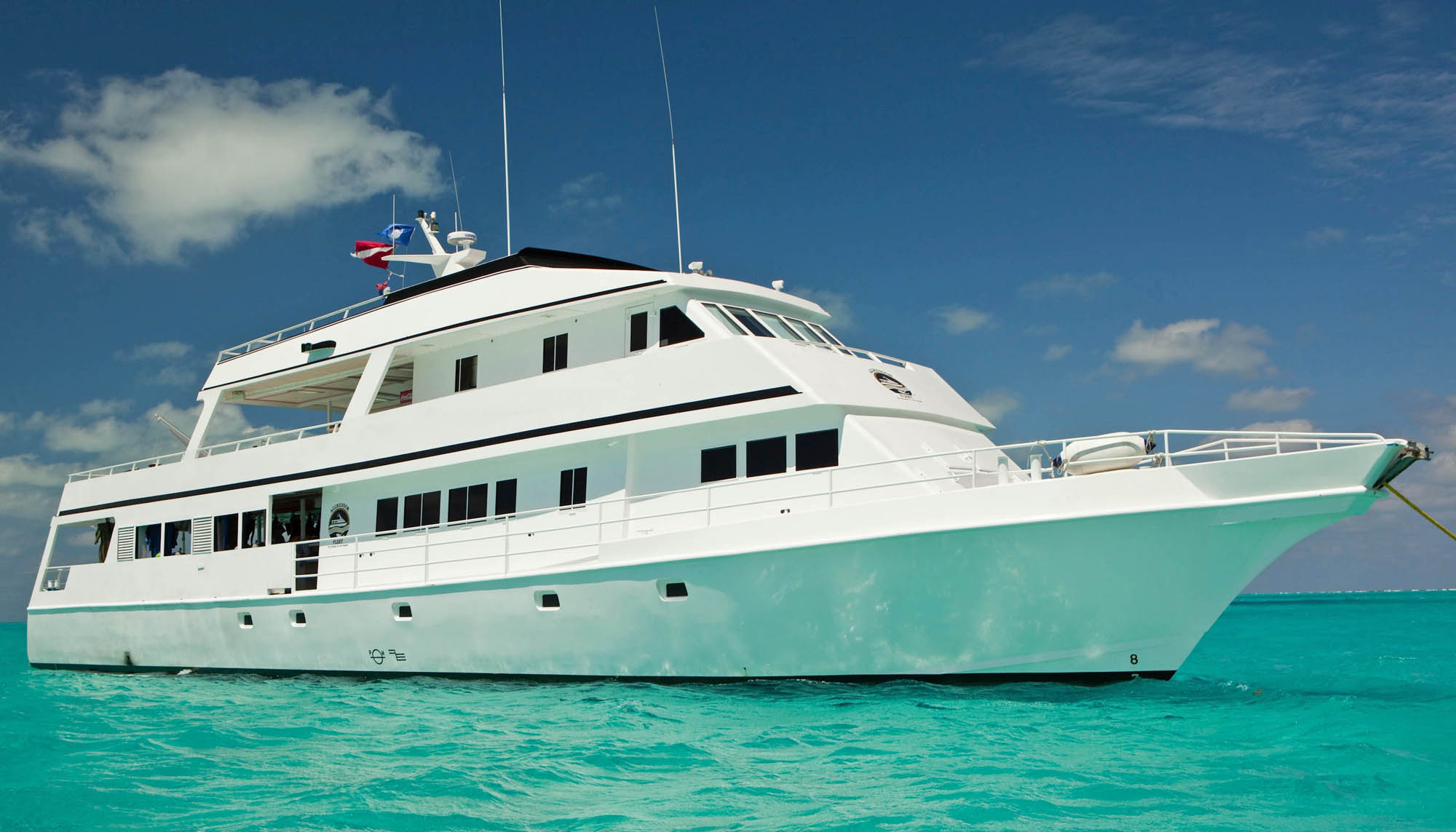 Liveaboard Option 2
The 138' liveaboard yacht carries 20 guests in two master and eight twin cabins. The yacht is comfortably equipped with a spacious air-conditioned salon and dining area, sun deck with lounge and deck chairs and shaded wet bar and grill.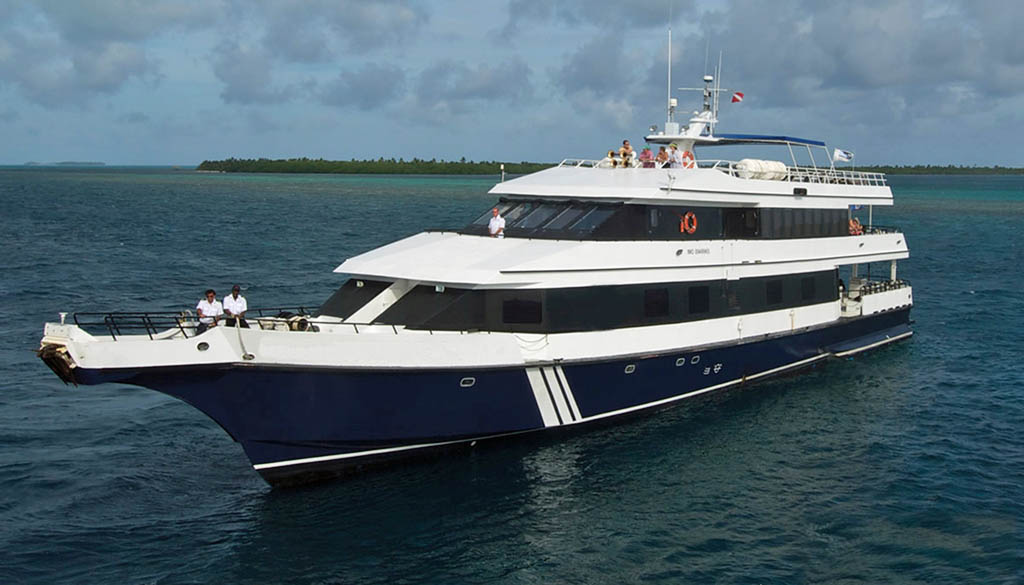 Day 1: Embark in Belize City
You will embark this afternoon from the Fort George District of Belize City.
Days 2 - 6: Exploring the Mesoamerican Barrier Reef, Turneffe Atoll & Lighthouse Reef
You can expect to make up to 5 dives per day including a night dive at various locations around Turneffe Atoll and Lighthouse Reef. Some of the dive sites you may visit include:
Aquarium
A sheer drop-off begins around 30', with an abundance of fish life at the top. About 40'-60' deep along the wall are large barrel sponges, giant deep water sea fans, and a rich collection of deep water gorgonians. Giant elephant ear sponges, yellow tube sponges and azure vase sponges make this a very colorful area. Comical groupings of spotted truck fish are often seen on top of the wall and the very corner of this reef can be a good place to see reef sharks, big black groupers, swirling schools of horse eyed jacks and hawksbill or green sea turtles.
Cathedral
Colourful formations resembling cathedral steeples with sandy cuts in between signify this site, which is home to many black groupers and jacks, as well as three species of angel fish, scorpion fish, several varieties of eels and silver sides. Spanish dancers are sometimes sighted on the night dives.
Blue Hole
The world's largest blue hole was made famous by Jacques Cousteau in the 1970's. The first shelf of this
collapsed underground cavern begins at 110' where stalactites descend from the ceiling. A healthy reef exists around the edge of the blue hole and is home to an abundance of juvenile sea life, as well as schools of parrot fish, squid, flaming scallops and several varieties of angel fish. These shallows are great for diving or snorkeling.
Elk Horn Forest
Located on the east side of Long Caye, the shallows grow large mounds of lettuce leaf coral that projects
towards the depths. Elk horn corals in the shallows are inhabited by numerous species of juvenile fish.
Half Moon Caye Wall
Marked by tunnels and grooves which slope down toward the open water, several different species of grouper and snapper can often be seen in the tunnels. Just off the wall you can hope to spot eagle rays, sharks and turtles.
Silver Caves
The large swim through here is frequently inhabited by thousands of silver sides and the vertical wall starts in only 35' of water. Lots of big black groupers usually collect under the boat along with the ubiquitous school of horse-eyed jacks, yellow tailed snappers and Creole wrasses.
Triple Anchor
Three anchors are very well hidden on a beautiful reef in 45-feet of water. Be sure to look for for big barrel
sponges, eagle rays and a cleaning station.
In addition to diving, there will be opportunities to step onto some of Belize's stunning atolls situated far out from the Belize mainland in the Caribbean Sea.
Day 7: Return to Belize City
You will make up to 2 dives this morning before returning to port in Belize. You will have the afternoon free to relax and explore the city before returning to the ship for a cocktail party and dinner ashore. You will spend tonight onboard in the marina.
Day 8: Disembark in Belize City
You will disembark this morning for your onward travel arrangements, or why not extend your time exploring and discovering the rich wildlife and cultural heritage of Belize or the Yucatan Peninsula, just over the border into Mexico. Please Contact Us to discuss your options.
Dates
Price includes:
- Accommodation onboard, 3 meals per day* and snacks
- All diving and shore landings
- Tanks, weight belts and weights
- Soft drinks, water, tea, coffee, local beer and wines
- Standard scheduled return transfers from airport to marina
Not included:
- Dinner on the last evening of the voyage*
- US$130 / $185pp port fee**
- Use of NITROX (US$100 / $150pp)**
- Fuel surcharge where applicable (currently US$150 / US$215pp)**
- Equipment rental and diving courses
- Spirits and cocktails from the bar
- Gratuities
- International flights
- Accommodation pre or post liveaboard (please contact us for assistance)
- Insurance
*Dinner on the last evening of the voyage is the only meal that is not included. This evening is spent at the marina where the crew will recommend a local restaurant for you.
**These fees may be subject to change without notice