Indonesia is a nation of islands, rich in seafaring traditions and formed largely of volcanoes in the most tectonically active part of the great Ring of Fire which encircles the Pacific Ocean.
To explore Indonesia in depth, you will at some stage need to take to its seas - and how better to do so than in a luxuriously furnished wooden sailing ship called a pinisi . Whilst these hand-crafted wooden ships look as though they are from a bygone era, this is not the case because they are still very much a part of the modern day merchant shipping fleet, carrying freight throughout Indonesia's Tropical waters. Whilst on this voyage from Bali to Komodo (or vice versa), you will visit a thriving village where these ships are being built.
You will also visit a myriad of islands, some tiny green surrounded by white sand and coral reef; others whose peaks reach almost 2,000 metres, visibly created by volcanoes which have exploded out of the tropical waters you will sail across. Some of these islands have an incredibly violent past, including Mount Tambora whose eruption had about four times the energy of Krakatoa. Its explosion in 1815 gave rise to the 'year without a summer' when ash filled skies as far away as North America and Europe.
Happily calm now, coral reefs flourish in these waters. In fact, here within the Coral Triangle, they are some of the most diverse and colourful reefs on our planet. This voyage provides daily opportunities to snorkel in stunning waters where we can find hundreds of species of Acropora and other hard corals; pink, white and red soft corals; and thousands of tropical fishes.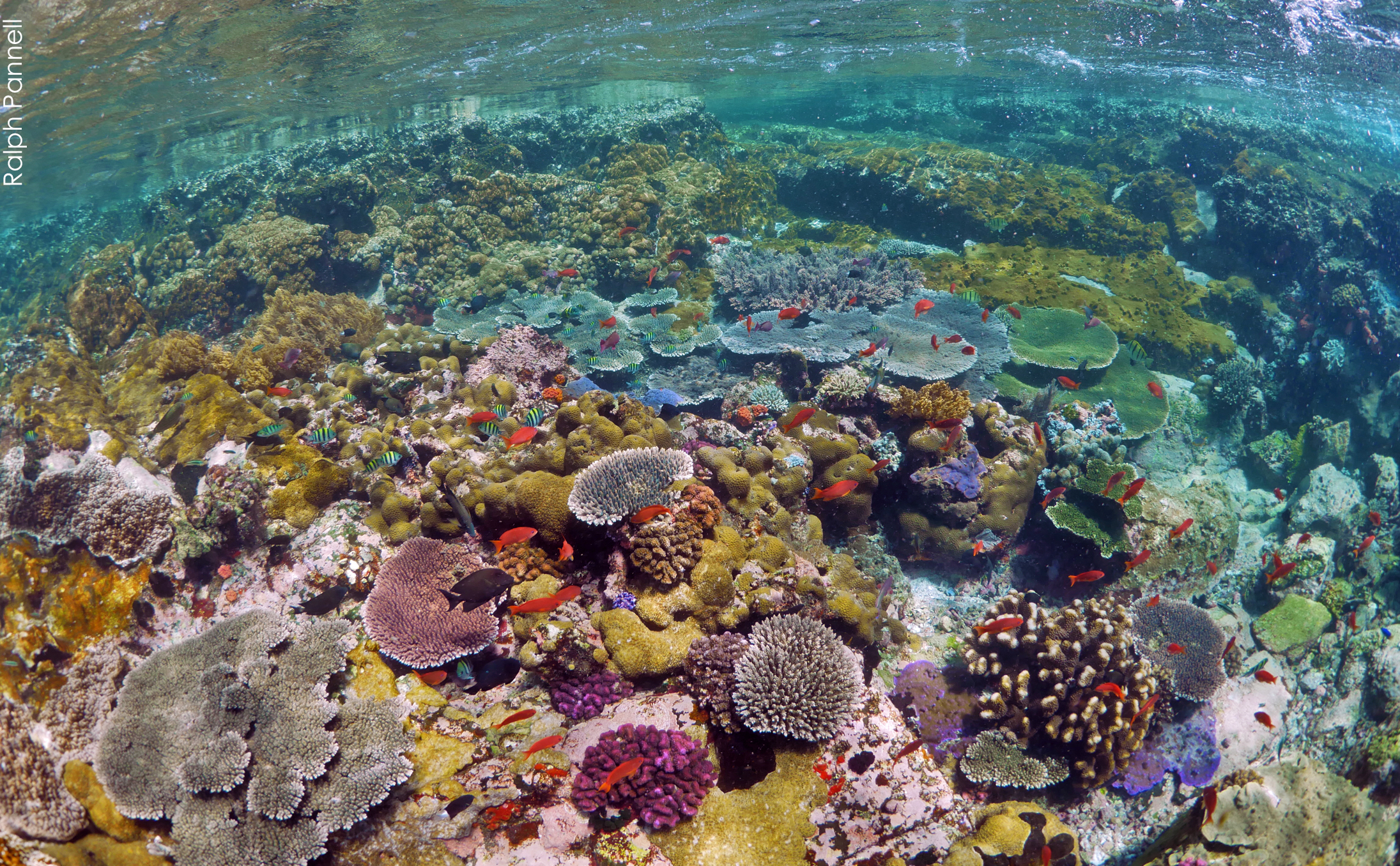 The voyage will visit a Manta Ray cleaning station, so you might be lucky enough to snorkel with these majestic ocean giants. The voyage will also visit ikan bili (very small fish) fishermen on the island of Sumbawa. Their low-hanging nets sometimes attract the attentions of whale sharks, with whom the fishermen are happy to share some of their catch. Snorkeling with manta rays and whale sharks are fantastic experiences; and whilst not guaranteed on these voyages, are a significant cherry on the top if you do.
If you prefer to keep your head above water, you can make use of stand up paddles boards and kayaks onboard; or enjoy the views from on deck.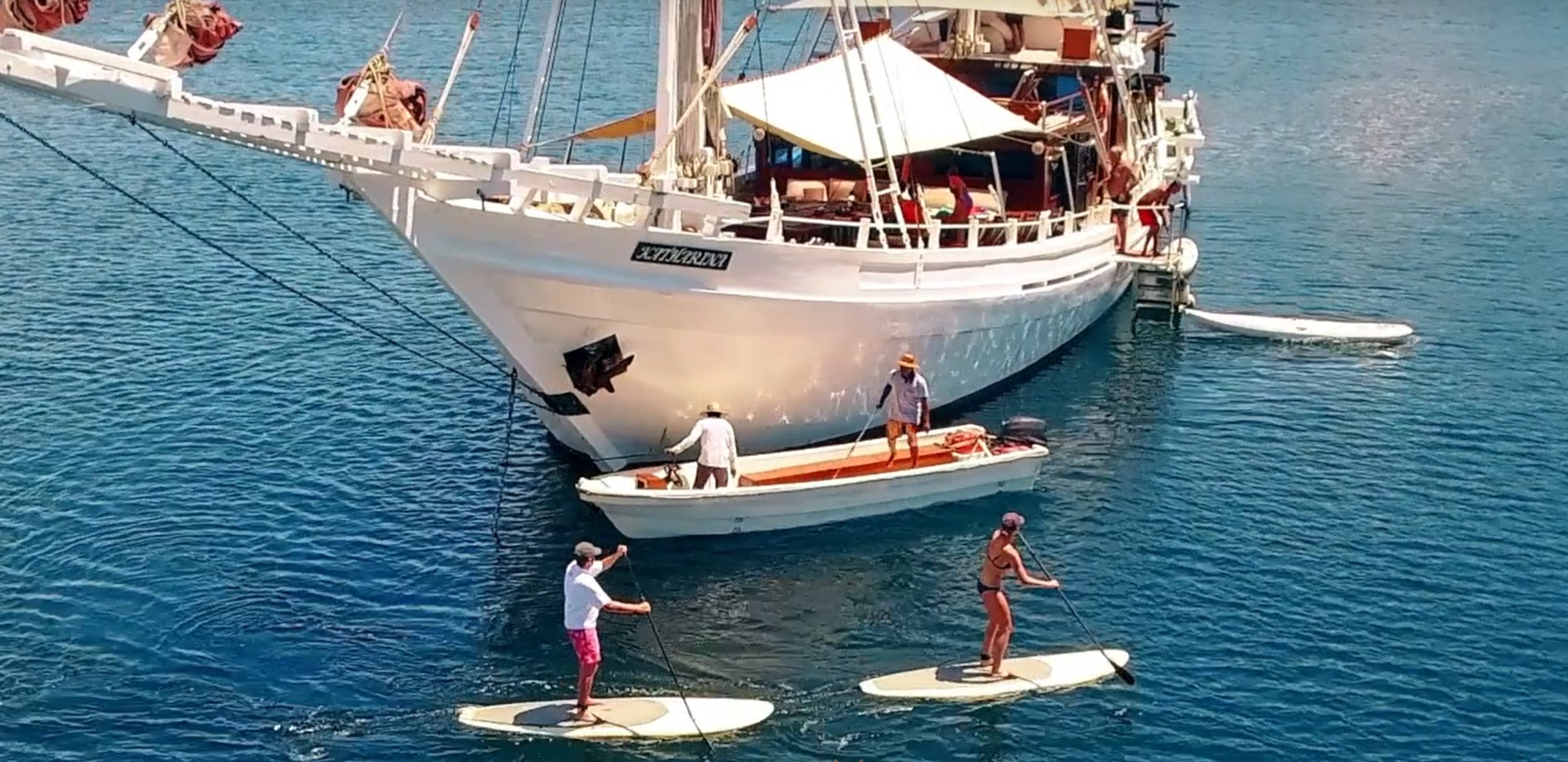 There will be plenty of opportunities to step onto the shore, with excursions planned to waterfalls, isolated beaches, forest fringed lagoons; and at Komodo and Rinca islands, to see Indonesia's living dinosaur: the Komodo Dragon. They share their habitat with their prey, which comes in the form of wild buffalo, monkeys and Sunda sambar deer.
In between islands, you will see Bajau, or Sea Gypsy villages built on stilts - some in isolation, but also the second largest of these at Bungin Island.
Evenings are special, often with colourful sunsets, whilst at Pulau Satonda we can hope to see thousands of flying fox bats commuting to the larger island of Pulau Sumbawa.
For further details, please click on the Itinerary tab.
Itinerary
Sample 8 Day Itinerary
These voyages are available on two wooden pinisi ships, built using hand tools and traditional methods by the highly skilled seafaring peoples of Borneo and Sulawesi. Both are outfitted with up to date safety equipment, tenders, kayaks, stand-up paddleboards and snorkelling gear. Cabins are located below decks and are well equipped with air-conditioning, storage space and private bathrooms.
Motor Yacht Option A
Built in 1997 and re-fitted in 2015, this 42 metre ship carries 24 guests in 12 comfortable cabins all located on the lower deck. The main and top decks are comfortably furnished with covered and open seating areas, large salon and sundeck.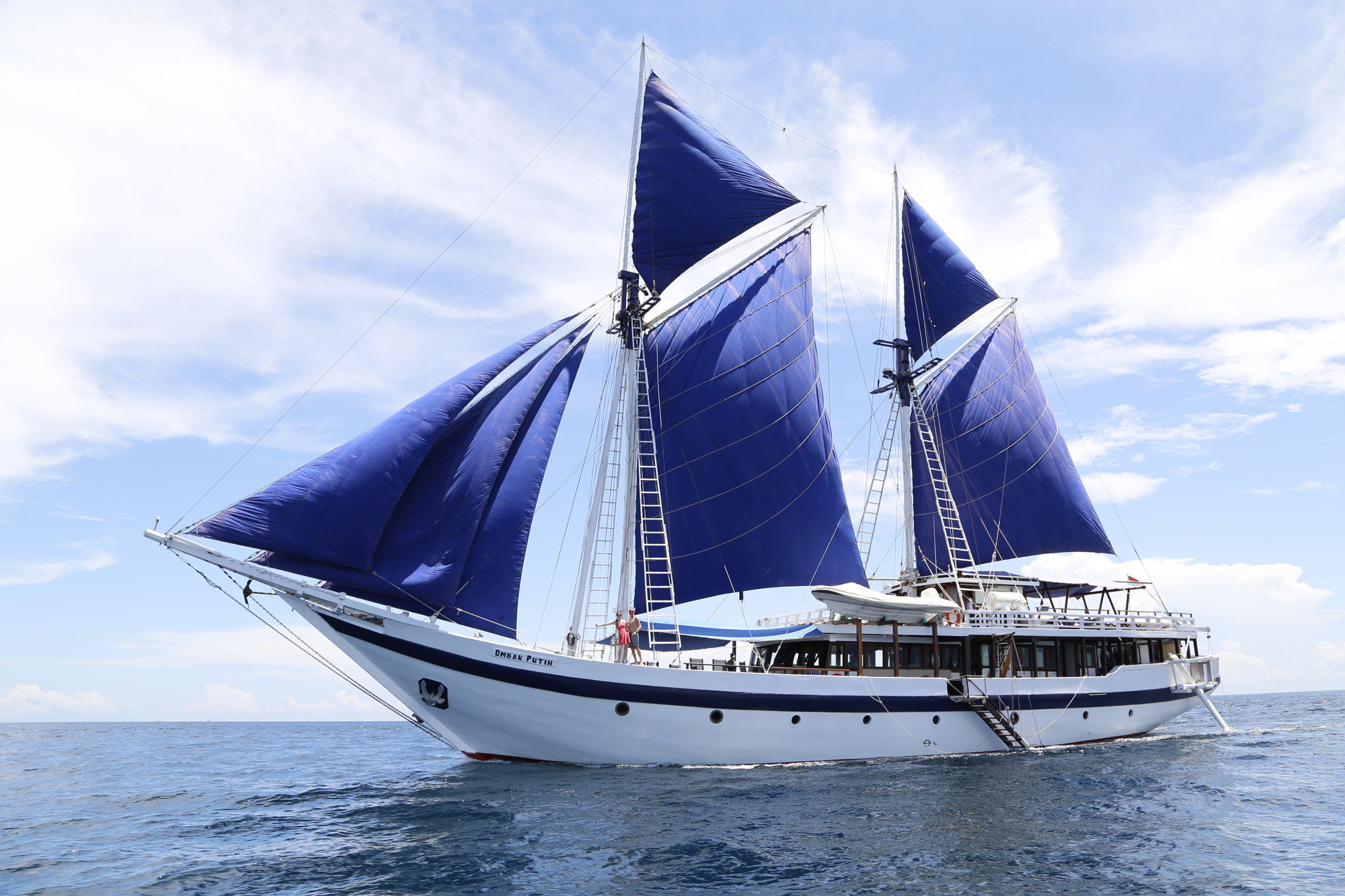 Motor Yacht Option B
Built in 1995 and re-fitted in 2014, this 38 metre ship carries just 12 guests in 6 cabins. Onboard you will find a salon, bar, two sun decks and an outdoor dining area.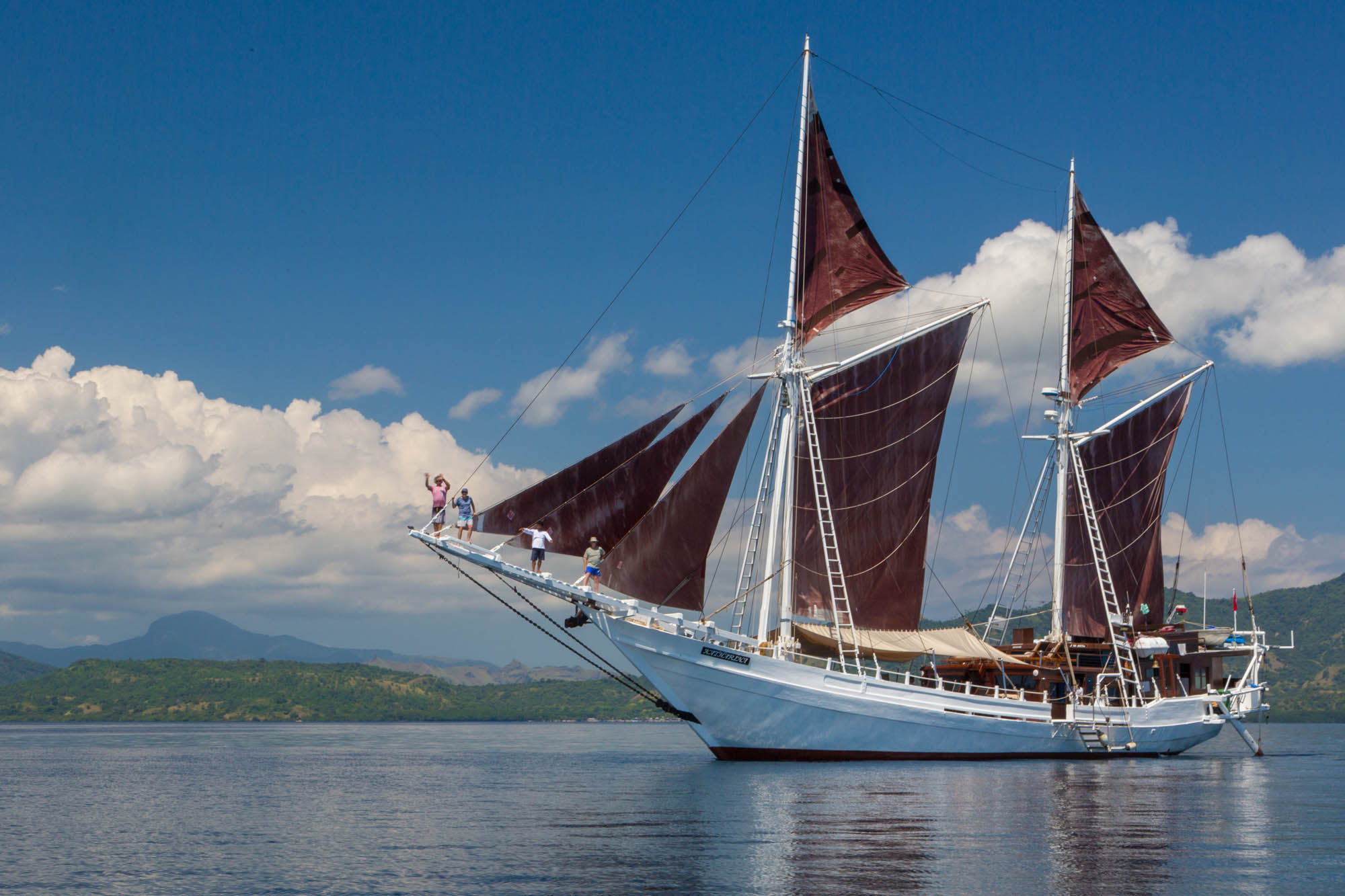 This morning we will transfer you from your hotel or the airport and take you to meet your voyage leader and fellow guests in South Bali. After a light breakfast you will be driven to a place called Amed on the east coast, in the Balinese regency of Karangasem - an exotic royal kingdom of verdant mountains, emerald rice terraces, mystical water palaces and pretty beaches.
You can expect to make a stop en route at Tenganan Village, a community that still holds to the ancient 'Bali Aga' culture with its original traditions, ceremonies, and unique village layout and architecture. You will also visit the royal water palace of Tirta Gangga, a fabled maze of cold water pools and basins, spouts, tiered pagoda fountains, stone carvings and lush gardens. From here you will take a scenic drive through sculptured rice terraces and fertile plains extending to the coast.
Guarded by the mighty volcano, Gunung Agung, you will arrive at your beachside hotel where you will have the rest of the day to relax, unwind by the pool or on the beach; or take a gentle walk in the surrounding villages and hillsides. An introductory snorkelling lesson will be available for beginners or those wishes to brush up on their skills. This evening you will enjoy a Balinese-style welcome dinner and drinks to get to know your fellow guests.
After a leisurely breakfast (and a morning swim if you wish), you will be transported the short distance to your vessel, which will be waiting at anchor in the bay. After boarding and being shown to your cabin, you will head to a local reef where you can enjoy snorkelling.
Once all guests are back onboard, you will head east in the direction of Sumbawa across the Lombok Strait. This deep trench of water between Bali and Lombok marks part of a very important ecological boundary called the Wallace Line, which was first described by Sir Alfred Russell Wallace, the renowned Victorian naturalist. Wallace noticed that the flora and fauna of the islands to the west are home to Asiatic animal and plant species, whereas the islands to the east of the invisible line have a greater similarity to species found in Australia.
Your first stop will be a local fisheries and coral conservation project where you will learn about fish reproduction and how coral reefs are vital to their survival.
You will enjoy lunch as you head east, before an opportunity to snorkel on some lovely reefs east of the Wallace Line; and time to relax into your cabin and the rest of the ship. Weather permitting, you can hope for some great sunset views this evening.
You will wake up off the coast of a small Island under the gaze of Lombok's towering Mt Rinjani: the largest volcanic peak in Indonesia. From this vantage point, you can spend the morning swimming, snorkelling and exploring.
Today, you will also visit a village of the famous Bajao 'Sea Gypsies' of Southeast Asia, and see how they live their lives so close to, on and in the water.
Day 4: Sumbawa, Moyo and Satonda Islands
You will wake up off the north coast of Sumbawa, where you will be able to see fishermen who catch small fish called ikan bilis , on nets hung directly beneath the floating platforms which are their homes. Whale sharks are often attracted to their catch, which the fishermen share with these, the largest of all fish. With any luck, you will be able to snorkel amongst them.
This morning you will moor off Labuan Aji Village on the island of Moyo, where you will visit the village and then walk to Diwu Mba'i waterfall, where you can enjoy swimming in the deep, clear river pool beneath it.
Your next stop will be Satonda, a strange and mystical volcanic island with a sunken crater lake in its centre. The lake filled with saltwater when the nearby Mt Tambora erupted in 1815, causing a tsunami that flowed into the crater. The eruption was the biggest volcanic explosion in the collective memory of mankind; it had roughly four times the energy of the 1883 eruption of Krakatoa, and gave rise to the 'year without a summer' because of the effect on North American and European weather. Local people believe Satonda to be magical, and with this in mind, you will walk to the lip of the caldera to view the mysterious lake, alongside which are the 'wishing trees' where visitors to the island tie a small stone to a tree and make a wish. If your wish comes true, you are bound to return to the island to offer thanks.
The seas surrounding the island are rich with soft and hard corals and colourful tropical fish, so you will spend the afternoon swimming and snorkeling here. This evening you can hope to witness the thousands of flying foxes that commute at dusk from the island to feed on the mainland, returning before first light the next day. Immediately after sunset, you will leave for an overnight passage on a course due east.
You will wake up off the coast of Pulau Sangean, an active volcano that towers 1,800 metres above sea level. After breakfast, you will plan to go ashore to a small hamlet, which, because of the active nature of the volcano, is only inhabited for short periods during the year when the local people come to tend their crops and small herds of buffaloes, which often can be seen swimming in the sea.
The local community of boatbuilders on the mainland has started construction of a brand new and very large pinisi boat on the beach at Sangean village. You can hope to have the opportunity to see the process that built both your vessel and her sister ship in action; truly an impressive sight and a marvel of wooden engineering.
You will then enjoy snorkelling on both a nearby reef and a location on the north of the island where volcanic gasses escape in the form of bubbles from the sea floor among the corals. You will then proceed to the island of Banta and its pure white sand beach, for an afternoon of swimming, snorkelling and hill climbing.
Later that evening, you will proceed on to Komodo dragon country.
Day 6: Komodo National Park
You will wake up at the most northerly part of the Komodo Natyional Park where you can enjoy a morning of water-based activity which can include kayaking, SUP and drift snorkeling over some fantastic coral reefs.
Today, you will also visit a manta ray cleaning station where often, though not always, manta rays will come to allow small fish to eat the parasites from their skin: a truly symbiotic arrangement.
In the late afternoon, you will be taken to an isolated sand bar where you can snorkel, swim and relax with cool drinks on the sand.
Day 7: Komodo National Park
This morning you will visit the ranger station of Loh Buaya on Rinca Island where you will enjoy a ranger-led nature trek in search of Komodo dragons. Rinca is also well known for its diverse wildlife, so you may also spot monkeys, wild buffaloes and deer along with spectacular views from the hills.
This afternoon you will plan to go snorkelling on the beautiful Siaba Island, before perhaps visiting the lovely Kelor Island. You will also have the option of visiting the adjacent island of Kukusan where you can meet a settlement of 'sea-gypsies,' the Bajao people who build their homes on stilts over the sea.
You will spend your final evening of the trip on an uninhabited island, celebrating with a barbeque, bonfire and dancing!
Early risers will have time for one last swim and snorkel this morning before cruising into Labuan Bajo harbour.
After breakfast you will visit a local village to enjoy some local hospitality, coffee, betel nut and some highly potent local 'arak' (not for the faint hearted), before being treated to a selection of traditional dances performed by both men and women.
After a morning spent in the village, you will return to the boat for lunch before being transferred to the airport for your flight back to Bali.
Dates
Our price includes:
- Accommodation in a shared twin cabin
- All meals beginning with lunch on Day 2
- Soft drinks, tea, coffee and snacks
- Two items of laundry per day
- Towels and linens
- Complimentary sarong, cotton backpack and re-usable water bottle
- Basic first aid kit
- Toiletries inc sunscreen, soap and shampoo
- Complimentary beer, wine and selected cocktails with beach BBQ
- Port and park fees
- Use of facilities onboard inc snorkelling gear, paddle boards and kayaks
- Transfers to and from the boat as per the itinerary
Not included:
- Domestic flights
- Other alcoholic drinks
- Gratuities
- Items of a personal nature (e.g. souvenirs)
- Fuel surcharge if applicable