These Amazon River Cruises provide you with an ever-changing vista of riverside and island rainforest onboard one of two comfortable air-conditioned river cruise boats. From the Amazon frontier town of Coca, these journeys will take you all the way to Ecuador's border with Peru.
In addition to great food and an onboard environment largely free of mosquitoes and other insects, we will take you off the boat morning, afternoon and some evenings to explore remote parts of the Amazon which are rich in wildlife. Wildlife you can hope to see includes pink river dolphins, red howler monkeys, golden-backed tamarins, woolly monkeys and some of this area's incredible 570 and more species of bird. If you stay onboard, or at one of our partner lodges for a further 3 nights, you can enjoy some of our best bird sightings at one or two clay licks, where hundreds of parakeets and parrots often come to augment their sodium intake in an otherwise very low salt diet.
Pink River Dolphins are a marine mammal we are always keen to show you on these Amazon cruises if we can. The best locations for these are 'black water' tributaries to the Rio Napo, close to the Peruvian border. These may include either the Rio Yasuni or Rio Aguarico - the choice will be dependent upon river levels at the time. These are great rivers to explore for other wildlife too, amongst the gallery terra firme forest of the Yasuni, or Amazon flooded forest in tributaries which feed into the Rio Aguarico. These river explorations will be taken in a covered motor launch.
You will also have the opportunity to explore the Amazon forest on foot by day and by night, seeking creatures which are more easily found by torchlight. Wildlife will be a focus at times, but also taking the opportunity to visit one or two local Kichwa communities. Here you will be invited in as a guest to chat about life in this part of the Amazon.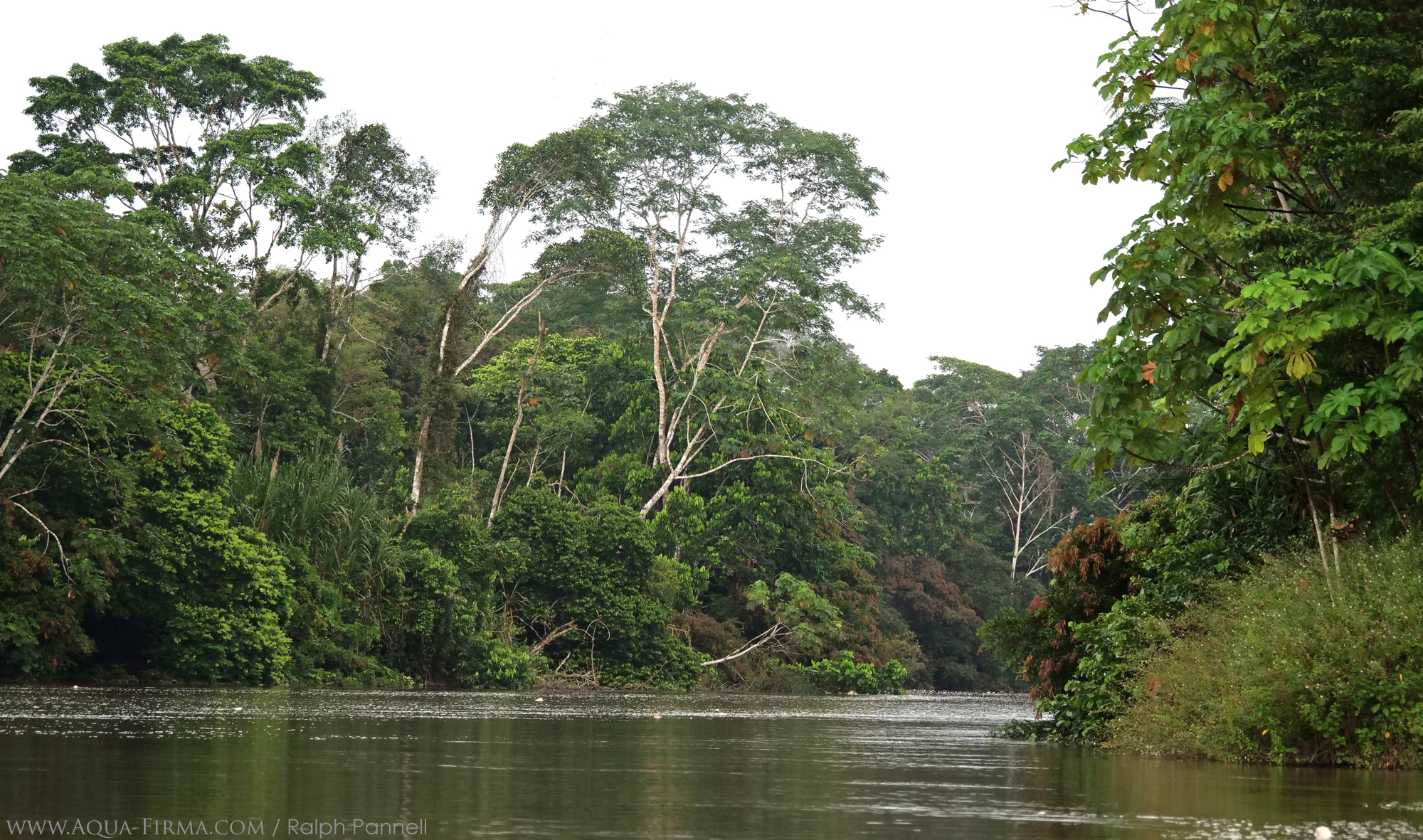 For a broader birds' eye view, you will have the opportunity to scale a canopy tower which takes you above an enormous kapok tree, overlooking the Yasuni National Park - Ecuador's largest protected wilderness area. It is surprising how the views here can change so dramatically: on a clear sunny day you will see some glorious shades in the vegetation and experience the full impact of birds such as the Blue & Gold Macaw, the Red-lored Amazon Parakeet, or Many-banded Aracaris which are a type of toucan often seen from here. After a splash of rain, mist will rise eerily through the trees, carrying water vapour back into the air to keep the cycle of water in motion.
Amazon river cruises are a very comfortable alternative, or compliment, to a lodge-based visit to the Amazon.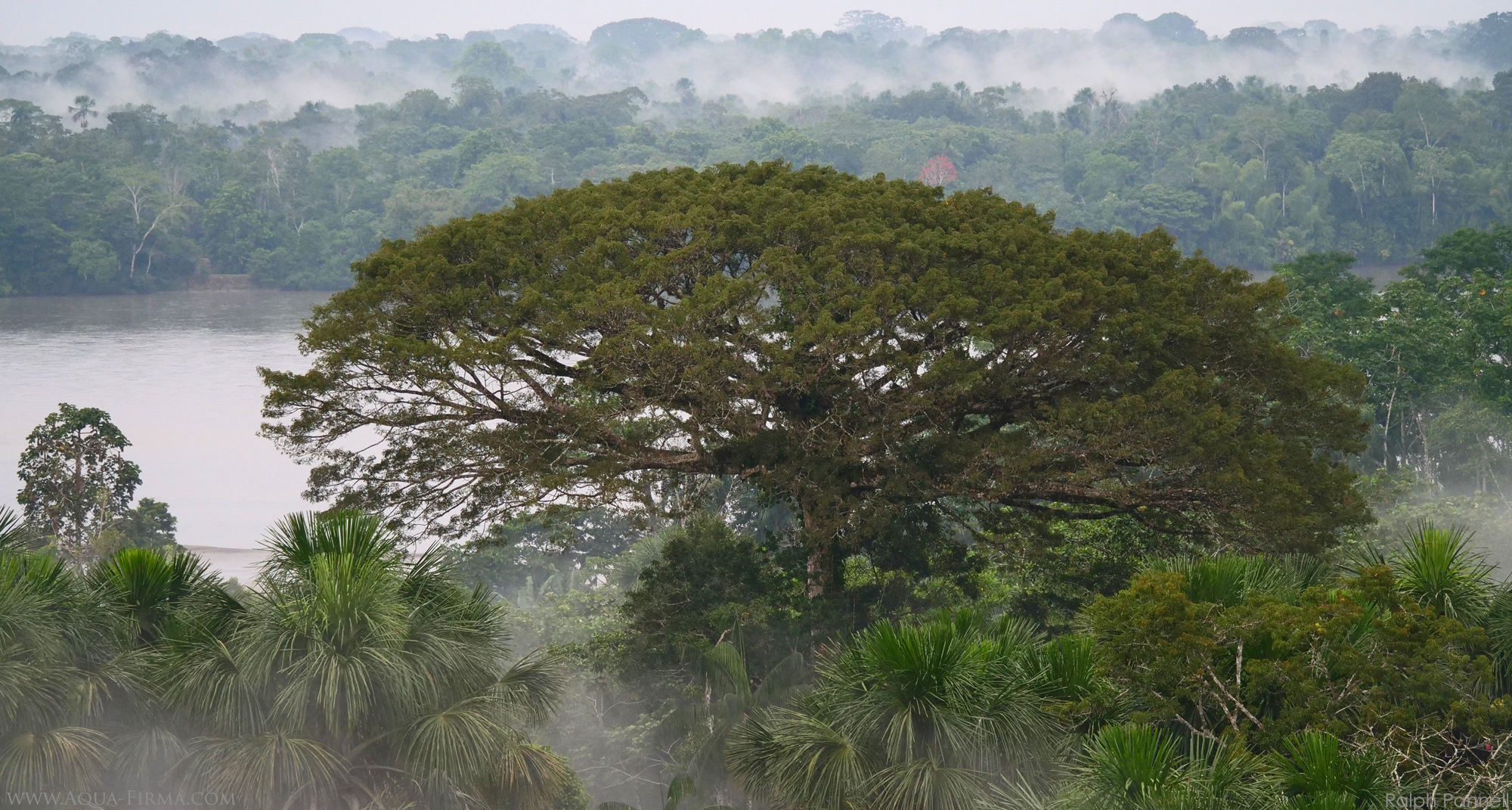 Itinerary
5 days / 4 nights - the main Amazon River Cruise towards the Peruvian Border
This journey begins and ends at Coca airport in Amazonian Ecuador. We can get you to and from this airport either by flying you there from Quito - or connect with a stay at a rainforest lodge - or take you one or both ways overland and by river.
We will meet you at Coca airport and then take you to an air-conditioned lounge where you can adjust your baggage as needed, have some refreshments and receive an initial briefing from one of your onboard guides.
You will then board a motorised longboat which will take you down the Rio Napo to the river boat. This will take about 2 to 2 ½ hours. As you board, you will be shown to your cabin and then be provided with a briefing onboard.
After dinner, you will step off the boat and along rainforest trails under torchlight, in search of night time flora and fauna.
The boat will head east towards the Peruvian border today, navigating first amongst some lovely rainforest river islands in the Rio Napo. We can sometimes see Pink River Dolphins amongst these islands, so keep a good look out as some stunning riverside rainforest views pass you by.
You will leave the boat in a motorised longboat in search of wildlife and marine life. Again, Pink River Dolphins are a possibility, as well as river turtles, monkeys and Hoatzins and many other species of bird. You will also have a chance to explore on foot. It is most likely that the forests and minor tributaries chosen today will be within the Yasuni National Park - Ecuador's largest protected area. However, if conditions are suitable, you may instead be taken to flooded forest areas up the Rio Aguarico, right on the Peruvian border. Both areas contain highly diverse Amazon forest.
You boat will be making its way west today. Once again, you can enjoy some fantastic and ever-changing views of riverside Amazon forest. You will also step off the boat to visit Kichwa indigenous settlements where you can learn more about the way of life in this part of the Amazon.
If you would like to stay in a rustic lodge tonight in place of the boat, then tonight will be an opportunity to do this (additional fee US$450 pp). Overall, we recommend that you stay onboard and save this money for a separate lodge stay in the Amazon or Choco-Andean cloud forest.
After breakfast with a view onboard again, you will be able to step off and join a guide along trails in search of wildlife, birdlife and Amazon flora.
Lunch onboard, after which you will be taken to walk along raised walkways through swamp forest to a enormous kapok tree rising high above the surrounded canopy. Here you can scale an observation tower which provides spectacular views over the Yasuni National Park, Rio Napo and forests beyond its northern banks.
In the evening, you have the opportunity to take to a motor canoe in search of black caimans.
After breakfast onboard, you will transfer to a motorised canoe which will take you back upriver to Coca. When you land, you will be transferred by vehicle to the airport.
4 days / 3 nights Optional extension, or short cruise to Ecuador's Middle Amazon
Dinner onboard.
Night walk.
Today the yacht will position itself close to the delta of a tributary which empties into the Rio Napo from forests north of the river. You will explore the delta and upriver as far as a large lagoon where you can swim and fish for piranha safely in the same waters! Guides will take you walking in forest where 9 species of monkey reside, more than 500 species of bird and 100 species of fish.
After lunch, Amazon kayaking is an option.
This morning your guides will take you by motor canoe to observe a clay lick. There can be anything from a few to a hundred parrots and parakeets, here to top up on salt and minerals which help neutralise fruit acids in their stomachs.
In the afternoon you will visit a local community cultural centre and scale a high canopy tower for commanding views over the Yasuni National Park.
Breakfast onboard where you will stay and then pick up the 5 days trip … or we will transfer you to Coca by motorised canoe. When you land, you will be transferred by vehicle to the airport.
Dates
Price includes
Private en-suite cabin with balcony
All meals
Guiding
All entry fees
Transportation starting and ending Coca airport
Not included
Flights to the Amazon (£125 each way) - we can also get you there overland / rafting and in combination with lodge-based stays
Local community charge of US$70 for 4 & 5 day cruises / US$80 for 8 days
Arrangements in Quito
Tips
Manatee Cabin Photo Gallery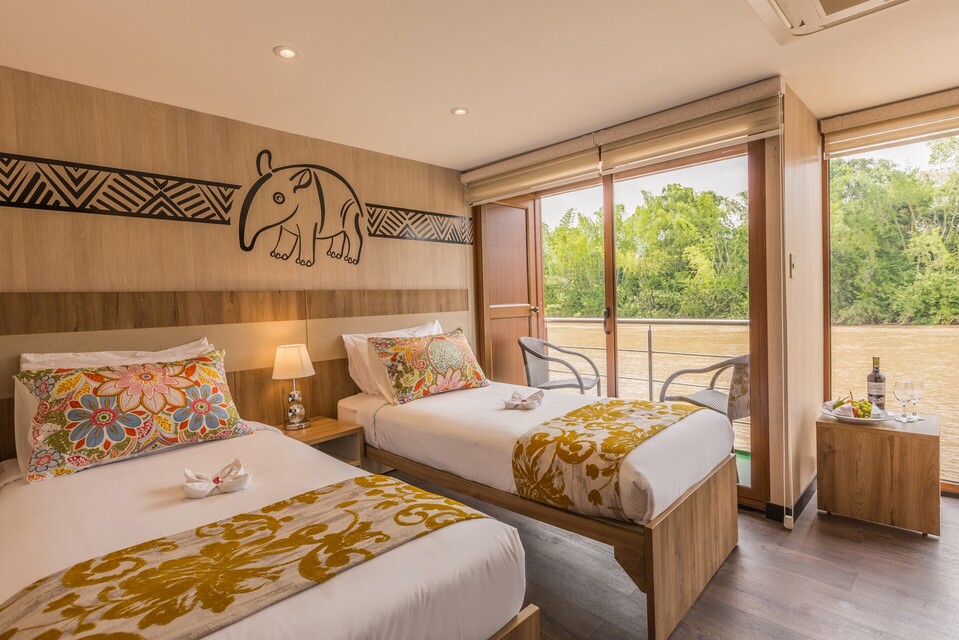 Standard Twin Cabin
Standard cabins are all river facing (19m² / 204ft²) with ceiling-to-floor windows, balcony and air conditioning system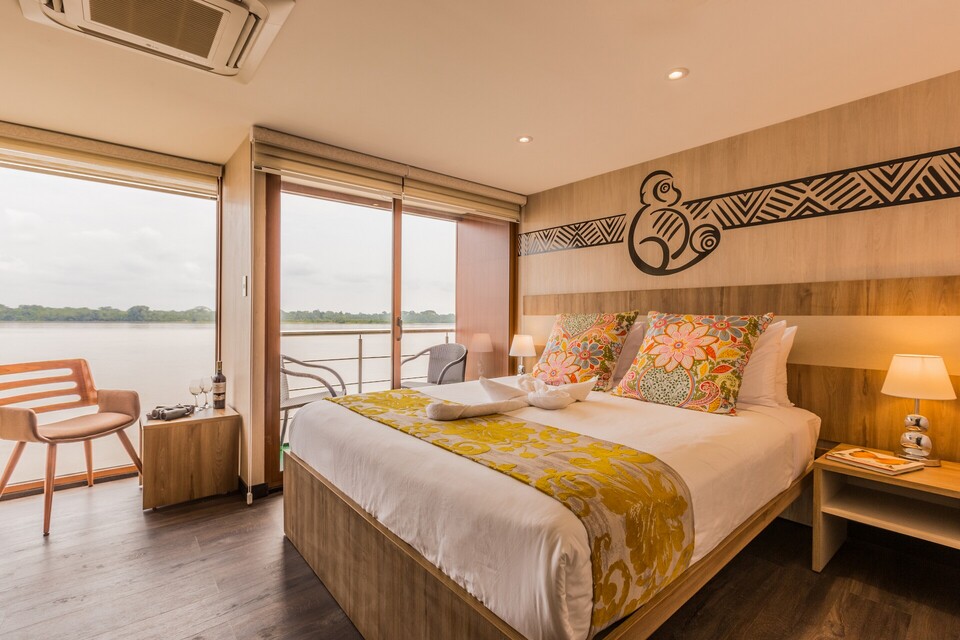 Standard double cabin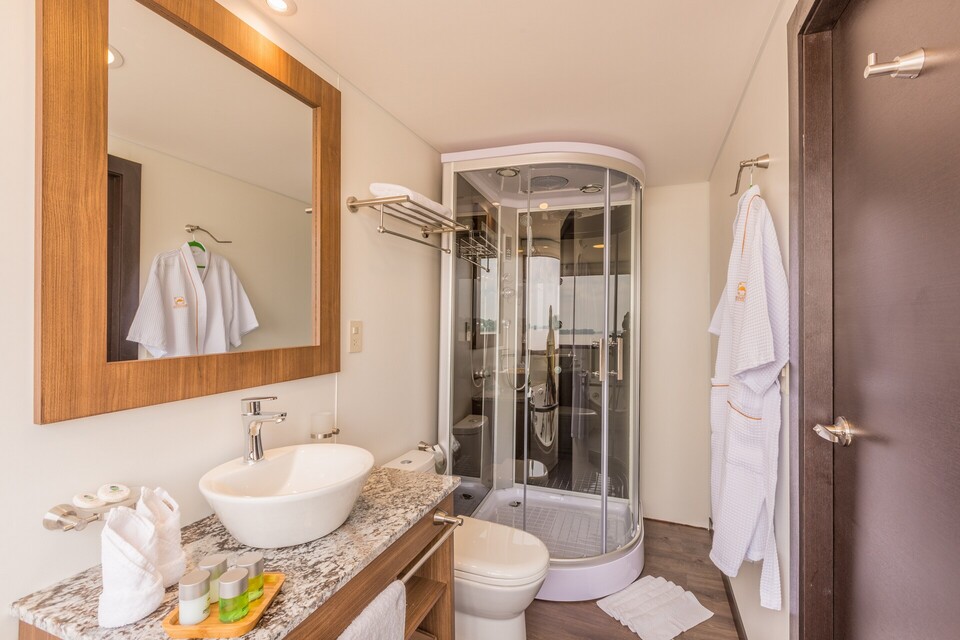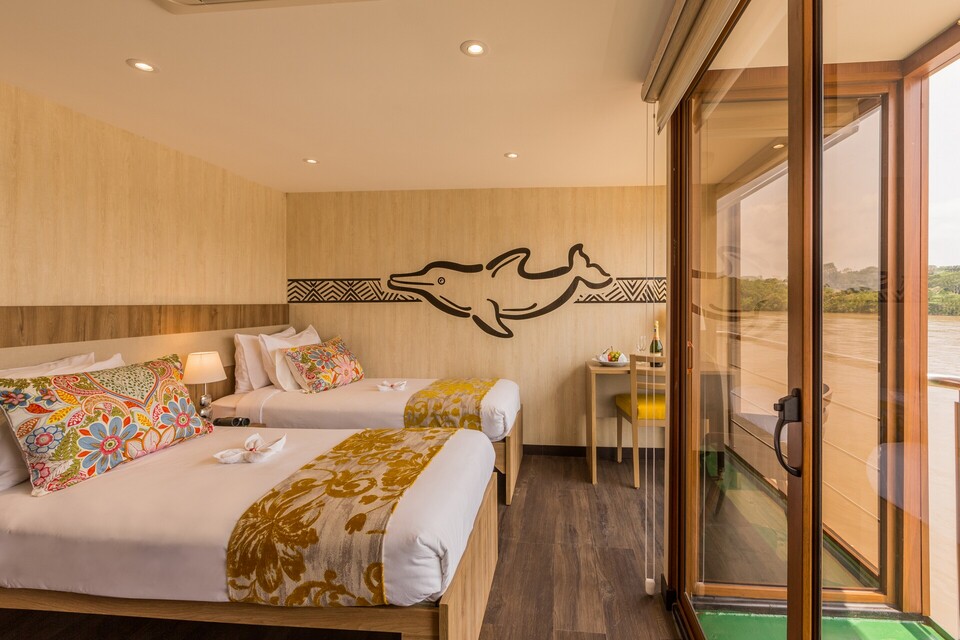 Deluxe twin cabin
The 4 river facing deluxe suites (23m² / 247ft²) are equipped with ceiling-to-floor windows, private balcony and air conditioning system.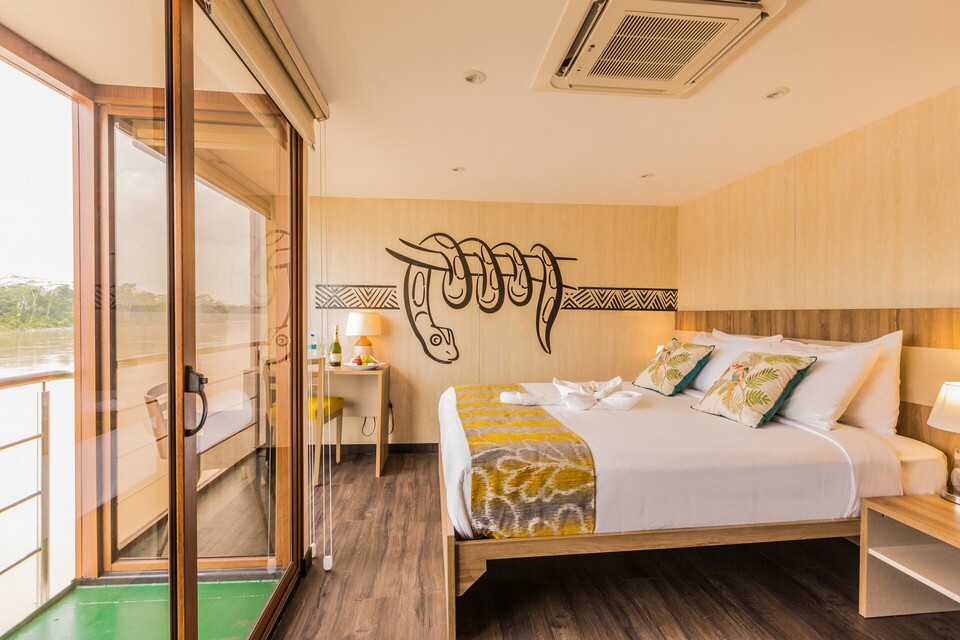 Deluxe double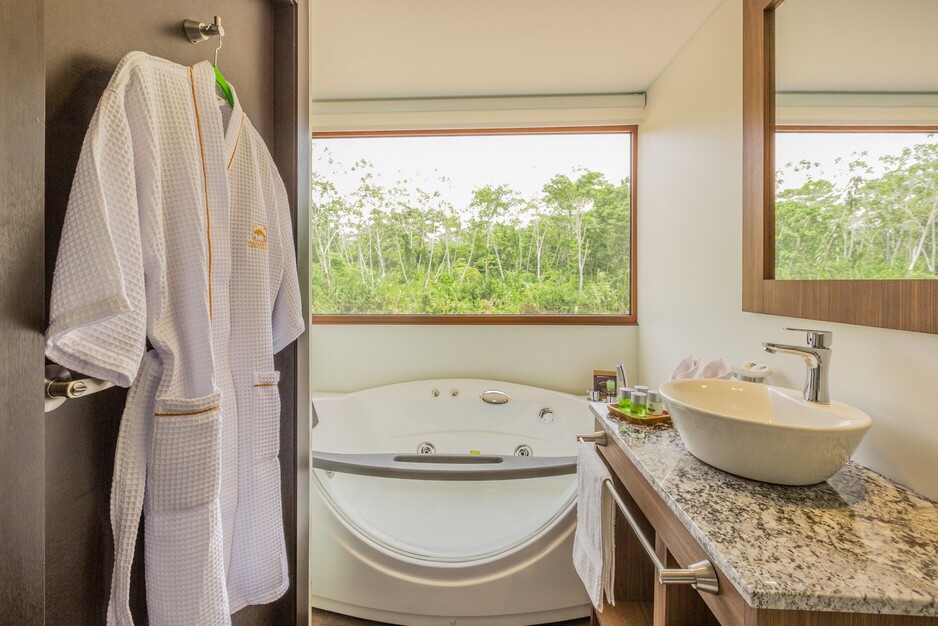 Deluxe en suite bathrooms come with a whirlpool bathtub
Anakonda Photo Gallery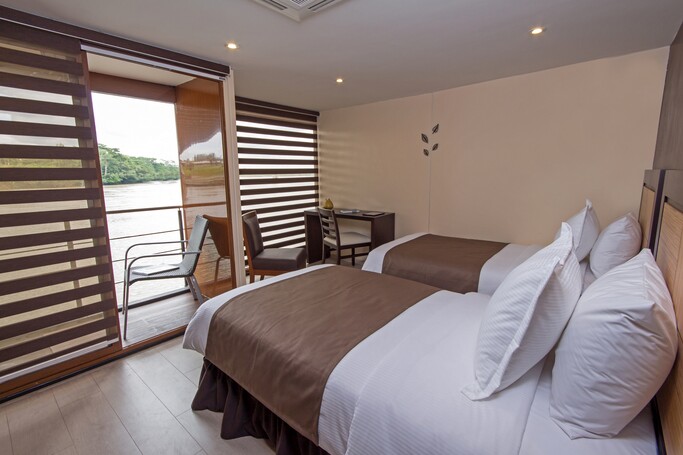 Standard twin cabin
Standard suites are all river facing (20 m² / 215 ft²) featuring a French balcony, air conditioning system and a private bathroom with hot water.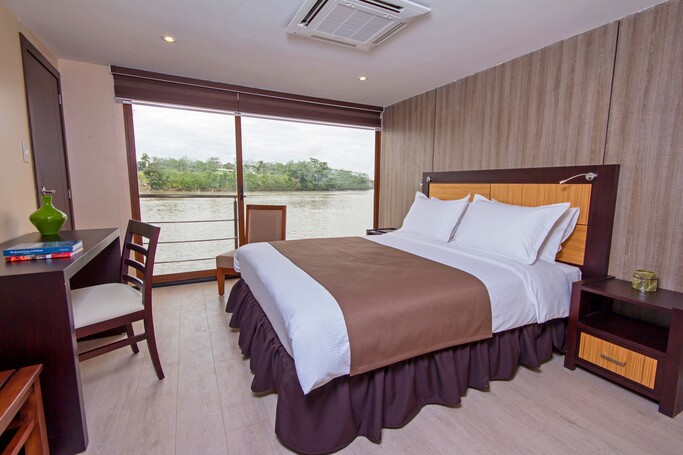 Standard double cabin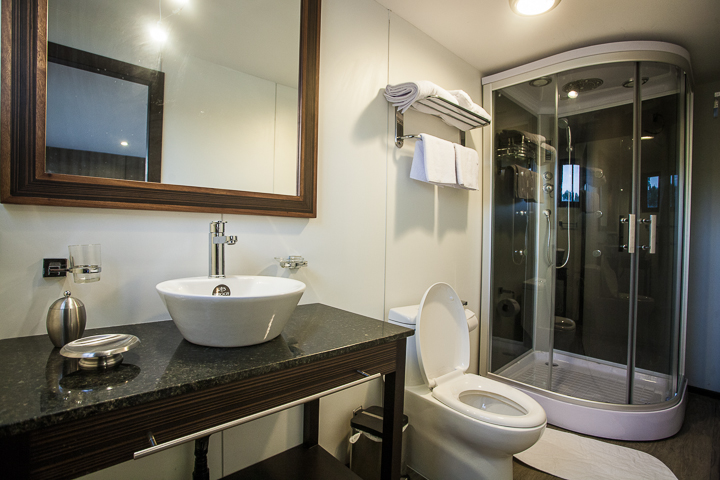 En suite bathroom for standard cabins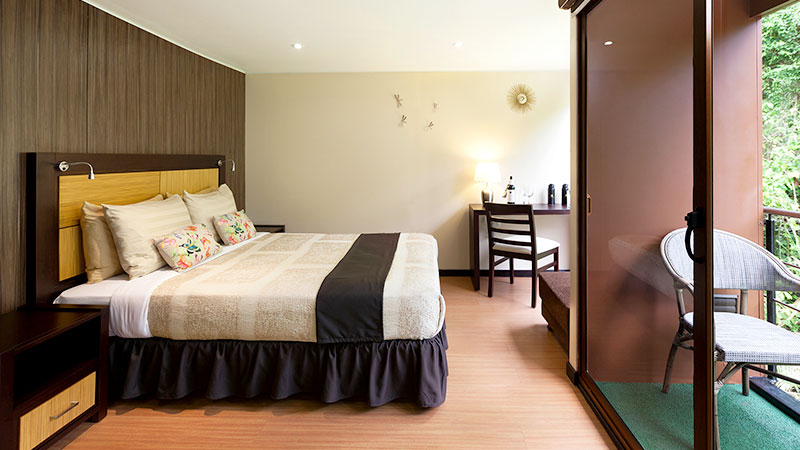 En suite deluxe double
Deluxe cabins are slightly larger at 24m2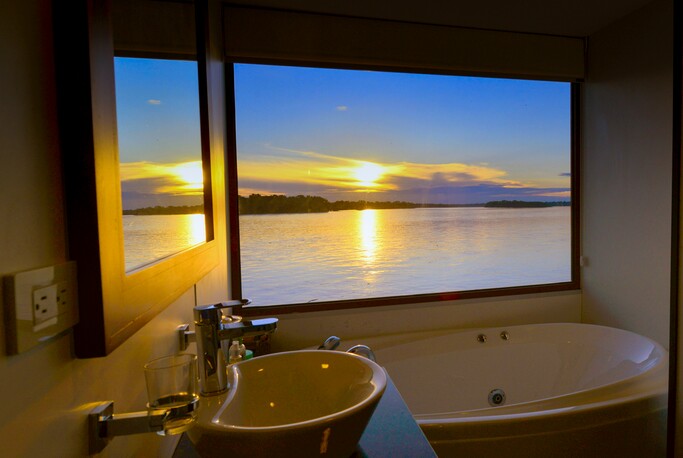 Deluxe en-suite bathroom