This adventure will take you from an area of indigenous owned Amazon, rich in wildlife, yet deeper into Amazon wilderness, trekking amongst the huge buttresses of primary forest; above its tallest treetops; and through pristine rainforest cut by an ever winding river where we hope for chances to kayak alongside Pink River Dolphins.
Your journey will begin at the frontier town of Coca, from where we will take you 2 ½ hours by motor canoe to the northern edge of Ecuador's largest protected area: the Yasuni National Park, where it meets the Rio Napo. From the edge of this, the largest river in Ecuador, we will transport you by dugout canoe along a small creek to lake and a comfortable rainforest lodge which will serve as your initial base.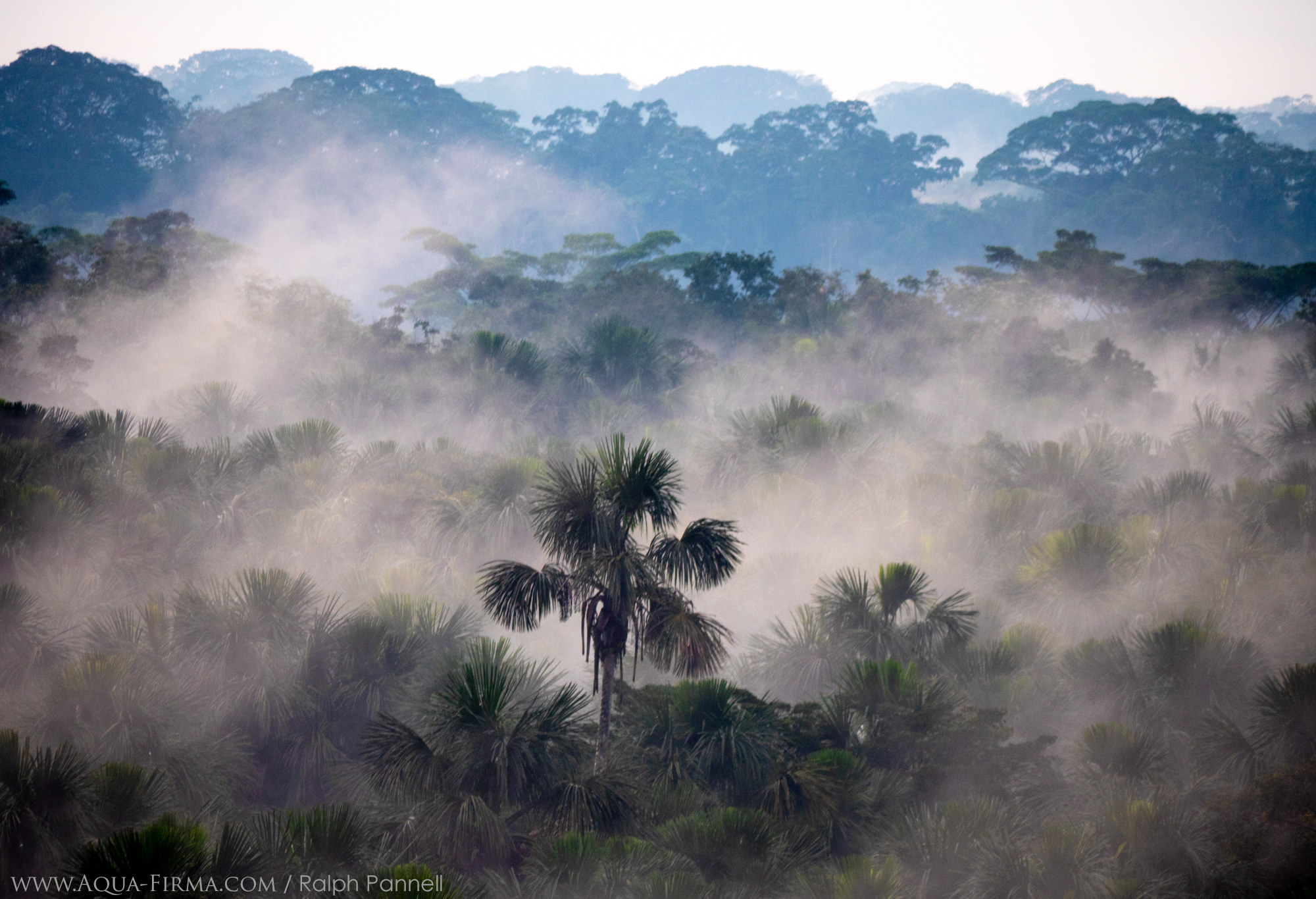 The rainforest here is within Ecuador's Amazon refugia - an area of some of the most extreme diversity found on our planet, with more than 560 species of bird, 13 types of monkey and a vast array of other flora and fauna. Our initial focus will be on wildlife and birdlife within the local area, guided by expert naturalist guides drawn mainly from the local Kichwa indigenous community. Your exploration here will be on foot, by paddled dugout canoe and from a high canopy tower, which provides stunning views over and into the rainforest canopy. We will also take you a parrot and parakeet 'lick' where these birds come to eat clay containing salt and minerals they need to neutralise acids ingested from unripe fruit.
From the northern tip of the Yasuni National Park, we will eventually ask you to pack light and embark on a 7-hour trek deep into the heart of some of Ecuador's wildest Amazon forest. Each time we make this trek, the forest reveals different species of wildlife; but amongst the possibilities will include herds of peccary (a kind of wild pig); primates from the largest Spider Monkeys, to the loudest Red Howlers; to the smallest monkey in the world: the Pygmy Marmoset. Our destination will be a 'blackwater' river called the Rio Tiputini.
You will spend two nights at the Tiputini, wild camping; experiencing deep Amazon wilderness, along with its many sounds and sights. Don't be surprised to have fireflies enhance the atmosphere of your fireside camp. From here, you will embark on sit on top kayaking along the Rio Tiputini, watching for wildlife along the river banks; and Pink River Dolphins at the surface. As sounds from the forest compliment the gentle lapping of water, you can reflect on what deep tropical wilderness really feels like.
Itinerary
Amazon Wildlife, Trek & Pink River Dolphin Kayak Adventures
This journey begins and ends at Coca airport in Amazonian Ecuador. We can get you to and from this airport either by flying you there from Quito - or take you there on a journey from the Andes, part by road and part by white-water rafting.
Important: Please note that we are dealing with Mother Nature and there is never any guarantee as to what wildlife you will see. Whilst we hope you will see Pink River Dolphins, they ply whichever part of a river system they choose to on any given day.
We will meet you at Coca airport and take you to the Rio Napo where you will board a motorised longboat . This will take you downriver for about 2 ½ hours to a point where the Yasuni National Park touches the Rio Napo.
You will then transfer to a dugout canoe and paddle quietly through swamp forest and flooded forest to an oxbow lake. The canoeing will take about 2 hours, during which time you will have good chances of seeing monkeys, large birds such as toucans and macaws; and riverside specialists such as Hoatzins. Your lodge is on the shoreside of the lagoon.
After an early breakfast you will be taken to observe a riverside clay lick, hoping to see large aggregations of up to 11 species of parrots and parakeets.
You will then hike to a Kichwa indigenous community interpretation centre, to learn about local customs, culture and traditional use of natural resources.
Another trek will lead you to a second clay lick, within the forest, where parrots and parakeets tend to land later in the day.
After lunch, you will have time to look for wildlife along small waterways; and take time to relax overlooking the lagoon at water or canopy level from another watch tower.
After breakfast, you will be taken to a 36-metre canopy tower, built around a huge emergent tree. From here we can often see colourful birds such as macaws, toucans, flycatchers and tanagers. You may also see primates such as Spider Monkeys, Squirrel Monkeys or Red Howlers.
The afternoon will be spent on a guided trek, learning about the plants and wider; and then take to a surrounding creek in search of Giant River Otters.
This morning you will set out on a 7 hours trek through the Yasuni National Park to the Rio Tiputini. This will take you through some superb primary Amazon rainforest; amongst huge buttress-rooted trees; across narrow creeks; through swampy zones and terra firme . Each time this trail is taken, different wildlife reveals itself, but you can hope to see monkeys such as Golden-Mantled Tamarins, Capuchins and Squirrel Monkeys; two and three-toed sloths; and other mammals such as peccary.
You will eventually make camp close to the Rio Tiputini.
A full day of kayaking along the Rio Tiputini, watching for Pink River Dolphins, birdlife and mammals in the gallery forest.
Camping overnight.
From your kayaking camp, you will be transported by motor canoe and vehicle back to the Rio Napo and Coca airport.
Dates
Price includes
Accommodation
All meals
Guiding
Kayaking as per itinerary
All entry fees
Transportation starting and ending Coca airport
Not included
Flights to the Amazon (£125 each way) - we can get you there overland / rafting instead
Hotels and transfers in Quito (we can arrange)
Tips