Thanks to you and Ralph we had a fantastic holiday in Costa Rica. Highlights must be Drake Bay and Tortuguero National Park, with the coffee plantation hotel near San Jose a close second - great guides, wildlife and magical hotels. I am also really pleased you changed us to the walk around Hule Lagoon with our lovely, well informed guide. He was a delight as was the local house where we had lunch.
All in all it was one of our best holidays. Thank you so much
(Clare & Mike, UK)

Jeff and I had a wonderful time in Costa Rica. All of the arrangements you made went off without a hitch. The local people of Costa Rica were very friendly and willing to help whenever possible. The staff at both hotels were also very friendly and accommodating of our needs.

The wedding was very nice and the scenery was amazing! The pic is of our view from our room in the Osa Peninsula.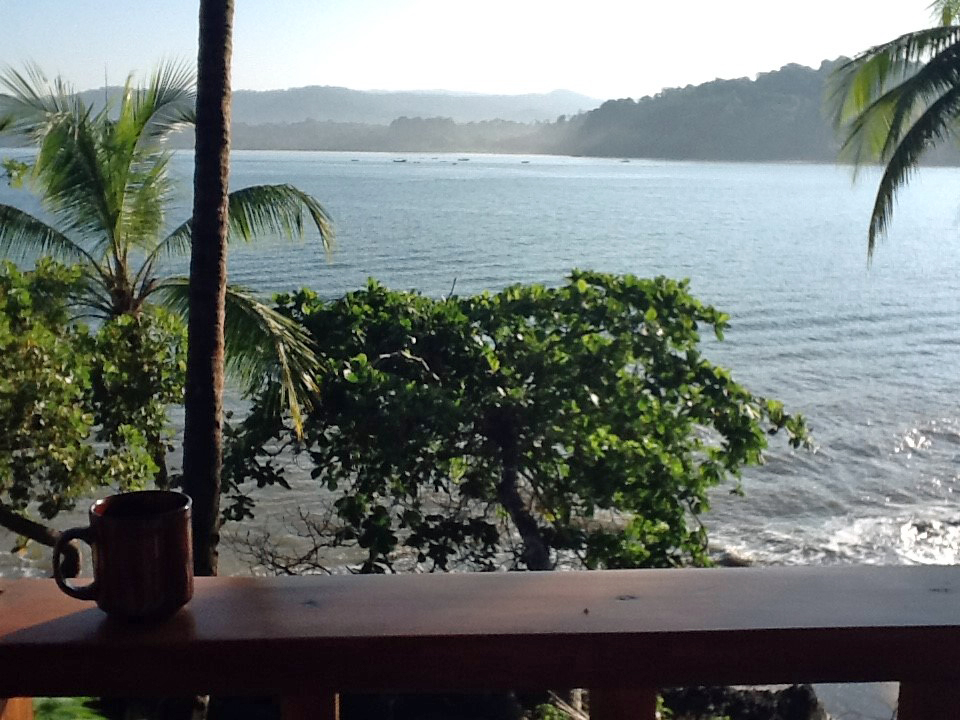 Thank you for all your hard work and planning relating to this trip. We appreciate it very much!
(Michelle Fauser, USA)

We had the most wonderful time in Costa Rica, actually can't thank you enough! It was the most relaxed holiday either of us had ever had in terms of how well organised everything was: someone was always there and on time to collect us, everyone was soooo friendly, our drivers were all very safe. All the places we stayed were INCREDIBLE …. The Santa Elena reserve too was so beautiful so delighted that was included. …we saw a whole suite of animals including sea turtles nesting on the beaches right next to us, snorkelling with turtles and humpback whales and a host of frogs, insects, monkeys and birds- zoology paradise, just what we wanted!
It was by far the most smoothly run and well organised trip we have ever been on so thank you for that! I will definitely recommend you and Aqua-Firma to everyone, couldn't have been happier with everything!
Thank you so much again,
(Deirdre Mcclean, Dublin)

We had a really good trip thanks. The connections all worked very well and we enjoyed all the places we stayed. Particularly liked Tortuguero and Corcovado and had a great snorkelling trip. Saw lots of monkeys, scarlet and great green macaws and an incredible range of bird life. The quality of guides in all the parks was very high. Snow at Newark airport on the way back was an added interest!
(Sue and Graham, Dorset)

I came home with nearly 1800 photos! We loved the peace and tranquillity of the Pacuare reserve … We had a magical experience with a female Leatherback … we watched her dig her nest, gently scoop out teaspoonfuls of sand until it met her approval. The nest was lined with a bin bag so we could relocate the eggs and she laid 60 or more into it. I then was able to help measure her and check for any damage on her flippers and neck. She was tagged so a regular visitor. We then took the eggs and buried them further up the beach away from the sea.
We have nothing but high praise for the guides. They were so sweet and helpful. Always at hand to help with steep steps, slippery banks, and in and out of boats. Our need and welfare utmost.
Our guide Queoma, in Cusco was very knowledgeable and caring … Cezar with us in the jungle for 6 days was a keen photographer of wildlife and he and the boatmen spotted much that our untrained eyes would have missed. They delighted in our excitement at finding the Otter family after a morning's rain and 2 hours searching. With tears streaming down my face we watched them catch fish, chomp them up with relish, squabble a bit over prize finds, and swim towards the catamaran with curiosity. Hard to photograph but I managed one reasonable one!
So many thanks for all your arranging!
(Lindsey & Geoffrey Tester, UK travelled to Costa Rica & Peru)

The trip was phenomenal. Pacuare was teeming with activity, both sea life and jungle. All the rest was equally awesome - it was tough to leave. Thanks again for setting everything up and on such short notice. We were both really happy with everything. Hopefully work with you again in the not too distant future!
(Jack Schroder, Canada)

Having breakfast in San Jose this am...wonderful hotel and an UNBELIEVABLE trip. I will get you some details later when I return to the USA, but we saw over 20 Leatherbacks in our 3 days in Pacuare. We went out all three nights and helped with 4 nestings...they let us count the eggs as they came out. We had to put on gloves and received them as they came out to check them. And we assisted with one nest relocation and excavation of 2 nests that had just hatched. Watched as we released 7 of the little ones into the ocean. I've got a lump in my throat as I recall the experience.
Thanks for all your help...I will get back to you with more when I return...THANK YOU!
(David Imre, USA)

Thank you for arranging a brilliant itinerary, it was really well planned and your organising was perfect. All our greetings and pick-ups were on time, friendly, informative and made the whole trip a very stress-free and enjoyable one. We were extremely fortunate with nature too, working with Leatherback turtles and seeing the Howlers and Capuchins was truly amazing!
(Savinder Jhally, UK)

We had an absolutely fantastic time in Venezuela and Costa Rica, so thanks for all your planning and hard work. I think you will be hearing from us again at some stage for our adventure holidays, that's for sure.
(Hugh & Sarah Goodfellow, Haslemere, UK)

We're back from Costa Rica, had a great time …
The overall experience has been fantastic and Pacuare in particular has given us emotions, thoughts and memories to cherish for a very long time. The people at the reserve are indeed fantastic and we very much admire their total dedication. Amazing.
To at least 3 of the 400 leatherbacks I've been 'midwife'...what an experience! Thanks again.
(Elisabetta Cavalli, Norwich)

Thank you for arranging a wonderful holiday for us. It was all very successful. How clever it was how you alternated between the types of places.
Pacuare was a wonderful experience ...and the lodge in the Corcovado was amazing .. we saw loads of Humpback Whales and porpoises.
All the guides were very knowledgeable - absolutely excellent.
(Mrs C Smith of Goole, UK)