M/V Ocean Diamond is a beautifully crafted, modern and stable super yacht, carrying a maximum of 189 passengers. Whilst onboard, the Aqua-Firma team have been impressed by her grand public spaces: a polar library, bright and airy panoramic observation lounge and the elegant lecture hall.
Having ourselves been en route to Antarctica and overtaken by Ocean Diamond, we also appreciate that the relatively fast speed of this vessel can save up to 12 hours on the Drakes crossing!
Length:

124 metres

Ice Class:

1D

Speed:

15.5 knots cruising speed

Passengers:

189

Staff & Crew:

144

Cabins:

Triple
- 1 x bunk & 1 x lower berth

Twin Obstructed View
- 1 x double bed or 2 x twin beds

Twin Window
- 1 x double bed or 2 x twin beds

Single Porthole
- 2 x twin beds

Single Obstructed View
- 2 x twin beds

Suite
- 1 x double bed or 2 x twin beds

Balcony Suite
- 2 x twin beds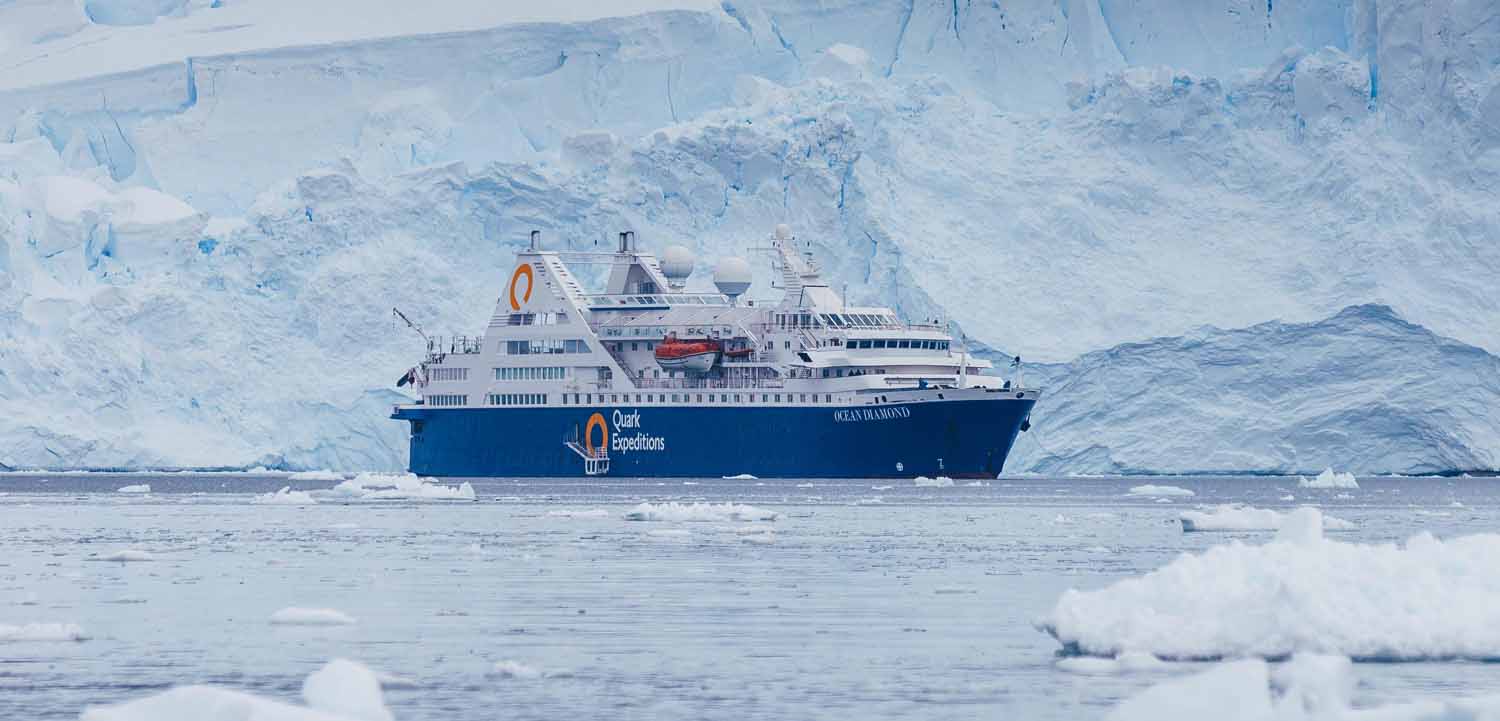 Delicious meals are served three times daily from 2 restaurants and the range and quality of meals is often cited as first class by our many guests.
There is a cosy bar for relaxing and socialising with fellow passengers in the evening and other amenities include an elevator, clinic, massage and wellness centre, a small pool and a fitness centre. Programmes such as yoga classes, aromatherapy, massage therapy are available onboard.
Cabins offer exterior views with en-suite bathroom facilities and are fully equipped with flat-screen TVs, and DVD players. Attractive to solo travellers, Ocean Diamond offers the choice of single porthole or single inside cabins as well as triples, twin shares and more spacious suites.
For the more adventurous passengers, optional kayaking, snowshoeing, skiing and mountaineering options are available. An onboard photographer is also on hand to help passengers hone their photography skills and capture wonderful photos of Antarctica or the Arctic.