There are more than 30 diving and snorkelling sites near to the resorts in northern Raja Ampat, which play host to a staggering variety of marine life. Some of the sites you may visit include:
Cape Kri
It was on this reef that Dr Gerry Allen smashed his own record for the total number of fish species seen on a single tank dive: 374 - many species of which can be seen snorkelling. At the northeast point of Kri Island, the currents sweep into a channel between Kri and Koh, beneath the water here you can normally find huge schools of big-eyed trevallies, barracudas and snappers; a large shallow coral garden sits on top of the reef with blacktip reef sharks patrolling amongst the overlapping maze of hard corals, which often play host to feeding hawksbill turtles, giant Queensland groupers and tiny pygmy seahorses. This is the house reef to Cape Kri Island Resort, and can be reached in less than 5 minutes from Kri Island Eco Resort.
Sardines
Divers at this submerged reef with a reef top at just 5 metres can witness an example of the phenomenal diversity of Raja Ampat. Where the current strikes the offshore reef and splits, a dazzling array of fish congregate including swarming fusiliers being pursued by giant trevallies, packs of bluefin jacks and Spanish mackerel, batfish and schooling bannerfish. On the sea floor, you can often find grey reef sharks, blacktip and whitetip sharks and wobbegong waiting in ambush. Coral bommies dot the slope covered in colourful soft corals, in which pygmy seahorses can often be seen, and at the top of the reef, a resident school of massive bumphead parrotfish often keep divers company on their safety stop.
Blue Magic
The reef top here is covered in hard coral with some big coral heads and table corals well over 3 metres across. The reef is home to a resident school of big eye trevallies and many large barracuda. Wobbegong sharks, green turtles, blacktip and whitetip sharks can often be found here along with the tiny 2cm Hippocampus denise pygmy seahorse. Occasional visitors include grey reef sharks and giant manta rays.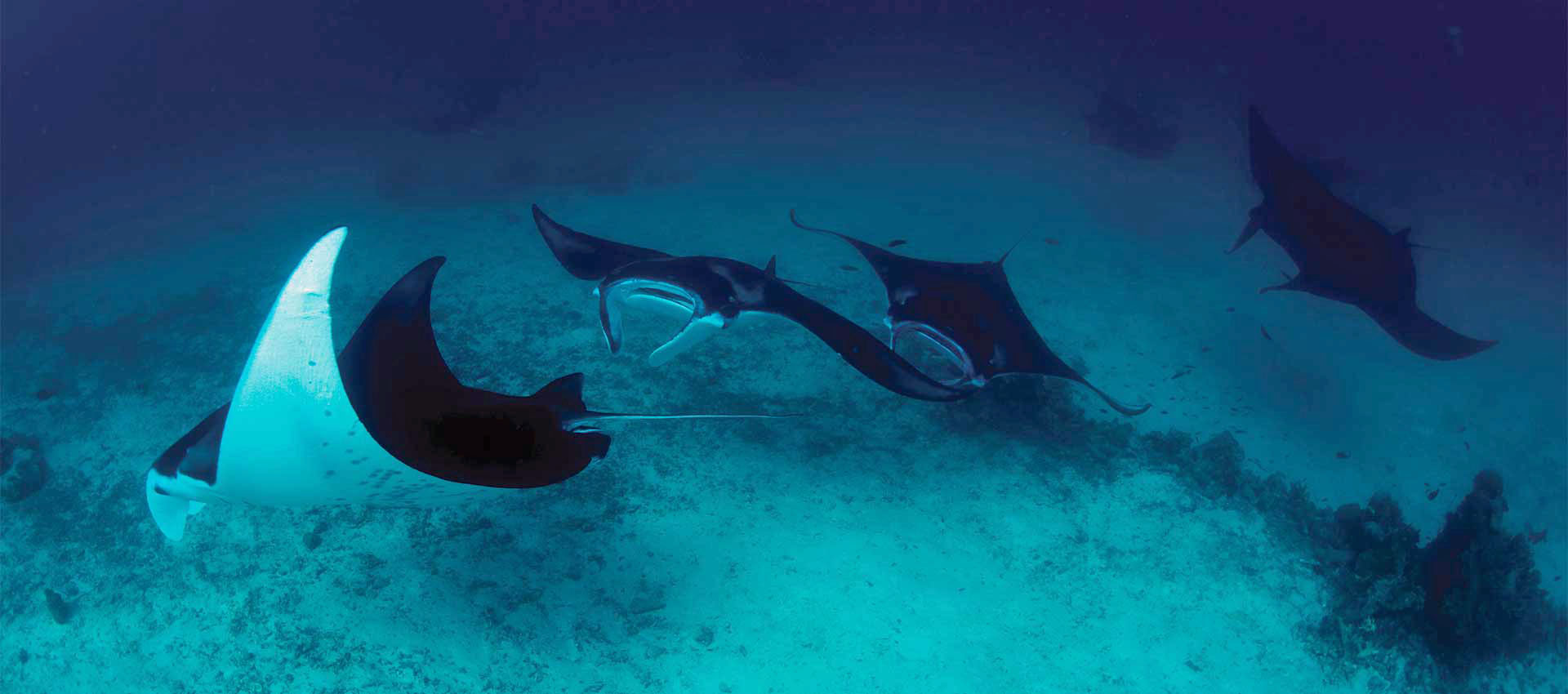 Manta Sandy
This sandy slope is home to a popular manta ray cleaning station, where up to 10 mantas can often be seen vying for the best position above the two rocks to be cleaned by the resident wrasse, enormous 4 metre wide mantas are often seen here at very close quarters. This site is offered once a week without any fuel surcharge to divers and snorkellers from Kri Island.
The Passage
This completely unique dive site takes the form of a narrow canyon located between Gam and Waigeo, which can be described as shallow river flowing between the two islands and as a marine environment, it is a haven of peculiar and unique microhabitats. This is a place where snorkellers, divers and photographers enjoy the utterly different experience of diving in this truly one-of-a-kind location. Above water the sheer limestone cliffs make this a place where the sightseeing above water is also excessively beautiful.
Mios Kon
This island is populated by thousands of flying foxes. Underwater you can find hundreds of schooling snapper, wobbegong sharks and ancient giant clams.