Located on the Northern edge of Patagonia, about half way between Cape Horn and Buenos Aires, is the Peninsula Valdes - a UNESCO World Heritage site due to the concentration of marine mammals that gather here in spectacular numbers. Accessed from the functional but pleasant seaside town of Puerto Madryn, this arid peninsula is surrounded by rich coastal waters, utilized by Patagonia's largest colonies of southern sealions, elephant seals, and Magellanic penguins. Between June and December each year hundreds of endangered Southern Right Whales come to the enclosed waters of Golfo Nuevo and Golfo San Jose to the north and south of the Peninsula to breed and give birth. This is one of the best places in the Americas for seeing these marine giants, some of which can reach up to 100 tonnes in weight and 17m from tip to tail.

Orcas famously gather around the Peninsula to hunt elephant seals and southern sealions at specific times of year. Sequences of Killer Whales purposely 'beaching' themselves to hunt sealions were used to spectacular effect in the BBC's acclaimed Blue Planet series.

Just to the South of Peninsula Valdes is the huge Magellanic Penguin Colony at the Reserve of Punta Tombo, home to around 800,000 distinctly fishy but charming birds. Late in August or early in September the penguins come ashore to establish a feathered metropolis of breeding burrows.

Our classic way of exploring the region would be with a natural history guide who knows the reserve and its wildlife intimately. To get the very best out of our time on the Peninsula we take both land and sea based excursions, making the most of seasonal highlights such as gatherings of whales and dolphins. For a recommended 5 day itinerary please click on the | Itinerary | tab at the top of the page.

For adventurous clients wanting to experience additional activities we can easily arrange kayaking and snorkelling trips with playful sealions. These waters also provide some of Argentina's top scuba diving sites and ideal drysuit preparation for divers joining one of our Antarctic or South Georgia Diving Expeditions.

When to Visit

Dolphins, sealions and elephant seals are present year round. Seasonal wildlife viewing opportunities include:

Southern Right Whales gather between June and December and this is the best time for whale watching.

Magellanic Penguins breed between August/September and April.

Orcas - seen from June to December hunting young Right Whale calves. Between March and April Orcas hunt sealions on the beaches at Punta Norte.

Weather

Weather wise the Northern Patagonian region is most comfortable in the southern summer from December to April. Peninsula Valdes has a cold, fairly dry climate but weather is unpredictable and cold winds can make any time of year chilly. Sun can be strong and burn even when it feels cold.
Itinerary
Suggested 5 Day Itinerary for Peninsula Valdes & Punta Tombo
Please see below a suggested itinerary that will show you the best of the region's exceptional wildlife and marine life:
Whether you prefer to explore the Peninsula from the shore, by boat, sea kayak or scuba Peninsula, we can tailor itineraries to fit your interests.

Please bear in mind that this is only a suggested itinerary and can be adjusted or expanded to suit your requirements. Please contact one of our expert staff who have considerable experience in the region to discuss this further.
5 Day Sample Itinerary: Wildlife & Marine Life of Peninsula Valdes & Punta Tombo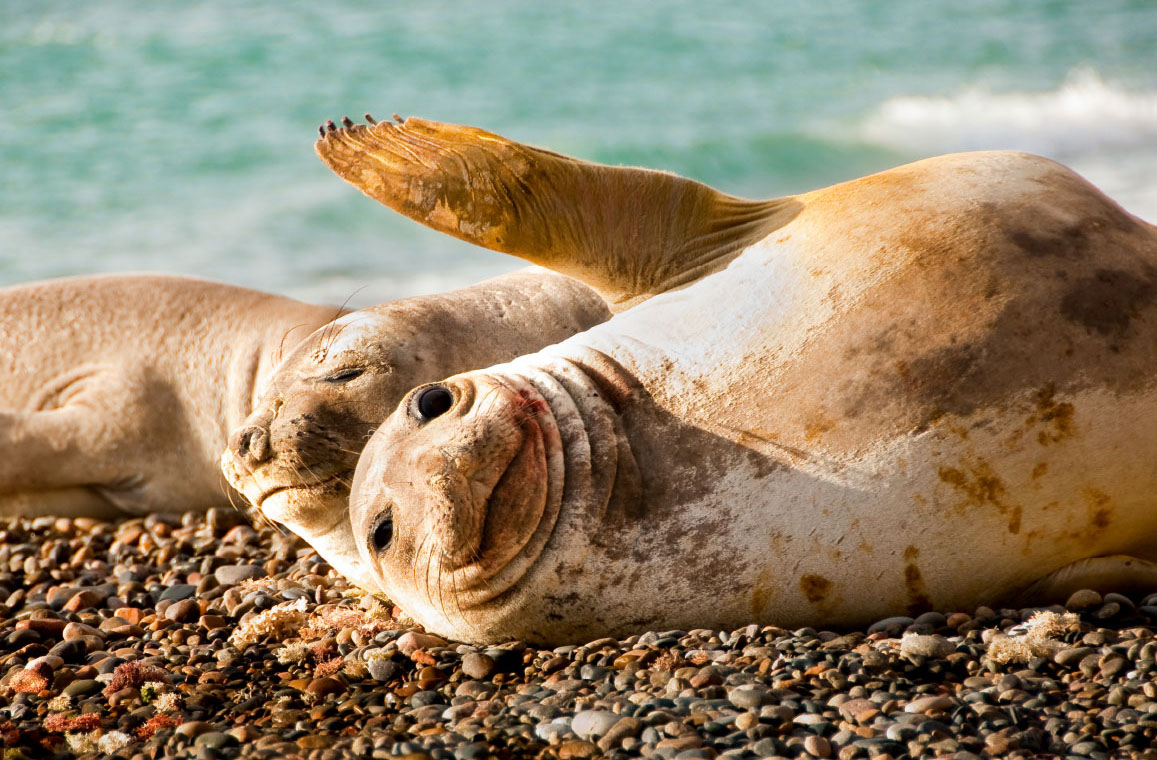 Day 1: Arrive Trelew & Explore Punta Tombo
Upon arrival, you will be met at the airport (must be early arrival flight) and taken on a day trip to explore Punta Tombo.

On the way to Punta Tombo, the first stop is in Puerto Rawson for a sighting of "toninas", also called pandas of the seas due to their black and white colours.

Then you arrive to the Reserve of Punta Tombo, the largest penguin colony in the world, with more than 400,000 Magellanic penguins coming in August and retire in March ashore fulfilling their reproductive cycle. Punta Tombo is a narrow rocky jutting that merge into the Atlantic Ocean. The beaches of fine and compacted sand, are ideal for the penguins to dig their nests. Vast areas of land are literally "mined" with shallow caves, where every year the penguins lay their eggs and raise the chicks. The gentle slope of these beaches also facilitates the movement of land birds that several times a day made the journey between the nests and the sea to feed themselves. The Penguins, although alerts to human intrusion, do not leave their nests so that the interaction is quite direct. In order to prevent accidents and any kind of injuries to animals, since the creation of the reserve walkways have been built allowing visitors to circulate without bringing down the caves.

The tour continues arriving to Gaiman, a village of descendants of the first Welsh settlers who arrived in the area in 1865 and still retain many of their customs. Located on the banks of the River Chubut, walk its streets and pauses in a typical Welsh tea house to enjoy delicious pies and traditional cakes, enjoyed by Princess Diana was during her visit to the Peninsula.

After the trip you will be taken to your hotel in the centre of Puerto Madryn. Upgrades are available.
Day 2: Peninsula Valdes & Arrival at Estancia
This morning you will be picked up at around 08:30 and set off on a fascinating exploration of Peninsula Valdes, declared a Natural Heritage Site by UNESCO, as it harbours the only continental colony of elephant seals in the world. It crosses the Isthmus, arriving at the Panoramic View Point, where in its narrowest part it is possible to see simultaneously the two Gulfs: the New Gulf on the left and San Jose Gulf on the right.

A few miles away, you will stop at the Interpretation Centre of Peninsula Valdes, a peninsular synthesis worth admiring. Then you visit Puerto Pyramids, a picturesque seaside village, where you can enjoy its beautiful beach, take a nautical tour to spot, depending on the season, whales, sea lions, cormorants, dolphins, among the main animal species. You can also take the opportunity to engage in snorkeling and scuba diving.

You will continue on to Caleta Valdés where (taking in consideration the time of the year you are), will visit Punta Delgada and Punta Norte. There you can be a part of an elephants and sea lions watching activity (and seasonally a small colony of penguins). Also occasionally you may spot whales and dolphins. Then you have the option for stopping at Estancia La Elvira to taste a delicious roasted Patagonian lamb. During the drive is possible to see guanacos, rheas, maras, birds, jumpers and martinetas among the key species in the region.

You will be spending the next 2 nights in an eco friendly beachside apartment in Puerto Pirámides, Península Valdés' only village, which is located just a few steps from the beach, home to Southern Right Whales, Orcas, Sea Lions and more, a location so special that it has been declared a UNESCO World Heritage Site. Each apartment enjoys uninterrupted views of the Atlantic Ocean, ideal for spotting pods of whales and their young directly from your patio. Great restaurants and pubs are within walking distance from the accommodation.
You can spend today at leisure enjoying activities (included) at your accommodation.
Day 4: Continuation of Peninsula Valdes Exploration
You will be picked up from your accommodation this morning to continue your exploration of Peninsula Valdes, before being dropped back to your hotel in the centre of Puerto Madryn.
Day 5: Depart Puerto Madryn
After a relaxing morning at your hotel you are driven back to Trelew airport for your onward flight.
Dates
Price includes:
Accommodation
Private services with local English-speaking guides (unless other type mentioned).
Meals as indicated in itinerary (B/L/D).
All entrance fees to the sites mentioned in the itinerary.

Price excludes:
International air fares or domestic air fares.
Meals or any other item not described in the itinerary.
Early check-in, late check-out, services and non-mentioned meals in the itinerary.
Personal expenses.
Drinks during meals, hotel extras and personal spending.
Tips for guides and hotel staff.