This is a challenging Sea kayaking day trip from Ísafjörður in the Icelandic Westfjords, with the exciting possibility of encountering whales and seals.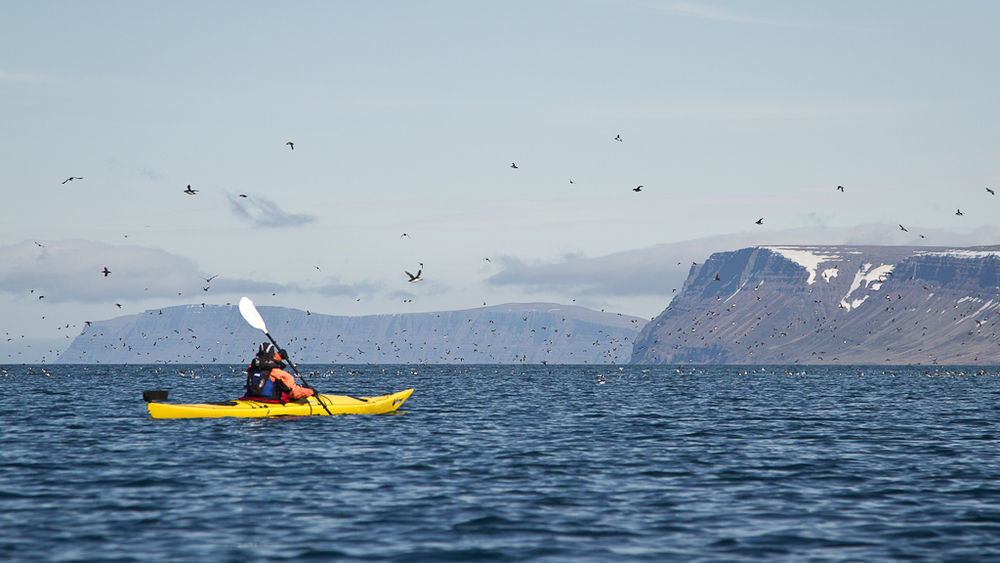 The bay of Isafjardardjup offers excellent kayaking for both beginners and experienced kayakers alike. The serene beauty of the fjord system is well known by locals but unfamiliar to the outside world.

The coast of Snaefjallaströnd really gives you the feeling that you are close to the Arctic Circle with its snow covered hills and the fifth largest glacier in Iceland just around the corner. The Folafotur (Horse Leg) is a small peninsula between the sheltered fjords of Seydisfjordur and Hestfjordur and is a beautiful place to paddle around, enabling you to enjoy the marine wildlife and the coastline from a unique angle.

Itinerary
What to bring:
- Warm woollen or fleece clothing including top, bottoms and socks. Please avoid cotton as it keeps you cold when wet and takes a very long time to dry.
- Spare clothing in case you get wet!
- Sunhat, sunglasses and sunscreen, it can get sunny up here!
- Water bottle.
- Don't forget your camera!
The journey begins at our base in Mávagarður C (grey building), where you meet your guide and gear up.
We then drive for around 45 minutes from Ísafjörður to reach the head of Seyðisfjörður fjord, where we have a short safety briefing and paddle lesson.
We begin kayaking under the imposing mountain Hestur, with its steep cliffs and unique shape. After a couple of hours, we land at the very point of Folafótur peninsula, where we land on a beautiful sandy beach to see the unusual rock formations caused by erosion while enjoying our lunch. We will keep a good look out for seals, whales and white-tailed eagles as this is a place where they are often seen.
Paddling along the coast of Hestfjörður is our next mission and we land close to the main road, where our car will be waiting to take us back to Ísafjörður.
Dates
Price includes: Transportation, kayaking gear, professional guide and a delicious homemade lunch.

Pick up: 9am from Bræðraborg Café in downtown Ísafjörður. Meet there half an hour before departure.

Available: Tuesdays & Thursdays, for a minimum of 4 persons from the May to September

Duration of Trip: 8 hours, including 40 minute car ride each way

Minimum Age: 16 years

Minimum Group Size: 2 persons

Maximum Group Size: 8 persons

Experience Required: Participants need to be in good physical shape or have some paddling experience.
We recommend you bring: Warm outdoor clothing (i.e. Fleece jumper and trousers and a change of clothing.
Activity Level: Demanding