Turks and Caicos dive liveaboard adventures take you to some of the western hemisphere's largest and most pristine reef systems and a remarkably little visited UK overseas territory in the Caribbean. Your diving will focus on the beautiful Caicos Islands in the West of the territory, famous amongst those who know their diving for beautiful lagoons and drop offs plunging to more than 2000m from the reefs edge. Diving up to 5 times a day from a choice of two state of the art liveaboards with expert local crew, you have the opportunity to make the most of each location at the best very times of day and the flexibility to take in weather conditions and currents to maximize exciting dive opportunities.
Visibility is usually superb at 30 meters or more, allowing spectacular views of vertical drop offs, coral pillars and colourful sponge formations. Just of the southeast of the Bahamas where these voyages take you, sharks of many species can be seen, especially Caribbean reef sharks and nurse sharks; but sometimes hammerheads and bull sharks too. Sting rays, Eagle rays and Manta Rays, along with barracuda, groupers, tarpon and sea turtles are other potential highlights.
One of the key factors which contributes to such magnificent marine environments in the Caicos group, is its relatively small population and low intensity of fishing. Two of the three islands we commonly visit on your diving adventure, the West Caicos and French Cay, are entirely uninhabited. West Caicos covers 28km2 and has been uninhabited for more than 100 years - a true tropical island as nature intended. Lake Catherine sits on the edge of the Caicos bank - a remarkable lagoon which often plays host to populations of Caribbean Flamingos.
Your liveaboard itinerary begins on the island of Providenciales, the logistical centre of the Caicos Islands. As you fly in, white sand beaches and Aqua-Marine lagoons soon reveal themselves beneath you. You will be met at 'Provo' airport and head directly to the liveaboard; or we can arrange a day or two to relax before your diving, or to mitigate any delays in a long flight journey. Both of our liveaboard options offer state of the art equipment, including the option of unlimited Nitrox and the speciality courses including underwater photography. All meals are provided on board; wines and beers are also included at the bar. A sun deck and roomy salon and dining area allow plenty of space to relax between dives and to take lovely seascapes of the Caicos Bank.
If you click on the Itinerary tab we have listed some fabulous dive sites that we hope you will explore on your trip, although your experienced captain will pick the best sites based on weather and marine conditions.
Itinerary
Sample 8 Day Itinerary
This 120' liveaboard yacht carries just 18 guests and 6 crew in one Master Cabin (#1) with a double bed and a private bathroom, six Deluxe Twin cabins (#2 - 7) each with bunk-style beds and a private bathroom, and two Standard Twin cabins (#8 & 9) with bunk-style beds and shared bathroom facilities. The yacht is comfortably equipped with a spacious air-conditioned salon and dining area, a large sundeck with hot tub, lounge and deck chairs, a shaded bar and grill and complete photo centre. The spacious dive deck provides individual dive lockers, camera table with low-pressure hoses and two hot, fresh water showers. Custom-designed 'chase boats' with outboard motors are available for shore excursions.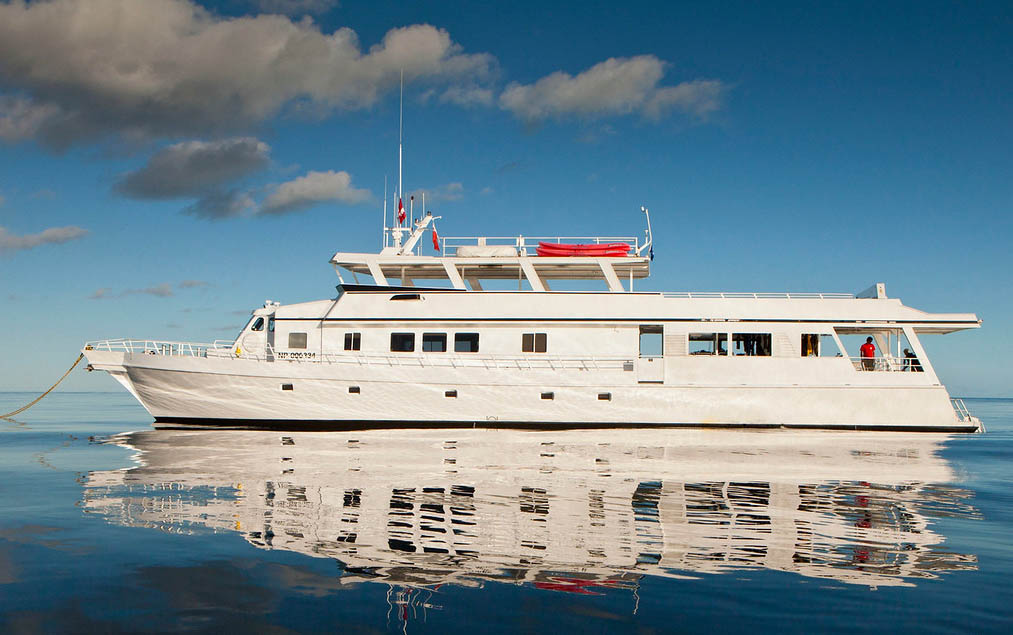 Day 1: Embark in Providenciales (Provo)
You will embark this afternoon in Provo, the capital city of the Turks & Caicos Islands.
Days 2 - 7: Exploring Turks & Caicos
You will make up to 5 dives per day. Some of the dive sites you may visit include:
Double D (French Cay)
A spectacular wall overgrown with corals, sponges and home abundance of marine life. There are two huge coral mounds teeming with fish. A resident spotted scorpion fish often poses for photographers and spotted eagle rays are often seen here.
G-Spot (French Cay)
An absolutely beautiful wall with many huge deep water gorgonians and orange elephant ear sponges growing at the wall's edge.
Rock and Roll (French Cay)
A beautiful coral wall starting at around 12m before plunging off the edge of the Caicos Bank. The top of the wall is at 40 feet with plenty of barrel sponges, elkhorn and pillar coral. Juvenile barracuda and lobsters can be spotted during the day. This a great afternoon and night dive.
West Sand Spit (French Cay)
A truly remote location (7 km south-east of French Cay). The wall starts at 40 feet and it is covered with huge coral formations - pillar corals, barrel sponges and deep water gorgonians. Look for nurse sharks, French angels, ocean triggerfish and huge stingrays. This site can only be dived in favourable weather conditions.
Black Coral Forest (Northwest Point)
A fascinating wall starting at 45 feet and dropping to below 300 feet, facing out over the Caicos Passage. There is an overhang here at just over 75 feet in which at least 5 species of black coral are growing.
Shark Hotel (Northwest Point)
Named for the Caribbean reef sharks who can sometimes be seen cruising the wall. The wall levels off at 90 feet in a plateau covered with plate corals. At 100 feet, a chimney cuts through the reef exiting at 130 feet on the deep wall.
The Crack (Northwest Point)
The wall doglegs to the south forming a huge penny slot crack which divers can swim and exit at anytime. A massive barrel sponge with an anemone above it is at 85 feet. Swim to the south where you may encounter schooling fish and a resident turtle.
The Dome (Northwest Point)
Once the site of a French television game show, this sunken dome offers a spectacular night dive.
Driveway (West Caicos)
One of the most diverse dive sites along West Caicos. The liveaboard aims to moor in 35 feet of water offering the options of swimming to the wall over the Driveway, a large sand chute, or cruise on top of the wall in shallower water where there are many interesting isolated coral heads.
Gullies (West Caicos)
Swim through a penny slot gully which starts at 45 feet and ends at 75 feet. Beautiful sponge formations at the edge of the wall and schooling fish on top of the wall.
Rock Garden Interlude (West Caicos)
The wall is divided into sections with large and beautiful sponge formations. Divers can often encounter friendly turtles and spotted scorpion fish. The sand flat on top of the wall has several nice coral heads and garden eels.
The Anchor/Whiteface (West Caicos)
Called Whiteface for the white sandy cliffs along West Caicos. Swim through a gully with a 17th Century anchor wedged in the north side of the gully. A beautiful, large white anemone sits at about 95 feet at the base of the gully. A great night dive with lobsters, octopus and nurse sharks.
Throughout the week you will have the opportunity to go ashore for swimming, snorkeling and beach combing.
Day 8: Disembark in Provo
You will disembark this morning for your onward travel arrangements, or why not extend your time on this stunning Caribbean island! Contact us to discuss your options.
Dates
Price includes
- Accommodation onboard, 3 meals per day* and snacks
- All diving and shore landings
- Tanks, weight belts and weights
- Soft drinks, water, tea, coffee, local beer and wines
- Standard arrival and departure airport transfers
Price excludes
- Dinner on the last evening of the voyage*
- US$110 / $158pp port fee**
- Use of NITROX (US$100 / $150pp)**
- Fuel surcharge where applicable (currently US$15 / $2150pp)**
- Equipment rental and diving courses
- Spirits and cocktails from the bar
- Gratuities
- International flights
- Accommodation pre or post liveaboard (please contact us for assistance)
- Insurance
*Dinner on the last evening of the voyage is the only meal that is not included. This evening is spent at the marina where the crew will recommend a local restaurant for you.
**These fees may be subject to change without notice