The W Trek Express is an ideal choice for anyone who is keen to experience and trek the awe inspiring wilderness of Torres del Paine, but doesn't have the time to do the Full Circuit.

For this experience, we take you deep into the heart of the Torres del Paine National Park, famed for its awe-inspiring mountains and iconic granite peaks. In small groups, you will be guided by knowledgeable expert guides, who will point out the natural history highlights and enlighten you with flavours and facts about Patagonia.

This trek takes you up close to the massive granite towers that give Torres del Paine it's name. You will also walk along the breathtaking Cuernos del Paine and amongst the stunning shapes of the Francés Valley. The magnificent scenery of the Grey Glacier is another breathtaking element of this trek, taking you to the southernmost tip of the Chilean Patagonia's southern ice fields, where the ice blends into the clouds on the horizon.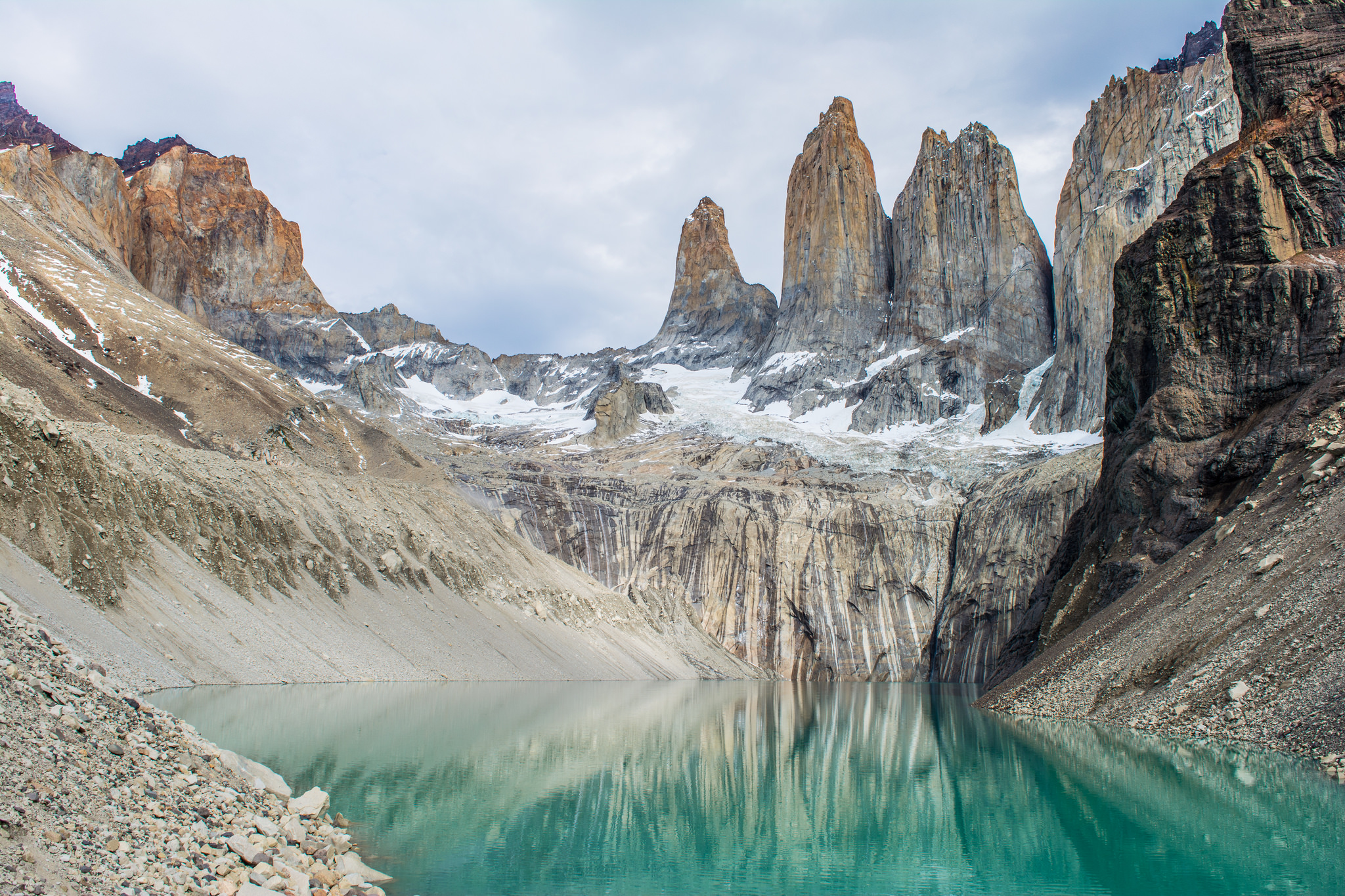 Depending on your preference and / or budget, there are two accommodation options for the trekking portion of this trip, 'Camping' or 'Refugios'. The Refugios comprise mixed dorms (between 6 and 8 people) in bunk beds with shared bathroom facilities. Depending on the Refugio, the beds will be either 'Made Up' (including bed linens) or 'Simple Bed' (for the use of own sleeping bag).
Itinerary
W Express in Torres del Paine
Please contact us if you would like any assistance arranging flights, additional hotel nights, transfers or day trips within El Calafate or if you are simply looking for some inspiration. The Perito Moreno Glacier is not to be missed!

This itinerary starts and ends in El Calafate, but it is also possible to start or end in Punta Arenas if that is more convenient for you.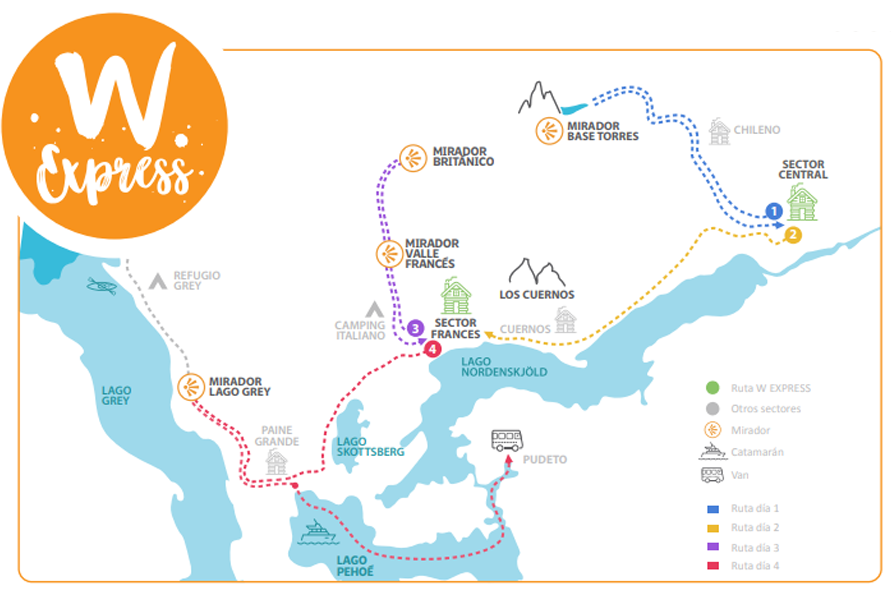 Day 1: El Calafate to Puerto Natales
We will arrange space on a bus this morning, to take you from El Calafate in Argentina, to Puerto Natales in Chile. The journey takes about 4 ½ hours.

Upon arrival you will be met and transferred to your hotel where you will spend the night.

In Puerto Natales you will attend a technical talk with your guide about your upcoming trek, pouring over the route with a map you will receive.
Day 2: Puerto Natales – Las Torres Base Lookout Point
This morning you will meet your guide at 06:30am to take the 7:00 am bus to the Torres del Paine National Park (2 ½ hours). Once you have disembarked and prepared yourself, you will be guided to one of the landmarks of the park: the Las Torres Base Lookout Point. After the ascent, you will return to the Central Sector to have dinner and sleep. There is also an opportunity to upgrade to a hotel stay in a former ranch for this evening only.

Departure from Puerto Natales: approx. 2.5 hours
Hiking Distance: 8 – 10 hours / 19.5km
Difficulty: High
Altitude: Initial 120m / Highest 870m
Lodging: Central Sector
Day 3: Hike Francés Sector
This morning, you will be guided on a walk about 13.5 km along the shore of Nordenskjöld Lake, Almirante Nieto Hill, and the striking Cuernos del Paine. During the hike, you will enjoy magnificent views of Los Cuernos, hanging glaciers, lakes, and the abundant local vegetation and wildlife. You will have dinner and sleep at the Cuernos or Francés Sector.

Hiking Distance: 4.5 – 6.5 hours / 13.5km
Difficulty: Medium
Elevation Gain: 200m
Lodging: Cuernos or Francés Sector
Day 4: Hike Cuernos/Francés Sector
The day begins exploring one of the icons of the circuit: the Francés Valley. You will start early with a light hike to the Italiano Campsite. From there, you will begin the climb through woodlands (about 2 km) up the Francés River Valley. You will continue to the Francés Lookout Point, where you will enjoy one of the most breathtaking views of the circuit, the view to the valley framed by the Hills Paine Grande, Catedral, Hoja, Máscara, Espada, Aleta de Tiburón, and Cuerno del Norte. After this spectacle, you will begin the descent to the Francés Sector.

Hiking Distance: 7 - 9 hours / 17.5km
Difficulty: High
Elevation Gain: Initial 120m / Highest 762m
Lodging: Francés Sector
Day 5: Hike Grey Glacier Sector - Pehoé Lake Navigation - Return to Puerto Natales
Today you will reach the third milestone of the circuit, a place that offers one of the most unforgettable scenes in the park: the magnificent Grey Glacier. The trail goes around the Paine Grande Hill, the highest peak in the mountain range (3,050 m), with views of its hanging glaciers. Walking amidst Antarctic beech (ñirre), Dombey's beech (coigüe), and Chilean firebush (notro), you will reach the first lookout point of Grey Lake, where you will see floating pieces of glacier. Then, you will return to the Paine Grande Sector and take the 6:30 pm catamaran that will take you to Pudeto. There you will meet a bus that will take you back to Puerto Natales, where you will once again spend the night.

Hiking Distance: 6 - 8 hours / 19km
Difficulty: High
Elevation Gain: Initial 43m / Highest 313m
Day 6: Puerto Natales to El Calafate
This morning you will be transferred to the bus station to catch the public bus to El Calafate, which is where this journey ends.
Dates
Prices (based on 2 people)
Single Supplement (for own tent): US$ 45
Included:
• 2 nights B&B in Puerto Natales Hotel on Day 1 & Day 5.
• Return Transportation from El Calafate to Torres del Paine National Park.
• 1 night of lodging at the Central Sector, and 2 nights at the Cuernos or Francés Sector (campsite includes tent, sleeping bag, and sleeping pad).
• All meals on days 2 - 4: breakfast, lunch (box lunch) and dinner. Breakfast and lunch on return day to Puerto Natales (day 5). Breakfast on day 6.
• Pehoé Lake Catamaran.
• Torres del Paine National Park entrance fees.
• A 20% discount in hotel spa and 20% discount for Patagonian barbecue at Hotel (Torres del Paine Hotel)
• Welcome Kit: Includes sleeping-bag liner, microfiber towels, water bottle (stainless steel), a map and a journal notebook. This kit will be given once you take your program voucher at the main office in Puerto Natales.
Not included:
• Any service not specified in the program
• Additional activities
• Health insurance
• Gratuities
• Drinks

Optional Extras
Porter Service per day (15kg max): US$ 165 per person (add US$ 60 for 2020-2021 season)
Upgrade to Torres del Paine Hotel on night 2: US$ 156 per person (based on 2 sharing)
Extra Nights at the Torres del Paine Hotel: US$ 265 per person (based on 2 sharing)

This former ranch which has been converted into a modern hotel, still retains its historic Patagonian charm. Situated in the heart of Torres del Paine National Park, you can bask in the beauty of and experience the traditions of Patagonia throughout your stay.

The hotel's Organic Garden, of which two people are dedicated to cultivating year round, provides around 30% of all the plants and vegetables eaten within the hotel, including lettuce, tomatoes, squash parsley, cilantro, strawberries, pears and apple. Much of the meat is sourced from cattle, sheep and pigs raised on the land just a few minutes from the hotel.