For this experience, we take you deep into the heart of the Torres del Paine National Park, famed for its awe-inspiring mountains and iconic granite peaks. In small groups, you will be guided by knowledgeable expert guides, who will point out the natural history highlights and enlighten you with flavours and facts about Patagonia.

Dare to enjoy a unique experience in one of the leading hiking circuits in the world: the tour of the Paine Massif, where nature invites you to challenge your body and mind. For 8 intense days you will be amazed by the granite towers that give the park its name, the legendary Francés Valley, or the striking Grey Glacier seen from the John Garner mountain pass where the ice blends into the clouds on the horizon. An experience that will take your breath way.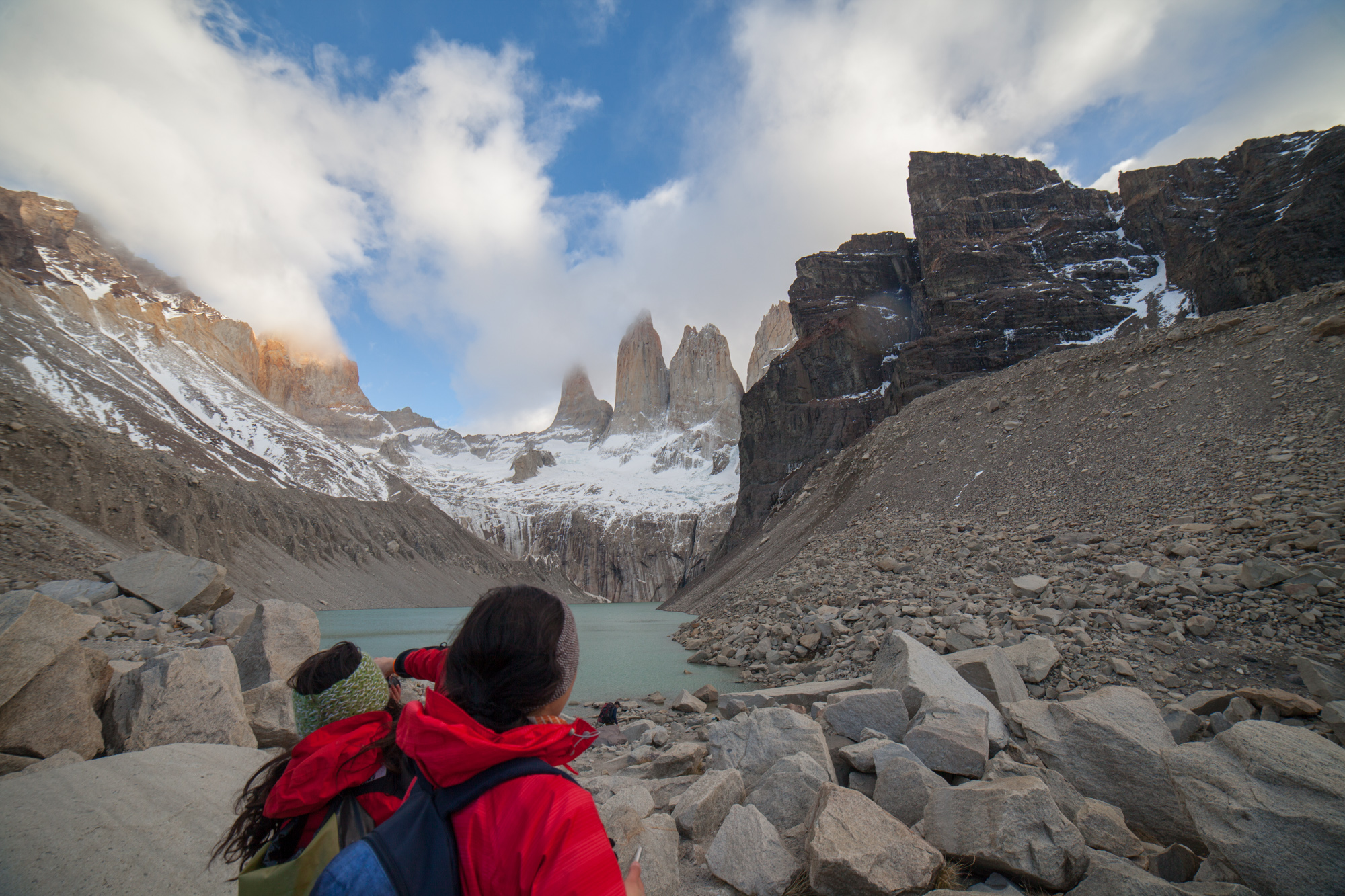 Depending on your preference and / or budget, there are two accommodation options for the trekking portion of this trip, 'Camping' or 'Refugios'. The Refugios comprise mixed dorms (between 6 and 8 people) in bunk beds with shared bathroom facilities. Depending on the Refugio, the beds will be either 'Made Up' (including bed linens) or 'Simple Bed' (for the use of own sleeping bag).
Itinerary
The W Trek Circuit in Torres del Paine
Please contact us if you would like any assistance arranging flights, additional hotel nights, transfers or day trips within El Calafate or if you are simply looking for some inspiration. The Perito Moreno Glacier is not to be missed!

This itinerary starts and ends in El Calafate, but it is also possible to start or end in Punta Arenas if that is more convenient for you.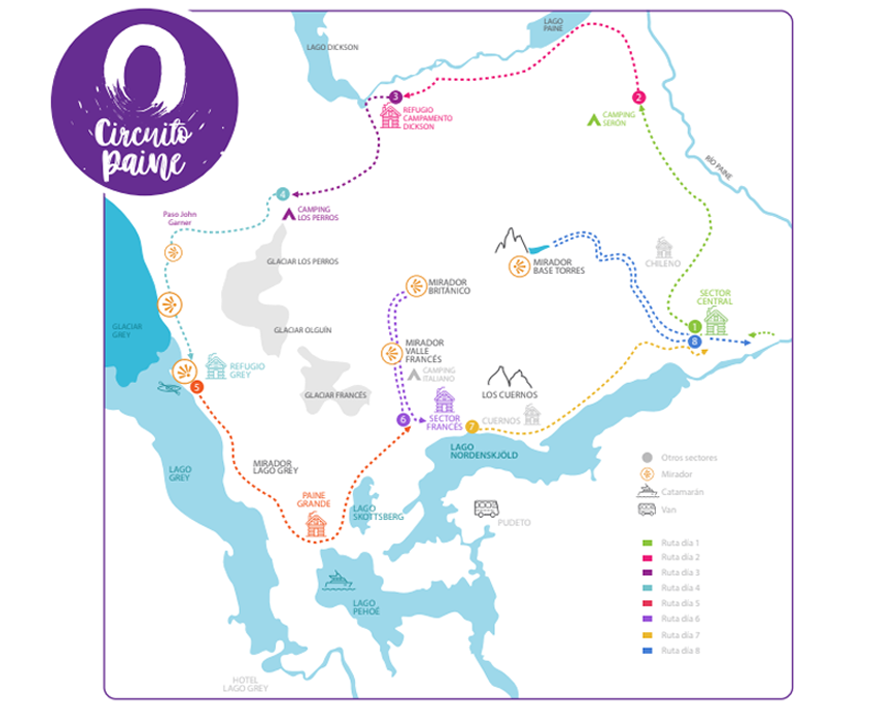 Day 1: El Calafate to Puerto Natales
We will arrange space on a bus this morning, to take you from El Calafate in Argentina, to Puerto Natales in Chile. The journey takes about 4 ½ hours.

Upon arrival you will be met and transferred to your hotel where you will spend the night.

In Puerto Natales you will attend a technical talk with your guide about your upcoming trek, pouring over the route with a map you will receive.
Day 2: Puerto Natales – Torres del Paine and Hike to Serón Campsite
This morning you will meet your guide at 06:30am to take the 7:00 am bus to the Torres del Paine National Park (2 ½ hours).

You will enter the park through the Amarga Lagoon Checkpoint, where you need to show your ticket and then take a bus to Cerro Paine Reserve's Welcome Center. There you will enjoy the striking silhouettes of the Torres del Paine and Almirante Nieto mountains and your first hike will begin. It will lead you through a huge lenga beech forest draped with lichen called "old man's beard." After going through the forest, in the distance you will behold a large valley covered by daisies and bordered by the Paine River on the right. The river will accompany you during the second half of your hike until reaching Serón Campsite, where you will dine and sleep.

Departure from Puerto Natales: approx. 2.5 hours
Hiking Distance: 4 – 6 hours / 13km
Difficulty: Medium
Altitude: 250m
Lodging: Serón Campsite
This will be a long but unforgettable day of hiking. The first part of the trail will take you up and down the slopes of Paine Hill, where you will feel the power of the wind. You will then begin your descent and walk along the shore of the Paine Lake, which on clear days acts as a mirror for the mountain peaks around it. If the weather is good, you will be able to see the northeast peak of the Paine Massif, including peculiar shapes and silhouettes such as "Cabeza del Indio," "Escudo," "Cubo," and Dickson.

You will spend the night at the Dickson sector, located by the glacial lake next to the Southern Ice Fields that give this sector its name.

Hiking Distance: 6 - 8 hours / 18km
Difficulty: High
Elevation Gain: 200m
Lodging: Dickinson Sector
Day 4: Hike to Los Perros
Today you will begin to go towards the southwest. Along the way, you will see the Dickson glacier falling into the lake of the same name. You will enter a beautiful lenga beech forest, where you will see Magellanic woodpeckers tapping the beech trees.

Right in the middle of the forest, you will find a clearing. Stop there for a moment to look forward and backward and you will be able to see glaciers in both directions. Amazing!

Further on, you will cross Los Perros Glacier, with incredible views of its lake. Thirty minutes later you will arrive at Los Perros Campsite, located in a quiet, ancient forest.

*In the Perros Sector, the meal service is provided with lunch boxes and there is no restaurant service.

Hiking Distance 4 - 5 hours / 9km
Difficulty: High
Elevation Gain: Initial 360m
Lodging: Los Perros Campite
Day 5: Hike to Grey Glacier
Today will probably be the most exhausting but also the most spectacular day of your trip. Warning: there will be slippery and swampy terrain, as well as steep climbs and descents.

You must leave Los Perros early in the morning. On the first part of the trail you will cross through swampy land followed by a long, steep climb to the windy John Gardner mountain pass. Once up there, the breathtaking view will make you feel quite small. Right in front of you will be one of the huge tongues of the Southern Ice Fields, filled with cracks and ice of the rarest shades of blue and green. A landscape where you do not know where the glacier ends and the clouds begin.

Once you have caught your breath, a long descent through the rocks will begin, to then go around the Grey Glacier, which will be within sight all the way to the Grey Lake. A few kilometers past "El Paso" site, you will cross two impressive suspension bridges over 50 meters long that cross huge gorges, offering an amazing view of the Grey Glacier, a scene that is hard to forget.

Hiking Distance: 9 - 12 hours / 19km
Difficulty: High
Elevation Gain: Initial 620m / Highest 1,241m
Lodging: Grey Sector
Day 6: Hike to Paine Grande Sector
Today you will enjoy a gentle hike to Paine Grande. In the morning, you will have the option to go on Kayak beside the Grey Glacier (Kayak Excursion's fee is not included in this program and it requires previous reservation).

The first part of the trail will have many uphill and downhill climbs. You will go through forests of Antarctic beech (ñirres), Dombey's beech (coigüe) and Chilean firebush (notros), with the majestic Paine Grande Hill (the highest peak in the mountain range at 3,050 m) and its hanging glaciers to your left.

You will stay overnight at Paine Grande Sector, where you can enjoy the stunning view of Cuernos del Paine.

Hiking Distance: 4 hours / 11km
Difficulty: Medium
Elevation Gain: Initial 130m / Highest 388m
Lodging: Paine Grande Sector
Day 7: Hike to Valle del Francés
Today you will visit another one of the most iconic and magical places in the park, the striking Francés Valley.

The hike will begin with an easy walk towards the Italiano Campsite. There, you will begin the climb up through the valley and then reach the "Francés Lookout Point" after 1.5 hours. Up there, you will see one of the hanging glaciers of Paine Grande Hill up close and, if you are lucky, you will witness an icefall (avalanche). With that impressive sight still in your mind, you will cross through a lenga beech forest leading to the Británico Sector. Get ready, this might be the only time in your life when you will enjoy such a sight: the magnificent Francés Valley flanked by its colossal mountains and granite walls. Their unique shapes and colours will astound you.

On the way back, you will go through the same trail until we arrive at Italiano Campsite. Then, we will reroute to the east on our way to Frances campsite where we will spend the night.

Hiking Distance: 8 – 9 hours / 20.5km
Difficulty: High
Elevation Gain: Initial 100m / Highest 762m
Lodging: Francés Sector
Day 8: Hike to Central Sector
With the spectacular Cuernos del Paine to your left, and the colours of the Nordenskjöld Lake to your right, you will walk towards Central Sector. This day the hike will be more relaxed, there will no steep slopes, and the journey will be shorter and faster than the days before. A few kilometres before reaching the Central Sector, you will leave Los Cuernos behind to go around Almirante Nieto Hill (2,670 m), a massif with a changing climate.

At night, just like throughout the rest of your adventure, you will be able to enjoy the relaxed and cosmopolitan atmosphere at the Central Sector, have a well-deserved beer and share your experiences and stories with other hikers. If you feel tired after so many days of difficult hiking, you can stop by the Hotel Las Torres Spa for a well-deserved massage, or to try the famous cordero al palo (spit-roasted lamb). These services are not included in the program.

Hiking Distance: 8 – 9 hours / 14km
Difficulty: Medium
Elevation Gain: 200m
Lodging: Torre Central Mountain Refuge
Day 9: Hike to Base Las Torres
Today, you must get up early to visit the most iconic place of the park, Las Torres Base Lookout Point. First, you will walk through the pampa, cross the Ascencio River and then climb about 3 km up to Los Vientos mountain pass. Here you will enjoy magnificent views of the valley, lakes and glaciers. You will continue on until reaching the Chileno Mountain Refuge, and then go deep into a lenga beech forest up to "La Morrena," where the hardest part of the hike begins. After 45 minutes of ascending up a rock trail, you will reach the spectacular Las Torres Base Lookout Point where you will be able to enjoy the grandeur of Torres Sur (2,850 m), Central (2,800 m), and North (2,600 m).

After taking in the spectacular scene, you will return to the Central Sector where you will take the bus back to Puerto Natales at 7:00 p.m. There you will meet a bus that will take you back to Puerto Natales, where you will once again spend the night.

Hiking Distance: 7 - 9 hours / 19.5km
Difficulty: High
Elevation Gain: Initial 126m / Highest 870m
Day 10: Puerto Natales to El Calafate
This morning you will be transferred to the bus station to catch the public bus to El Calafate, which is where this journey ends.
Dates
Prices (based on 2 people)
Single Supplement: US$ 160

Included:
• 7 nights of lodging (campsite or mountain refuge).*
• Mountain refuges have shared rooms that include made beds in the Grey, Dickson and Central sectors, and a sleeping bag in the Francés, Cuernos and Chileno sectors.
• Campsite includes tent, sleeping bag and sleeping pad.
• Welcome Kit: Includes sleeping-bag liner, microfiber towels, water bottle (stainless steel), a map and a journal notebook. This kit will be given once you take your program voucher at the main office in Puerto Natales.
• Transportation on regular bus from Puerto Natales to Torres del Paine and back.
• Torres del Paine National Park entrance tickets.
• Transportation on regular bus from Puerto Natales to Torres del Paine and back.
• 20% discount in hotel spa and 20% discount for Patagonian barbecue at the TDP hotel
• All meals on days 2 - 8: breakfast, lunch (box lunch) and dinner. Breakfast and lunch on return day to Puerto Natales (day 9). Breakfast on day 10.

*Lodging location for nights 7 and 8 will depend on the availability at the time of the reservation.

Not included:
• Services not specified in the program
• Excursions or additional activities
• Health insurance of any kind
• Gratuities
• Drinks

Optional Extras
Porter Service for 5 days (15kg max): US$ 1,100 per person (add US$ 50 for 2020-2021 season)
Upgrade to Torres del Paine Hotel on night 8: US$ 156 per person (based on 2 sharing)
Extra Nights at the Torres del Paine Hotel: US$ 270 per person (based on 2 sharing)

This former ranch which has been converted into a modern hotel, still retains its historic Patagonian charm. Situated in the heart of Torres del Paine National Park, you can bask in the beauty of and experience the traditions of Patagonia throughout your stay.

The hotel's Organic Garden, of which two people are dedicated to cultivating year round, provides around 30% of all the plants and vegetables eaten within the hotel, including lettuce, tomatoes, squash parsley, cilantro, strawberries, pears and apple. Much of the meat is sourced from cattle, sheep and pigs raised on the land just a few minutes from the hotel.